As Samsung continues to create better, more efficient devices as evidenced by the Samsung S22 releases, more and more people, some of them are iOS users looking for solutions to switch to Samsung. The problem that these people encounter, however, is the cross-platform data transfer. These two platforms are vastly different which can make data transfer between them very difficult.
So, if you've bought a new Samsung and you want to continue your WhatsApp conversation with your friends, how to transfer WhatsApp from iPhone to Samsung? In this article, we are going to look at the various ways you can do that.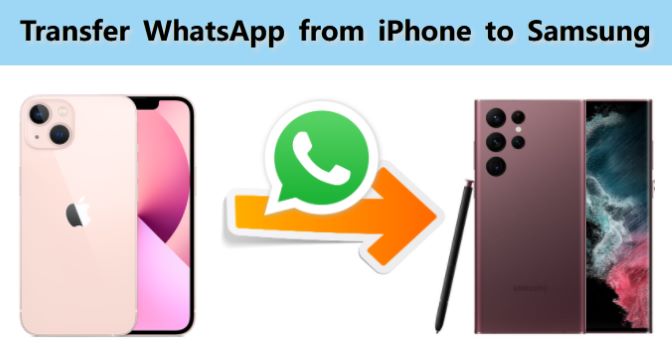 If you are switching to other Samsung models or Android phones, check out this detailed guide about how to transfer WhatsApp from iPhone to Android. We also figure out the ways to transfer other data like notes from iPhone to Android, so you can just search our website for more solutions.
Question: Does Samsung Smart Switch Transfer WhatsApp Messages?
Unfortunately, the answer is no. You cannot transfer WhatsApp messages from your old phone to your new device through Smart Switch. According to Samsung, as WhatsApp messages are based on end-to-end encryption system of communication, so it cannot be transferred through Smart Switch. It is not just for WhatsApp, but all the devices that support end-to-end encryption. And sometimes it might even pop up a message saying "Samsung Smart Switch not enough space" while using it.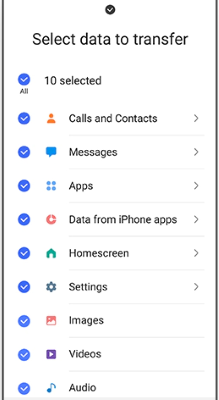 But if you are searching for methods to transfer contacts or your SMS messages, photos and videos or previously installed apps from Play Store, and even your old mobile phone setting preferences, you can smoothly transfer all this data to your new phone with Samsung Smart Switch. Other than Samsung Galaxy S22, Smart Switch is available on all variants of Note10+ or Z Flip.
The good thing here is that we're coming up with some other ways through which you can transfer WhatsApp data even from iPhone to Samsung. Choose the one which meets your needs.
Method 1. Transfer WhatsApp from iPhone to Samsung Using WhatsApp Transfer Tool
Apart from being one of the easiest ways to transfer WhatsApp data from one device to another, iTransor for WhatsApp is also the most effective tool to backup and restore WhatsApp messages without OS restriction.
Main Features about iTransor for WhatsApp
Supports both WhatsApp and WhatsApp Business data.
Fully transfer all types of WhatsApp data from iPhone to Samsung S22, and even from iPhone to iPhone, Android to iPhone and Android to Android.
Create a full WhatsApp chats backup on your iPhone and Samsung S22.
Flexibly export or restore any WhatsApp backups to your new Samsung S22, iPhone, and PC.
Supports all models of iPhone and Android devices including iPhone 13 and Samsung Galaxy S22.
Now I will show you the way to transfer WhatsApp from iPhone to Samsung S22 using iTransor for WhatsApp:
Step 1: Open the program. On the main menu, click on Transfer WhatsApp between Devices. Connect both devices to the computer using USB cables. The program will detect the devices automatically.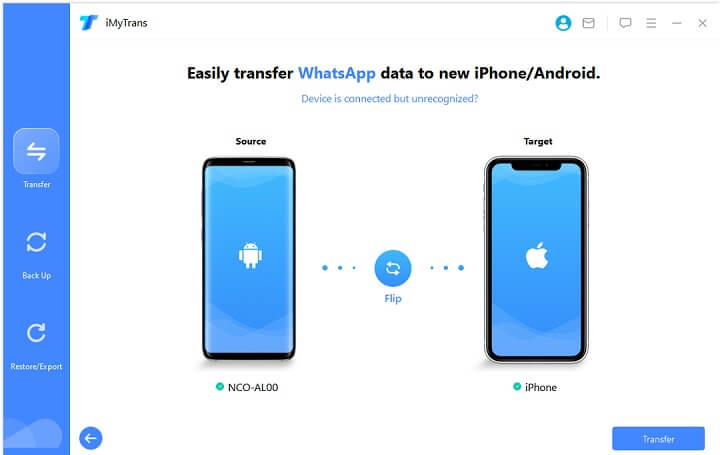 Step 2: Click Transfer and the process of transferring will get started.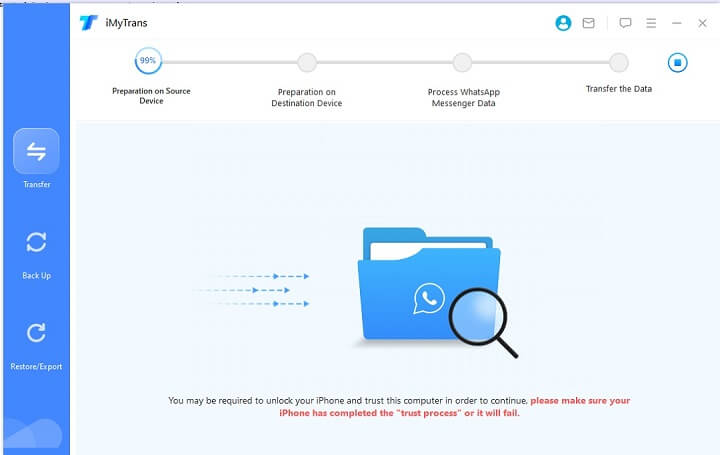 Step 3: Keep both devices connected to the computer until the program notifies you that the transfer is complete.
Method 2. Email WhatsApp Chats from iPhone to Samsung S22
Another way you can transfer WhatsApp messages from iPhone to Samsung S22 is email. This method allows you to see the WhatsApp messages on your Samsung S22 although you may not be able to really sync them to WhatsApp.
Step 1: Open WhatsApp application on your iPhone and tap on Chats at the bottom. Select the messages you would like to transfer, tap on the top, and then choose More > Export Chat.
Step 2: Choose whether you would like to attach media or not and then tap on Mail as the chosen method of export. You can also choose other apps you like, WhatsApp will send a compressed file including all the chats to the app.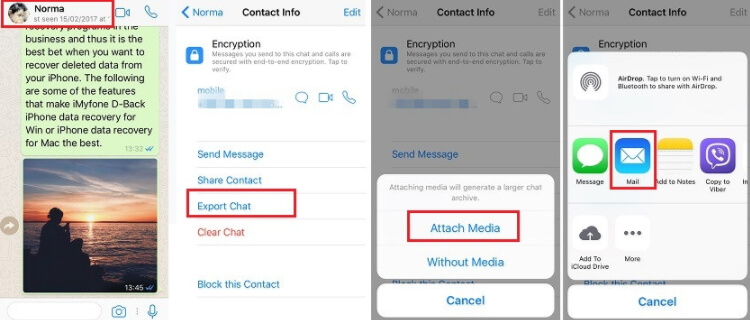 Step 3: Open the email and you should be able to see the messages on your new Samsung S22.
Method 3. Export WhatsApp Messages from iPhone to Samsung S22 Using WazzapMigrator
You can also use an app known as the WazzapMigrator to transfer WhatsApp messages from iPhone to your Samsung S22. However, some users complain that the chats are not fully transferred to the destination device, some of them are garbled or lost. Also, the process of this method might be a little complicated, it requires two third-party tools to finish.
Step 1: Begin by creating a backup for the data on your iPhone to iTunes.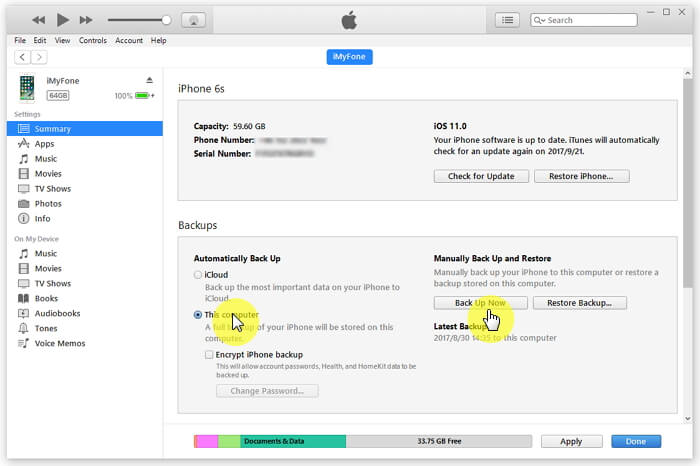 Step 2: Once the backup process is complete, use the iTunes Backup Extractor to get the WhatsApp Backup file from the main backup.
Step 3: Now connect Samsung S22 to the computer and go the Play Store to install WazzapMigrator onto your device.
Step 4: Launch the app and click on Select iPhone Archive and tap on the iPhone backup file.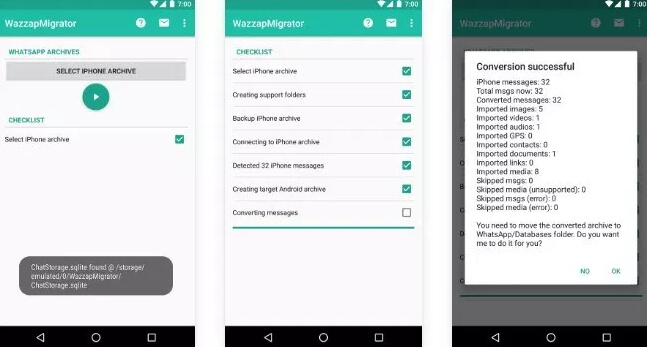 The app will convert the backup file into a format that Android can understand and you'll have your messages on the device in no time.
Method 4. Restore WhatsApp to Samsung S22 with Backuptrans
Another great program to use is Backuptrans. The interface might be confusing so here's how to use it:
Step 1: Install Backuptrans on to your computer and then launch the program.
Step 2: Connect both devices to the computer with USB cables and ensure that the devices can be detected.
Step 3: Select the device you would like to transfer WhatsApp messages from (in this case the iPhone) and right-click on the Samsung device and select Transfer Messages from iPhone to Android.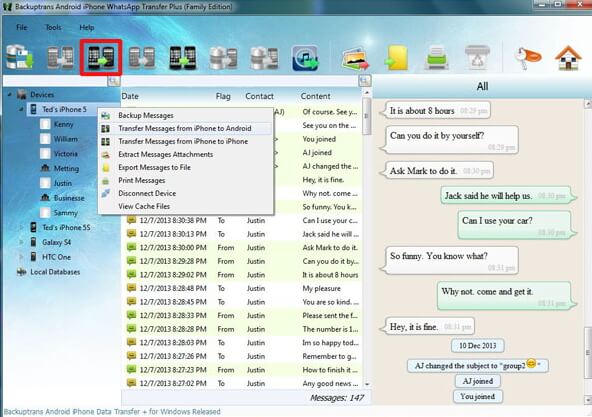 Step 4: The program will immediately begin transferring the data to the device.


---
Conclusion
The above are some of the ways you can transfer WhatsApp messages from iPhone to Samsung Galaxy S22. Every one of them can be useful under certain circumstances, but iTransor for WhatsApp is perhaps the only way to guarantee 100% success rate.
Here are some guides you may need for transferring more data from iPhone to Samsung:
3 Ways to Transfer Messages from iPhone to Samsung
5 Ways to Transfer Contacts from iPhone to Samsung