How to Switch from WhatsApp to gbWhatsApp without Losing Chats
Category: Transfer WhatsApp
3 mins read
GBWhatsApp is the modified version of the main WhatsApp application, with the addition of many features that users need but do not find in WhatsApp itself. Here is a review of the most important information about GBWhatsApp, including its pros and cons, and guide on how do we switch between WhatsApp and GBWhatsApp. iTransor for WhatsApp now supports transfer data from GBWhatsApp WhatsApp. Download iTransor for WhatsApp free now.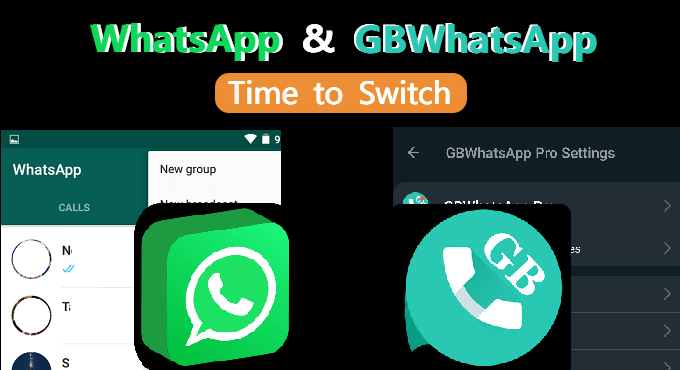 1. Why Is GBWhatsApp So Popular?
The modified version of WhatsApp is the same application with the addition of many features that the user needs but does not find in WhatsApp itself, such as removing viewing messages and many additions and distinctive features.
Send 90 pics simultaneously instead of just 10.
Send 50 MB video and 100 MB audio.
Secure your conversations with passwords.
Set group names with up to 35 characters.
Hide last seen for specific contacts.
Auto-reply feature.
Save WhatsApp story to your device.
Unlike WhatsApp, GBWhatsApp will not be automatically updated, and you will have to go through this process manually every once and a while.
There will be a potential danger of being banned.
You will not be able to back up your media files to Google Drive but with backup tool.
GBWhatsApp is not supported for iOS users, since iOS does not support using apps outside App Store.
2. How to Switch Between WhatsApp and GBWhatsApp Without Losing Chats?
In this part, thorough steps to switch between WhatsApp and GBWhatsApp will be demonstrated.
01

Backup your WhatsApp & GBWhatsApp Data

The First Step to switch from normal WhatsApp to GBWhatsApp is to back up your current data:
Step 1. Open WhatsApp or GBWhatsApp on your device, tab on the upper right three dots, go to Settings.
Step 2. Scroll down to Chats.
Step 3. Tap on Chat backup and click BACK UP.
Step 4. For WhatsApp, you can tap on Back up to Google Drive. For GBWhatsApp, you can back it up to local storage.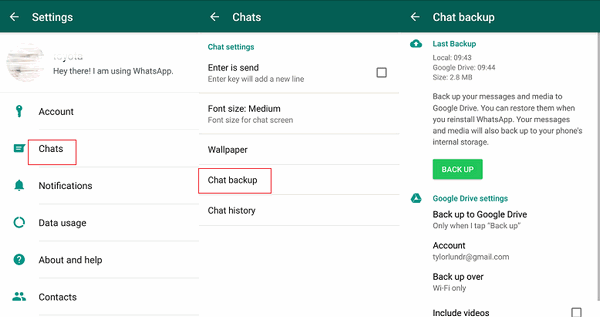 You May Want to Know:
Backup WhatsApp on iPhone to Google Drive
02

Transfer Chats from WhatsApp to GBWhatsApp
Step 1. From a trusted website, download GBWhatsApp.
Step 2. Uninstall your WhatsApp without clearing the data after uninstalling.
Step 3. Install GB WhatsApp and in the folder named WhatsApp, you will have to rename all normal WhatsApp files to GBWhatsApp, this is also applied on the subfolders.
Step 4. Congratulations, you have installed GBWhatsApp without losing your media and chats.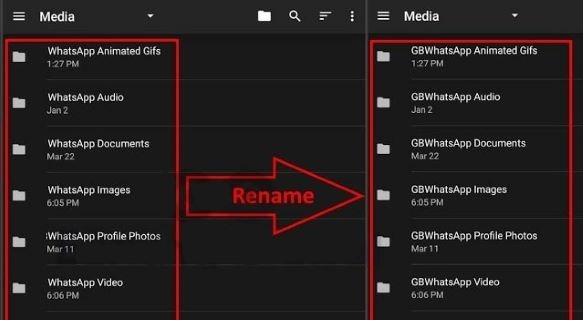 03

Switch GBWhatsApp Back to WhatsApp
Step 1. Go to Play Store and download the official WhatsApp application on your device. However don't setup the new application now.
Step 2. Browse file storage on your phone through your file manager by connecting your mobile to a computer.
Step 3. Open GBWhatsApp folder > Database and select the most recent available backup file, then rename it to msgstore.dp by removing the date from the name.
Step 4. Copy the backup file you just renamed and paste it in WhatsApp > Database folder.
Step 5. Finally, launch WhatsApp on your phone, setup WhatsApp with the same number that was linked to your device. WhatsApp would detect an existing backup and you simply restore your data.
Bonus Tips: Restore WhatsApp and GBWhatsApp Data from Google Drive
Bonus: Restore WhatsApp and GBWhatsApp Data from Google Drive
Since you have learned how to swtich between WhatsApp and GBWhatsApp, then you can backup both data to Google Drive with the characteristic of backing up to Google Drive that WhatsApp owned. The following passage will introduce you an amazing tool to get WhatsApp Google Drive backup directly even on your iOS devices. By using iTransor for WhatsApp, Google Drive is not only available for Android users now.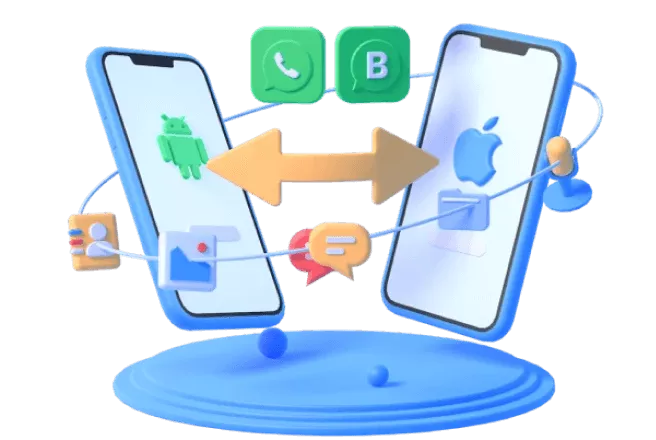 iTransor for WhatsApp:
You can easily import your WhatsApp Google Drive backup without OS restrictions.
WhatsApp data can be transferred from an iPhone to Android, or from an Android to iPhone.
You can store WhatsApp from phone into PC or vice versa, no more worries about privacy.
Also, you can export your WhatsApp backup to PDF, HTML, or CSV/Xls, etc.
Step 1. Install and Connect Devices

Install and run iTransor for WhatsApp on your computer. Then connect your phone to the computer with a USB cable.

Step 2. Choose Mode and Log in

Choose Restore/Export WhatsApp Backup from the left pannel, and click on Import Google Drive Backups. Log into the same account you used to backup your WhatsApp.

Step 3. Download WhatsApp Backup and Restore

Choose one of the backup you have made before and click on the download icon. When you have finished, tap on Restore to Device, you can also export to computer if you want.

Step 4. Confirmation Process

You will be asked to provide your phone number which was linked to Google account. Then enter the verification code you received.

Step 5. Select, Preview and Export

There you can select specific WhatsApp data such as WhatsApp Chats, Photo and Video etc. Preview the data before you finally Export them.
FAQs: More About WhatsApp and GBWhatsApp
1

Can we use GBWhatsApp and WhatsApp on one phone?

The simple answer is yes, you can have both WhatsApp and GBWhatsApp on one phone. However in order to activate both application, you will need to register with two different numbers. If your phone does not have two sim card slots, you will need to put the other sim until you finish setting up your account.
2

Where can I find hidden WhatsApp messages in GBWhatsApp?

In order to find hidden WhatsApp messages in GBWhatsApp, you will have to follow some simple steps.
Open your GBWhatsApp and go to the Settings > Chats > Chat backup, and then make a backup for your chats.
Tap the GBWhatsApp text in the top left corner of the App home screen.
Enter the security code you created while hiding the chat.
Open GBWhatsApp folder > Database and select the most recent available backup file, then rename it to msgstore.dp by removing the date from the name.
Now, you can view, read, and reply to chats that you have hidden in the WhatsApp GB app.
If you want to unhide this chat, tap and hold that chant and select unhide chat and reenter the security code.
Conclusion
You deserve to have more features on your WhatsApp, but be careful it could come at a price. Don't worry and just follow our above-mentioned steps to install and setup GBWhatsApp, backup your WhatsApp data, and even transfer WhatsApp data between iPhone and Android.
Customer Reviews