If you are looking to transfer your WhatsApp data from one phone to another, then you must know that there are many ways of doing it. This includes using third-party apps like Mobitrix WhatsApp Transfer and others.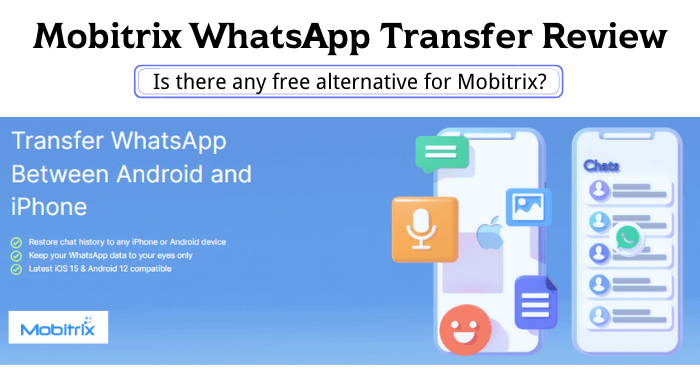 Mobitrix WhatsApp Transfer is an app that allows users to easily transfer their WhatsApp data between two devices. It can be used by both iOS and Android users. The app has been designed with the user's convenience in mind. Users do not need to worry about losing any important information as the app makes sure that all the data is transferred safely.
Part 1. Mobitrix WhatsApp Transfer Review
This article will take a look at how to use this app to transfer WhatsApp data from one device to another. Also, we'll discuss an alternative method for transferring WhatsApp data. Keep on reading to find out more!
1.1 What Can Mobitrix WhatsApp Transfer Do?
Mobitrix can help you transfer WhatsApp data between two different smartphones or tablets. It can also be used to transfer WhatsApp data to computers. In addition, you can even use it to transfer WhatsApp files from one smartphone to another or from Android to iOS.

The app works on a simple principle. When activated, it will ask for permission to access the device's storage. Once this is granted, the app will start scanning the device and identify which contacts have WhatsApp installed on them.
After this, it will allow the user to select the desired contacts and choose whether they want to transfer or delete them. The app also allows users to add new contacts if needed.
1.2 How Long Does Mobitrix WhatsApp Transfer Take?
You might be wondering how long it takes to transfer WhatsApp data using Mobitrix. Well, the answer to this question depends on several factors. These include the number of contacts present on the target device, the size of the file being transferred and the speed of the internet connection.
However, most people report that the process only takes a few minutes. This means that you should expect to spend from 30 to 60 minutes depending on these factors. So, don't get impatient. The time taken to complete the transfer will depend on the above-mentioned factors.
1.3 Is Mobitrix WhatsApp Transfer Free? [Prices and Cost]
The software allows you to transfer, backup, and restore your WhatsApp chats. Among the three features, backing up is free. You can do so without registering. However, if you want to transfer and restore your WhatsApp data, you'll need to purchase a license first.
The pricing structure is reasonable. For just $20.95 per year, you can start enjoying unlimited transfers and backups. Moreover, you can make multiple copies of your WhatsApp chat history.
Part 2: Is There Any Alternative to Mobitrix WhatsApp Transfer?
Mobitrix is a great way to transfer WhatsApp data. However, there are other methods available too. One such option is iMyTrans. This app is similar to Mobitrix but offers some additional functionalities. It is a dedicated WhatsApp management tool which is easy to operate and promise a high success rate.
2.1 Why Choose iMyTrans
iMyTrans is a great tool for managing WhatsApp backups. This app allows you to transfer WhatsApp backups between Android and iOS devices.
It backs up WhatsApp on both platforms and restores WhatsApp backups to iPhones and Androids. The app also exports WhatsApp backups to HTML, PDF and XLS formats.
The tool works flawlessly every single time. So if you want to manage WhatsApp backup files, iMyTrans is definitely worth trying out.

2.2 Main Features of iMyTrans
The tool has been designed with simplicity in mind. That's why it comes with an intuitive interface. The main 5 functions include transferring, backing up, restoring, exporting, and also restoring WhatsApp backup from Google drive.
These features make iMyTrans one of the best tools available online today. So, if you're looking for a reliable solution to manage WhatsApp backups, then this is the right place to look.
Pros
It supports all versions of WhatsApp.
It works seamlessly with all major operating systems like Windows, Mac OS, Linux, and Android.
It doesn't require any special permissions, unlike many other apps.
2.3 Directly Restore WhatsApp Backup from Google Drive to Android/iPhone [Steps Guide]
One of the most appealing functions of iMyTrans is that you can restore WhatsApp backup easily from Google Drive without using other extra applications, no matter you are going to restore to Android or iPhone. Moreover, the steps are quite easy to follow, and your account information won't be saved for any other uses.
Step 1. Download iMyTrans and launch the program on computer. Choose Restore/Export WhatsApp Backup from the left pannel, then click on Import Google Drive Backups.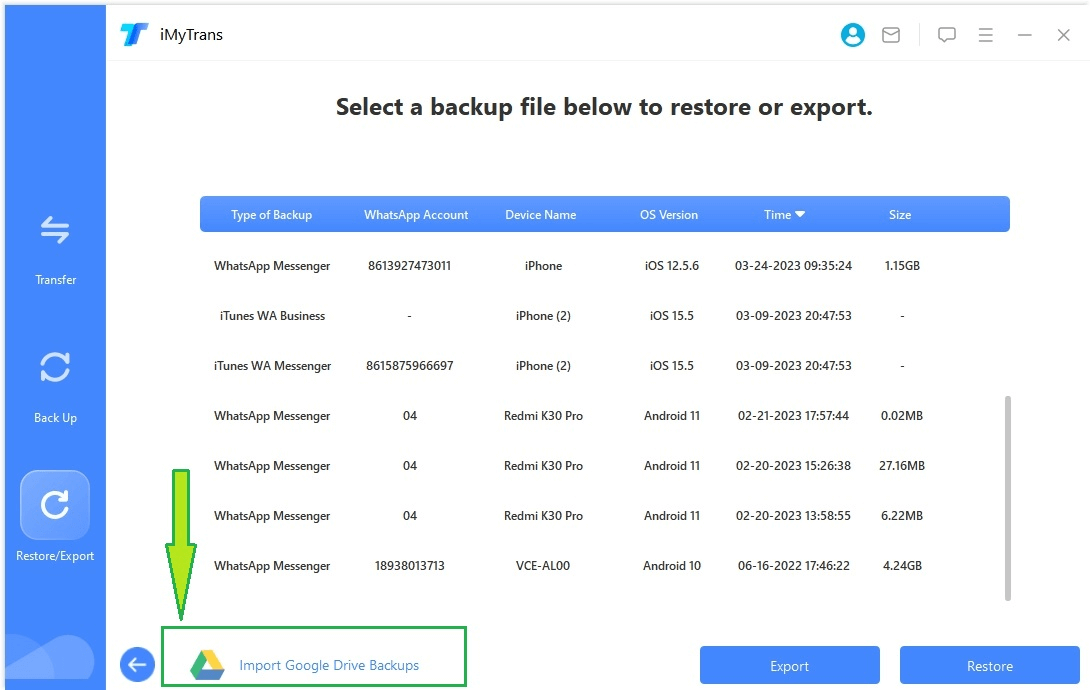 Step 2. There you will need to log into your Google account to have access to the backup in it. Then you will see a list of WhatsApp backups you've made before. Choose one and click on the download icon.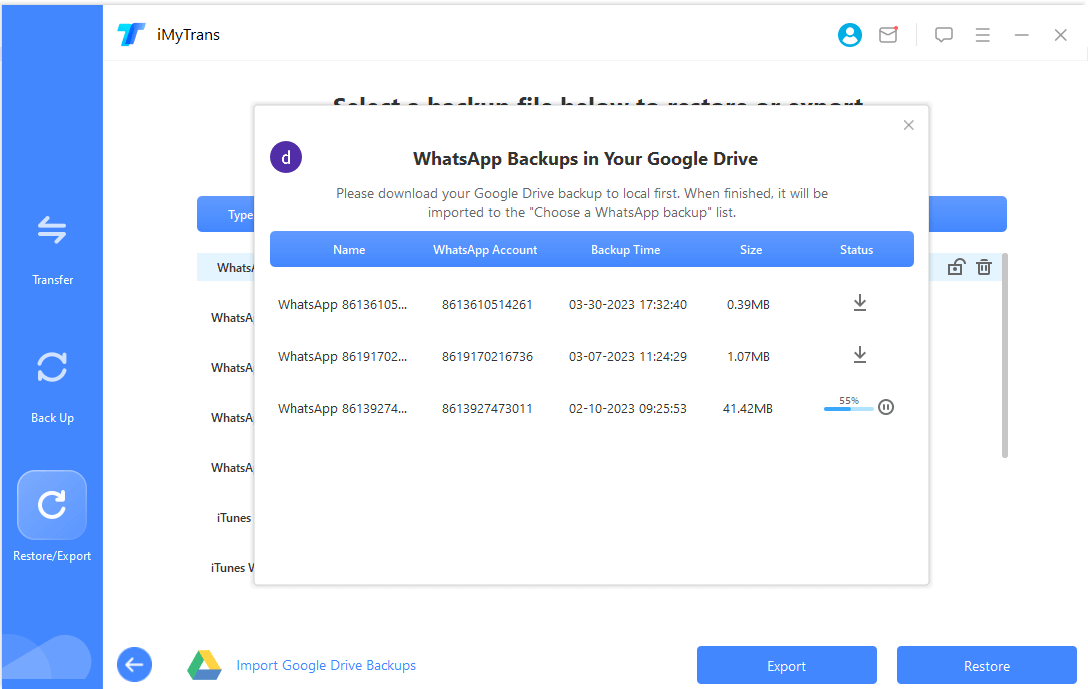 Step 3. Finish the verification process by entering the phone number you used for Google account, and submit the verification code you received.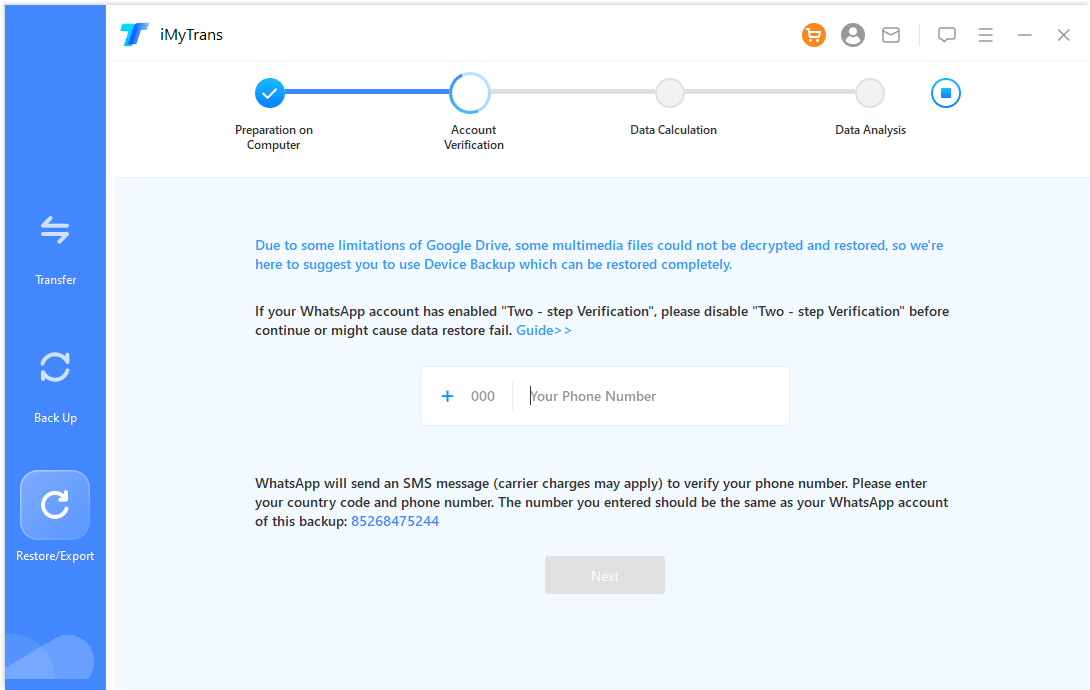 Step 4. Finally you can read your WhatsApp backup on Google Drive just as on your phone. And you can also selectively export or restore to your other devices if you're using full version.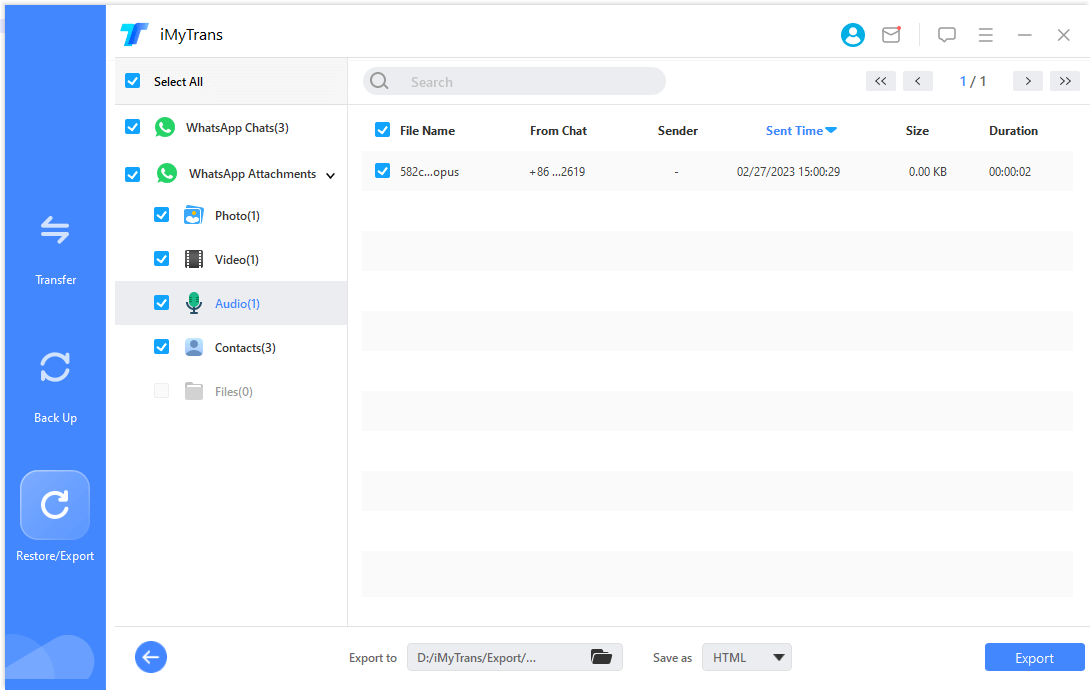 2.4 Prices and Purchase Plan
iMyTrans offers a free trial version that you can use to back up your WhatsApp data as well as to view the backup. The full version lets you transfer WhatsApp, restore it to a device, and export backups to a computer.
The pricing plan starts at $29.99 per month, $39.99 per year, and $49.99 for lifetime license. If you choose the monthly subscription, you'll have access to all the features for 1 month. On the other hand, the yearly plan gives you access to all the features until the end of the year.
There is also a lifetime plan which costs $49.95 only. With this plan, you can enjoy unlimited transfers and backups with only a one-time fee.
FAQs: Is iMyTrans Better Than Mobitrix WhatsApp Transfer?
If you're looking for a simple and easy to use tool to manage WhatsApp backups, Mobitrix is a perfect choice. The app is very user friendly and it does not require much technical knowledge to operate.
However, iMyTrans is more powerful than Mobitrix. In addition to being able to transfer WhatsApp backups, it can also be used to restore them. Furthermore, it provides a lot of options to export WhatsApp backup data.
Anyway, you should try it out to differentiate yourself. You will see the difference once you start using the app.