How to Export All WhatsApp Chats at Once to PC from iPhone/Android?
Category: Transfer WhatsApp
4 mins read
WhatsApp stored a lot of our cherished memory, photos, even important personal/ business data. That's why backup and exporting WhatsApp data is essential. While manual backup would waste a lot of time, many users looking for a way to export all WhatsApp chats at once. Is that available?
The answer is definetely yes!In this post, I will show you three practical methods to export all WhatsApp messages at once to PC from iPhone/Android. Now, let's move on!

Video Guide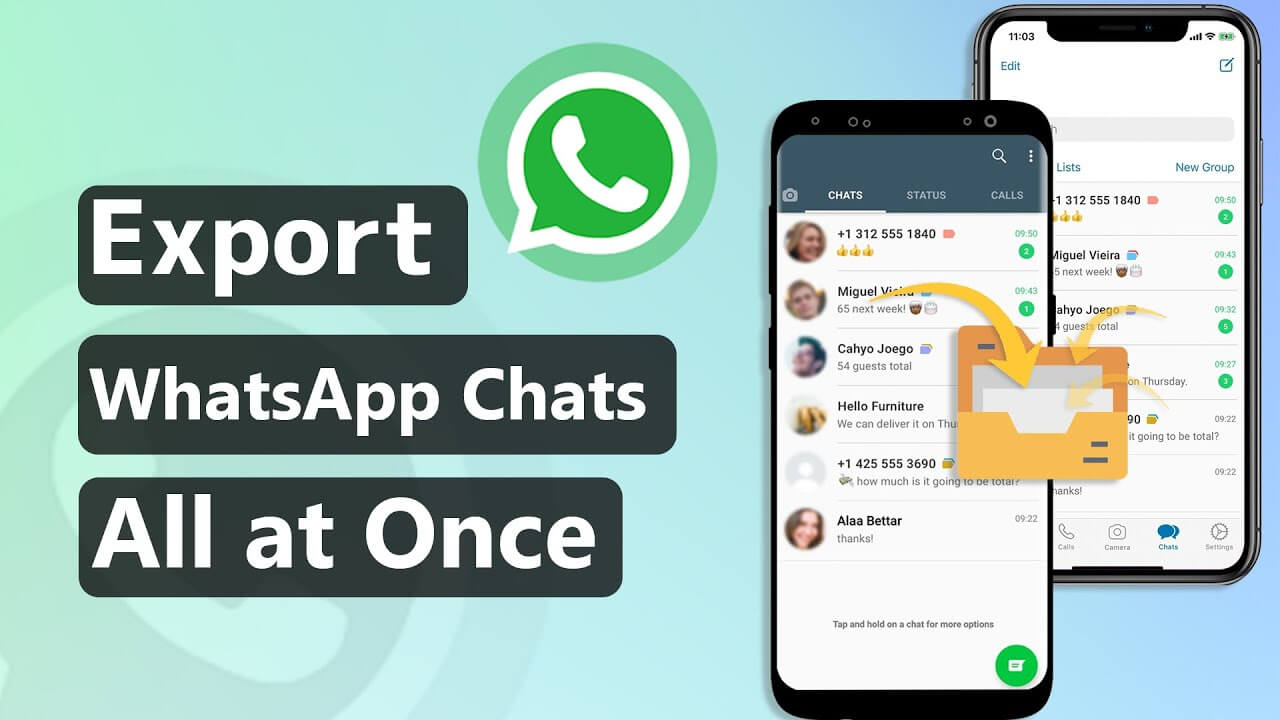 Method 1. Best Way to Export All WhatsApp Chats to PC at Once from iPhone/Android with One-click
If you want to switch phones with different operating systems, you'd better use a third party to help. Here we recommend iMyTrans to you! It is a tool that focuses on WhatsApp data management between Android and iPhone.
Steps for Export All WhatsApp Chat to PC between different devices
Step 1. Make a backup of your phone.

Launch iMyTrans, click the "Back Up WhatsApp on Devices" tab and connect your phone to PC. After the phone is recognized, click Back Up and wait for the backup process to finish.

Step 2. Choose the chats you want to export.

Click Restore/Export WhatsApp Backup, and choose the backup you just made. Then click Export to computer. The program will automatically scan the backup.

Step 3. Export all the WhatsApp chats you want at once.

After the scanning is finished, you can see all backups on the screen, select the data you want to export, and click "Export".
One of the main differences between iTransor and iMyTrans is that iTransor is only available for iOS devices, but iMyTrans supports Android and iPhone. Another difference is that ransom for WhatsApp is base on WhatsApp data while iTransor is for all the data on iOS devices.
Method 2. Export All WhatsApp Chats to PC at Once from iPhone/Android
As we mentioned above, export WhatsApp chats through email will be cumbersome. That is why iMyFone created iTransor, a no-limit data backup, export, and transfer tool for your iPhone, iPad, or iPad touch devices.
It can export all WhatsApp chats on your phone at once to html, excel, or csv files. What's more, if you choose the .html format to export, you will be seeing the WhatsApp messages, photos, and videos lying in order just as what they like on your iPhone: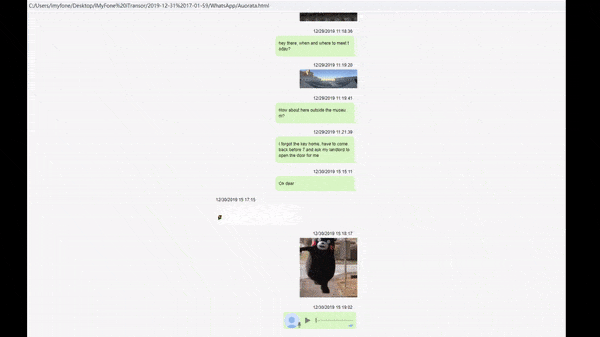 Here's a quick tutorial guide of how to export all WhatsApp chats at once on the iPhone:
Step 1. First, download the iTransor app and launch on your PC.
Step 2. Connect your iPhone to the computer, select Export from Device & Backup at the left panel and then select Export From Device.

Step 3. Now you will be able to choose the type of data that you want to export. Tick WhatsApp on the Third-party IM App section.

Step 4. Just press the Export and all your WhatsApp data will be stored on your PC.
Back up and restore WhatsApp data on iOS devices without uninstalling WhatsApp.
No Risk of Data Loss.
Export Data in Different Formats.
Only support for Apple devices.
Method 3. Export All WhatsApp Chats at Once to PC from Android
Now that you are well acquainted with how to export all WhatsApp chats on iPhone, you may wonder how to export all WhatsApp data through Android?
Here we introduce another tool to help you - WhatsApp Viewer.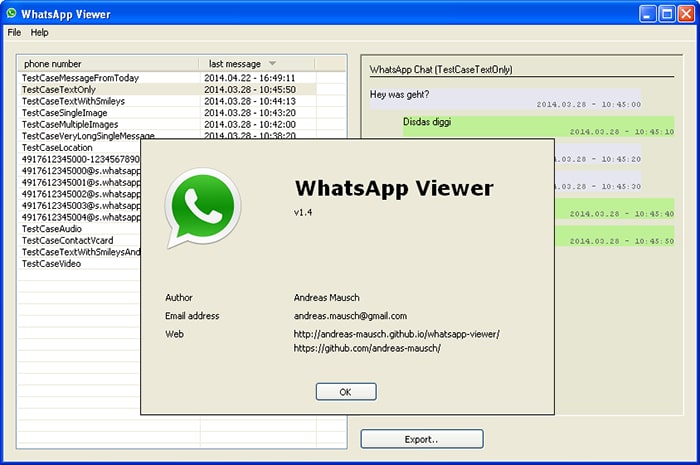 WhatsApp Viewer is creat to display the mgstore.db file, which is the backup format of WhatsApp for Android devices. As the tool supports all major WhatsApp encryption versions from crypt5, crypt7, crypt8, and crypt12, this feature enables it to open WhatsApp chat backups on your computer. You are allowed to search messages, scroll older messages that too in a convenient way. It also support chat exports to .txt, .html and .json formats at once.
Let's see how to use WhatsApp Viewer below:
First, you need to get your key and database file from the phone.
Open the WhatsApp Viewer and go to File > Open > Select File.
Select the WhatsApp msgstore.db file you would like to read and export and then leave the account name empty.
After this you can see all your chat messages and also be able to export all chat into.txt and .html files.
Bonus Tip: Comparison of the Different Methods to Export WhatsApp
You can still read the table below to compare the methods we mention about WhatsApp chats exporting.
| | via Email | via iTransor | via WhatsApp Viewer | via iMyTrans |
| --- | --- | --- | --- | --- |
| For Android | | | | |
| For iPhone | | | | |
| How WhatsApp Messages are Exported | Messages and media files are separately exported | Messages and media files are shown as what they are on the phone | Messages and media files are separately exported | Export as the WhatsApp chats appear on phone, or as a log file |
| How to Export | Manually export chats one by one | Within a few clicks, all chats will be exported at once. | You have to export the key and database of your WhatsApp, it's complicated. | Backup and then export all WhatsApp chats with/without media files at once. |
Words in the End
Above is all the methods on export WhatsApp chats at once. Without the help of third-party tools, this process will be cumbersome.
Our most recommended method is to use iMyTrans. It is simple to use, which can be your first choice! Come try it out.