User Guide of iMyFone iTransor
News: We have renamed D-Port Pro to iTransor!
Do you want to completely or selectively back up data on your iPhone/iPad/iPod touch? Or you need to export or restore data in iTunes/iCloud backup? iMyFone iTransor can back up your data on iOS devices, download backups from iCloud, export data from iOS devices/iTunes backup/iCloud backup and restore data in iTunes backups, iCloud backups and backups made by iMyFone iTransor.
Acquire Backup from Device & iCloud
iMyFone iTransor's Acquire Backup from Device & iCloud feature includes 2 functions: selectively or fully backing up iOS devices and downloading backups from iCloud accounts. It allows you to back up all of the data or only messages, contacts, WhatsApp data or WeChat data on your device. The different backup files will be stored on your computer according to the time when you make them. In addition, you can use the program to download your iCloud backups. These two functions are totally free.
Back Up iPhone/iPad/iPod touch
Here you're allowed to selectively or fully back up your iPhone/iPad/iPod touch. Making a full backup will keep all your data and settings safe, while selectively backing up contacts, messages, WhatsApp, WeChat will make this process much more quick to save time. The backup files made by iMyFone iTransor does not affect your local iTunes backups or other related backups.
Before you start, please download and launch the program on your computer.
Step 1. Choose Acquire Backup from Device & iCloud from the left panel, then click Back Up Device.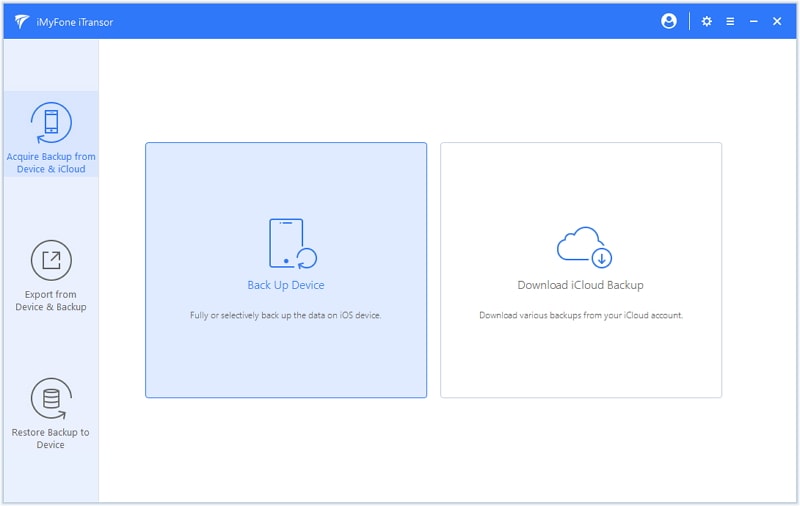 Step 2. On the next screen, connect your iOS device to computer to proceed. After trusting computer on your device, the program will automatically recognize it. Please don't disconnect your device during the process. On the right column there are two options for you to choose - Make a Full Backup or Select One or More Data Type(s). Select one according to your needs. You're also able to choose the path of your backup files if you wish.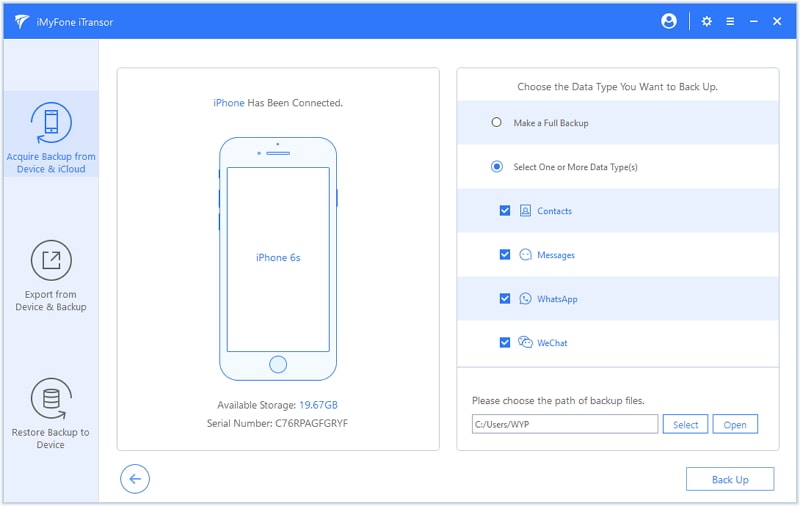 Step 3. Now click Back Up to start the backup process. Once the process ends, you will be notified that the data you choose has been backed up successfully. You can view and export data from the backup or restore your device from the backup later.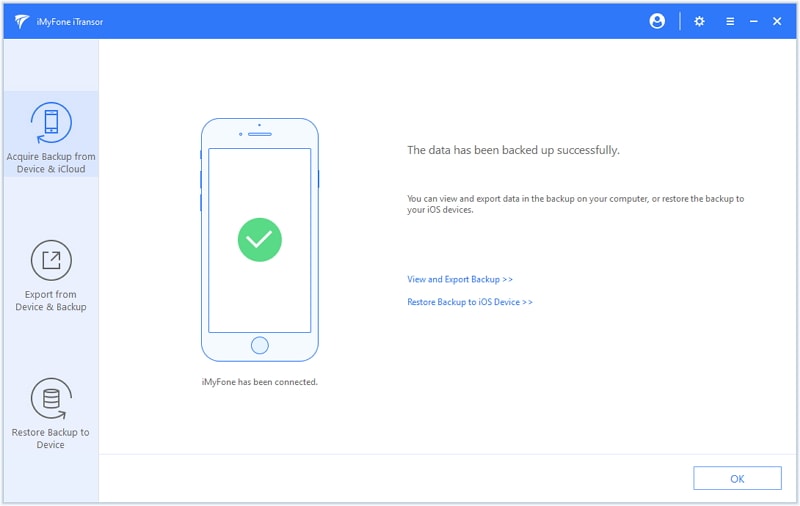 Download Various iCloud Backup
The Download iCloud Backup feature on iMyFone iTransor can be used to download various iCloud backups from different iCloud accounts to your computer. The following is a breakdown of how this feature works.
Step 1. Choose Acquire Backup from Device & iCloud from the left panel, then click Download iCloud Backup.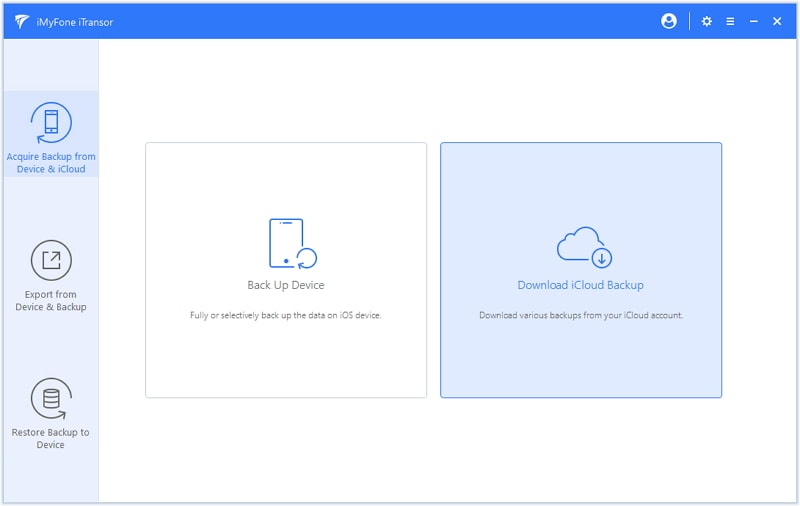 Step 2. Now log into your iCloud account. iMyFone takes your privacy very seriously and will never keep a record of your Apple account information.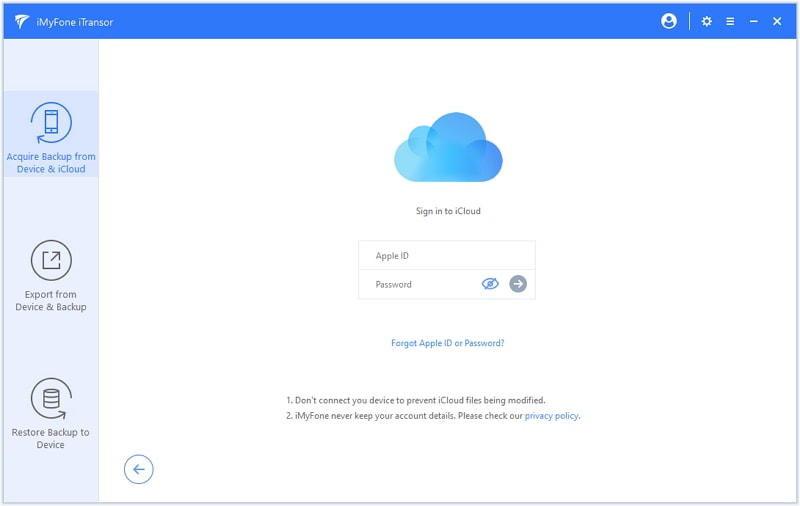 Step 3. Once logged in, you should see all the backup files in your iCloud account. Choose the one that contains the data you need and then click Next to download the iCloud backup file.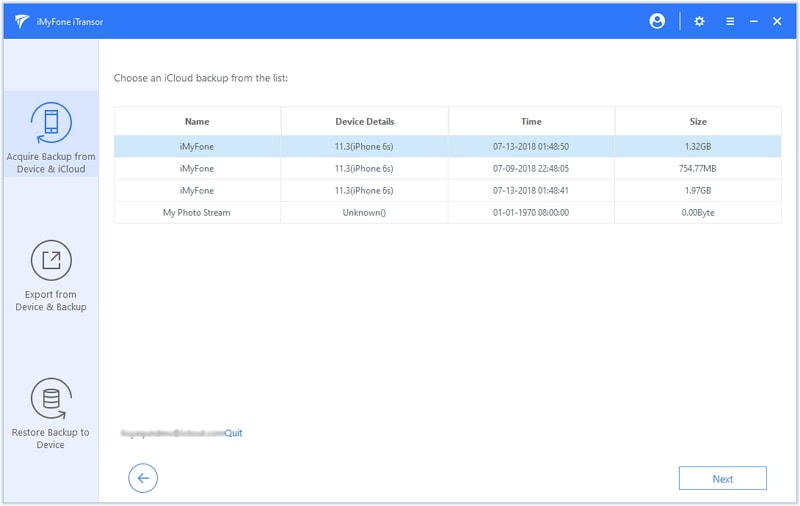 Step 4. After the download is completed, a message will pop up to inform you. Now you can export or restore the data in this backup. Alternatively, you can continue to download other iCloud backups.