If you have recently upgraded your phone to a new Samsung and would like to transfer your WhatsApp data to the new phone, then you may be wondering if Samsung Smart Switch can also help to transfer WhatsApp messages. This article will answer that question and also provide you with different ways of transferring your data to your new device, which you can then choose from.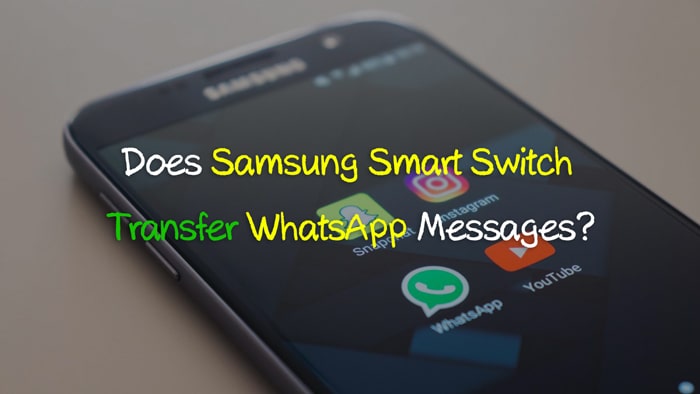 What Is Samsung Smart Switch?
Smart Switch is Samsung's way of allowing you to seamlessly transfer data from your old device to your new device. So, what can be transferred? Things such as photos, files, SMS messages, apps that have been installed from the Google Play Store and even your previous device settings can be transferred when using smart switch. It allows you to transfer data from Android and iOS devices so that you don't manually have to do so.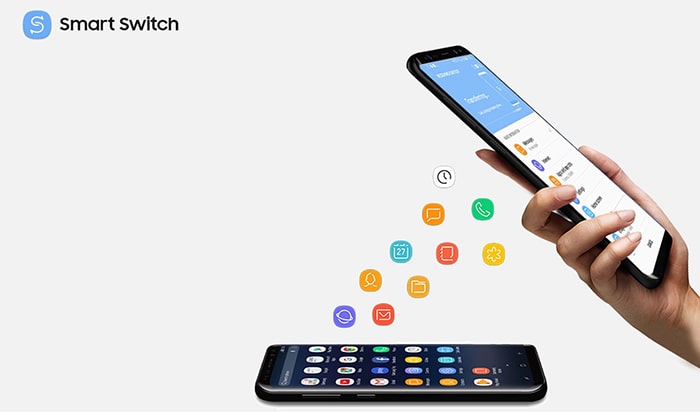 Does Samsung Smart Switch Transfer WhatsApp Messages?
The short answer to this question is no, you cannot transfer WhatsApp messages using Samsung Smart Switch from your old device to your new Samsung device. The reason for this provided by Samsung is that as WhatsApp messages are end to end encrypted, along with other WhatsApp data, it cannot be transferred using smart switch. The same applies to other applications that use end to end encryption for data transfer. However, luckily, there are other methods you can follow to transfer WhatsApp messages from your old device to your new Samsung.
WhatsApp Transfer - 2 Alternatives to Samsung Smart Switch
Although Samsung Smart Switch cannot help with the WhatsApp data transfer, there are other tools that will do. Here we introduce two ways to help you transfer all WhatsApp chats.
Alternative 1 - Use iTransor for WhatsApp to Transfer WhatsApp Messages (Recommend)
If you use WhatsApp regularly to send messages, pictures, and videos, there will be a lot of data that you will want to transfer onto your new device. Doing this manually can take a lot of time and effort, which is why it is recommended that you use the iTransor for WhatsApp tool to migrate your messages and other useful information. One of the plenty of benefits of using iTransor for WhatsApp is that it is incredibly easy to use, only requiring a few clicks to transfer your data between devices. It supports both WhatsApp and WhatsApp Business data, supports the newest models such as Samsung S20 and iPhone 12. Furthermore, it can transfer all data, including Whatsapp messages, photos, videos, and other attachments. All you have to do to transfer your data is:
Connect your devices to a PC/laptop with iTransor for WhatsApp installed using the cables provided with the device. If you do not have the original cables, make sure that you use a reliable data transfer cable.

Select the source device (the device that you would like to transfer the data from) and the destination device (the device that data will be transferred to) and then click on the "transfer" button.

Wait until all of your WhatsApp data is transferred automatically. Your device will restart and then you will have all of your WhatsApp data on your new device.
That's it. In a few simple steps and clicks, you will be able to easily transfer your WhatsApp information between devices. One of the many excellent features about iTransor for WhatsApp is that you can transfer your WhatsApp information from iOS to iOS, Android to Android, iOS to Android and vice versa. This is excellent because you do not have to use iCloud, which may require you to purchase extra storage. You will be in control of your data.
Alternative 2 - Use Google Drive Backup and Restore WhatsApp
If you are reading this article, it is likely that you would like to transfer data from an Android device to another Android device (likely a Samsung device). If this is the case, then you can use the Google Drive backup facility provided by WhatsApp on Android to transfer your data to your new device. In order to do this, you will need to have a Google account.
Open WhatsApp and then click the 3 dots in the top right corner.
Choose Settings, Chats and Chat Backup.
If you don't already have a Google Drive account linked to your WhatsApp, link an account. If you do, then choose the "backup" option.

Once the backup has completed, open WhatsApp on your new device.
Choose the correct information by inputting the phone number of your old device.
WhatsApp will prompt you to restore information from your backup. Choose this option and wait until your data has been restored.
This will restore your WhatsApp information onto your new device provided that you retain the same phone number. However, if you would like to change your phone number on your new device, you can still follow the method above with your old number. Once your data has successfully been transferred, then you can switch your phone number. WhatsApp will recognize this change of numbers and retain all of your data on your device without having to set up a new profile.
FAQs about Samsung Smart Switch
Can I use Smart Switch to transfer data from iPhone to Samsung?