Question
My Google Drive is completely full. I wanted to download some of my WhatsApp backups to free up some space but I am unable to do that. Does anyone know any way to download WhatsApp backups from Google Drive?
This is a question we regularly get from our users and we thought we would address it once and for all. Most people think that if you can easily download photos from Google Photos and documents from Google Drive, you should be able to do the same with your WhatsApp backups. But as our user found out, it is nearly impossible to do so in a very long time.
But we are happy to tell you now, we iMyFone have explored the way to achieve this, you can use iTransor for WhatsApp to download all your WhatsApp backup from Google Drive, and more importantly, these downloaded WhatsApp data can be restored on iOS/Android or be exported to your computer for viewing.
Tips
There is No Official Solution that Google Drive Offers
Currently, there is no feature on Google Drive nor WhatsApp that allows users to
read WhatsApp backup
or download WhatsApp data backup on to their computers. But Google has hinted at developing a feature that can do that in the future. As of right now, you need a third-party solution. Now you can step to '
Part 2
' to get specific the way.
Download WhatsApp Google Drive Backups to Computer Directly - Free to Download
We are happy to announce that iMyFone iTransor for WhatsApp has launched the new feature on V4.5 which is able to download WhatsApp backups from Google Drive to your local computer. More importantly, this function is totally free.
iMyFone iTransor for WhatsApp
Download WhatsApp data from Google Drive to local directly.
Easy to preview, export, or restore Google Drive WhatsApp data.
Supports to Transfer WhatsApp between iOS and Android.
Export WhatsApp backup to HTML, PDF and CSV/XLS.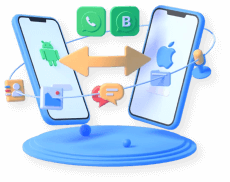 Step 1.Please download and install iTransor for WhatsApp on computer. Launch it and select 'Restore/Export WhatsApp Backup' module. Choose 'Import Google Drive Backups' button at the bottom left corner to extract WhatsApp backups from Google Drive.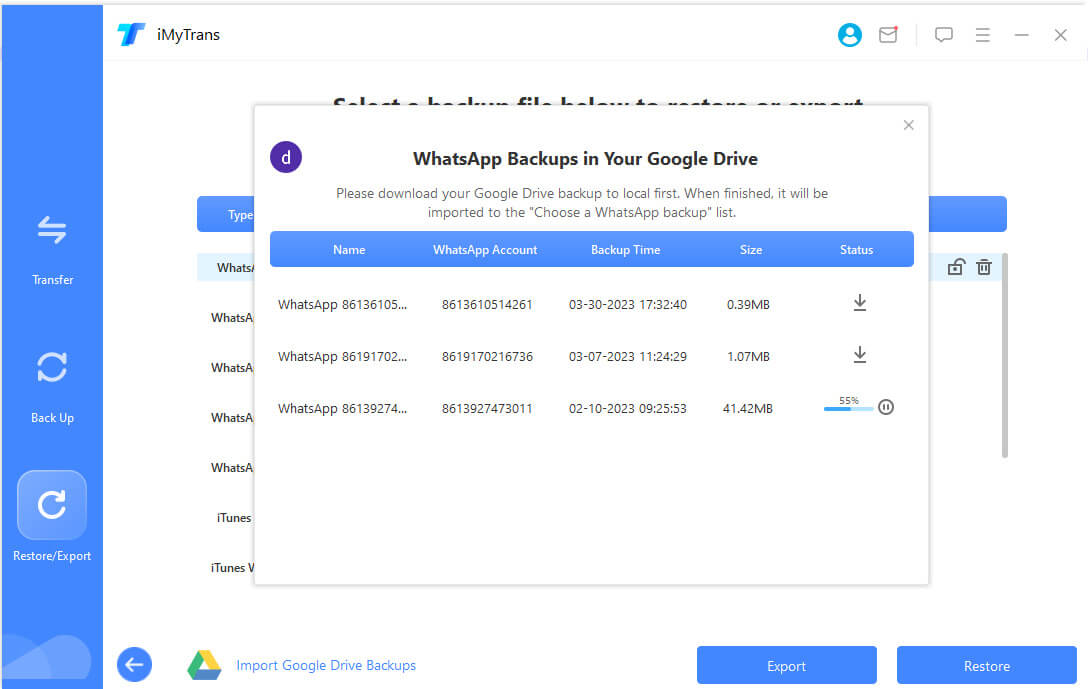 Step 2. On the pop-up window, sign in to your Google account to access.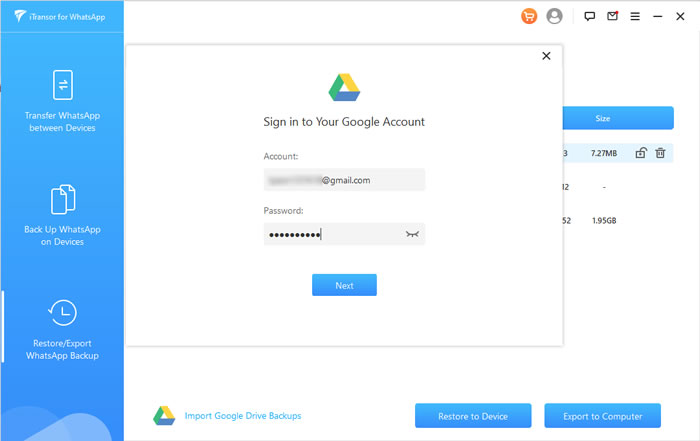 Click on the 'Download' icon of each backup to get the WhatsApp backup you want from Google Drive.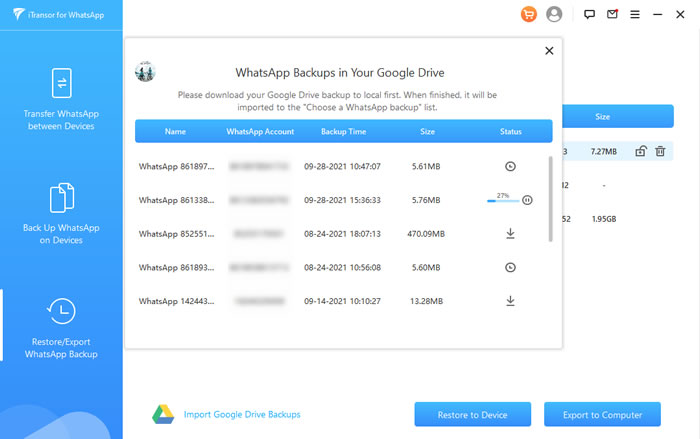 Step 3. To restore WhatsApp backups on iPhone/Android or export to computer, you will need an analysis process. Enter the phone number which is corresponding to the one you've entered to Google account.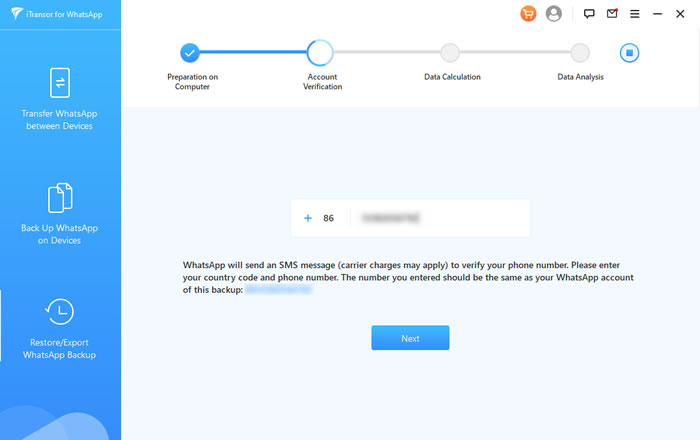 A verify code will send to your phone, enter it in iTransor.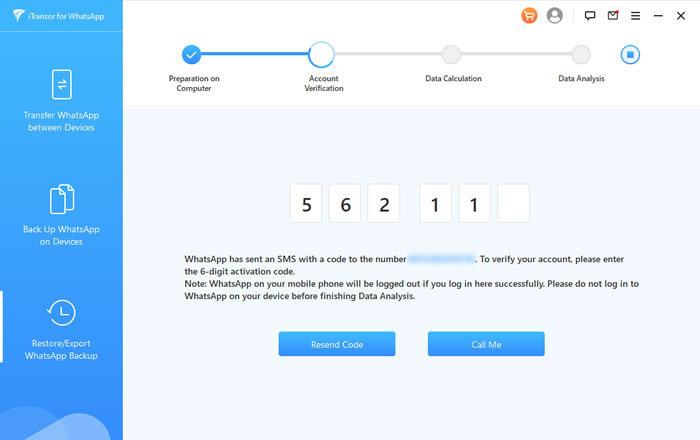 Step 4. Wait for the analysis process done and you will see the Google Drive backup list on screen.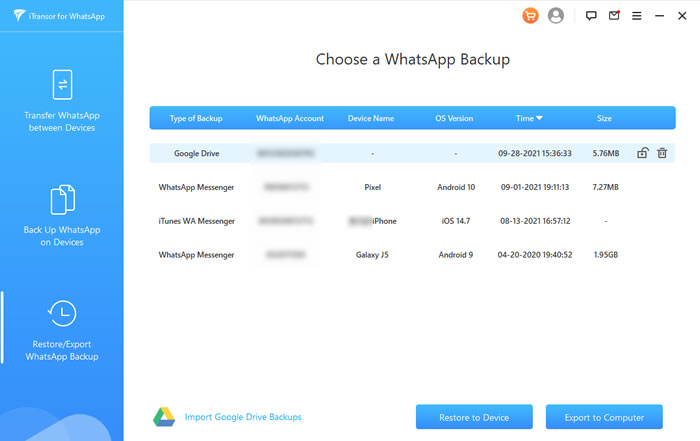 Step 5. And now, you can view, export, and restore Google Drive WhatsApp backups to iPhone. (Tips: You need to purchase the full version to make operations on downloaded backups. )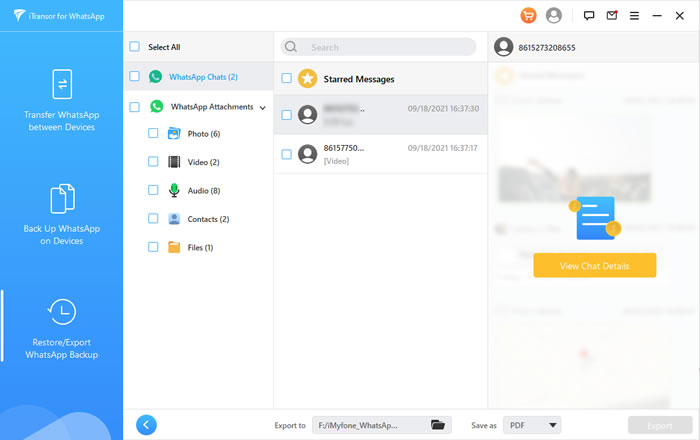 Read, Export & Restore Google Drive WhatsApp Backup to iOS/Android
After getting the downloaded WhatsApp data from Google Drive, you might need to make some operations on it. For viewing details, exporting WhatsApp chats or restoring messages to devices can be possible. Keep reading.
To preview, export, or restore Google Drive WhatsApp backups, please choose 'Restore/Export WhatsApp Backup', select the downloaded WhatsApp backups and choose the two buttons according to the following cases.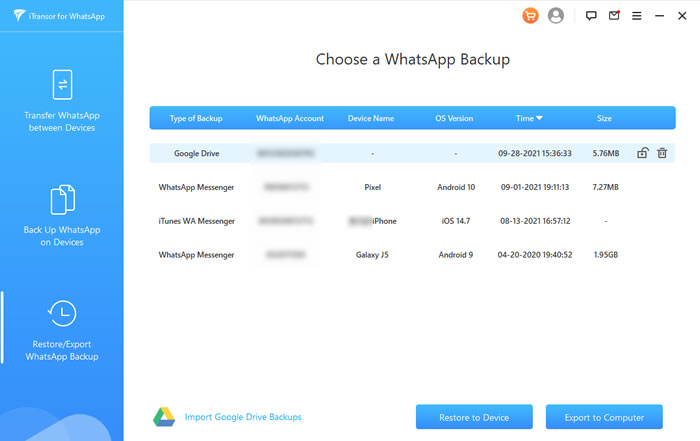 Note
You need to
purchase the full version
or enter purchased code to activate these functions. iTransor for WhatsApp also helps to transfer WhatsApp chat history, messages, media and documents between Android and iPhone.
Preview Detail & Export Downloaded WhatsApp Chats, Photos, Videos ane More
Step 1. Click 'Export to Computer' to preview details. All WhatsApp messages and attachments which included photos, videos, audios, contacts and files will list on screen. You can view every chats with specific sent and received informations.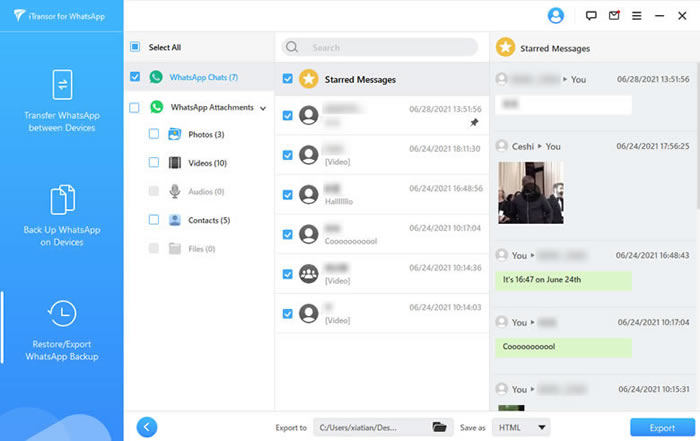 Step 2. Simply select the chats you want and click 'Export' to start the process. Then wait till complete.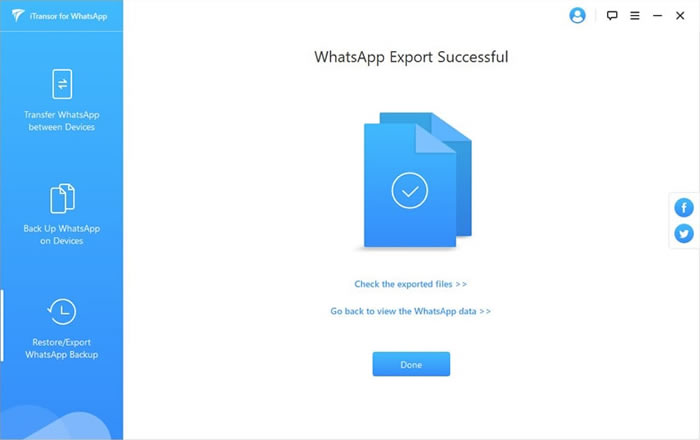 Restore WhatsApp Data from Google Drive to iPhone/Android
Step 1. Click 'Restore to Device' and connect your iPhone/Android device to iTransor via USB cable. Then click 'Restore' to start the recovery process.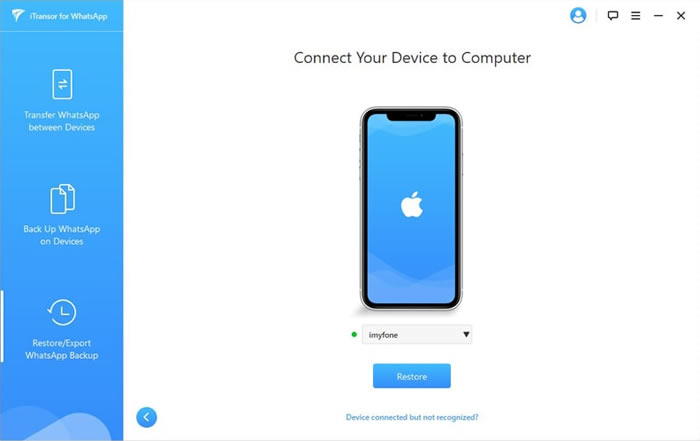 Step 2. You need to do some settings on your iOS/Android.
*iPhone: Turned off 'Find My iPhone'.
*Android: A customized WhatsApp version may need to install on your Android for restoring data. You can follow the guide on screen until complete.
Conclusion
You now have a straight way to download WhatsApp data from Google Drive on your computer. There is no limit to get all your Google Drive WhatsApp backups only if you logged in with your Google account. Downloaded backups can be read, exported, and recovered to both iPhone and Android devices directly! Use iTransor for WhatsApp for a free trial.