For Android users, the only viable way to backup WhatsApp chats is to do it using Google Drive. This is because this option makes it easy for you to schedule an automatic backup, making the process whole lot easier. But backing up WhatsApp via Google Drive is not without its limitations. To begin with, you need a strong internet connection to complete the backup and even then there are times when the backup will not work. You will also not be able to see the files in the backup or access the backup unless you restore it.
But are there any better options to Google Drive when it comes to WhatsApp backups? Well, in this article, we will present three different solutions that you can use in place of Google Drive. You can choose the one that you want.
Option #1. Backup WhatsApp to SD Card
One of the most accessible alternatives to Google Drive, the SD card is a great way to free up space on your device, allowing you backup all WhatsApp messages and media without having to worry about space. To backup WhatsApp on your device's SD card, follow these simple steps;
Step 1: Open WhatsApp on your phone and then tap on "Menu > Settings"
Step 2: Tap on "Chat > Chat Backup and then turn off Google Drive automatic backup
Step 3: Tap "Backup" and WhatsApp will backup chats to your SD card

The main issue with this solution is that your phone will only store up to seven days' worth of local backups and because you don't have an automatic schedule anymore, you basically have to keep backing up the device every 7 days.
Option #2. Backup WhatsApp to Computer with iTransor
Another viable alternative to Google Drive is backing up your WhatsApp messages to computer. iTransor for WhatsApp, a WhatsApp Transfer tool that allows users to easily backup your WhatsApp messages from an Android or iPhone device to computer without overwriting the old backups. You can also restore the Android or iOS backup to an Android or iPhone device as you want without any os-restrictions.
Moreover, if you want to retrieve a previous WhatsApp backup from Google Drive to your device, you can also make it with Google Drive function of this program.
To use iTransor for WhatsApp to create a WhatsApp backup on PC, follow these simple steps;
Step 1: Download and install iMyFone iTransor on to your computer and then launch it.
Step 2: On the main interface, click on "Back up WhatsApp Messages". Connect your Android device to the computer and wait for the program to detect the device. As soon as the device is detected iTransor will begin backing up all the WhatsApp data on the device. There is no further action required on your part except maybe to ensure that the device remains connected throughout the whole process.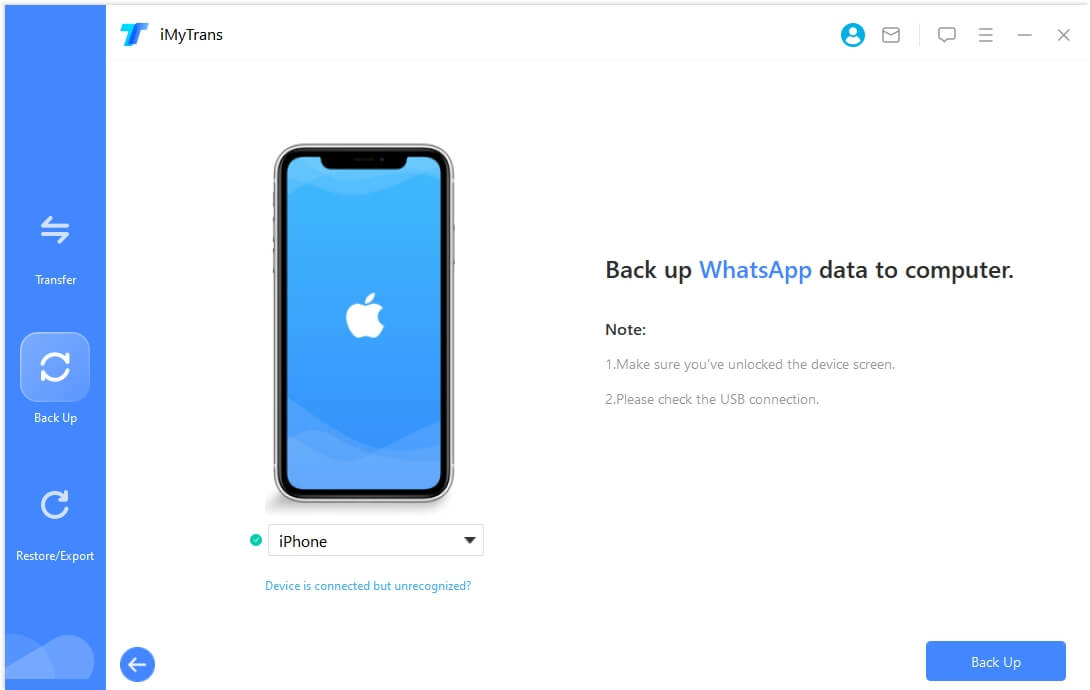 Step 3: Once the backup process is finished, you will find the backup you just made in the list of the homecreen of "Restore backup to device" tab. You can restore it to an iPhone or Android device without any limits in future.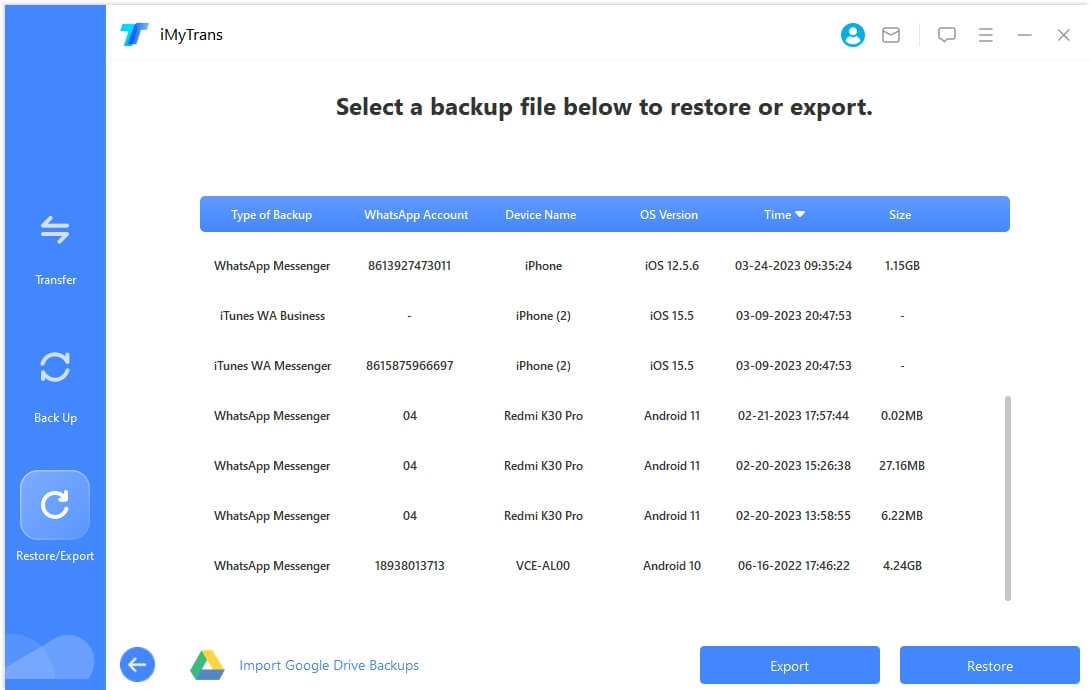 As you can see iTransor makes the whole process so much easier and when you consider that you can use the same program to restore the backup when you need to, it becomes a must-have tool. The only problem we can see with the program is that it is not free although there is a free trial version.
Option #3. Backup an Individual Chat or Group via Email
You can also choose to backup an individual chat or group using the export feature. This process will back up your chats via email. When you need them again, you can simply download them from your email. Here's how you can export an individual chat or group;
Step 1: Open WhatsApp on your phone, go to Settings > Chats > Chat History > Email Chat.
Step 2: Choose the chat or group you want to export, and then choose if you want to include Media or not.
Step 3: An email will be generated and sent to the email address you provide with the chats attached to it as a .txt document.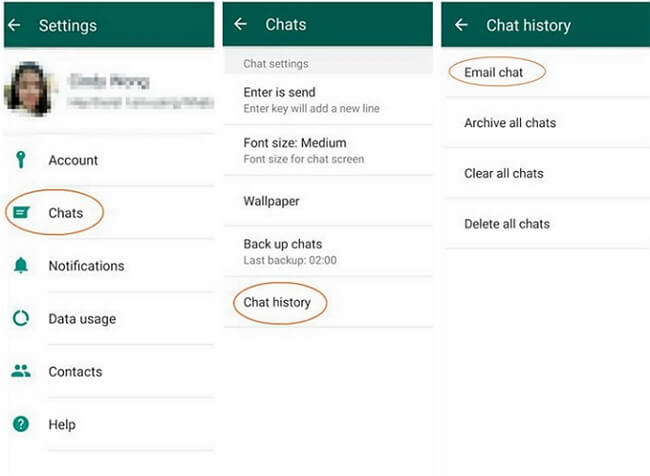 Conclusion
The above are three different alternatives to a Google Drive Backup. You can use one of them whenever Google Drive doesn't work or you don't want to use Google Drive. Although it is a paid program iTransor provides users more options when backing up and restoring WhatsApp backup than any other Google Drive alternative.