Have you lost some of your WhatsApp messages for mistaken operations or during updating your iOS or WhatsApp version? You may have backed up your WhatsApp messages regularly and want to find a way to restore the WhatsApp messages safely from the previous backup to your iPhone.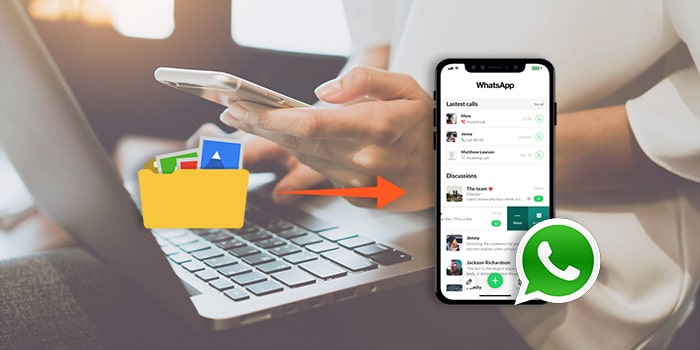 In this article, we are going to look at 2 different ways you can restore WhatsApp messages to iPhone and show you a much better way to get your messages back. Those ways work even you are using the latest iOS such as iOS 13.5 on your iPhone.
Method 1. Restore WhatsApp Messages on iPhone from iCloud
iCloud is actually the official method to backup and restore WhatsApp. However, sometimes it can be stuck for a long time when backing up or restoring from iCloud. In this part, we will not only tell how to restore WhatsApp Messages from iCloud, but also help you to troubleshoot problems met during the restore process.
This method requires you to have already made a backup to iCloud, and you will need to uninstall your WhatsApp and use the same phone number when restoring. Please make sure that you have signed in with the Apple ID that you use to access iCloud.
Step 1 Make sure that you have an available WhatsApp backup. To verify it, go to WhatsApp > Settings > Chats > Chat Backup.
Step 2 Uninstall and reinstall WhatsApp from the App Store.
Step 3 Sign in to the app using the same phone number you used in backing up your data.
Step 4 After you have signed in, the app asks you to restore your chat history from iCloud. Simply hit on Restore Chat History to restore your WhatsApp messages back to iPhone.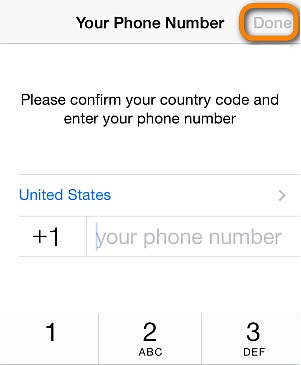 Troubleshooting - Problems Restoring WhatsApp Messages on iPhone from iCloud
Should you run into any problems when restoring the WhatsApp messages, such as WhatsApp couldn't restore chat history, here are a few things to consider.
Justify that you signed in to iCloud in iPhone Settings.
Confirm that you are trying to retrieve data from the same phone number and iCloud account that you used when creating your backup.
Prove that your phone has enough space to retrieve the backup. To check the available space get to iPhone Settings, hit on General then About.
Justify that your iCloud Drive is turned on through iPhone Settings > iCloud > iCloud Drive. When using iOS 7 or before, Documents and Data is in place of iCloud Drive.
If you used iCloud Drive to create your backup, you won't be able to retrieve the backup on any device not on iOS 8 or later.
If you have used your Apple ID to turn on iCloud Drive for any device, you will not retrieve data on your iPhone. You will only if it is on iOS or later.
Try restoring from a different network. Trying to restore in the geographical location from which you use most times works best with iCloud.
Method 2: Restore Only WhatsApp Messages on iPhone from iTunes Backup
iTunes is another way to backup your WhatsApp data. The only problem will be iTunes can only backup and restore a whole iPhone data. Today we are going to introduce another tool that allows restoring part of the iTunes backup.
iTransor allows you to selectively restore backup to iPhone from iTunes/iCloud. You can preview your iPhone data, restore your backup to iPhone, or export to your computer. Moreover, if you already have new chats in your iPhone, iTransor can also help you to merge the WhatsApp chats from the backup with your existing chats rather than directly replace them.
To restore WhatsApp backup from iTunes to your iPhone:
Step 1 Install and launch iTransor on your computer. Choose Restore Backup to Device mode on the left panel, you will see a list of all your backups on your computer including the iTunes backups. Choose the iTunes backup with the WhatsApp data you hope to restore, then click Next.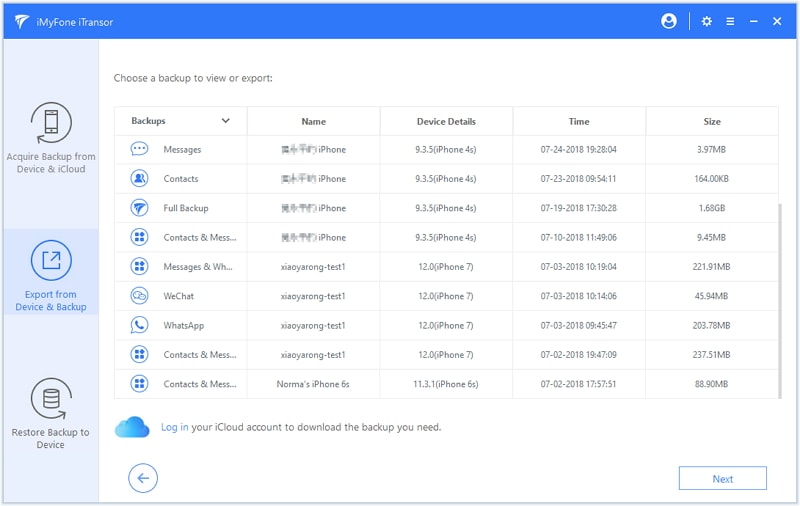 Step 2 From the screen, tap on Restore Partial Backup.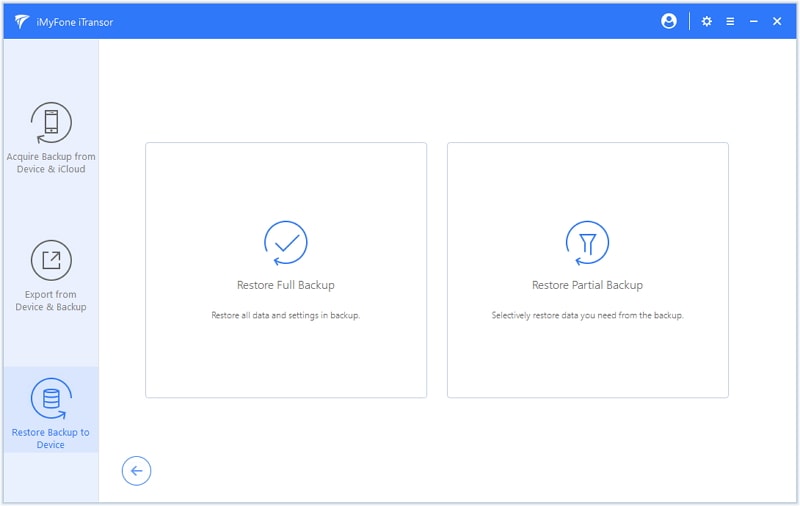 Step 3 On the next screen, you can choose one or some of the data types to restore, including contacts, messages, WhatsApp and We chat data. In this case, choose WhatsApp. Choose to preview or directly restore the data according to your need. If you choose Preview & Restore, you can read the WhatsApp chats in your iTunes backup, to see if you have chosen the right one.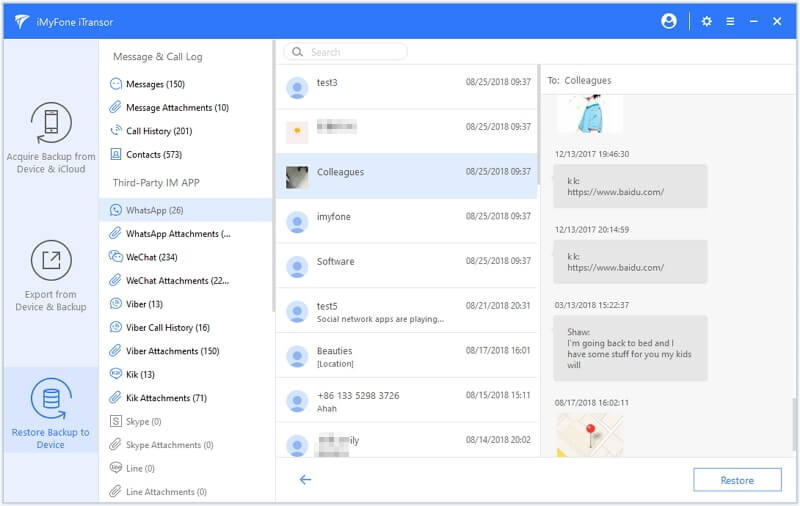 Step 4 Next you need to choose whether to merge or replace the WhatsApp data existed on your iPhone. Click Restore, and you will see the chats in your WhatsApp later.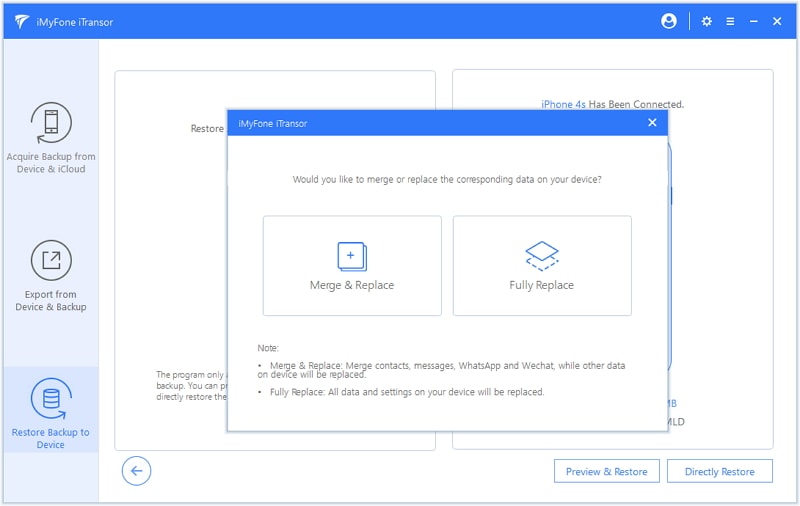 Tip: Restore WhatsApp from Google Drive/Android to iPhone
iTransor for WhatsApp (iOS 13.5/iPhone 11 supported) is a professional WhatsApp backup, restore and transfer tool that developed to help manage your WhatsApp data, especially when you have lost your WhatsApp data accidentally or when you are switching to a new device. It's like an alternative to Google Drive or iCloud but more powerful. You can backup, restore, transfer and export your WhatsApp/WA Business data no matter you are using iPhone or Android. The backup is free to make and you can keep more than one backup, even preview the backup anytime you'd like.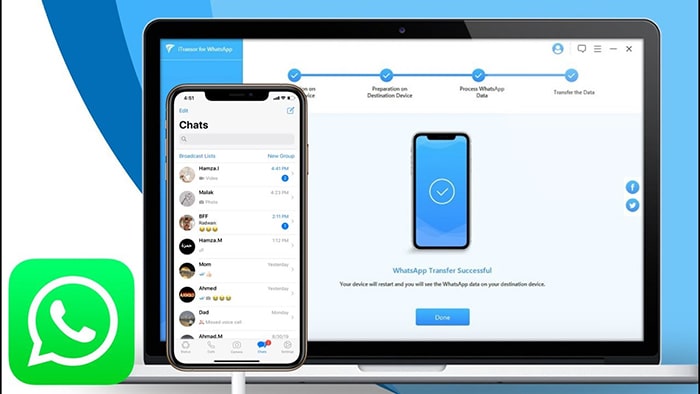 1.1 Backup Whatsapp on Android with iTransor for WhatsApp (FREE)
You should know that doing a regular backup is the best way to prevent your WhatsApp from data loss. With the same iCloud account, you can only keep one backup and there is a storage limit. With this tool, the backup is kept on your computer so there won't be any storage limit, and you can keep as much backup you like for your iOS/Android devices.
Step 1 Go to Back Up WhatsApp on Devices and connect your Android device to a computer. Click the "Back Up" button to start the backup process. If you are restoring WhatsApp backup from Google Drive, restore the backup to an Android phone first.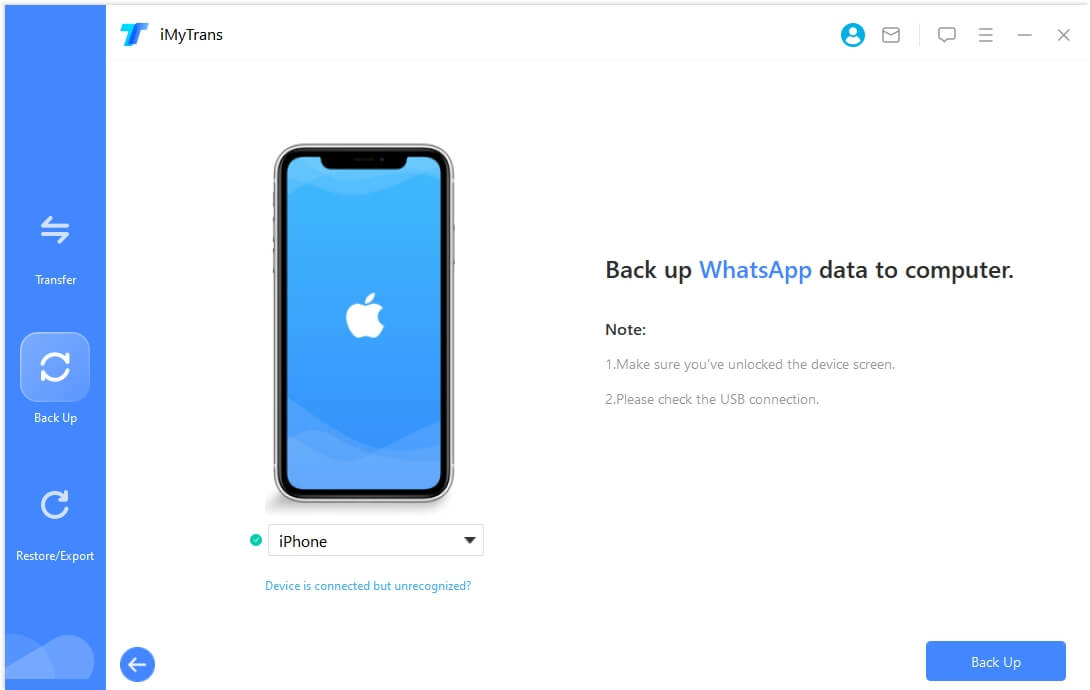 Step 2 Once the process is finished, you can restore on your iPhone from the WhatsApp backup by following the steps below.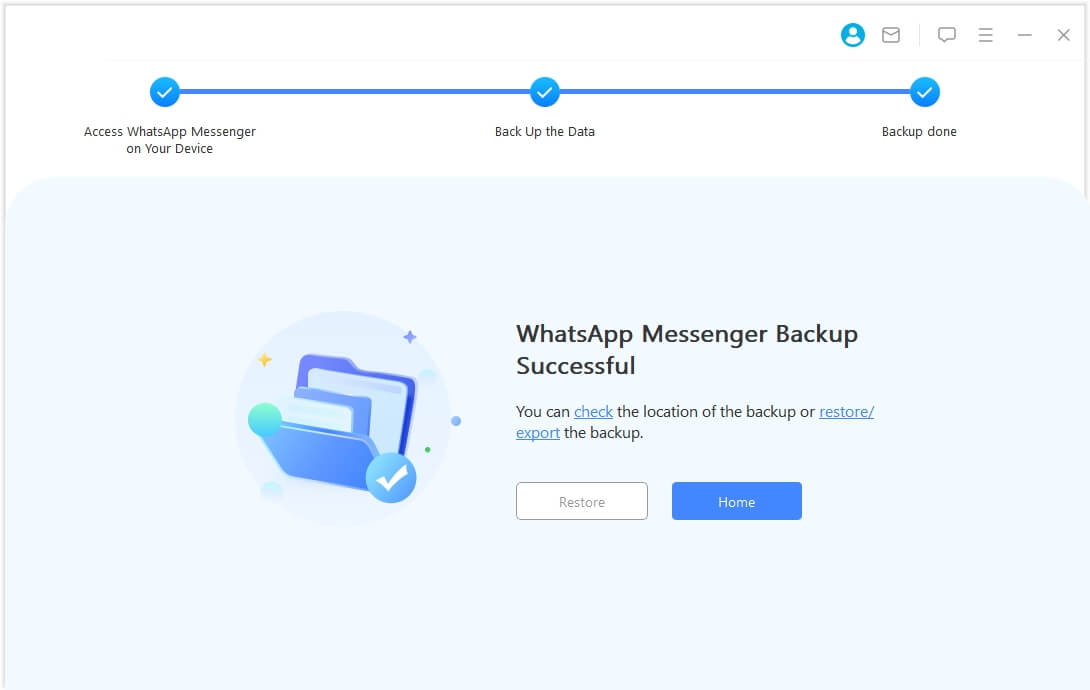 1.2 Restore WhatsApp Chat on iPhone
You can restore the WhatsApp backup on an iPhone regardless of operating systems, which means you can restore an Android backup to the iPhone. To restore WhatsApp backup on iPhone,
Step 1 Go to Restore WhatsApp to Devices mode and choose a backup that contains the WhatsApp data you need. iTransor for WhatsApp supports to restore WhatsApp backup created only by this program. Click on Restore to Device.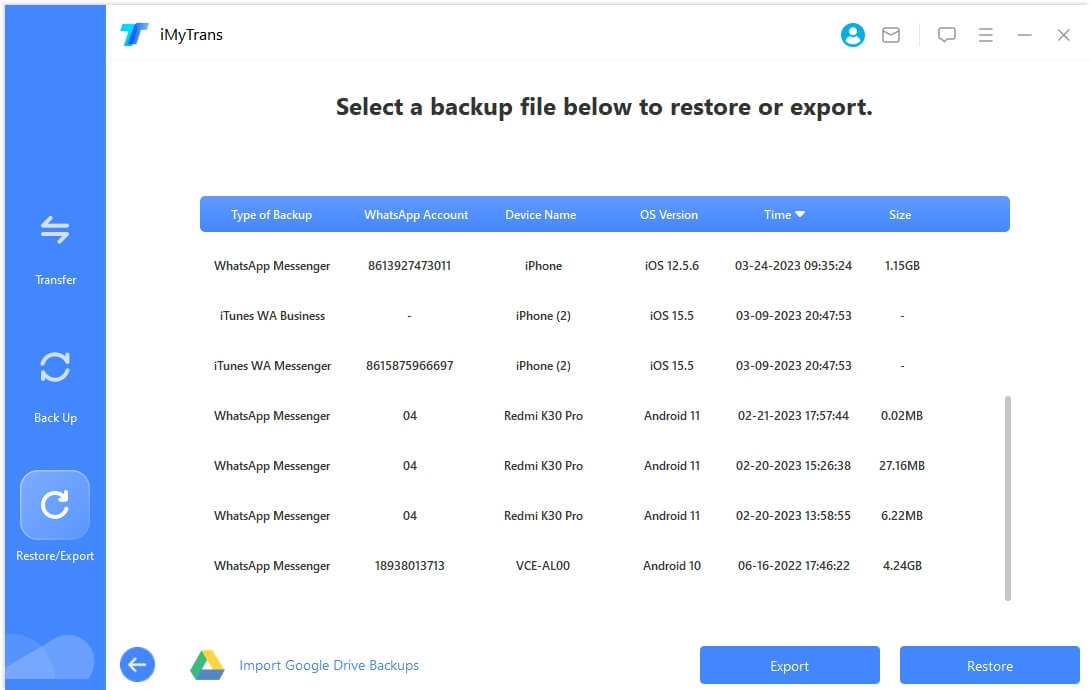 Step 2 You will be asked whether to preview the backup or not. If you select to preview the backup, you can see all the chats and media files before the restoration.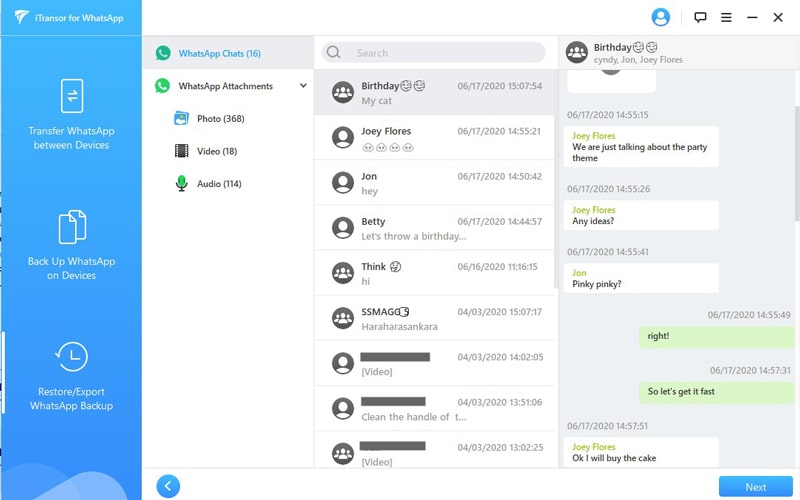 Step 3 On the next screen, connect your Android or iOS device to the computer. Now you can tap on Restore.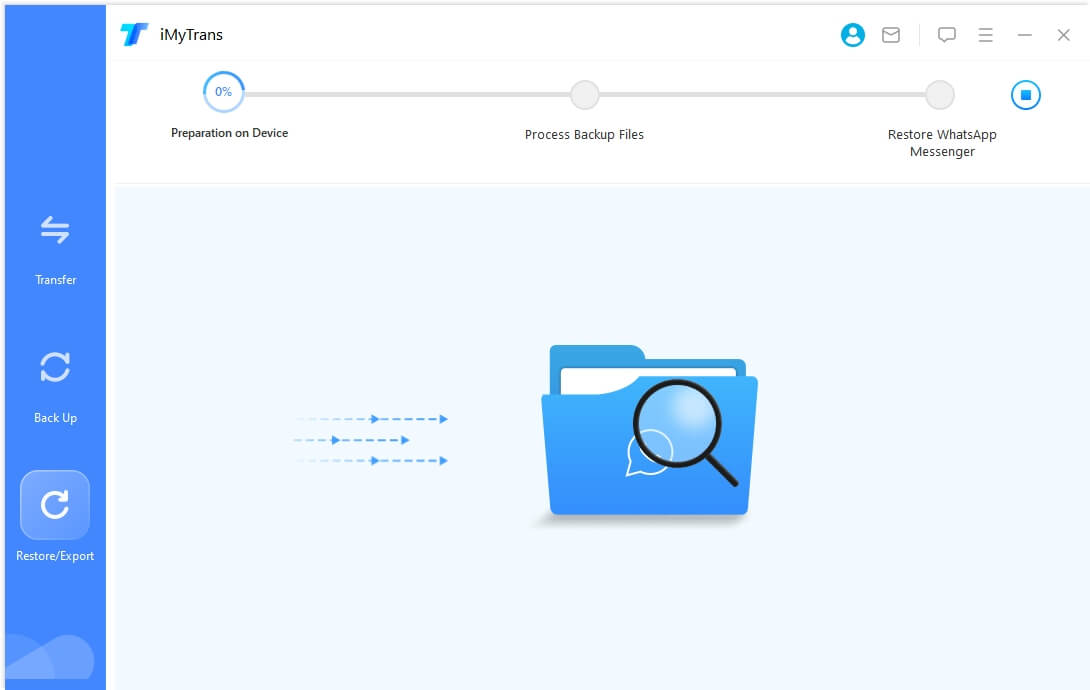 Step 4 It will take a few minutes to restore the WhatsApp data to your iPhone.