WhatsApp has been a popular communication tool in the world, we have much important chat history and cherish memory inside. Have you ever thought export WhatsApp chat as a PDF? So we can keep them forever even change a phone.
In this post, I will show you different methods to help you export WhatsApp chats to PDF. Now, let's see how it work below.
Method 1: Export WhatsApp PDF with iTransor for WhatsApp
To save more time, the best way to export WhatsApp chat to PDF is looking for a third party App to help. One of the best ones available is iTransor for WhatsApp.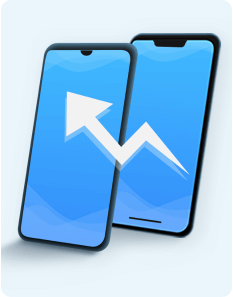 You can quickly learn how to use this tool thanks to the user-friendly interface. If you are interested, here is a quick tutorial on how to export WhatsApp chats to PDF using iTransor for WhatsApp:
Step 1.Download and install iTransor for WhatsApp on your PC and connect with your devices.
Step 2.Tap on the "Restore/Export WhatsApp Backup" option and tap on the "Export to Computer" button.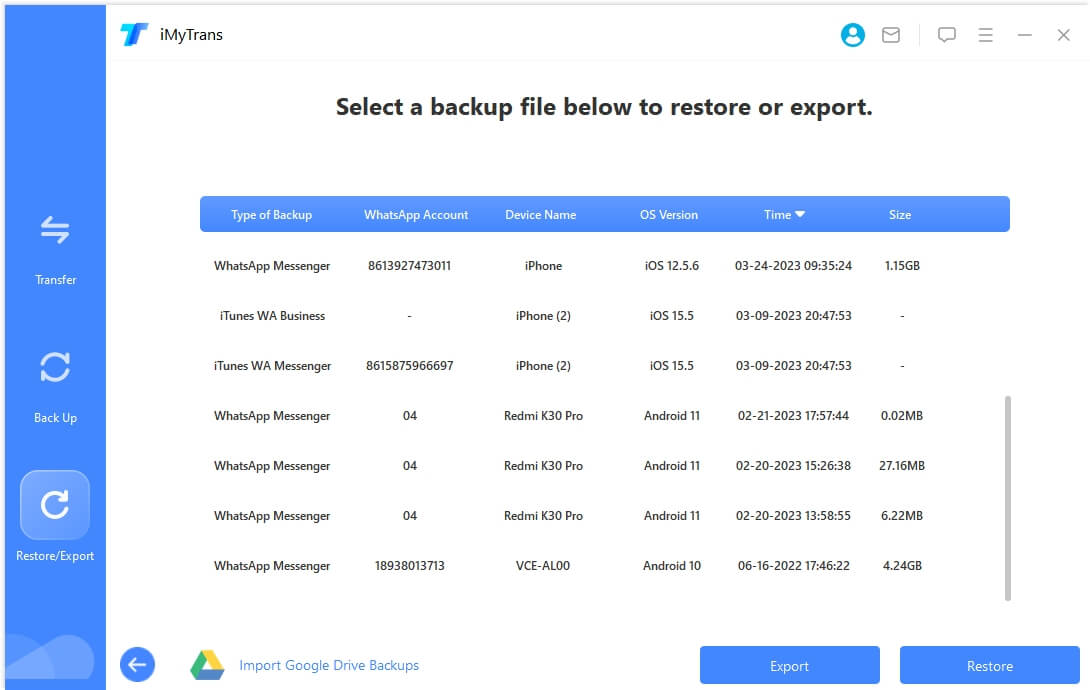 Step 3.You can see all WhatsApp chats and attachments on the screen. Choose the one you want to export, can click the "Save as" option from HTML to PDF. And click the "Export" button.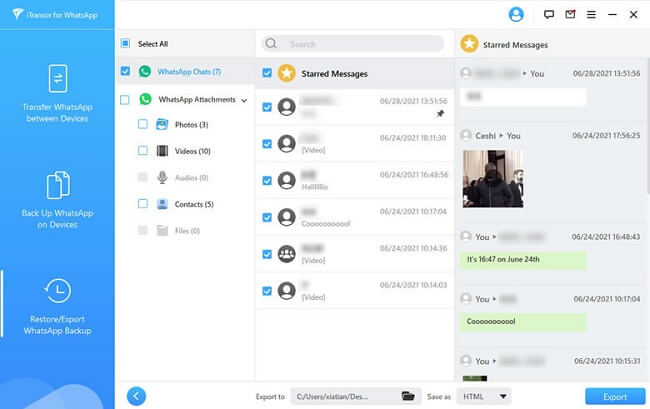 Step 4.Wait for a minute make the procession done.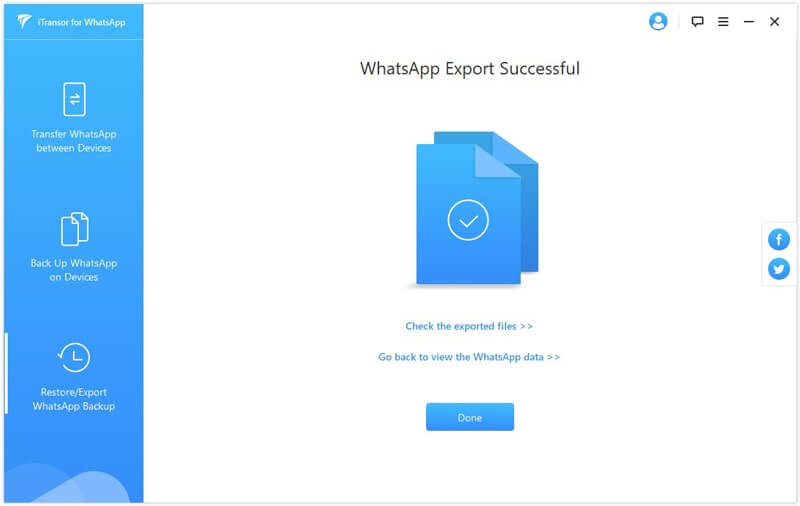 Method 2: Export with PDF Share for WhatsApp
The alternative you can use to export WhatsApp Chats into PDF is via Share for WhatsApp. It is suitable for both Android and iOS users.
Here is a detailed guide on how to use PDF Share:
Step 1.Installing the PDF Share for WhatsApp on your device. And open the WhatsApp chat you want to export as a PDF.
Step 2.Tap on the Settings icon, and A menu of options will unfold.
Step 3.Select the "Export Chat" option. Then select the "Select without Media" option on the new window.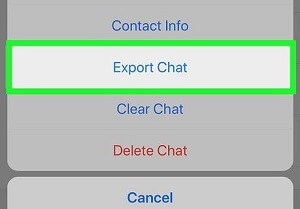 Note
This will only export the chat.
Step 4.Select the "Share Menu" option and choose the "mail" option.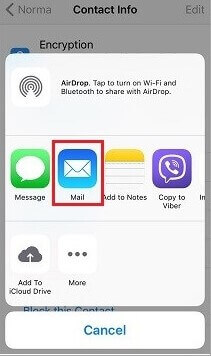 Step 5. In Gmail, you need to forward the file to a recipient. The attachment is the exported chat and enters your mail address here.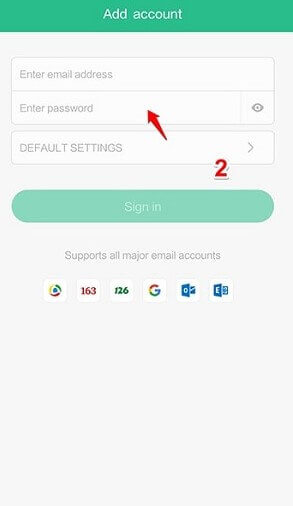 Step 6.After downloading the exported chat on your PC from the mail, open it with the PDF Share app and click on the file you want to export.
Step 7.Choose the chat you want to export, tap on "Export to PDF".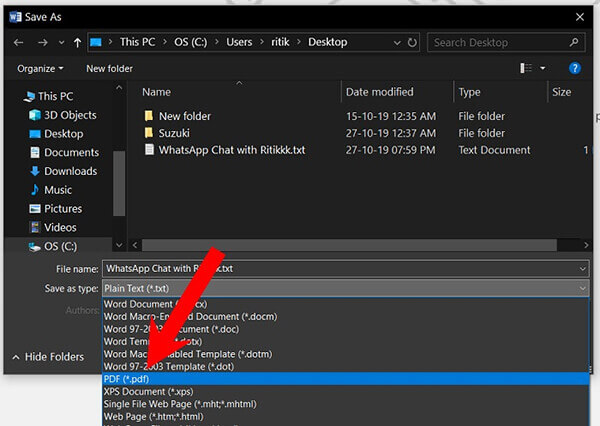 Method 3: Export WhatsApp with Mail
You can export your WhatsApp chat as a PDF using your mail. The benefit of this method is that you do not require third-party applications.
Here is a detailed explanation of how to use it:
Step 1. To start, open the WhatsApp chat you want to export as a PDF.
Step 2.Open the chat settings > Tap on More> Select the option Export Chat.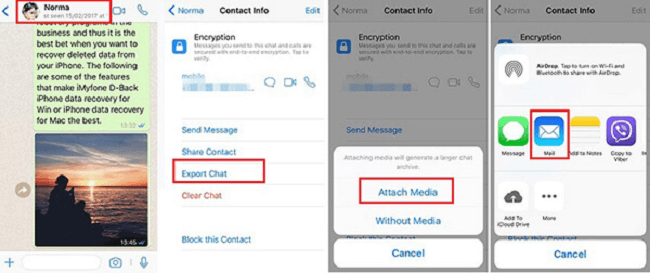 Step 3.A list of alternatives will show up for sharing the chat. Select the email option.
Step 4.Your mail application will open with your chat as a text attachment. Send it to yourself and download the file on PC.
Step 5.Copy all the text on the file?and paste it to the "Word processor" and save the file as a PDF.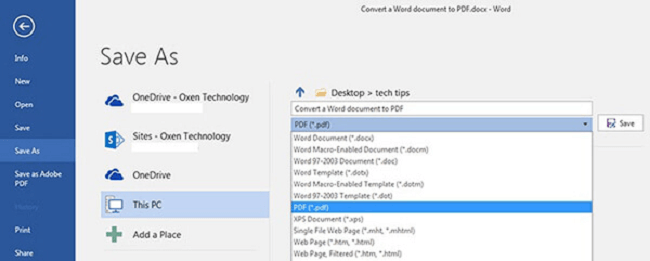 Method 4: Export via File Manager (Android only)
This last method that we introduce works for Android users only. You will need to use the file manager feature available on the latest Android versions.
Here is a step-by-step guide that will explain how to do it:
Step 1.Open the File Explorer application. Proceed to open the folder called "Databases".
Step 2.On this folder, look for a file "msgstore.db.crypt12" and copy it to another location.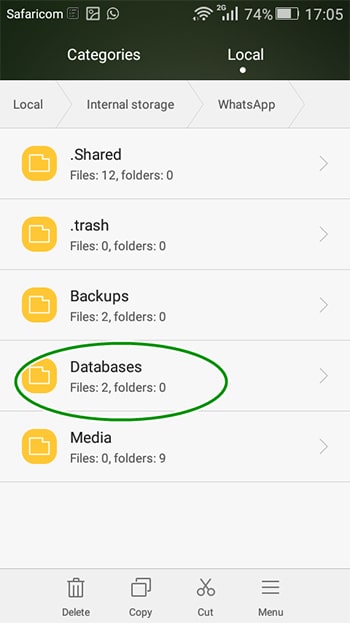 Step 3.Transfer the file to your PC.
Step 4.Download the WhatsApp Viewer and open the?"msgstore.db.crypt12" file. You can then locate the chats and transfer them as text on a PDF file.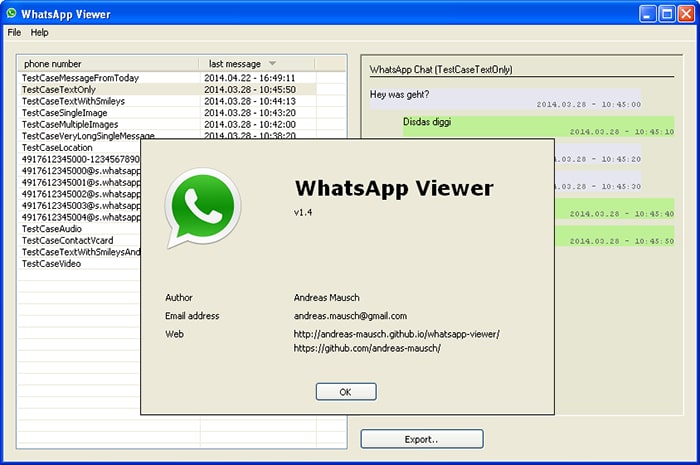 FAQ Related to Export WhatsApp Chat as a PDF
1

Can I export the entire WhatsApp chat?
Yes, you can export the entire WhatsApp chat directly or with third-party tools like iTransor for WhatsApp. The exported version will include starred messages and attachments at once if you indicate it.
2

How do I save a whole WhatsApp conversation as a PDF?
You need to use any of the methods listed before to save the entire WhatsApp conversation. Make sure that the attachments like pictures or documents are included.
3

How do I export WhatsApp media to PDF?
Not all the methods we mentioned will export your media from your WhatsApp chats. You need to use a dedicated tool like iTransor for WhatsApp to export your media to PDF.
Conclusion
We hope that this guide helped you learn all the possible methods to keep a printed record of all your WhatsApp conversations. You can choose the direct way to export them or export them via iTransor for WhatsApp, it's easy and convenient to use. Now we have the free trial version, just click the button below and have a try!