You might want to have a separate account for friends/family and another one for work-related chats. The traditional way to separate the two would be to carry two phones, however, this can be a hassle because you have to carry around double the weight, make sure both phones are charged, and you have one extra phone to lose or damage. Therefore, you may think "Can I Have 2 WhatsApp Accounts on One Phone?". This guide will answer that question and provide you with details surrounding this topic so that you know what the best way to proceed is, after having read it.
Part 1. Can You Have 2 Whatsapp Accounts on the Same Phone?
The answer to this question is yes. For this, however, you will require two different phone numbers (although a landline number can be used) so we suggest it is best to attempt this method on a phone with dual-SIM capabilities. This method is officially supported by WhatsApp, but the only downside is, you will have to have one WhatsApp account (the standard version) and one WhatsApp Business account. Because of this, your experience won't be the same across both applications.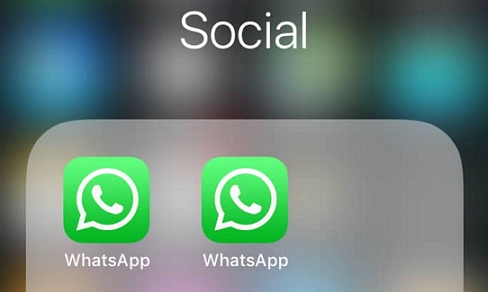 Assuming you already use WhatsApp on your phone, to get WhatsApp Business, all you have to do is:
Step 1. Download and install the WhatsApp Business app from either the App Store or Play Store.
Step 2. Launch the application and follow the setup process.
Step 3. When prompted to enter your phone number, enter a different phone number to the one that you already have linked to your current WhatsApp account. If you decide to enter the same number, you won't be able to use the standard WhatsApp version.
Step 4. Enter your details and use the business application.
You will notice there are some major differences between the two applications, which is mainly due to the different purposes. However, you can use both apps on the same phone, with WhatsApp Business being denoted by the "B" in its logo.

Unofficial Method: Android only
If you are using WhatsApp on an Android and have access to two phone numbers but don't want to use WhatsApp Business, you can make a copy of the WhatsApp application installed on your phone so that you can have two separate accounts.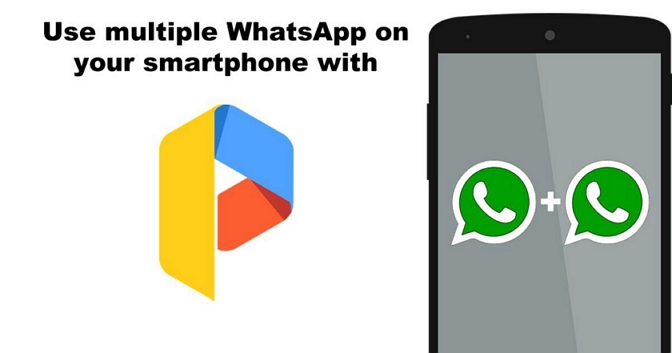 Step 1. Download and install Parallel Space from the Google Play Store.
Step 2. Open Parallel Space and click on the + button in the corner.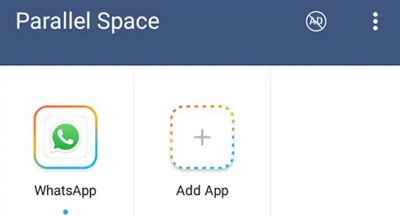 Step 3. Find and check WhatsApp and click "Add to Parallel Space".
Step 4. Open the WhatsApp application within the Parallel Space app and set up your account as you would with a normal WhatsApp setup.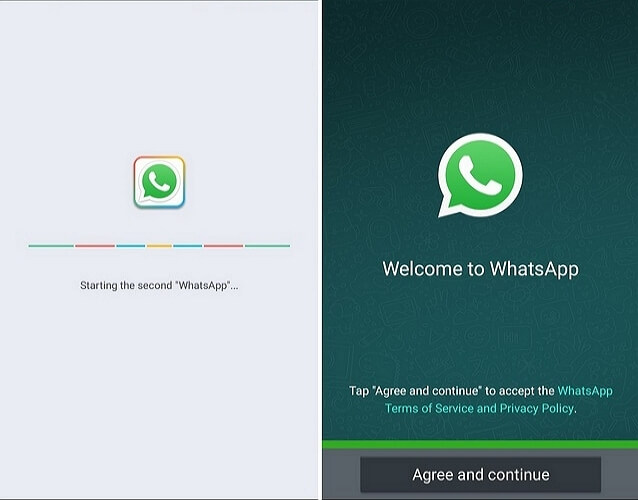 When you wish to use your second WhatsApp account, you will need to launch Parallel Space first, adding an extra step to the process. Because of this, we suggest you use your main WhatsApp account with the app installed on your phone.
Part 2. Benefits and Limitations to Use Whatsapp and Whatsapp Business on the Same Phone
As the applications are different, you can easily use both apps simultaneously, provided that you have an alternative phone number. However, there may be some reasons why you might prefer the normal version of WhatsApp over the business one.

Function: WhatsApp has been built as a messenger application between friends and family mainly. This means with features such as broadcasts or group chats, the application is better suited to your personal needs than its business counterpart.
Spam: You may receive a lot of spam messages, especially from businesses on WhatsApp Business due it being quite easy for this to happen. However, on the standard version, you are protected against these actions because only people who have your phone number can usually message you, and it is very easy to block anyone who is spamming you with messages.
---
However, there are some advantages to running WhatsApp Business and personal on the same phone. These include:
Setting up a business account if you require it.
Not having to give out your phone number, because you can be contacted via a link you share. This lets you keep your phone number private.
WhatsApp Business lets you create group chats without any restrictions on the size of them, meaning if you are organising a very large event, you can use WhatsApp Business to add more than 256 people to a group chat.
Part 3. Move WhatsApp and WhatsApp Business Data to the Same Phone
If you have been using WhatsApp and WhatsApp Business on two different devices and would like to use WhatsApp Business and WhatsApp on the same phone, or if you would like to move to a new phone, the best method for doing this is to use the iMyFone iTransor for WhatsApp program. In short, this is the best all-round WhatsApp tool because it lets you do a range of things, such as:
Create backups and restore from backups.
Export chats.
Transfer to any device.
Works with WhatsApp and WhatsApp Business.
The process for transferring data from WhatsApp and WhatsApp Business to the same phone is the same for both apps, so it doesn't matter which app you would like to transfer. The full guide and details of this process can be found on our website, but the process is easy to complete. Once you have made sure the correct WhatsApp version is installed on your target phone:
Step 1.Connect your phones to your PC and launch the iTransor software.
Step 2.Click "Transfer" and select your source/destination devices. The source device is the phone you will be transferring the data from. And the destination device is the phone you will transfer the data to. The WhatsApp data on this target device will be wiped, so make sure you create a backup of it using the iTransor tool if you would like to keep a copy of this data.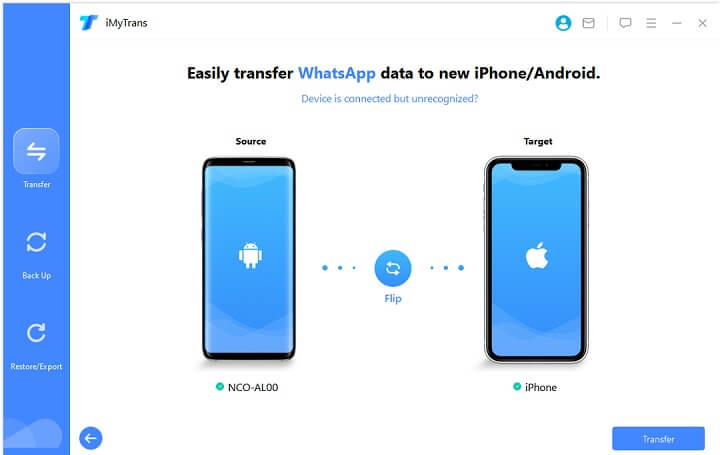 Step 3.Wait for the transfer to complete (the time this takes will depend on the total size of files being transferred).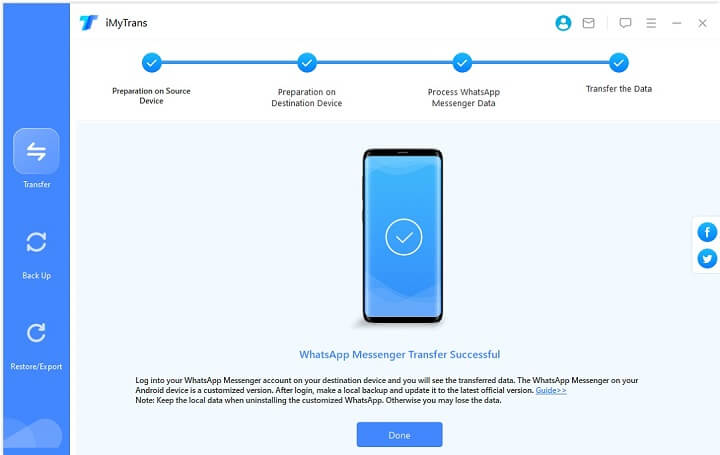 Step 4.Safely disconnect your phones.
That's all you have to do to transfer your data. This is a great tool and we highly recommend you use this program for any other needs you might have of WhatsApp, including creating backups.
Did you know: Your WhatsApp backups aren't encrypted when they are saved on the cloud. Storing these backups on a local machine will help prevent your data from being stolen.
We hope you have found this guide extremely useful and you now know how you can run WhatsApp and WhatsApp Business on the same phone.