Using Google Voice Number for WhatsApp: Everything You Need to Know
Category: Transfer WhatsApp
4 mins read
Having a Google Voice Number at hand can be helpful for many. That's especially true if you're someone who receives many international calls. For more privacy, you might be tempted to use the number for WhatsApp. But the question stands: can you use Google Voice Number for WhatsApp? The answer is a resounding "Yes."
Here's everything you need to know to set up your WhatsApp using Google Voice Number.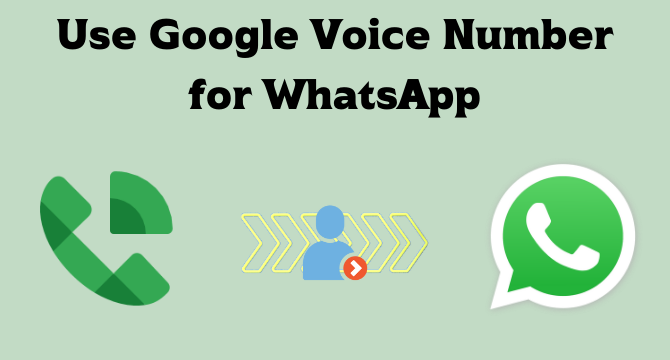 Part 1: What Exactly Is a Google Voice Number?
Before we begin, you might be wondering what a Google Voice Number is. The basic version of this feature is that Google Voice uses your account to give you a permanent and free phone number. You can use this number to call, text, send voicemails, and more from your phone or computer. The number google gives you doesn't replace your actual number, but rather, it works like an alternative you can use.
Currently, this service is only available for Google users in the USA and Canada. Google voice number allows you to create two different accounts. Google Voice is a popular and well-recommended feature. You can have an account that handles all your calls while also having another for business use. The number is given to you for a lifetime. However, Google has the right to take action, such as banning your account and more, if you violate any terms of service. This includes using the number for scams, illegal activities, and more.
You May Want to Know:
How to Fix WhatsApp Not Sending Voice Messages issues?
Part 2: How To Use Google Voice Number for WhatsApp?
Using a google voice number for WhatsApp might sound complex but rest assured, it's pretty simple to do. All you have to do is to follow the guide below. You'll need an original number to begin that can be used to link your alternative Google Voice Number. After that, you're good to go.
1

Download Google Voice and WhatsApp

Before proceeding further, download the google voice app on your phone. And if you don't have WhatsApp installed, install it as well. You can easily find both applications on the Google Play Store and Apple's App Store.

You obviously need to download both the applications before you begin in earnest.
2

Sign Up and Get a Google Voice Number

You'll have to give Google vital information to verify your account to sign up.
Step 1. Search Google Voice Number on Google, and It will be the first suggestion. Or you can visit its official link: https://voice.google.com.
Step 2. First, select the type of account you want: "Personal" or "Business".

Step 3. Select the number you want as per the location. You can select the number by the city or the area code. Then add your preferred number in the box.
You May Want to Know:
How to Use WhatsApp without Phone Number?
3

Verify Google Voice Number with Actual Number

Before you can really use the Google Voice Number, you need to verify it with your actual number first.
Step 1. Google Voice will automatically ask you for your actual phone number to Verify. Type the number for a phone that you can access.

Step 2. Select the option to Send code.
Step 3. Finally enter the code you received to verify, and now your Google Voice Number can be used.
4

Set Up WhatsApp with Google Voice Number

Now comes the primary step. Here's a comprehensive guide to setting up your WhatsApp with the Google Voice Number.
Step 1. If you have the Whatsapp application set up already with your personal number, you'll need to reinstall it. Go to your phone's Settings and find WhatsApp in the application tab. Click Uninstall and download it again from your phone's app store.
Step 2. Now, open WhatsApp. It will ask to verify your phone number.
Step 3. Select the location that you choose for your Google Voice Number. Type in your Google Voice Number.
Step 4. Now you can either have WhatsApp Send you SMS or You can select the Call me option.

Step 5. It would be best if you opened your Google Voice dashboard. You'll get a notification for the text message or a voicemail.
Step 6. Type the code you've received in the box.
Voila! You're done! You have successfully used your Google Voice Number for WhatsApp.
Part 3: How to Transfer and Restore any Google Drive Backup of WhatsApp?
Despite the numerous features WhatsApp comes with, it can be complicated to handle and protect your data if you want to change new phones after having a Google Voice number. That's especially the case when you try to move WhatsApp from an Android phone to an iPhone. Luckily, with iMyFone iMyTrans (iTransor for WhatsApp), you can quickly transfer all your WhatsApp history from your previous phone to your new one directly, and you don't even need to download excessive tools or apps. Best of all, the software is designed to be easily operated.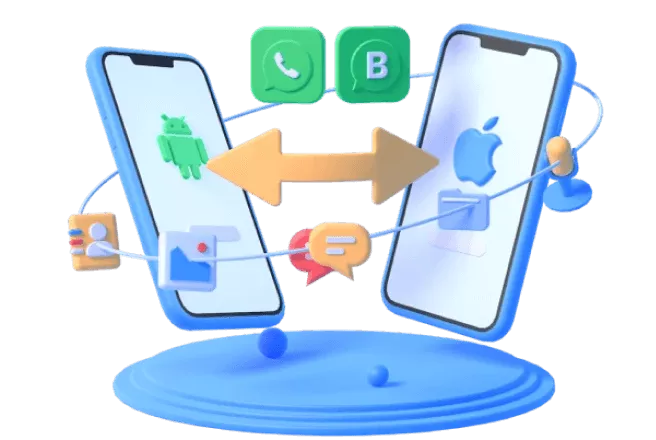 iMyFone iMyTrans - Transfer WhatsApp Tool
Transfer WhatsApp using iMyFone iMyTrans (iTransor for WhatsApp):
Step 1. You'll have to start by connecting your phones to your computer via a cable. Open the app and adjust the source and the destination device right.
If you're shifting to an iPhone, remember to turn the "Find my iPhone" option off. For Android, the program will install a customized WhatsApp on your phone where the program can access your data.
Step 2. Click Transfer and wait for the transfer process. You can also back up your data before starting the transfer if the target device is not brand new.

Step 3. The time it takes depends on the data you want to transfer. Keep devices well-connected before the program informs you the result.
Related Article→How to Restore any Google Drive Backup of WhatsApp using iMyFone iMyTrans (iTransor for WhatsApp)?
Conclusion
Using your Google Voice Number for WhatsApp is easy. You have to sign in and set up your Google Voice Account. After that, you can use your new number and set up WhatsApp with it just as you would do for your personal number. Suppose you're confused about transferring your data from one device or another. In that case, you can use iMyFone iMyTrans (iTransor for WhatsApp) to make the process easier. With the program, you don't have to worry about data loss, nor do you have to execute a complicated procedure to get your data. All you have to do is perform a few simple steps.
Customer Reviews