Use WhatsApp Without Phone Number | 3 Methods in 2023
Category: Transfer WhatsApp
5 mins read
Have you ever considered the possibility of being able to use WhatsApp without a phone number or SIM card? In this article, you'll learn all the tested and working techniques for utilizing this highly popular messaging system on your Android tablet, PC, iPad, or even a mobile phone that cannot use a SIM card. If you want to realize WhatsApp login with phone number online or getting a fake WhatsApp number, keep reading. Our editor recommends iMyFone WhatsApp data management solutions ChatsBack for WhatsApp recovery and iTransor for WhatsApp transfer. You can try it free now.
Part 1: Is It Possible to Use WhatsApp Without Phone Number/SIM?
Yes! It is very much possible to use WhatsApp without a phone number or a SIM card if you follow the instructions that will be detailed in the coming sections. As a matter of fact, WhatsApp itself has made it easy to use its service without a phone number via WhatsApp web.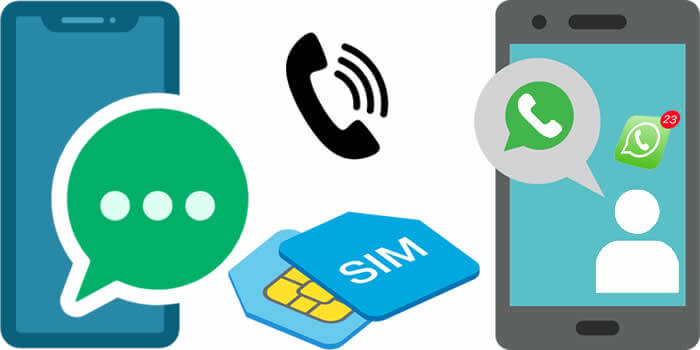 Before you start anything, you need to do the following:
If you don't have WhatsApp already installed on your Android, iPhone, PC or tablet, you should download and install it
In case WhatsApp is already installed on your device, check and confirm if it has been verified or not
If the current WhatsApp has a verified account on it, then, you must uninstall it, or wipe its data
Part 2: 3 Working Methods to Use WhatsApp without Phone Number
01

Use TextNow to verify WhatsApp

This method requires that you download a messaging app—either TextNow or TextFree. TextNow and TextFree are both dependable apps that operate flawlessly on both Android and iPhone. It provides you with a special phone number to enter into WhatsApp and authenticate your account. Follow the steps to get a new TextNow number:
To download, go to the Google Play Store, iTunes App Store, or Windows App Store. If you want to use WhatsApp on your desktop, open your Android emulator and look for the TextNow app in it, then carefully follow the download instructions.
Once downloaded, open it, and complete the registration and note down the phone the number.
Now, open WhatsApp (on your smartphone, tablet or PC).
Agree to the terms and conditions.
Confirm your country code and enter the TextNow number on the WhatsApp.
Choose to verify by SMS and wait for five minutes.
After 5 minutes, WhatsApp will say 'SMS verification failed. Please try voice verification.'
Click on 'Call Me' to receive an automated call from WhatsApp.

Quickly open the TextNow app to receive the call.
The code will be called to you. Note it down.
Enter the verification code on WhatsApp and you're good to go.
02

Use Google Voice Number to verify WhatsApp

If you live in the United States or Canada, you should use Google Voice Number on your Android phone to acquire a new phone number quickly. With it, you can send or receive text, including WhatsApp codes.
Download Google Voice app on your Android phone.
Register with your Google account and other accurate information and the app is ready.
Launch the Google Voice app and go to 'Settings'.
Under the 'Calls' section, click the 'Calls started from this device's phone app' option.

Select either of the first two options from the next page, i.e., 'Yes (all calls)' or 'Yes (international calls only)'.

Make sure that all your devices' numbers are listed in the 'All linked numbers' list. To do this, go to Settings, then 'Linked Numbers', then 'This device's number'.
Again, go to Settings, then Calls > incoming calls > My Devices. Select the device you want to answer calls to select which of your linked devices receives calls.
Now that you have gotten a functional Google Voice number, all that is left now is to open your WhatsApp, input the number and verify it through SMS, as you would a regular phone number. Your WhatsApp will become activated, and you have a second WhatsApp account.
03

Use Landline number to verify WhatsApp

Another potent means to create a second account on WhatsApp without a regular phone number is to use a landline number. Lucky you if you have a landline phone; you can purchase one, though. Anyhow, follow the steps below to use landline number to enjoy WhatsApp:
As usual, download WhatsApp on your smartphone, PC or tablet.
Launch the app, agree to its terms and conditions.
In the next page, select your country code, and enter your landline number into it.
Select to verify by SMS—which will fail after 5 minutes of waiting.

After the SMS verification fails, click 'CALL ME' button to receive an automated call from WhatsApp, bearing your verification code.
You will then receive a call from WhatsApp on your landline phone; note the code that will be called to you.
Go back to WhatsApp and input the code into the box, and it will be activated immediately.
Complete your registration and you can now enjoy WhatsApp without a regular phone number, but with a landline number.
All the aforementioned three steps are working methods to use WhatsApp with a phone number. One, two or three should work for you.
You May Want to Know: Best WhatsApp Data Transfer Software You Can Get
Part 3: Is It Possible to Verify WhatsApp without Code?
So far, no tangible instructions have been given to activate WhatsApp without receiving a code, either from official WhatsApp sources or unofficial sources. This means that you need a functional number that can either receive text or calls (both preferably) to activate WhatsApp. You can use any of the methods above to activate your WhatsApp, plus the conventional means we all are used to.
Part 4: How to activate WhatsApp with an old number without SIM?
Do you have a stale WhatsApp account that you require right now?
However, if you misplaced the SIM card and now need to use the account on a new device, the method becomes a bit more complicated.
Don't be concerned. You may effortlessly transfer your previous WhatsApp account to your PC without having to register anew.
Here's how to: Activate your Old WhatsApp on Web
Are you perplexed about how to utilize WhatsApp web on a mobile device? Yes, you may now use WhatsApp web to run your old WhatsApp on your new phone.

If you've got an old WhatsApp app on your phone and need to transfer it to a new device, simply follow the steps below:
To begin, open WhatsApp on your old phone and tap on the three-dots symbol.
Simply look for and select the WhatsApp web option.
Now, on your other devices, navigate to web.whatsapp.com.

If you're using a smart phone, just switch to the desktop version of the browser.
Scanning the QR code from the WhatsApp web option completes the process.
Often, reactivating or changing your WhatsApp device and backing up of data go hand in hand. - iMyFone iTransor is here to the rescue. With iMyFone iTransor, you can: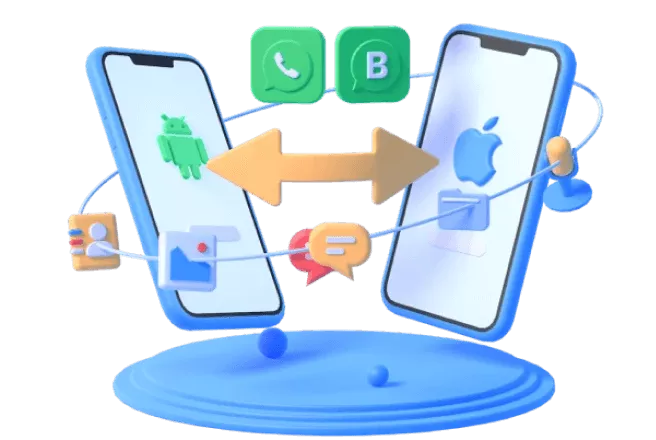 Key Features:
Transfer WhatsApp data between Android and iPhone.
Back up WhatsApp on Android and iPhone to a computer.
Restore WhatsApp backup to iPhone and Android devices.
Export WhatsApp backup to HTML, PDF and CSV/XLS and much more.
Customer Reviews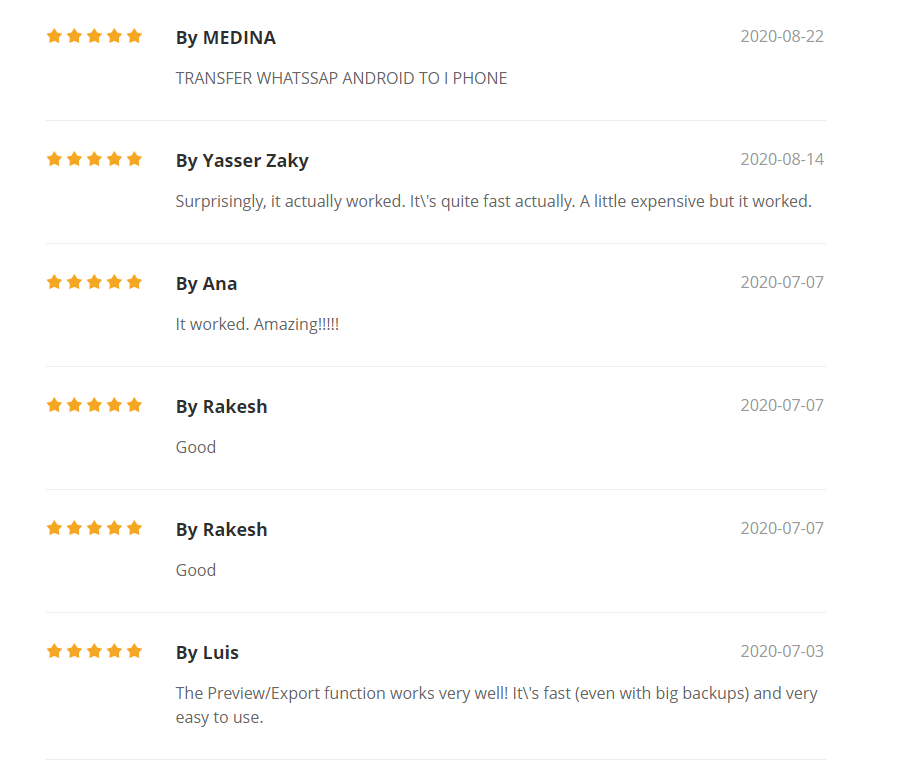 You May Want to Know: How to Transfer WhatsApp Between Android and iPhone
Conclusion
For one reason or the other, we may want to operate a new account with WhatsApp while still maintaining the current account, and it is perfectly understandable. The problem comes when you can't get a second number to activate; this article has revealed three solid and potent methods to use WhatsApp without a conventional phone number, and we hope that one or two or all methods work for you.
FAQs: Tips You May Want to Know About WhatsApp
1

Can you use WhatsApp with just an email address?

Yes, but this is been a little bit tricky. When your phone in in flight mode or without a network connection, select SMS verification and submit your email address when creating a WhatsApp account. At the same time, download a fake message app on phone to receive the message.
2

How do I know if someone is checking me on WhatsApp?

WhatsApp owns a Who Viewed Me feature on Android 2.3 and above versions. Just need to download 'Who Viewed Me' and click on the 'SCAN' button, after a few seconds, it will show the users who have checked your WhatsApp profile in the last 24 hours.