WhatsApp is a social media app that most of us cannot do without today. With over 2 billion users worldwide, WhatsApp has become a household name that almost every smartphone user knows. It is packed with different features, including video and voice calling, multimedia sharing, location sharing, voice message sharing and so much more. The voice message feature works like a charm, but sometimes, due to one reason or the other, voice messages might refuse to send on WhatsApp. Anyone can get easily worked up by this, because it is truly frustrating.
In this article, we will look at how to fix WhatsApp voice messages not sending and how to avoid it in the future. Keep reading to learn how to.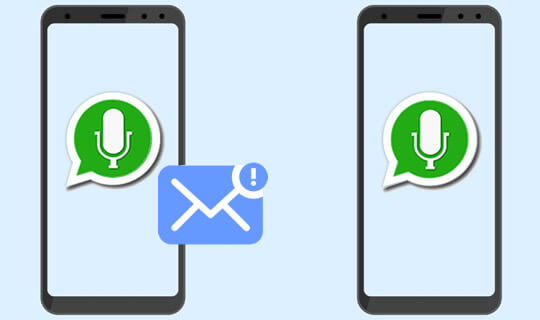 5 Method to Fix WhatsApp Not Sending Voice Messages Issue
Below are 5 useful method that we offered, you can try them one by one.
01

Checking Your Internet Connectivity
Whether your smartphone runs on iOS or Android, it requires an internet connection to work with apps that require internet connection to function. You cannot possibly send a media, message or anything on WhatsApp without a working internet connection. So, if you are encountering this problem, the first thing you want to do is checking your internet connection. You may have mistakenly turned it off, or you do not have an active internet subscription.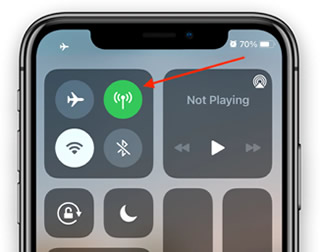 02

Check If Other Applications Running In the Background Are Using the Mic
The mic of your smartphone readily works with any application that needs it and has the permission to do so. However, it mostly works with one app at a time. Therefore, if you have an app running in the background, say you are recording a video with TikTok, your WhatsApp, at that moment, may not be able to access the mic. In that case, you will not be able to record a voice message, let alone send it. To remedy this, simply close all the apps running in the background.
03

Check if WhatsApp has the permission to use the mic
If you recently installed WhatsApp on your phone, you will discover that it requests a lot of permissions. Inclusive in those permissions is the permission to access the mic of your phone. Make sure that you grant WhatsApp the permission to use the mic of your phone, or you can't neither hear any audio sound nor send any voice message.
For iOS Device:
Step 1.Open "Settings" on your iPhone/iPad and scroll down till you find "WhatsApp".
Step 2.Click on "WhatsApp" and toggle the microphone on.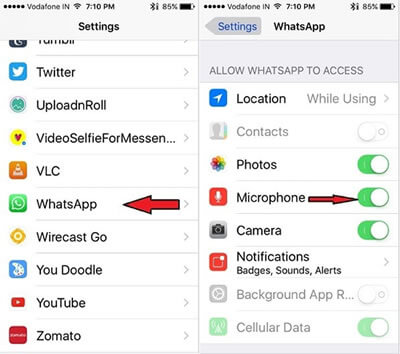 For Android Device:
Step 1.Press and hold the WhatsApp icon on the home screen or app drawer.
Step 2.From the pop-up options, select "App info" > "App permissions" > "Microphone".
Step 3.Select "Allow" or "Allow while using the app" depending your Android version.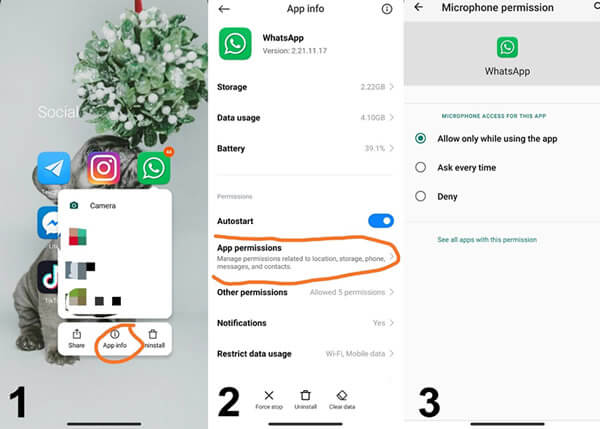 04

Use the Official Version Of WhatsApp
If you are using an unofficial version of WhatsApp, you should try the official version and that may solve your problem. Unofficial version might be forbidden to use some of the features, that might include fail to send voice messages.
05

Reinstall WhatsApp On Your Device
If none of the above methods works for you, your best shot is uninstalling the app and reinstalling it. This is known to restore the app settings back to their default settings. Make sure to grant it all necessary permissions as the app requests.
8 Quick Ways to Fix WhatsApp Voice Messages Not Working Problem
01

Restart Your Phone
Regardless of the type of smartphone you are using, restarting your phone might be the little trick to get your WhatsApp voice messages working again. Restarting your phone is just like refreshing the system and giving it a new start. This case solves most of minor software issues, and could solve your WhatsApp issue too.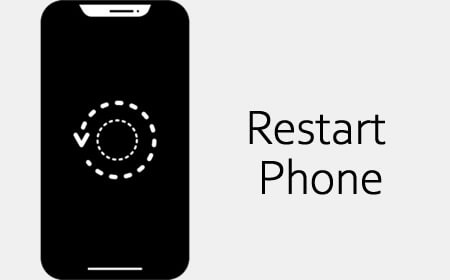 02

Check Your Phone Is Connected to the Internet
To send or receive WhatsApp voice messages, you must connect your smartphone to the internet, otherwise, WhatsApp voice messages will not work. You will not be able to send nor receive them. So, make sure that your smartphone is connected to the internet. Also ensure that you have an active internet subscription.
03

Check Something Is Not Covering the Proximity Sensor Of Your Smartphone
All smartphones are now equipped with a proximity sensor at the top of the screen. The sensor detects the presence of nearby objects without any physical contact. During calls, the screen light goes off when it detects a nearby object, e.g., your ear. WhatsApp also takes advantage of this sensor to allow you to hear a voice message through the speaker at the top of the screen.
However, should any object come close to the sensor while listening to a voice message, the screen will go black, and the audio channel will automatically switch from the loudspeaker to the speaker at the top of the screen. In this case, check that nothing is obstructing the sensor; it could be a misplaced screen protector, or smudge.
04

Close Other Apps That Might Be Using the Mic In the Background
If you are using two apps that have access to the microphone of your phone, the mic can only work for one of them at a time. Therefore, endeavor to close other apps running in the background that may be using the mic. If you are not sure which app is using the mic in the background, simply close every other app apart from WhatsApp.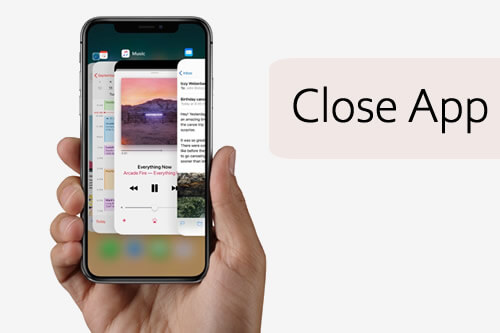 05

Turn Up the Volume
Before looking for the bigger solutions, check to see that the volume is turned up. It is quite funny, but you just might be the "volume key" away from your solutions.
06

Clear Cache and Data from WhatsApp (Android Only)
You can try to clear WhatsApp cache and data for testing, the disadvantage to using this method is that it will erase all your current WhatsApp data, if you still want to try with it, just follow the steps:
Step 1. Go to "Settings" > "Apps & Notifications" > "All Apps" and open "WhatsApp".
Step 2. Choose "Storage & Cache" to open.
Step 3. Tap the icon to clear WhatsApp storage and cache.
Step 4. Restart your phone and sign into WhatsApp to check if it could work.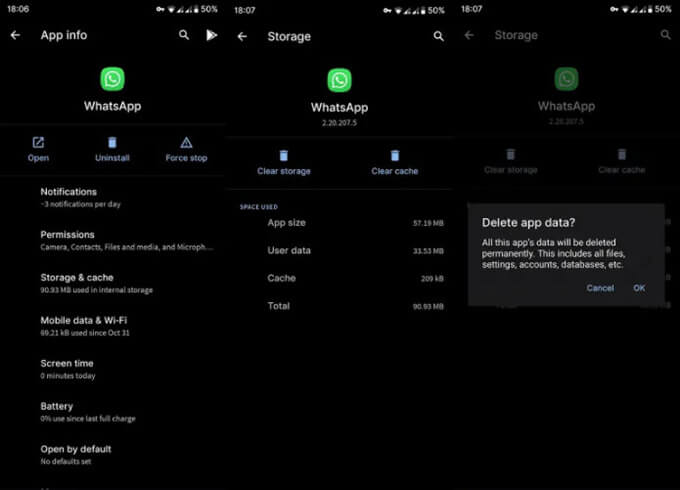 07

Restart WhatsApp
Close your WhatsApp and reopen it. As simple as it sounds, it is capable of resolving the issue.
08

Check Phone Storage
If you received "Sorry, cannot load this audio right now. Please try again later" while trying to hear a voice message sent from your friend, you'd better check your phone storage right now, because it may be filled and can't store any audio messages anymore.
Backup & Restore WhatsApp Voice Messages in Convenient Way
It is always advisable to back up your WhatsApp chats and voice messages to avoid losing them to mishaps on your phone or WhatsApp itself, especially in an avoidable situation where you have to uninstall and reinstall WhatsApp on your device.
If you want to back up WhatsApp voice messages, as well as other media content to restore at any time, or need to transfer WhatsApp data between iPhone and Android, you can turn to iTransor for WhatsApp for help. It is the best WhatsApp & WhatsApp Business transfer tool for both iPhones and Android devices. With iTransor for WhatsApp, you do not need to be scared when uninstalling and reinstalling WhatsApp.
iMyFone iTransor for WhatsApp
Transfer WhatsApp between Android and iPhone.
Back up WhatsApp on Android and iPhone to a computer.
Restore WhatsApp backup to iPhone and Android devices.
Export WhatsApp backup to HTML, PDF and CSV/XLS.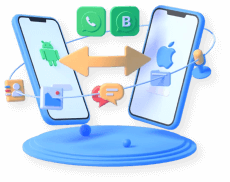 FAQs: Tips You May Want to Know About WhatsApp
1

How do I send a voice message on WhatsApp?
Open an individual or group chat.
Beside the message box (right side), you will see a microphone icon, press and hold to record.
When you are done, release it and the voice message will automatically send, provided you are connected to the internet.
2

Why is WhatsApp microphone not working?
If your WhatsApp microphone is not working, you probably did not grant WhatsApp the access to your phone's mic, or your WhatsApp is out of date. In the earlier case, grant WhatsApp the necessary permissions. For the latter case, make sure you update your WhatsApp.
3

How can I listen to WhatsApp voice messages without sender knowing?
You can forward the voice message to another contact and listen to it in that chat window.
You can also turn on airplane mode before listening to the voice message.
For Android users, you can listen to the voice message from the file manager by locating the WhatsApp media folder.
Conclusion
If your WhatsApp is not sending or delivering voice messages, you do not need to be alarmed. It could be a minor issue that a simple restarting of your phone or WhatsApp may resolve. In this article, many ways to solve the issue have been explained extensively. One or two of the methods should solve your issue so that you can continue enjoying your chat with your favorite ones on WhatsApp.