WhatsApp Notification Sound not Working on Samsung? Let's Fix It!
Category: Transfer WhatsApp
3 mins read
We have heard so many people complaining that they can't hear WhatsApp notifications on Samsung or other Android devices, and they also don't know the reasons for that. That's why we decided to share some significantly possible reasons for not getting WhatsApp notifications on Samsung. If you are also an Android user, the following reasons will help you know why and how to fix WhatsApp notification sound being not audible to you on Android.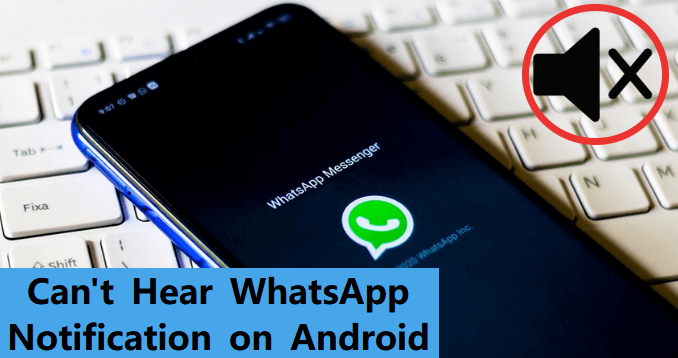 Part 1: Why Is My WhatsApp Notification Sound Not Working on Samsung Galaxy?
The first thing to check is the mobile's notifications. Make sure that you do not turn off WhatsApp notifications on your Samsung device.
Secondly, check for the notification volume because sometimes, the only reason for WhatsApp's inaudible sound is the volume.
Make sure that your internet connection is working properly and not lagging.
Also, make sure that you have unmute notifications from within the WhatsApp application.
Part 2: 7 Tips to Fix WhatsApp Notification Sound Not Working on Samsung
Now, it is time to find the solution to these issues that can keep you from replying to your important messages on time. We are listing the best optimal solutions for the WhatsApp notification sound issue. Let's have a look!
1

Check Notification Channel

Check and enable WhatsApp notifications on your Samsung. Follow the below-mentioned steps to enable them:
Step 1. Go to the Settings menu and then click on the sounds and vibrations option.
Step 2. Click on the downloaded apps, and you will see the list of all the downloaded applications on the screen.
Step 3. Click on WhatsApp and then click on Notifications.
Step 4. See if the notifications are enabled or not. If not, toggle to enable notifications.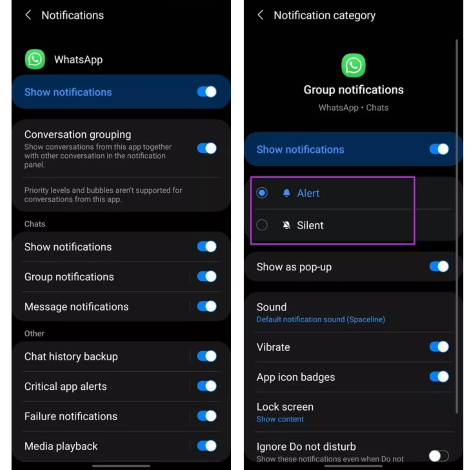 2

Enable Notification Tone
Step 1. Open WhatsApp on your Samsung, and go to Settings.
Step 2. Tap on Notifications, and enable Conversation tones.
Step 3. Set your Notification tone and vibrate pattern, and enable Popup notification.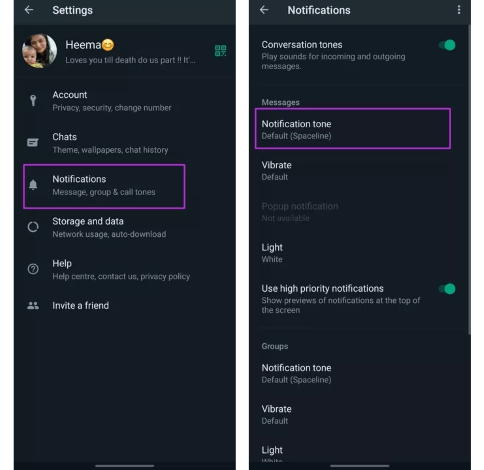 3

Disable "Do Not Disturb" Mode

Another possible reason for you not hearing the WhatsApp notification can be "Do not disturb" mode. If you have kept your Android phone on this mode, you are less likely to get any notification on your phone.

So, if you are having troubles with WhatsApp notification sounds, make sure to turn off the Do Not Disturb mode so that you can start getting WhatsApp notifications on your Samsung.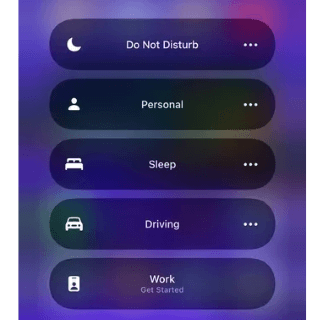 4

Disable WhatsApp on Desktop

WhatsApp allows you to scan your QR code to log in to WhatsApp on the desktop. If you have recently logged in on your desktop and forget to log out, you may have trouble getting WhatsApp notifications on your phone.
Step 1. From desktop, click on the three dots appearing on the top middle-right corner of the chat window. Click on the option Logout.
Step 2. From Samsung, click on the three dots in the upper left corner. Tap on linked devices > logout.
5

Force Stop App and Restart Phone

Sometimes, some app crashes can also cause WhatsApp notifications issues. So, another way to fix the WhatsApp notification on Samsung Galaxy not working issue is to force stop the application. After force-stopping the application, you also should try restarting your phone to avoid any troubles.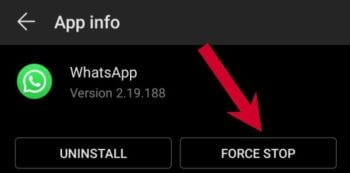 6

Clear Cache and Re-login
Step 1. Go to the Settings option and then click on the Application manager option.
Step 2. Scroll down to find WhatsApp and then click on it to get into Storage.
Step 3. Click on the Clear cache option and confirm it.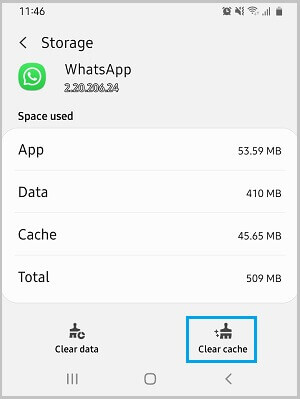 After doing this, log in again to the application to fix the WhatsApp notification issue.
7

Update or Reinstall

If you have tried all these methods and still the issue persists, you should uninstall the application and reinstall it to fix the issue permanently!
Part 3: Recommended Tool to Backup WhatsApp Data Before Reinstalling
Suppose you are thinking of deleting and reinstalling the application to fix the notification issue on Samsung. In that case, you must have a WhatsApp data backup tool to keep your data from being lost forever. iMyFone iTransor for WhatsApp is the best tool that you must get your hands on if you have lost your WhatsApp data while fixing notification issues.
Steps to Back Up WhatsApp
Step 1. Choose Mode and Connect Devices

Install and run iTransor for WhatsApp on your computer, choose Back Up WhatsApp on Devices. Make sure that the Samsung device in which you want to backup your WhatsApp data is securely connected to the computer or laptop.

Step 2. Start to Back Up

Click on Back Up, and the process will start. During the process, you might need manual operation on your Samsung phone. Follow the guide of the program if you need.

Step 3. Finish and Check

When it is finished, you can click on check to confirm that your WhatsApp data has been successfully backed up. Also you can export the backup or restore the backup anytime you need.
FAQs: More About WhatsApp Notification Sound
1

What is the custom notification in WhatsApp?

Custom notifications allow you to set different notification tones, vibration patterns, popups, popup lights, call ringtones as per your needs.
2

How do you fix silenced WhatsApp notifications on iPhone?

You can follow the following methods to fix WhatsApp notification issues on iPhone:
Enable WhatsApp notifications;
Reset network settings;
Check the internet connection;
Reinstall WhatsApp.
Conclusion
In this article we have shared very important and correct method of enabling WhatsApp notification on Samsung and other Android devices. So, now you can easily enable WhatsApp notification using these methods or you can disable them if you don't want to be disturbed. And we also introduce iTransor for WhatsApp to you in case that you may lost your WhatsApp data while fixing notification issues. If you have any more questions, ask in comments and we will reply as soon as possible.