A simple, reliable and secure messaging service - WhatsApp is one of the most popular apps used worldwide. With this application, you can send text messages, audios, and videos and make calls to anyone for free. But what if text messages get erased by mistake? You would not be able to get them back.
So, keeping a backup of messages history is very important no matter which phone you use, iPhone or Android smartphone. People may lose the WhatsApp data when they accidentally delete the conversations or when they change their smartphone or even when they factory reset their devices.
In such situations, people would wonder where WhatsApp messages are stored in their smartphones so that they can restore them. In this article, you will learn where the sent and received messages are stored in your iPhone and Android phones and tablets.
Part 1. Where are WhatsApp Messages Stored?
WhatsApp messages or any kind of WhatsApp data are not stored on their servers.
According to its privacy policy, WhatsApp does not store your personal information such as location, addresses, contact names, etc. It stores only the user's name and number for easy accessibility. Other information is only stored locally and not synced with its server.
WhatsApp may store the messages temporarily. It keeps the messages until it gets delivered to the recipient. As soon as the messages get delivered, they will be deleted from their server.
If you are looking to recover the messages that are seven days old, you just need to uninstall WhatsApp and then reinstall it. WhatsApp creates a backup automatically and saves the backup to the smartphone.
WhatsApp messages are stored differently in Android devices and iPhone. Let's check where are WhatsApp chats stored on iPhone first and then on Android smartphone.
---
Section 1. Where are WhatsApp Messages Stored on iPhone?
On the iPhone, a user can use iCloud or iTunes to back up and restore the WhatsApp messages. WhatsApp does not store the chats history on its servers, so the messages can be backed up only in the iCloud server by the user. In an update, WhatsApp launched end-to-end encryption for its messages. This means that messages are encrypted and can be read only by the recipient. If the messages get deleted accidentally, WhatsApp will not be able to retrieve them for the user.
Now, we will see how to back up WhatsApp messages to iCloud. Before backing up the messages and other data to iCloud, you need to make sure that iCloud Drive is turned on for WhatsApp backups on your iPhone. Follow the steps given below for this purpose.
Open Settings on your iPhone and tap on your Apple ID.
Tap iCloud and scroll to the bottom of the screen.
Turn 'on' the slider next to WhatsApp to green position for turning on iCloud access.
Now iCloud is turned on for WhatsApp backups.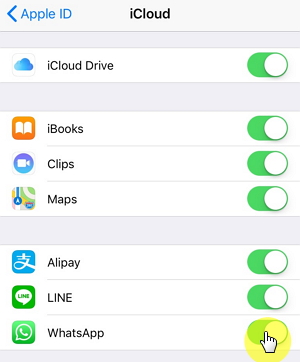 Next, back up the WhatsApp messages to iCloud.
Open the WhatsApp application and tap on Settings at the bottom right of the screen.
Tap 'Chats' and then 'Chat Backup'.
In the next screen, tap 'Back Up Now' for uploading the data to your Apple iCloud. You can choose whether you want to include videos or not by tapping the switch next to 'Include Videos'.
You can also choose to back up the WhatsApp data automatically. Just tap 'Auto Backup' and choose the frequency you prefer.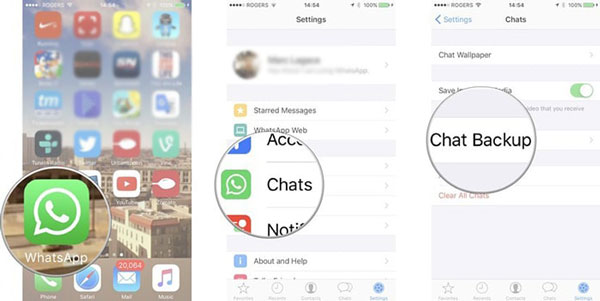 Now all your WhatsApp messages are stored in the Apple iCloud server.
And how to backup WhatsApp messages to iTunes? Please see the details.
Connect your iPhone to your computer using a genuine USB cable. Now launch and open iTunes.
An iPhone icon will appear on the top bar. Click on that icon and then click on the "Summary" tab from the sidebar.
Click the "Back Up Now" button on the summary page and then confirm your action. Within a few minutes, you have successfully backed up iPhone WhatsApp.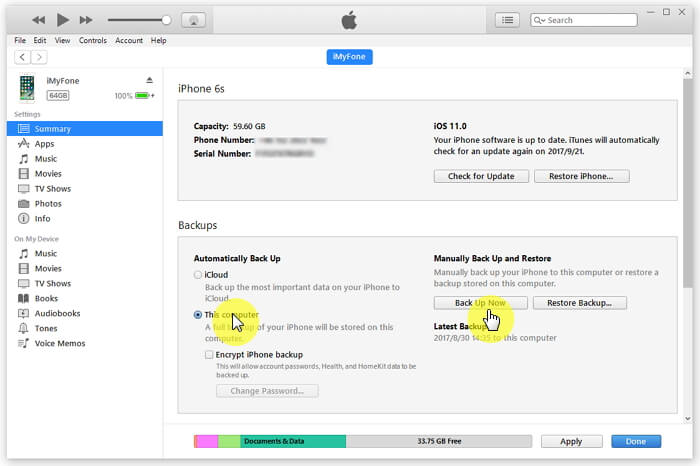 ---
Section 2. Where are WhatsApp Conversations Stored on Android?
Generally, WhatsApp messages will be store locally or via Google Drive. You need to get a file manager app, then go to sdcard/WhatsApp/Databases. If your data isn't stored on the SD card, you need to check "internal storage" or "main storage" instead of sdcard. Local backups are always automatically created at 2:00 AM each day and saved as an encrypted file on your phone. That means you can find it but cannot read it.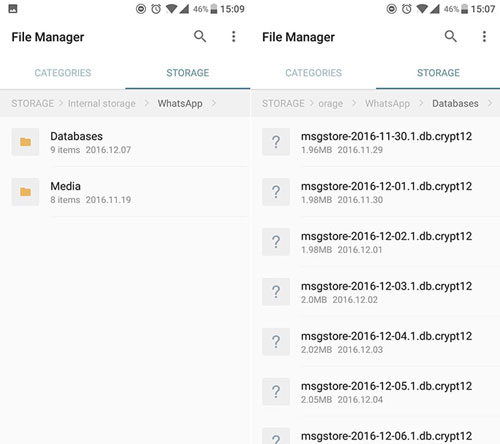 If you depend on Google Drive to back up the WhatsApp messages, you need to activate Google account on your device, and you should have Google Play Services installed and keep a strong internet connection.
Open WhatsApp on your Android phone.
Tap on three dots at the top of the screen and then go to Settings -> Chats -> Chat back up.
Now tap 'Back Up to Google Drive'. Choose the frequency of backup. You can select any option other than 'Never'.
Next, choose the Google account in which you need to store the chat history. If there is no Google account, tap 'Add Account' and enter the Google ID and password.
Tap 'Back up over' for choosing the type of network you want to use to back up - Wi-Fi or cellular data. You can also manually back up the WhatsApp messages to Google Drive whenever you want.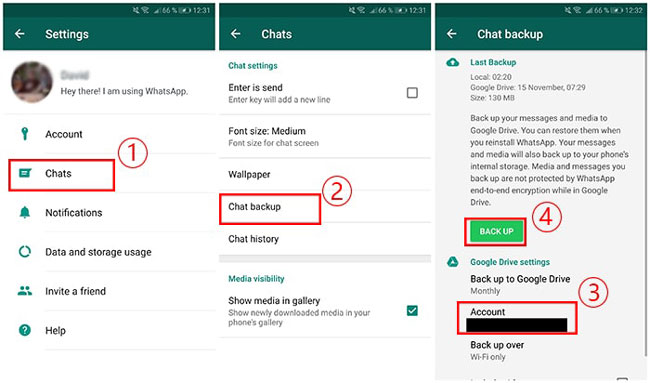 ---
Section 3. Where are WhatsApp Chats Stored on PC?
One of the best things about using WhatsApp messenger is that you can use it on your personal computer. There are two ways to use WhatsApp on your computer. One is using the official desktop app and another is via WhatsApp web. Once you open WhatsApp, you can start sending and receiving messages from your computer.
Now the main question for many people is where WhatsApp messages are stored on PC. When you use the official desktop app on your computer, you can search for it on your PC. Then you will find similar results as shown in the following screenshot. The logs and cached files will be found in these folders.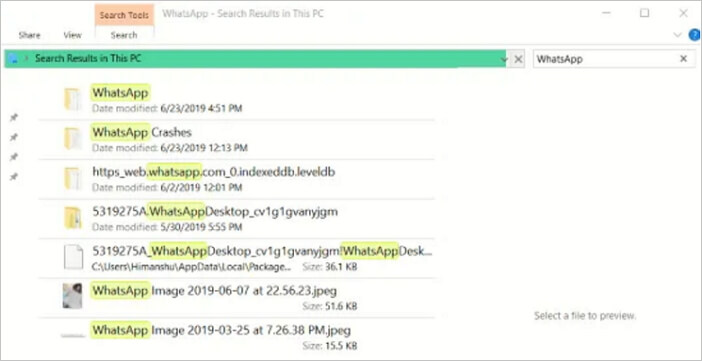 If you are using the official Google Chrome browser, the WhatsApp messages are stored in the Downloads folder of the computer. For other browsers, the WhatsApp data can be found in the default downloads folder.
Tip. How Long are WhatsApp Messages Stored on the Server?
As you know, WhatsApp never stores any messages on its server. The messages are stored only on your phone. The only time WhatsApp stores your messages is when you send it. The message will be present on the WhatsApp server only until it is delivered to the receiver.
The message may not get delivered to the recipient if its device is not connected to the internet or if the device is switched off. If the message is present on the WhatsApp server for over 30 days, it will be permanently deleted from the server.
In this case, you must be worried about the privacy of your messages. Well, the messages on WhatsApp servers are stored in an encrypted format. Even WhatsApp cannot see those files and messages.
Part 2. The Alternative Way to Store WhatsApp Messages for Free
If you are finding it difficult to store WhatsApp messages using iTunes/iCloud on iPhone or Google Drive on Android phones, then there is another way to store your personal WhatsApp chats. iMyFone iTransor for WhatsApp is a popular tool for not only backing up WhatsApp messages but also transferring or restore them between iPhones and Android phones.
It supports all the iOS and Android versions.
It also comes with a 100% success rate. So, you will not lose any data while backing up WhatsApp messages.
All your data will be safe via using this program and you can keep the backups forever.
The backup function is totally free for you.
You are also allowed to restore these backups whenever you need them.
It has already been trusted and recommended by a lot of media sites.

Download and launch iMyFone iTransor for WhatsApp and then follow the steps given below.
Step 1. Connect your Android phone or iPhone to the computer. Enable USB Debugging to connect the Android phone or tap 'Trust this computer' to connect iPhone to the computer.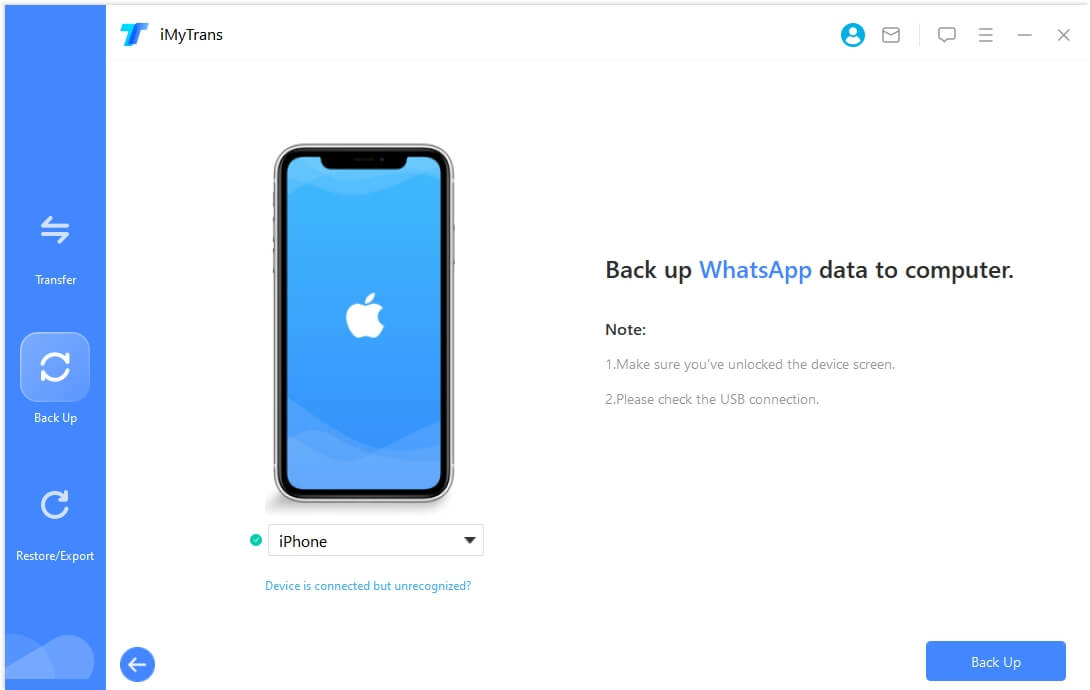 Step 2. Once the device gets connected to the computer, click "Back Up". After a few minutes, the backup process will complete.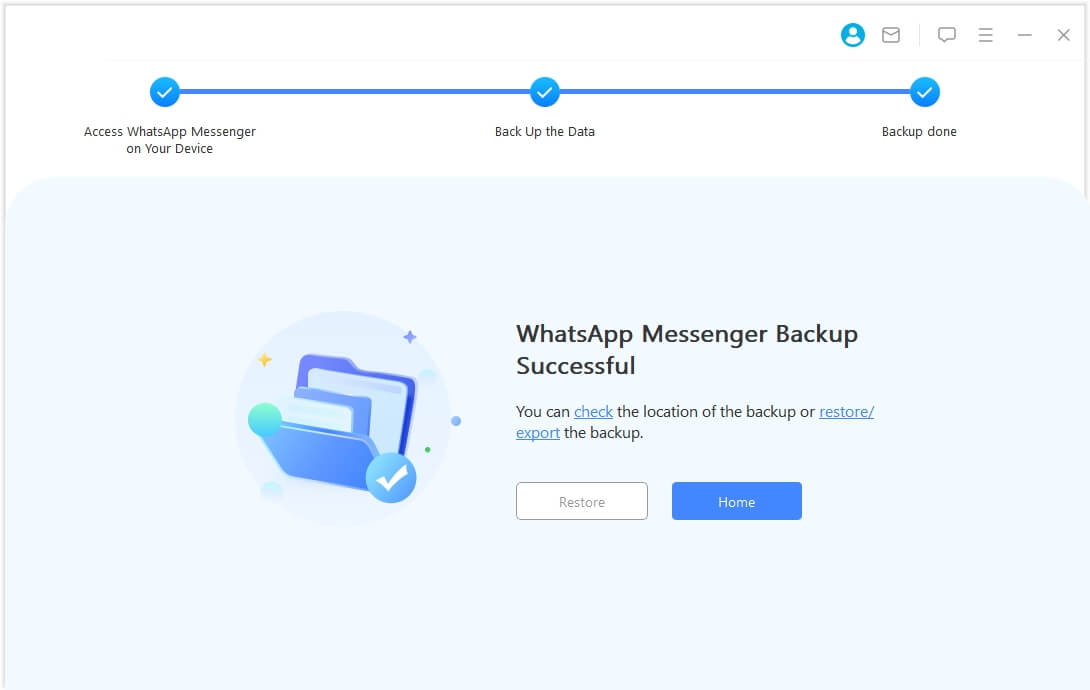 You can check the location where the WhatsApp backup files are present after the process is over.
---
Once you know where WhatsApp messages are stored on iPhone, Android phone or PC, you can easily restore them at any time you want. Use iMyFone iTransor for WhatsApp if you want to back up WhatsApp messages on your computer with just a few clicks. You can contact us via the comment section below if you have any queries. We will be glad to guide you throughout the process.