Question
I deleted my girlfriend's message by accident yesterday, but I have the habit of backing my chat message in my daily. I found those backups on my phone this morning but I get nothing. Can anyone tell me where are the WhatsApp messages stored?
Hey, did you meet the same situation above? When we delete chat by mistake or factory reset our phone, we may lose important data. In such a situation, we may wonder where the backup messages are stored and how to restore them.
In this post, I will show you where you can find the backup WhatsApp messages and how to restore them. Now, move on!
Part 1. Where are WhatsApp Messages Stored?
01

Where are WhatsApp Messages Stored on iPhone?
As an iPhone user, we can use iCloud or iTunes to back up and restore the WhatsApp messages. Let's see the detail of them below:
Backup WhatsApp Messages on iCloud
Before backup, we need to make sure that iCloud Drive is turned on for WhatsApp backups. Follow the steps given below for this purpose.
Go Settings and tap on your Apple ID.
Tap iCloud and scroll to the bottom of the screen.
Turn 'on' the slider next to WhatsApp to the green position for turning on iCloud access.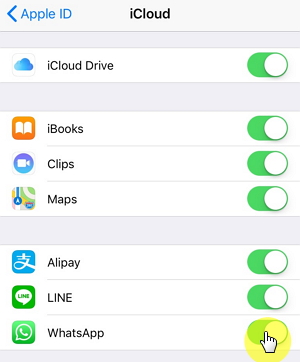 Next, back up the WhatsApp messages to iCloud.
Open the WhatsApp application and tap on Settings > Chat > Chat Backup.
Click 'Back Up Now' for uploading the data to your Apple iCloud. Or you can choose to "Auto Backup" to backup the WhatsApp data automatically also.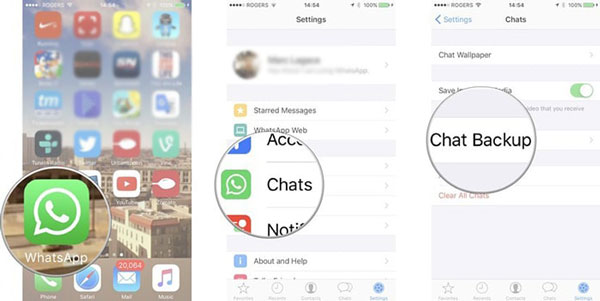 Backup WhatsApp Messages on iTunes
See the details below to backup WhatsApp messages to iTunes.
Connect your iPhone to PC and launch iTunes.
An iPhone icon will appear on the top bar. Click on that icon and tap on the "Summary" option.
Choose "Back Up Now" button on the summary page and confirm your action.

---

02

Where are WhatsApp Messages Stored on Android?

WhatsApp messages are stored locally or in Google Drive on Android devices. You need to get a file manager app, then go to SD card/WhatsApp/Databases. If your data are not stored in the SD card, you need to check "internal storage" or "main storage".

Note

Local backups are always automatically created at 2:00 AM each day and saved as an encrypted file on your phone. That means you can find it but cannot read it.

If you depend on Google Drive to back up the WhatsApp messages, you need to activate your Google account on your device and install the Google Play Services. See how it going:

Open WhatsApp and tap on three dots at the top of the screen. Then go to Settings > Chats > Chat back up.
Tap on 'Back Up to Google Drive" and choose the backup frequency.
Next, select the Google account you need to store the chat history.
Tap 'Back up over' for choosing the type of network you want to use to back up.

---

03

Where are WhatsApp Chats Stored on PC?

If we want to use WhatsApp on PC, we can download the official desktop app or launch it on the WhatsApp web. The main question for many people is where are the WhatsApp messages stored.

When you use the official desktop app on your computer, you can search it on your PC. Then you will find similar results as shown in the following screenshot. The logs and cached files will be found in these folders.

If you are using the official Google Chrome browser, the WhatsApp messages are stored in the Downloads folder. For other browsers, it's stored in the default downloads folder.

Part 2. The Alternative Way to Store WhatsApp Messages for Free

If you find it hard to store WhatsApp messages via iTunes/iCloud on iPhone or Google Drive on Android phones, there is another way to store your personal WhatsApp chats. iMyFone iMyTrans is a professional tool for backing up WhatsApp messages and transferring or restoring data between iPhones and Android phones.

Download and launch iMyFone iMyTrans and then follow the steps given below.

Step 1. Connect your Android phone or iPhone to the computer. Enable USB Debugging to connect the Android phone or tap 'Trust this computer' to connect iPhone to the computer.

Step 2. Once the device gets connected to the computer, click "Back Up". After a few minutes, the backup process will complete.

You can check the location where the WhatsApp backup files are present after the process is over.

Bonus Tips: How Long are WhatsApp Messages Stored on the Server?

As you know, WhatsApp never stores any messages on its server. Messages are stored only on your phone. It will be present on the WhatsApp server until it is delivered to the receiver. In this case, we should back up our WhatsApp message regularly, once a month, twice a month, depending on you.

Conclusion

Once you know where WhatsApp messages are stored on iPhone, Android phone or PC, you can easily restore them at any time you want. Use iMyFone iMyTrans if you want to back up WhatsApp messages on your computer with just a few clicks. You can contact us via the comment section below if you have any queries. We will be glad to guide you throughout the process.