Some users may have this trouble, switching from an Android phone to an Apple phone, but many important files, photos, data and other personal information also want to transfer to iCloud. This may seem difficult to achieve, below will provide a slightly easier that can help you transfer whatapp backup from google drive to icloud free.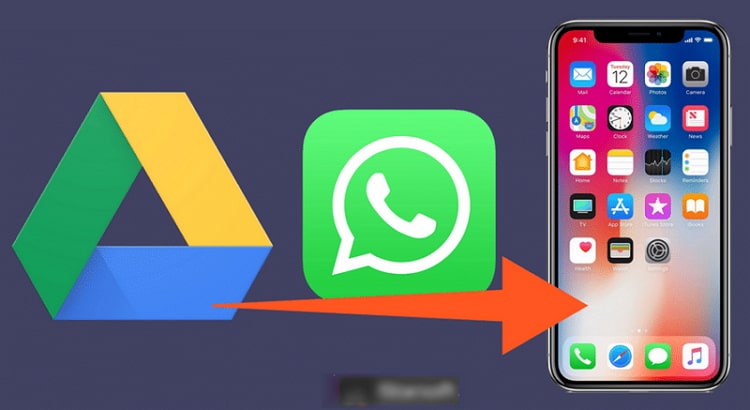 Can I Transfer WhatsApp Backup from Google Drive to iCloud Directly?
In fact, there's no official way to move data from Google Drive to iCloud because the two cloud services and operating systems are so different. And because of the different encryption protocols, transferring WhatsApp backups directly from Google Drive to iCloud is difficult. Although there's no way to do this directly, we can still do it with third-party tools.
Guide
We need to restore the Google Drive WhatsApp backup to the Android device.
Use a professional third-party tool to transfer the restored WhatsApp data from the Android device to the iPhone.
You can back up back up WhatsApp on your iPhone to iCloud.
How to Transfer WhatsApp Backup from Google Drive to iCloud?
Phase 1. Restore Google Drive WhatsApp Backup to Android
To do this, you must have a backup of the WhatsApp data on the Android device and ensure that you are using the same mobile number and Google account. Here's how:
Step 1. Uninstall WhatsApp on your Android device and then reinstall it.
Step 2. Launch WhatsApp on the device and then follow the prompts to set up the account. Confirm your number (the one you used to create the backup) and then click "OK" to confirm.
Step 3. The most recent Google Drive backup will appear in the next window. When you are prompted to restore the backup, tap on 'Restore" and then "Next".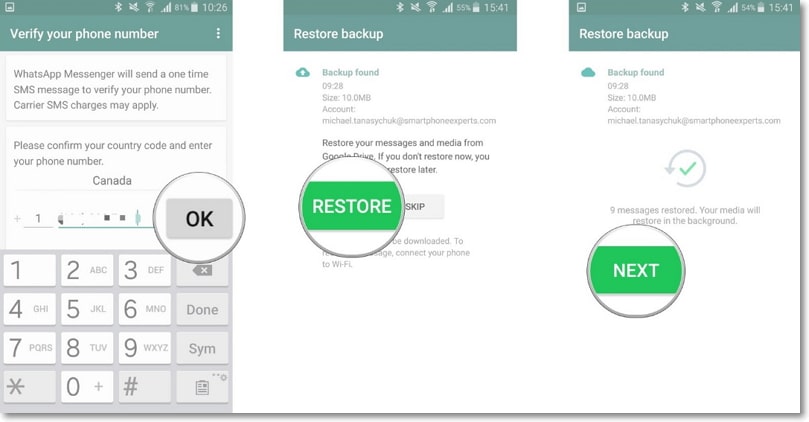 Step 4. When the process is complete, tap "Next" and then continue to set up your profile.
Note: About Google Drive Backup and Restore Data
Before you can use Google Drive to backup and restore data, you need to meet some requirements below to use it.
An activated account on your phone: Make sure your email address and password are registered to the same account.
Enough backup space: Google drive has a storage space limit. If there is not enough space, you may end up not being able to sync your data, resulting in data loss.
Backup date: If the WhatsApp backup has not been updated for more than a year, this backup will be automatically removed from the Google cloud drive.
Phase 2. Use a Tool to Transfer WhatsApp Backup from Android to iPhone
The best tool for this job is iMyFone iMyTrans (pre iTransor for WhatsApp). It is designed for WhatsApp transfer purpose and gives you the opportunity to easily and very successfully move WhatsApp data between two very different devices.
Directly transfer WhatsApp/WA Business messages and attachments (photos, videos, files) between Android and iPhone, including iPhone to iPhone, Android to iPhone, iPhone to Android, Android to Android, etc.
This program is compatible with all Android OS and iOS versions, including Android 13 and iOS 16.
Totally free to back up all of your WhatsApp messages on Android and iPhone and preview the backup as real chats on the computer.
Selectively restore WhatsApp backup created by this program to Android or iOS devices with no OS restrictions.
Follow these simple steps to move WhatsApp messages from Android to iPhone with iMyFone iMyTrans (pre iTransor for WhatsApp):
You can watch the video first to have a quick view of this method:
Step 1. Download and install iMyFone iMyTrans (pre iTransor for WhatsApp) onto your computer. Launch the program and on the main window, select "Transfer WhatsApp between Devices".
Step 2. Connect both the Android device and the iPhone to the computer using USB cables. When the program detects both devices, click on "Transfer" and then choose WhatsApp Messenger or WhatsApp Business to begin the process.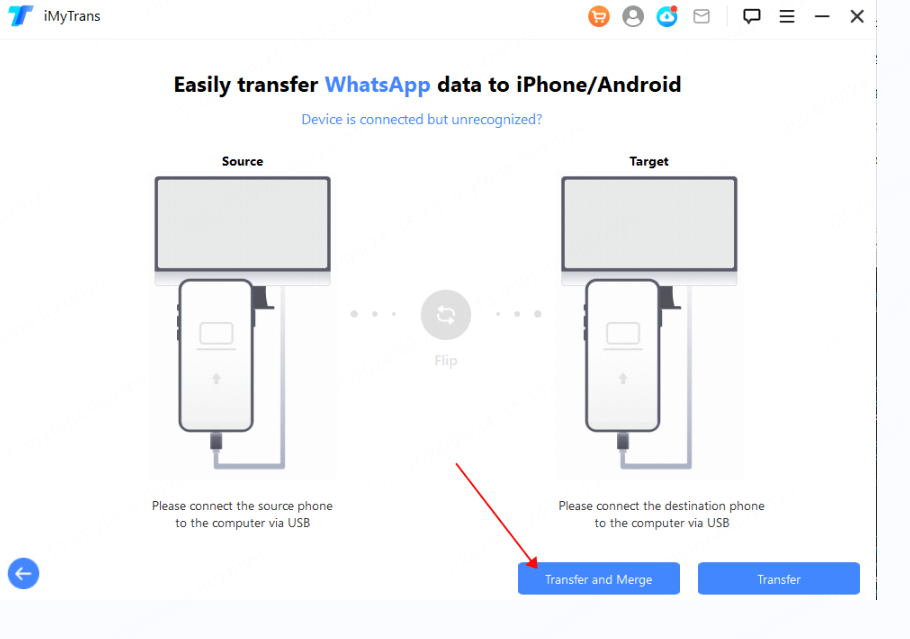 It is important to ensure that the Android device is the "Source" device and the iPhone is the "Destination" device. If this is not the case, you can simply re-order the devices by clicking on "Switch".
Step 3. Ensure that the devices remain connected to the computer until the process is complete. Once it is complete, the WhatsApp messages on your Android device will be on the iPhone.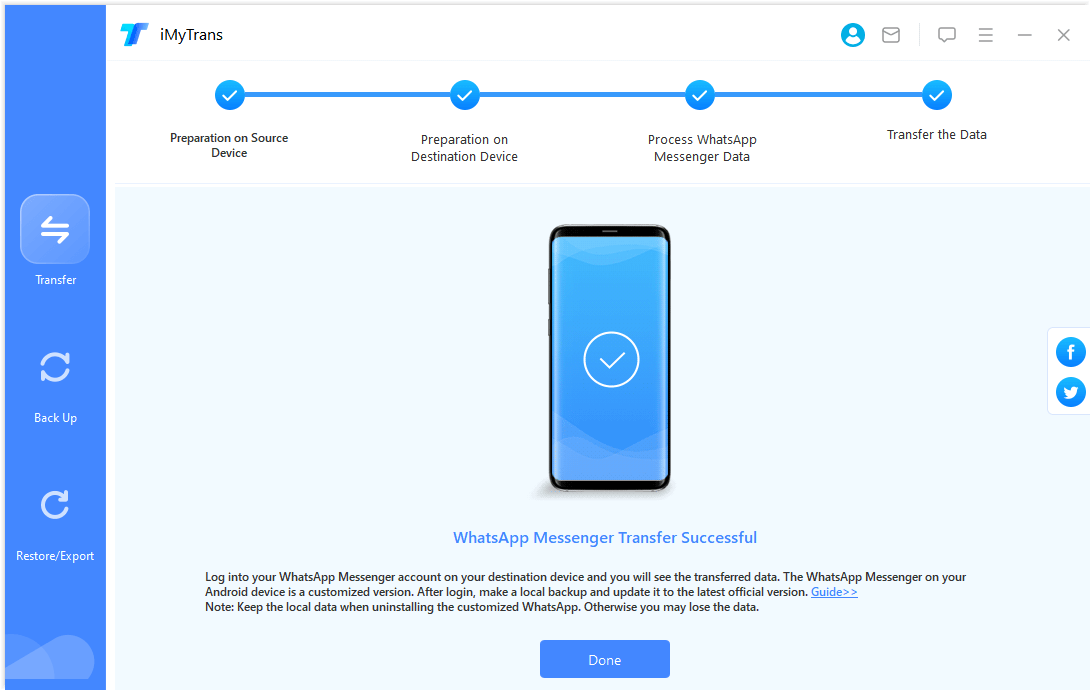 Phase 3. Transfer WhatsApp Backup from iPhone to iCloud via Backup
The final step in the process to transfer WhatsApp backup from Google Drive to iCloud is to back up the recently transferred WhatsApp messages from iPhone to iCloud. Follow these simple steps to do it:
Step 1. Open WhatsApp on your iPhone and then tap on the Settings tab at the bottom right corner.
Step 2. Select "Chats > Chat Backup" to open the Chat Backup Window where you can manage various settings of the backup including whether you would like to include videos or not.
Step 3. You can also choose to set up an automatic backup schedule. Tap "Auto Backup" and select the duration you would like.
Step 4. Tap "Back Up Now" to initiate the backup of the data available on the iPhone to your iCloud account.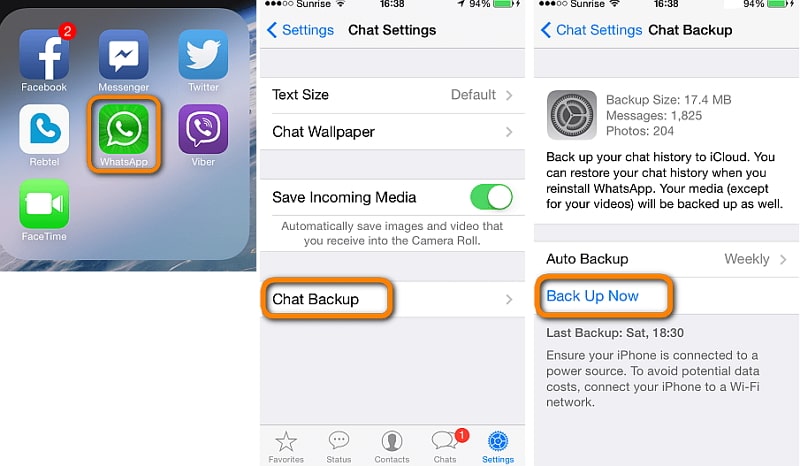 It may seem like a long process. You have to restore the Google Drive backup to Android, using iMyFone iMyTrans (pre iTransor for WhatsApp) to transfer the data from Android from iPhone and then backing up to iCloud. But this is the only proven and effective way to transfer WhatsApp from Google Drive to iCloud.
Bonus Tip. Can I Free Up Space on My iCloud Storage without Buying More Space?
When you keep using WhatsApp, its data can quickly fill up space and increase the size of your WhatsApp data. To solve it, seems that you can only delete some files or buy more iCloud storage.
However, the best part is that iMyFone iMyTrans (pre iTransor for WhatsApp) can backup your data on your computer and free up your iCloud easily! Your privacy will be protected and won't be released or shared. Moreover, your data gets backed up according to time so you can choose whenever you want to have it restored.