As reliable as WhatsApp can be, it can sometimes be prone to various problems which can hinder its performance. Maybe the app crashes or you are unable to send and receive messages. If you found your WhatsApp not working on Android, you are in the right place. We've collected some of the most commonly occurring WhatsApp issues on Android and listed them here along with the most effective solution for each issue.
Part 1. WhatsApp Not Working on Android? Check Fixes Here
1. WhatsApp Crashes on Android
There are a lot of reports of WhatsApp crashing on startup even on Android devices running the latest version of the OS. In this case, there are several things you can do including the following:
Delete WhatsApp from your device and then reinstall it.
Ensure that you are running the latest version of Android.
Restart WhatsApp a few times.
Check if you have adequate storage space on the device.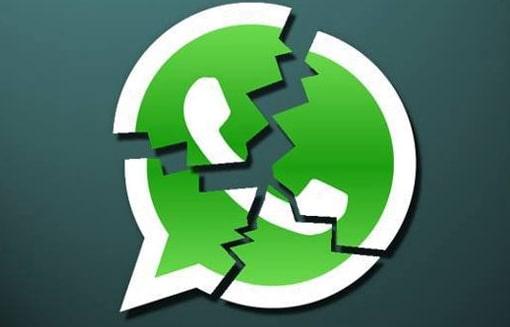 2. WhatsApp Cannot be Connected or WhatsApp is Down
This is another fairly common WhatsApp problem that can occur on Android due to connectivity issues. If you are unable to send and receive WhatsApp messages on your Android device, here are some actions to take:
Check the stability of your internet connection.
Clear the app cache for WhatsApp.
Make sure that the Task killer app is not interfering with WhatsApp.
Uninstall WhatsApp and then reinstall it.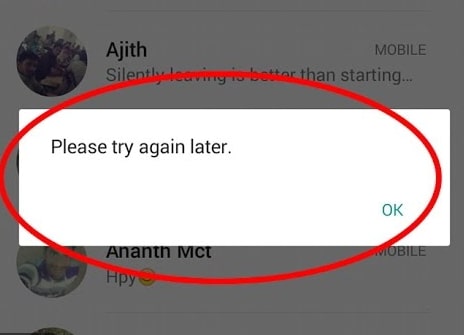 3. WhatsApp Not Recognizing Contacts
When WhatsApp doesn't recognize your contacts, it will be impossible to send and receive WhatsApp messages on your Android phone. Here are some of the things you can do in this case:
Check if the contact numbers you have added are correct.
Make sure that all contacts are visible in your contact lists.
Make your contact groups "visible" or "viewable" in the contact list.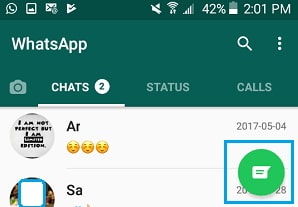 4. WhatsApp Not Working on Wi-Fi
You need a stable connection for WhatsApp to function correctly. If WhatsApp is not working on Wi-Fi but is working just fine on cellular data connections, here's what you can do:
Turn on Wi-Fi on your Android device and then turn it back on after a few seconds.
Enable Airplane mode and then disable it after a few seconds.
Use a different Wi-Fi network.
Reboot the Wi-Fi router.
If all else fails, use Cellular data instead.
5. WhatsApp Not Responding on Android
Apps fail to respond on Android all the time and there could be a number of reasons why including low memory, faulty or outdated firmware and faulty app code. If WhatsApp is not responding on your Android device and gets stuck when you try to send messages, the following are just some of the things you can try:
You can force close the app. To do that go to Settings > Application > WhatsApp and then tap on "Force Close". Launch WhatsApp again to see if the issue is resolved.
You should also try to restart the Android phone. This will refresh the device and hopefully eliminate any bugs that could be causing the issue.
If these two solutions don't work, delete the WhatsApp app and reinstall it from the play store.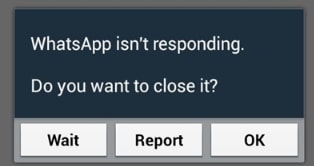 6. WhatsApp Not Working on Android Due to Facebook
There are some people who have reported that WhatsApp may fail to work properly when Facebook is also installed on the Android device. If you think Facebook could be interfering with WhatsApp, the following are just some of the things to try:
Log out of Facebook until you can fix WhatsApp.
Delete the Facebook app, launch WhatsApp and if it works without a problem, reinstall Facebook.
Reinstall both Apps.
Update the device.
Restart the device.
Clear cache on both Facebook and WhatsApp.
If nothing works backup the data on your device and factory reset it.
7. WhatsApp Not Working on Android Due to Old Version
Sometimes the WhatsApp app can be too old that it doesn't automatically update or notify you to update it. An older version of WhatsApp can cause various issues. In this case the solution is quite simple, update the app by going to Play Store > More (three dots) >Update All.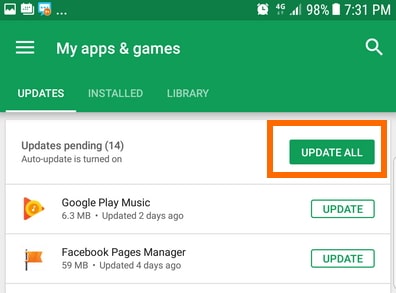 8. WhatsApp Not Downloading on Android
Most Android devices will come with WhatsApp preinstalled on them, but some don't. Thus, there are some users who have reported problems when trying to download the app on the device. If this happens to you, here are a few solutions to try:
Check your connection to ensure that you are using a reliable, strong and stable Wi-Fi or cellular data connection to download the app.
WhatsApp uses your Date and Time to ensure that the date and time are set correctly on your device or the app may fail to download.
If you are using an SD card, make sure that it is inserted correctly and that it has adequate storage space.
Part 2. Bonus Tip: Regularly Back up Android WhatsApp to Avoid Data Loss
All the problems we have listed above all have one thing in common: they can easily result in data loss. When WhatsApp is not working correctly, it is easy to wake up one morning and find all your WhatsApp messages and media files gone. Since you cannot predict when your device will act up, it makes sense to back up your WhatsApp data regularly so you can easily restore the backup should anything go wrong.
The best way to backup WhatsApp data is to use iMyTrans. This third-party tool allows you to create a full backup of your WhatsApp data in a single click for totally free. This backup can then be easily transferred to your Android device or another iOS/Android device using the same tool. It is fast, reliable and will back up all the data on the device including all the media files.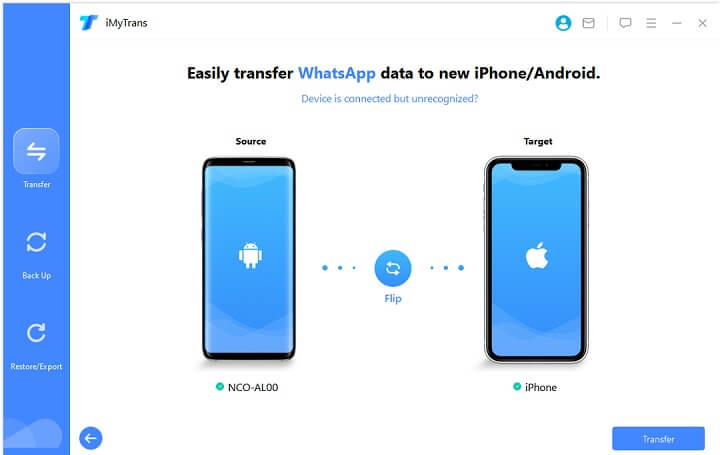 Final Words
'WhatsApp not working on Android' problem is fairly common. But as you can see from the solutions above, sometimes it takes just a tiny tweak to fix the problem and continue enjoying WhatsApp again. Did we address your WhatsApp problem? If not, share with us your problem in as much detail as possible in the comments section below and we'll find a solution that works for you.