Are you facing an iCloud activation lock on your device? Do you know what this means? If you don't know, then there isn't anything to worry about as you are not alone in this problem. Many users face this problem daily. However, to solve this problem, there are a few methods that may work.
So, to address the issue, we will provide a comprehensive guide to jailbreak software and tools today.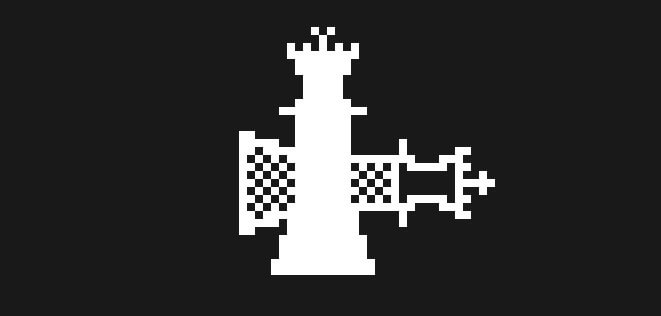 What Does Jailbreak Do
The iCloud activation system is an essential feature by Apple to secure your device in case it is lost. However, there are some situations when this system becomes a problem for users, like when you accidentally open the "find my feature" on your phone but forget the password. In such situations, users try to jailbreak their phones.
Jailbreaking is typically done using a piece of software called a jailbreak tool, which exploits a flaw in iOS to allow the user to gain access to the root file system. Once the jailbreak process is complete, the user can then use a package manager tool to install custom apps and tweaks.
How to Bypass iCloud Activation Lock Using Checkra1n
For Windows
Checkn1n is a relatively new jailbreak tool, but it has already gained a lot of popularity due to its ease of use and support for a wide range of devices. It is also one of the few jailbreak tools that can be used to jailbreak the latest iOS devices, such as the iPhone XS and iPhone XR. It was developed by the team behind the popular Electra jailbreak tool and is also available for both Windows and MacOS.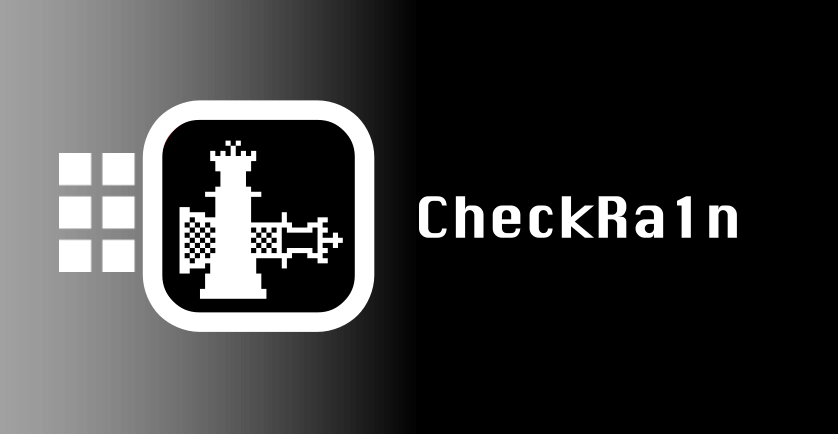 Preparations for Jailbreaking iOS on Windows
Windows 7 or later, 32 or 64 bit
USB flash drive with 2 GB, or more, capacity
Download BalenaEtcher to burn USB flash
Download Checkn1x iso file
Refer to the video below to jailbreak iOS device on Windows in 5 minutes:
Follow these steps:
First of all, you need to download the latest version of the Checkra1n jailbreak tool from the official website.
Now connect your iOS device to your computer using a USB cable.
Start the Checkra1n app and wait for it to recognize your device.
Once your device is detected, click on the "Start" button to begin the jailbreak process.

After the jailbreak process is completed, your device will reboot automatically and you will see the checkra1n logo on your device's screen.
For MacOS
The Support Devcies
A5 – iPad 2, iPhone 4S, iPad Mini (1st generation)
A5X – iPad (3rd generation)
A6 – iPhone 5, iPhone 5C
A6X – iPad (4th generation)
A7 – iPhone 5S, iPad Air, iPad Mini 2, iPad Mini 3
A8 – Phone 6, iPhone 6 Plus, iPad mini 4
A8X – iPad Air 2 (not supported)
A9 – iPhone 6S, iPhone 6S Plus, iPhone SE, iPad (2017) 5th Generation (not supported)
A9X – iPad Pro (12.9 in.) 1st generation (not supported), iPad Pro (9.7 in.) A10 – iPhone 7 and iPhone 7 Plus, iPad (2018, 6th generation), iPad (2019, 7th generation)
A10X – iPad Pro 10.5″ (2017), iPad Pro 12.9″ 2nd Gen (2017)
A11 – iPhone 8, iPhone 8 Plus, and iPhone X
Steps to Follow
Get the latest release of the checkra1n jailbreak from the website. After that, open the terminal on your machine, and install 'Homebrew' using the command: /usr/bin/ruby -e "$(curl -fsSL https://raw.githubusercontent.com/Homebrew/install.sh)".

Use brew to install usbmuxd using the command: brew install usbmuxd.
Boot your device into DFU mode in order to bypass the iBoot bootloader by Apple, then run checkra1n and jailbreak the device by following instructions on the screen.

In the open instance of Terminal, run the following command: iproxy 2222 44
Now open another instance and run the following commands, one at a time: ssh root@localhost -p 2222 mount -o rw,union,update / rm -rf /Applications/Setup.app
Now reboot the device and enter into DFU mode again. At this time, input the following commands. uicache -a killall backboardd killall -9 SpringBoard
Disadvantages of Jailbreaking
As we know, the iPhone is one of the most sophisticated technologies and the manufacturers keep no stone unturned to prevent their users from jailbreaking their phones. But as jailbreaking is against the policies of the device it produces a lot of disadvantages. Some of them are:
Your device may get stuck on the "Connect to iTunes" screen.
Your device may become stuck in an infinite loop of rebooting.
You will not be able to access certain features on your device, such as the App Store, iCloud, or Apple Pay.
Your device may become unstable and crash or freeze at any time.
You may void your device's warranty by jailbreaking it. You may not be able to update to the latest version of iOS if you have jailbroken your device.
Bypass iCloud Activation Lock with iMyFone iBypasser [Easiest]
iMyFone iBypasser is an Activation Lock bypassing tool that can be used to remove Apple ID from an iPhone or iPad without a password. It is one of the most popular Activation Lock bypassing programs that can be used to bypass Activation Lock without a password. It also guides you all the way through the jailbreaking process.
How to Remove iCloud Activation Lock?
Now, watch the video to learn how to remove/bypass icloud activation lock on iPhone/iPad/iPod Touch.
Here are also the detailed steps to remove iCloud activation lock screen with iBypasser:
Step 1. Download and launch iMyFone iBypasser on your computer. Click "Start" and connect your iPhone/iPad/iPod touch to the computer with a USB cable.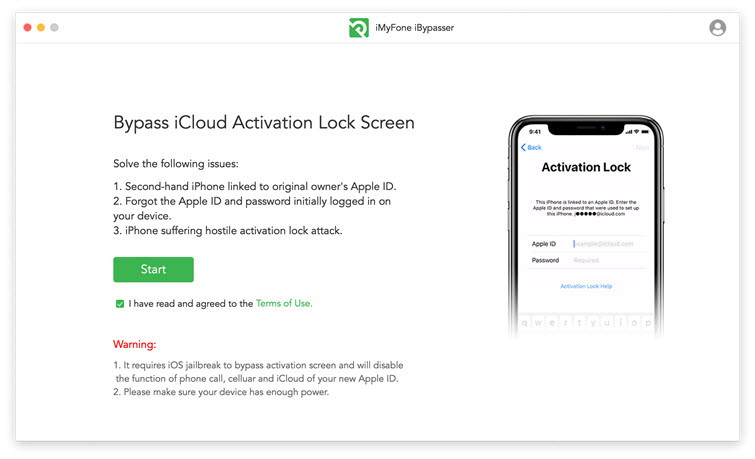 Step 2. The program will start downloading a package which helps you jailbreak your iPhone.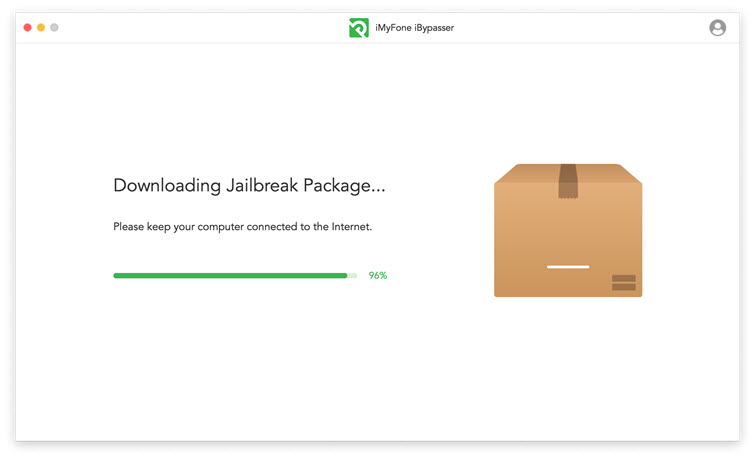 Step 3. Follow the onscreen instructions and then click "Next" after the jailbreak finished.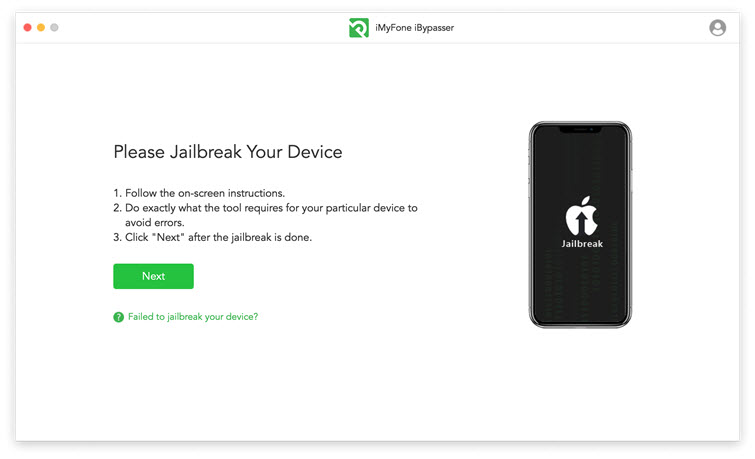 Step 4. Click "Start Bypass". iBypasser will instantly start to bypass the iPhone activation lock screen. The bypassing process only lasts seconds.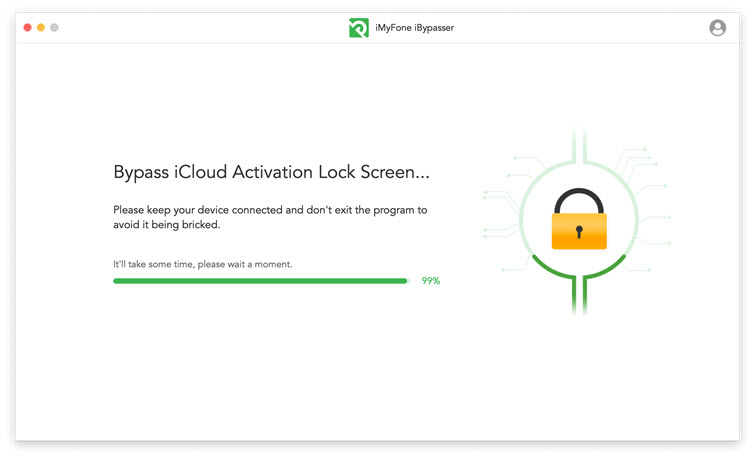 Wait a minute, the iCloud activation lock will be successfully bypassed.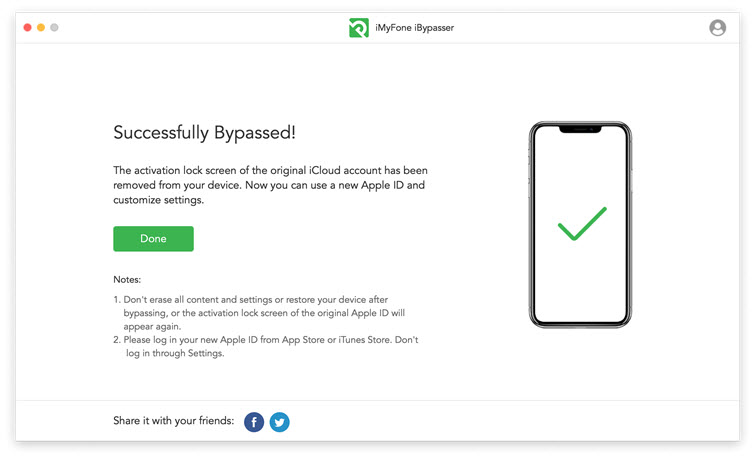 Tips and Must-Knows Before You Bypass
When you plan to bypass your iPhone, you must be aware that you will lose your data and other important files. So, before you bypass your iPhone, it is important to follow some tips and must-know.
Be sure to back up your data before beginning the bypass process, as you will lose all data during the bypass.
Make sure you have the latest version of iTunes in on your computer.
Follow the instructions carefully to avoid any mistakes that could result in a failed bypass.
Except for these tips, here are some FAQ for your better understanding:
1. Will the bypassing process do any harm to my device?
No, the bypassing process will not do any harm to your device. There are no risks involved.
2. Can I jailbreak an iCloud locked/unactivated iPhone?
You can jailbreak any iPhone without activating it. A jailbreak lets you do things that the iPhone cannot normally do.
3. Will I lose data after Jaibreaking?
Probably. It is suggested that before doing jailbreaking your iPhone device, you must backup all your data from the device cause while jailbreaking it may ask to format the device. After formatting the device, your iPhone data will be erased automatically. So before jailbreaking your device, please backup your whole data from ios device if don't want to lose it.
Final Thoughts
If you are an iPhone user, you should be aware of the procedure of bypassing as it can be locked with a passcode at any time and if you forget the passcode, you will not be able to use the phone. You will need to find a way to bypass the passcode to use the phone.
This article introduces 2 methods, using checkra1n and iMyFone iBypasser, it's obvious that iMyFone iBypasser is much easier. That's why it's my recommended one. If you have similar questions about bypassing iPhone/iPad, try this fantastic tool.