Before you can begin with the iCloud lock removal process, you must have your iPhone's IMEI number. When it comes to circumventing the activation lock, the IMEI code is quite important, as we'll discover later.
In this blog post, We will go through how you may simply bypass the iCloud activation lock using the iCloud IMEI unlock.
Part 1. Something You Should Know about iCloud Activation Lock Removal
We have full details about iCloud Activation Lock Removal. Below are the top tools that are recommended for activation lock on iCloud:
1

What is iCloud Activation Lock?
Activation lock is an iOS security feature that prevents users from resetting or activating a device from knowing the iCloud account details. It's a terrific security safeguard for consumers, but it's a pain for enterprises that provide users with gadgets.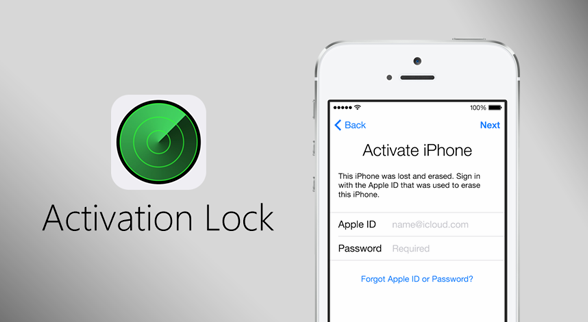 Activation Lock, also known as iCloud Lock, is a characteristic of Find My iPhone, Apple's proprietary application of a much broader security scheme known as Factory Reset Protection (FRP). The Smartphone Theft Prevention Act of 2015 governs Factory Reset Protection, sometimes known as the "death switch," in the United States. The Act mandates device manufacturers to include a "kill switch" that allows authorized users to remotely wipe and lock devices. The kill button was meant to discourage smartphone theft by drastically lowering the resale value of stolen devices.
If your iPhone, iPod touch, iPad, or Apple Watch is ever lost or stolen, Activation Lock prevents anyone else from using it. When you enable Find My iPhone, Activation Lock is immediately enabled. Even if you remotely delete your device, Activation Lock can prevent someone from reactivating it without your permission. All you have to do is keep Find My iPhone turned on and your Apple ID and password in mind.
2

How Does Activation Lock Work?
When you enable Find My iPhone on your Apple device, Apple registers it on its activation servers by tying your Apple ID to the device ID. Your device is now automatically protected from that point forward. Even if your smartphone is stolen, the burglar will require your device passcode or Apple ID password to disable iCloud lock. Even if they reset your device via DFU mode, which may be used to reset the passcode, they won't be able to reactivate and use your iPhone until the Activation Lock is removed first.
3

Can I Use Free iCloud Activation Lock Removal Tool/Service?
The primary goal of iCloud lock is to deter theft. Locked devices cannot be used or revived until your passcode or Apple ID password is entered. This significantly affects the resale value of stolen gadgets, effectively discouraging casual theft while making organised crime more difficult.
You can enable Lost Mode on your smartphone or remotely wipe it using another Apple device or a web browser. You will only need your Apple ID and password to remotely lock or wipe your iPhone.
Sign in iCloud with your Apple ID to Find My iPhone.
Tap the device that is in Lost Mode in the Devices list.
Tap Actions, then Erase iPhone or Lost Mode.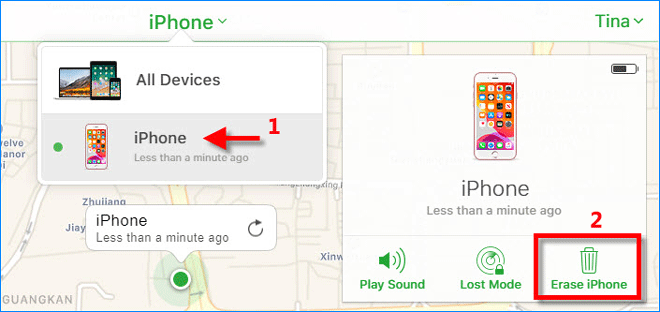 Part 2. The Best 5 Trusted iCloud Activation Lock Removal Online Services
Is there any reliable programme for removing the iCloud activation lock? Because there are so many iCloud unlock services available online, it was difficult for me to find the best one, and the first one I purchased online wasn't even close to what the vendor stated. Please provide me with input on the best iCloud removal service to employ.
In response to the question above, we will go over the top 5 iCloud unlock services for iPhone/iPad/iPod touch. And, if you can't find the one you're looking for, we'll eventually introduce a superior alternative to all of these iCloud unlock services.
2.1 AppleiPhoneUnlock
AppleiPhoneUnlock is a necessary internet service for removing the iCloud activation lock from iPhones and iPads. It's a well-known business that promises a wide range of unlocking services to its users, but it doesn't always function with the most modern iPhones and iPads.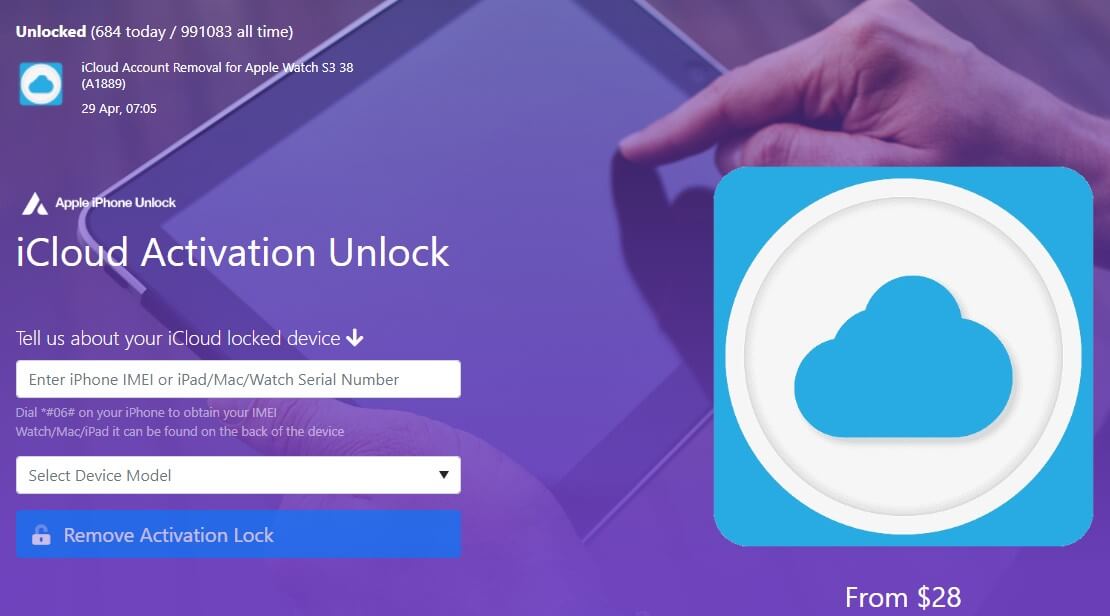 Features
It is a worthy tool because it requires no waiting time, it responds within 72 hours, and is user-friendly as well.
2.2 iCloud Activation Lock
Remove the activation lock from your iPhone, iPad, or iPod touch (supports iOS 12-14.8).
Without a password, unlock Apple ID or disable Find My iPhone/iPad (supports iOS 12-15).
Turn off the camera sound for iOS devices that do not have a shutter sound.
Windows 11/10/8.1/8/7, and MacOS 10.11-11.1 are all supported.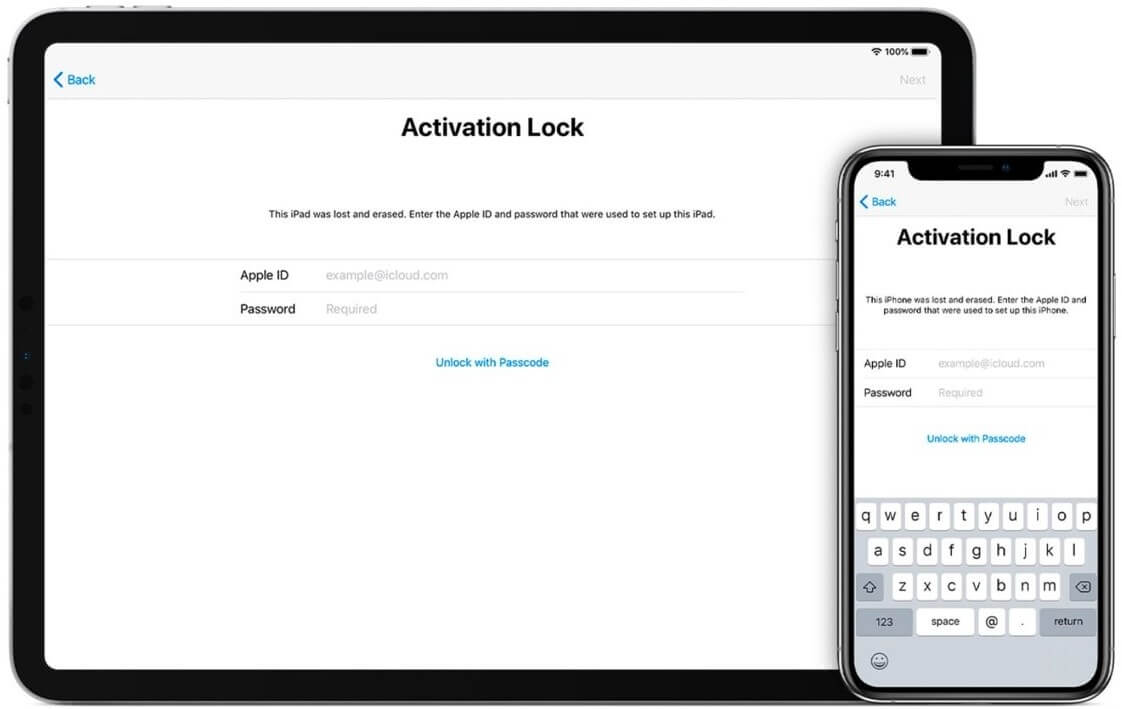 The best part about this tool is that it supports all devices and is also an active tool.
If you receive an error message that says "Activation Error" or "Unable to Activate your iPhone," it is very likely that the iOS firmware was not correctly installed on your iPhone.
Without a password or verification code, turn off Find My iPhone, Find My iPad, or Find My iPod touch.
Remove the Apple ID or iCloud from your iOS/iPadOS device without the previous owner's permission, or sign out of the Apple ID or iCloud without the password and then use it as a new one.
You can erase your iPhone, iPad, or iPod touch without entering your Apple ID password. Without a password, you can unlock your Apple ID.
Is your Apple ID locked or disabled? Have you forgotten your Apple ID password and are unable to reset it? This iCloud lock removal utility assists you in removing existing Apple ID and iCloud accounts from your computer.
2.3 iRemover
Are you still looking for a reputable iCloud removal service to help you unlock the iCloud activation lock? Another one we'll introduce to you is iRemover. It differs from AppleiPhoneUnlock in that it supports more modern iPhone models. However, the directions for using this unlock service are not clear.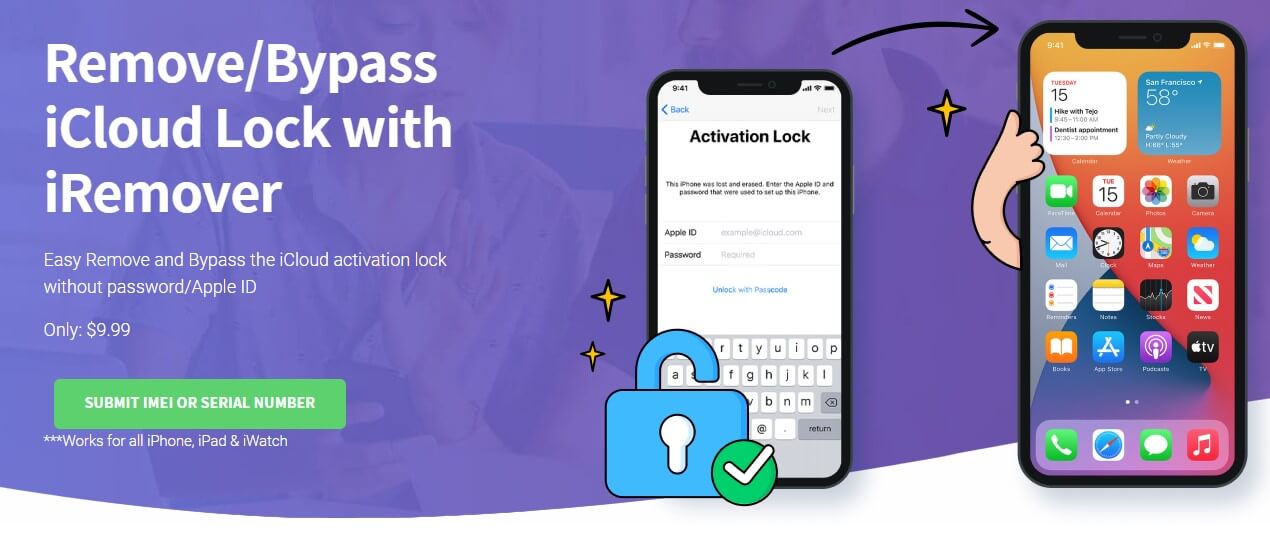 It also includes the feature to disable "Find My" on iOS/iPadOS devices. It has a greater flexibility. In addition, it is compatible for iOS 7 to iOS 10.
2.4 IMEI Unlock SIM
IMEIUnlock SIM is a previously known online service for unlocking SIM carrier locks on iPhones. However, in response to the increased demand for iCloud activation lock bypass, this brand has diversified its offerings to include the iCloud unlock service for iPhone customers.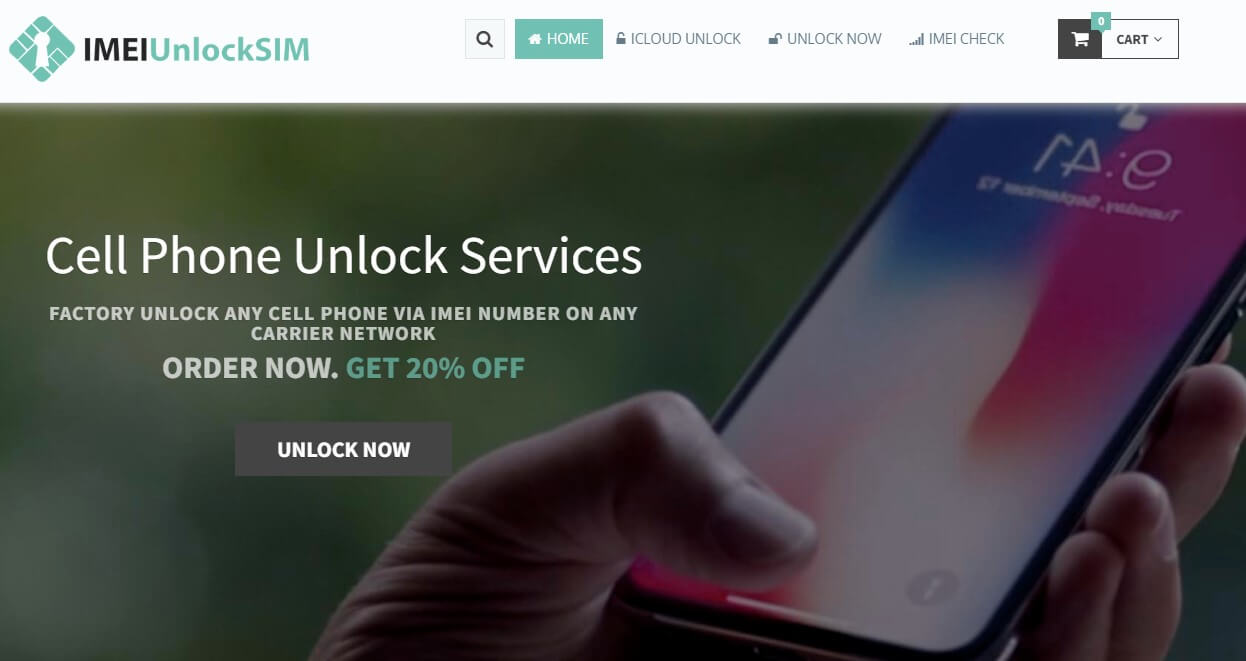 Additionally, it can work for iPads, iPhone, and Apple Watch etc. It also requires long waiting time and you will wait for about 7 to 10 days.
2.4 IMEIDoctor
IMEIDoctor is best tool used for unlocking both Android and iPhone devices. You can simply unlock the device, the order process is easy and payments are secure. You will need to select the model of iPhone, then the carrier and enter the IMEI number.
After you've made your selections, simply click "Checkout" and input your credit card information. We do not collect any personal information other than your email address in order to notify you when the unlock is complete.
All purchases are made over a 256-bit encrypted connection.
Added security with Visa and Mastercard SecureCode have verified this transaction.
This tool is worthy as it gives 24 hours unlock delivery services. There is an instant unlocking feature for different mobile networks. It includes team of highly skilled. It is safe and professional.
Part 3. The Advantages and Disadvantages about iCloud Activation Lock Removal Online Services
It helps you using your devices. You can use your phones easily and easily unlock them. They are best for those who have brought second-hand devices. Also recommended for those who are facing issues with their Apple ID or password.
Advantages
Low price.
Some have 24 hours unlock services.
Disadvantages
Malware and viruses might be attached.
The service might ask for some sort of hidden fees.
No guarantee about the success of the service.
Part 4. The Best Alternative to iCloud Activation Lock Removal Online Services
Aside from breaking the iCloud activation lock, iMyFone iBypasser also can help you to remove iPhone screen locks and bypass activation, as well as disable the Find My [Device] feature if you don't know the password.
Now, watch the video to learn how to remove/bypass icloud activation lock on iPhone/iPad/iPod Touch.
Here are also the detailed steps to remove iCloud activation lock screen with iBypasser:
Step 1. Download and launch iMyFone iBypasser on your computer. Click "Start" and connect your iPhone/iPad/iPod touch to the computer with a USB cable.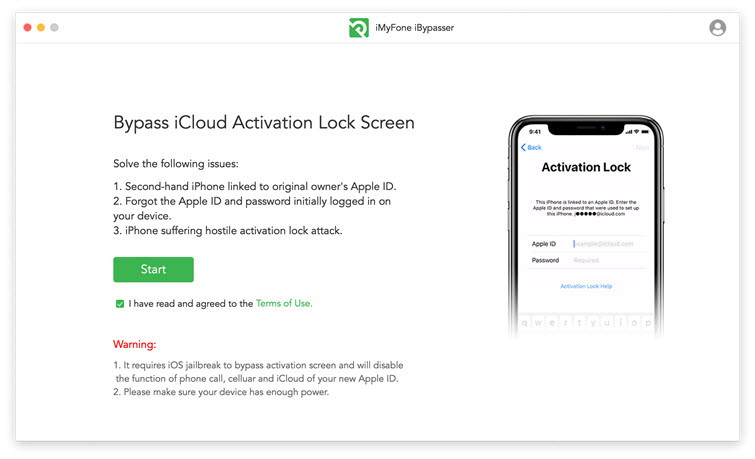 Step 2. The program will start downloading a package which helps you jailbreak your iPhone.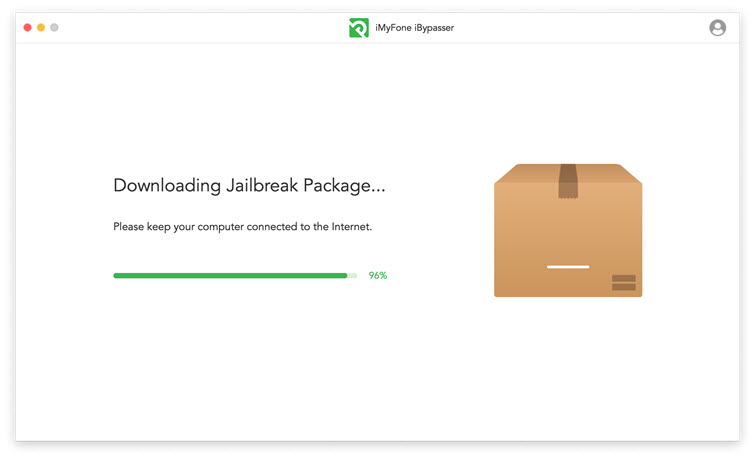 Step 3. Follow the onscreen instructions and then click "Next" after the jailbreak finished.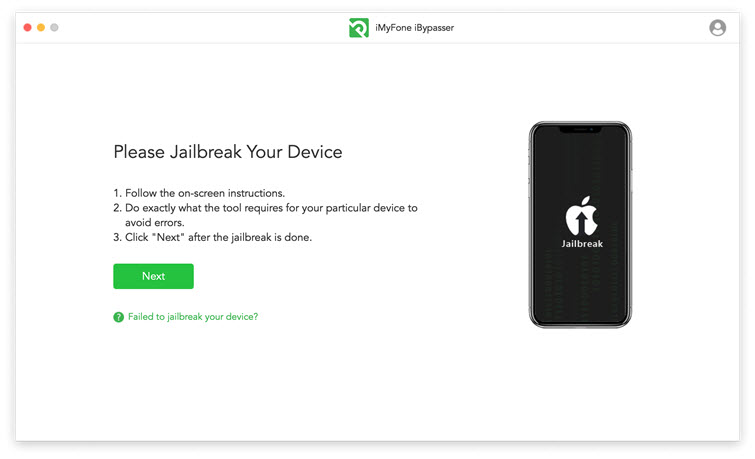 Step 4. Click "Start Bypass". iBypasser will instantly start to bypass the iPhone activation lock screen. The bypassing process only lasts seconds.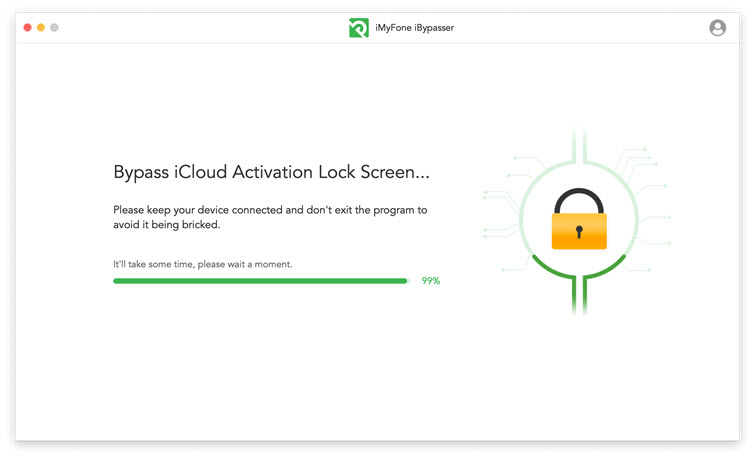 Wait a minute, the iCloud activation lock will be successfully bypassed.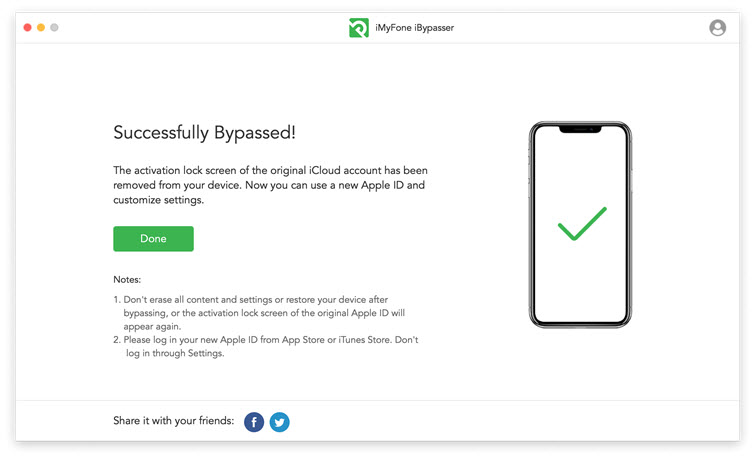 Supported iOS versions: iOS 12.0 and above versions, including iOS 14.8.
Supported iOS devices
iPhone: iPhone X, iPhone 8 Plus, iPhone 8, iPhone 7 Plus, iPhone 7, iPhone SE, iPhone 6s Plus, iPhone 6s, iPhone 6 Plus, iPhone 6,;
iPad: 5th Generation iPad (2017), 6th Generation iPad (2018), 7th Generation iPad (2019), iPad mini 2 (2013), iPad mini 3 (2014), iPad mini 4 (2015), iPad Air (2013), iPad Air 2 (2014), 12.9-inch 1st Generation iPad Pro (2015), 12.9-inch 2nd Generation iPad Pro (2017), 9.7-inch iPad Pro (2016), 10.5-inch iPad Pro (2017);
iPod touch: iPod Touch 6, iPod Touch 7.
Conclusion
Best tool services, such as iMyFone iBypasser activation lock bypass tool , are intended to solve real problems rather than make false claims. Millions of Apple consumers are fed up with the iCloud Activation Lock problem. iMyphone iBypasser outperforms all free services, whether used for personal or professional purposes.
Instead of putting your data and device at risk with the free iCloud Activation Lock application, try a free sample of iMyphone iBypasser to see how it works. Nothing can stop you from appreciating the complete premium version if you like the service and everything goes as planned.