We all know the WhatsApp App which is a annular instant messaging app for all ages. Because bf this, communication has became very easy for everyone nowadays. Whether we live in the same place or out of the country, it allows us to share pictures, create instant messages, voice messages, video calling functions, recordings and others.
Are you worried about accidentally deleting your important WhatsApp files like messages, videos, audios, photos or contacts? Have you lost some important WhatsApp files when your phone corrupt suddenly? Are you looking for ways to get them back with no loss?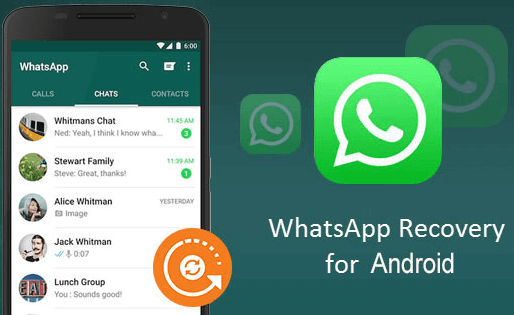 In fact, recovering these files or content is not easy, but there are still ways to get back deleted WhatsApp videos on Android or other files. Hence, today in this article we are going to discuss how to recover WhatsApp files deleted from Android.?
Keep in mind that WhatsApp does not keep your chats on the server, so it is impossible to contact the company to recover the missing files. There are mainly three methods to recover deleted WhatsApp videos from Android phones mentioned below. Apply one as needed.
Method 1. Recover Deleted Files from WhatsApp on Android via Database Files
By default on Android, WhatsApp saves all the files you send and receive in a specific folder. Therefore, you can delete a file from a chat and keep it on your phone in this folder.
Download a free file for Android Explorer, for example Google Files, then navigate to the following folder: Internal Storage> WhatsApp> Media> WhatsApp (Videos/Audios/texts). Here you will see all the files you received in WhatsApp.
Take a look and see if your missing WhatsApp files are inside. If you're looking for a media type other than photos, you'll also see WhatsApp Video and other folders here - be sure to check them out.
Unfortunately, this step is not an option for iPhone users. This is because Android lets you browse much of the device's local folder hierarchy, while the iOS Files app is limited to a few cloud folders.
Restore from a local backup
If you want to use a local backup, you'll need to transfer the files to the phone using a computer, file explorer or SD Card.
Note:
Your phone will store up to the last seven days worth of local backup files.
Local backups will be automatically created every day at 2:00 AM and saved as a file in your phone.
If your data isn't stored in the sd card/WhatsApp/ folder, you might see "internal storage" or "main storage" folders.
Restore a less recent local backup
If you want to restore a local backup that isn't the most recent one, you'll need to do the following:
Download a file manager app.
In the file manager app, navigate to sd card/WhatsApp/Databases. If your data isn't stored on the SD card, you might see "internal storage" or "main storage" instead of sd card
Rename the backup file you want to restore from msgstore-YYYY-MM-DD.1.db.crypt12 to msgstore.db.crypt12. It's possible that an earlier backup might be on an earlier protocol, such as crypt9 or crypt10. Don't change the number of the crypt extension.
Uninstall and reinstall WhatsApp.
Tap RESTORE when prompted.

Method 2: Retrieve Deleted Files from WhatsApp on Android via Google Drive Backup

If you have created a backup of those files, then it will be easy to retrieve deleted WhatsApp files. Here are the steps to recover delete files from Google Drive Backup:
Uninstall the WhatsApp application and then reinstall.
Set up your Android device with the account for a deleted file.
You will be prompted to restore all the files after the setup. Click the Restore option. This will restore all your files from Google Drive, including the files that you accidentally deleted.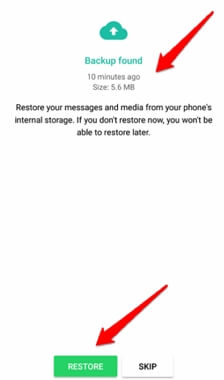 Method 3. Recover Deleted Files from WhatsApp on Android via Data Recovery Software
Why do I recommend iMyFone D-Back (Android) to help you recover deleted files from WhatsApp on android? It is the best recovery tool to restore WhatsApp files for Android.
Come with the highest success rate of WhatsApp message, images, videos, contacts recovery on Android.
Can recover files from a Google backup in the most efficient manner.
Recover your lost WhatsApp files from Android  in various scenarios, even from broken devices.
Finally but most importantly, its extremely safe and secure.
Other methods listed in this post require uninstalling your WhatsApp. Here are the steps on how to recover deleted WhatsApp messages on Android without uninstalling:
Step 1. Launch the program on your computer and choose one recovery mode.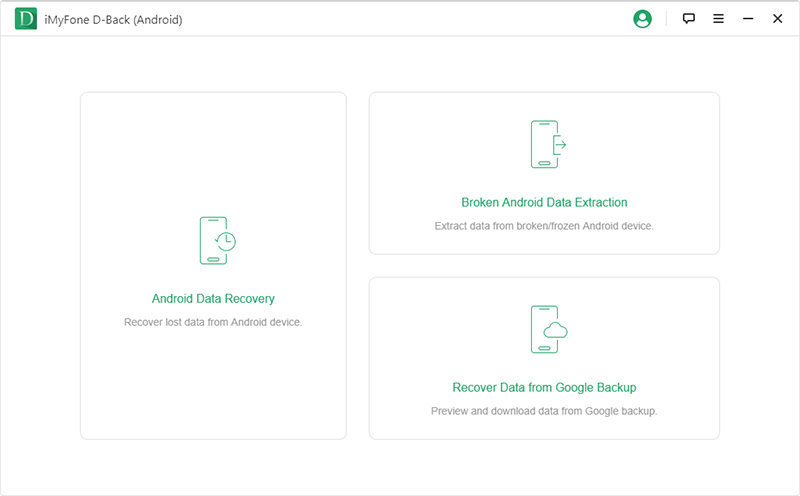 Step 2. Select Your Device Information(the Device Name and Device Model) and download data package.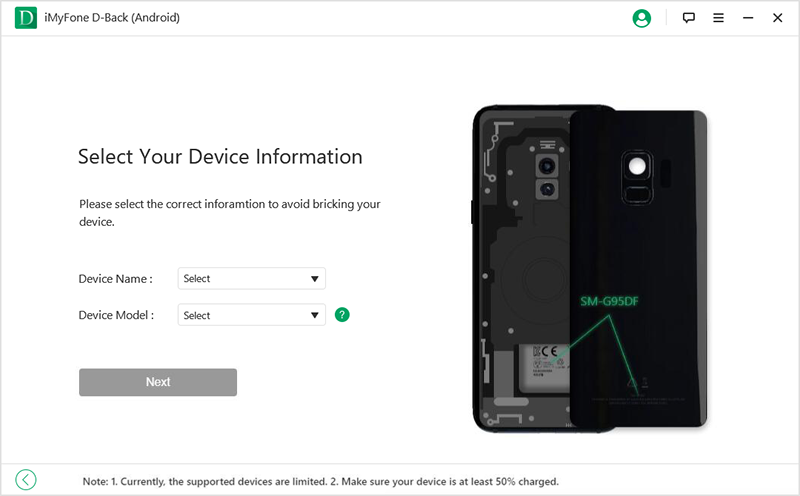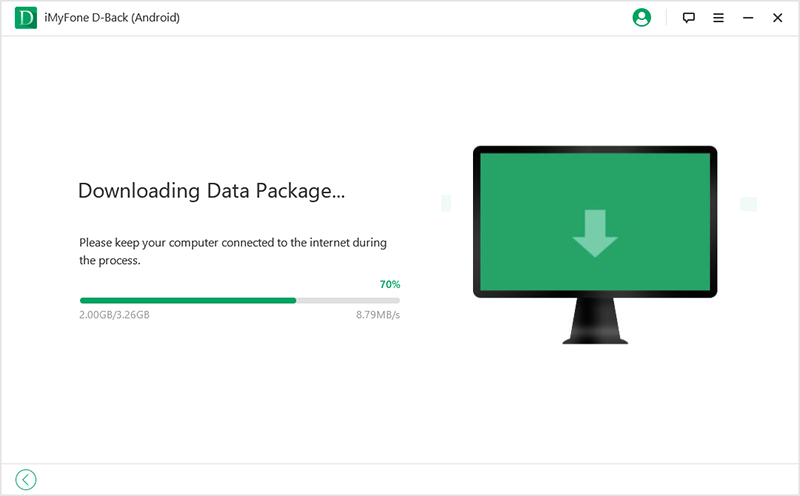 Step 3. Connect your Android device to your computer using a USB Cable. In three simple steps, you will be prompted into the Downloading mode by the application.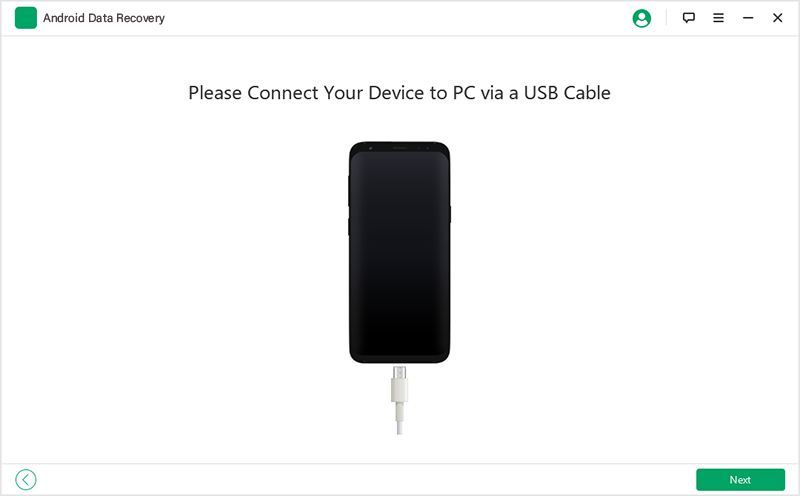 Step 4. Click WhatsApp and Next to scan your WhatsApp data. Once the scanning is complete, you will be able to see all the deleted WhatsApp files. Pick the ones you want to be recovered, then click Recover.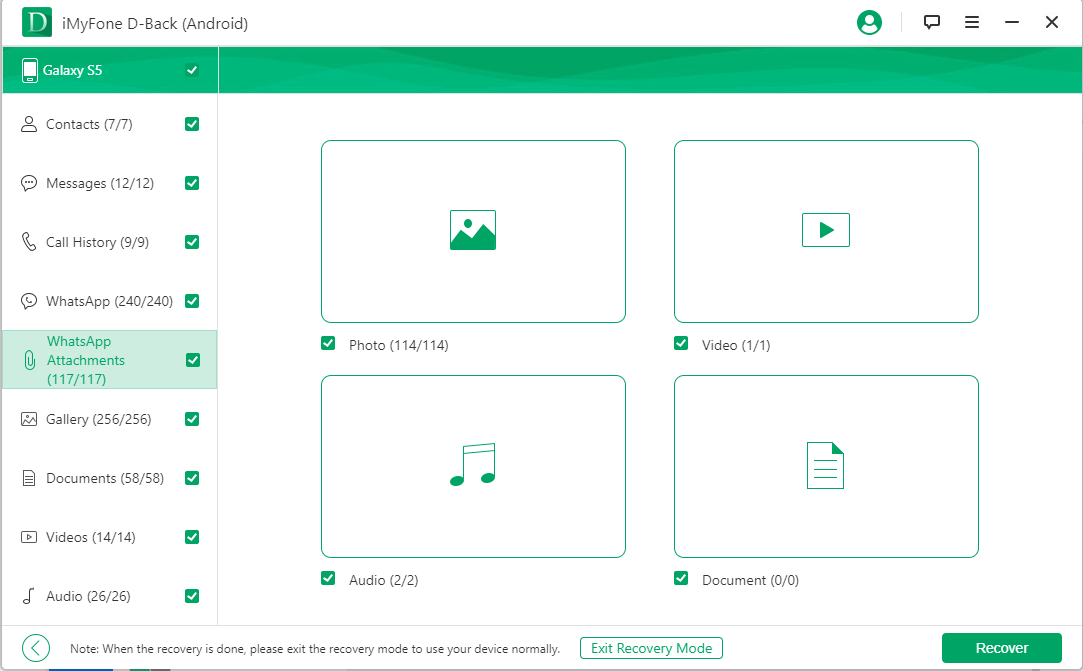 Bonus Tip: Backup Your WhatsApp Files Regularly
To make sure that whenever you delete your files you have the choice to regret, you can
back up your WhatsApp files regularly. The most common way is to back up your WhatsApp files via Google Drive. Here are the steps:
Select the Google Account that you want to backup your chat history to. If you don't have a Google Account connected, tap add Account when prompted and provide your login information.
Tap Backup to select the network you want to use for the backup.
Change the Google Drive backup frequency via Google Drive backup settings. Open WhatsApp, tap More options> Settings> Chats> Chat backup> Google Drive backup Select a backup frequency.
You can also manually backup your files to Google Drive at any time. Open WhatsApp. Tap on More options> Settings> Chats> Chat backup> BACKUP.
Use a third-party software like iTransor for WhatsApp is also a good choice. It is compatible with both Apple and Android devices which makes it easy to transfer WhatsApp data between different OS platform.
FAQ: How to Recover Deleted WhatsApp Database Files?
If the database file is deleted from WhatsApp, there is no way to restore it. After deleting the backup file, a lot of other data is saved and the old data is overwritten and disappears forever. In fact, this is also a good way to go.
Conclusion
Many people suffer from data loss situations where they lose their important WhatsApp pictures, videos and audios. I recommend you to check this post carefully and try some or all the methods that are suitable for you to recover lost data. Besides, you have a powerful Android data recovery software at your disposal.