Video clips on a PS4 are generally the game recordings that you may want to share with your friends. However, PS4 does not provide any convenient solution for sharing those videos. Even having the PSN app on your iPhone/Android will not help. So, here we will elaborate on some of the best methods to transfer your PS4 videos to your iPhone using a USB and without a USB.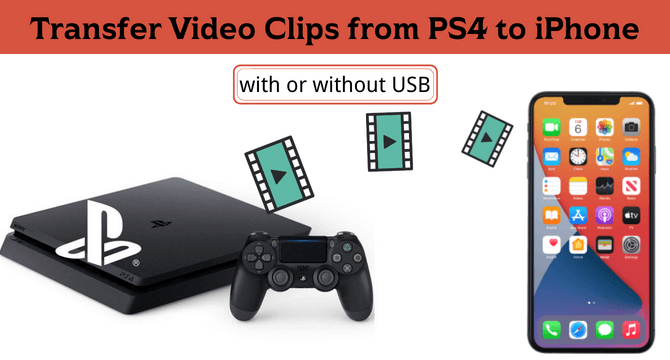 Part 1. How to Transfer PS4 Videos to iPhone with USB
If there is one way PS4 provides for sharing your videos across your devices, it is using a USB drive. With the help of a USB and a computer, you can transfer your videos to your iPhone from PS4. Below are the detailed steps of how you will do it.
Step 1. Copy PS4 Videos to USB Storage
The first part of this process requires you to get your USB and transfer the PS4 videos to that storage. Here is how you can do that.
Connect a USB with the supported file system and enough storage space available to the USB ports on your PS4.
Go to the Capture Gallery inside your PS4 and open the video you want to transfer to the device.

On the side menu, there will be a Copy to USB Storage option. Select that and start the process.
Depending on the video size, it will take some time, and your video will be copied from PS4 to the USB storage.
Step 2. Transfer PS4 Videos to iPhone with Computer
Now you will need another computer and a USB wire to connect your iPhone to the Computer. It does not matter if the PC runs on Windows OS or macOS. Transfer your PS4 videos to iPhone using the following steps:
Connect USB and iPhone to the Computer.
Select the video and copy it.
Open the Internal storage of your iPhone and paste the video.
With that, you will be done transferring your videos to your iPhone.
Part 2. How to Transfer Video Clips from PS4 to iPhone Without USB
The method that involves using a USB to transfer PS4 videos to iPhone may work, but it is very tedious. So, you must look for a better and much easier method. Well, there is an easier method that does not require any USB or Computer. However, your video will be on some online platform. Keeping this in view, here is how you can transfer PS4 videos to iPhone with or without USB.
Step 1. Share and Upload PS4 Clips to YouTube or Twitter
Once you have captured your videos on PS4, you need to go to the capture gallery and follow the steps below:
Open the video and go to the sharing options.
Select YouTube or Twitter as sharing platform and create a post of that video.
Share the video over the platform of your choice.
The upload process will take some time, depending on the video's length and your internet's upload speed. So, be patient and do not abort the sharing process until the upload is complete.
Step 2. Donwload PS4 Video Clips to iPhone
After your video upload process is complete on PS4, you can move to your iPhone, and there you will need to follow these steps:
Open the app on which you uploaded your video from PS4.
Go to the account where that video was uploaded. If you have the same account for PS4 and iPhone, then the video will be present in your account.
Download that video from there.
Remember that saving video on that app may not work, so you might have to get help from some third-party download tool in the case of YouTube as well as Twitter. So, if you want your video in the gallery, you can use a third-party download tool and download that video on your iPhone.
Bonus: Ultimate iOS Backup Tool for You to Try Freely
Everyone loves to have their favorite data on their iPhone. However, when it is time to upgrade to a new device, things can be problematic, especially when switching from one OS to another. iMyFone iTransor Lite is your ultimate choice for iOS backup. You can try it for free, and it can back up everything present on your iPhone in a safe way. The best part is that it is compatible with every iPhone model over iOS 7.0, and its backups more than 18 types of data.
FAQs: More About Transferring between PS4 and Phone
1

Can we transfer files from phone to PS4?
Yes, it is possible to transfer files from phone to PS4. However, you will need a computer and a USB storage device to do the file transfer process from your phone to PS4.
2

How to send files to PS4 wirelessly?
You can send some files wirelessly to your PS4. However, you will need a media server deployed on your private network. Otherwise, it is almost impossible to send files to PS4 wirelessly.
Conclusion
PS4 provides amazing gaming performance and also allows you to record your videos. However, if you want to transfer those videos over to your smartphone, it will be a hectic process. If you want an easy experience, you can follow the methods we discussed above but ensure to follow all the steps correctly.