Sometimes you cannot keep your Facebook messages on that account forever either because you are deleting your account or for your privacy reasons. In any case, the option to export Facebook messenger conversations is still there. You get to keep all your important messages forever, and here is all you need to know about this process.

We invite you to take a survery about this topic: https://www.wjx.cn/vm/YiElV3a.aspx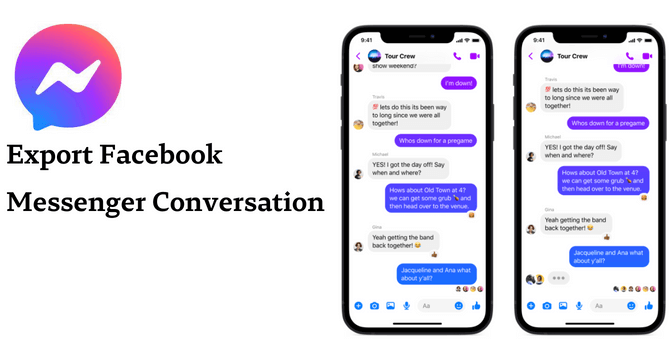 Part 1. How to Export Facebook Messenger on Mobile App [Android & iOS]
If you are using the Facebook messenger mobile app, the first idea you will have to export your messages will be to use some third-party app. Generally, these apps are not very reliable, and there could be safety/privacy issues, depending on the information in your chats.
So, a better method is to get screenshots and then print them or save them as PDFs. It is the simplest method that you can select, but it depends on the size of your conversation and can take a long time.
Open the chat in the messenger application that you want to export.
Take screenshots of the messages that you are looking to export (you can also take scrolling screenshots).

To convert that conversation into a PDF, you can first insert the images into a document and then convert that into a PDF.
The best part is that you can do everything from your smartphone without using any additional software or tool. This way, exporting your chats will be easy, especially for the shorter ones.
Part 2. How to Export Facebook Messenger on Windows and Mac
If you use a PC to use Facebook messenger, you can still export your messenger messages and whole chats without any issues. The method comes with great efficiency, but the process you must follow can be complicated. The good part here is that it works on Windows PC and Mac.
Open the Facebook website on any browser on your computer.

Go to messages and open the specific chat that you want to export.
You can start exporting or keep clicking on the See Older Messages button until you get the messages you want to export.

Run the print command on your computer and save that file as a PDF.
Using this method, you can save as many conversations and messages as you want. The best part is that you can export that to any other device or get the printout per your requirements. While doing that, you will not be affecting the quality here since the document is saved in PDF format.
Part 3. Selectively Export Facebook Messenger Conversation with iTransor Lite
If you have many conversations or messages, then none of these methods will be efficient in your case. In such a scenario, you need to look for a solution that lets you easily export all the data you want without going through a repetitive process.
So, a tool that meets all these requirements is the iTransor Lite from iMyFone. iTransor Lite is the free tool that you can use to export iOS data to your computer for free. The usage process is simple, and the features and functionalities make it an all-in-one tool for all data exporting requirements.
Features
It allows you to selectively transfer data from your iPhone to your PC.
You can export data from iTunes and iCloud.
Allows exporting more than 18 types of data.
Compatibility with iOS 7 and above.
Step 1.Download and install iTransor Lite on your PC and run the tool. Connect your iPhone with the help of a USB data cable to the PC.
Step 2.Select Export from Device & Backup and select Export from Device instead of backup.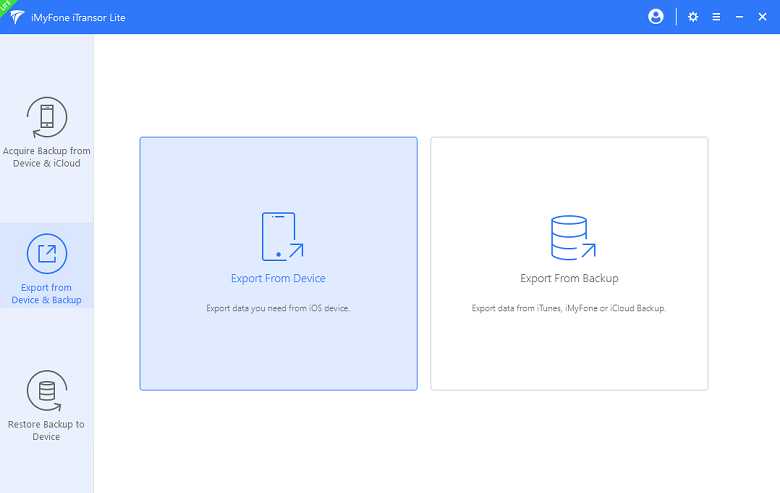 Step 3.Now you can select the application that you selectively want to export. Click on Scan when you are done with the selection. In this case, you only have to select messenger.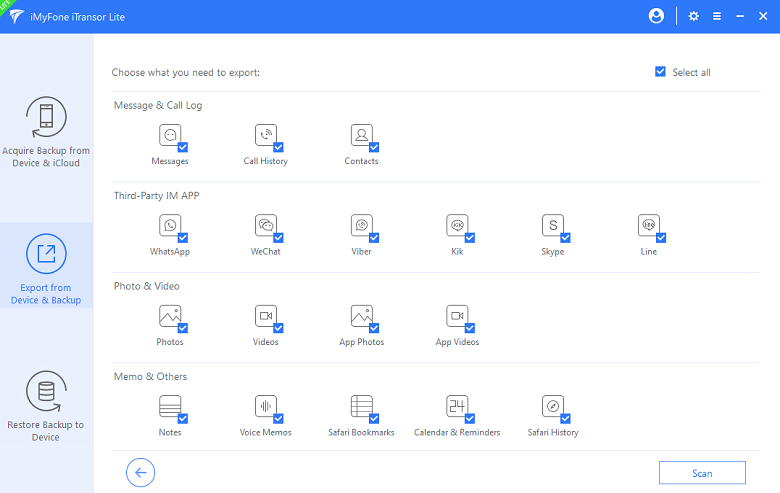 Step 4.The tool will scan your iPhone, and when it is ready to export the data, you will get Export options.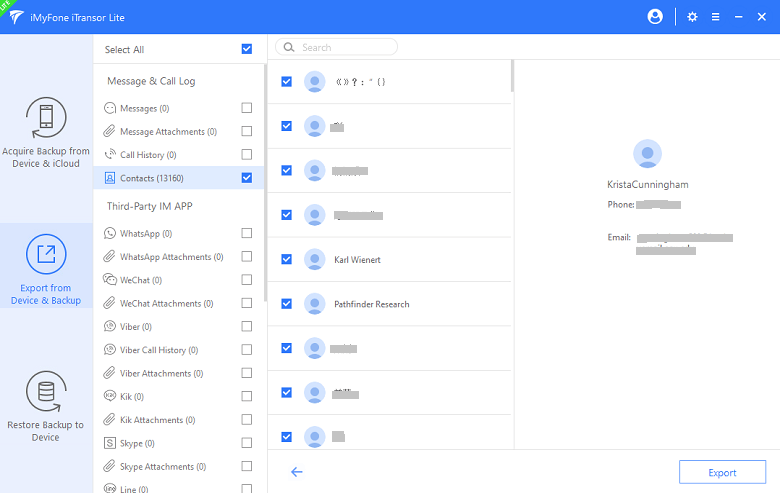 Step 5.Complete the export process, and you will be done with the process.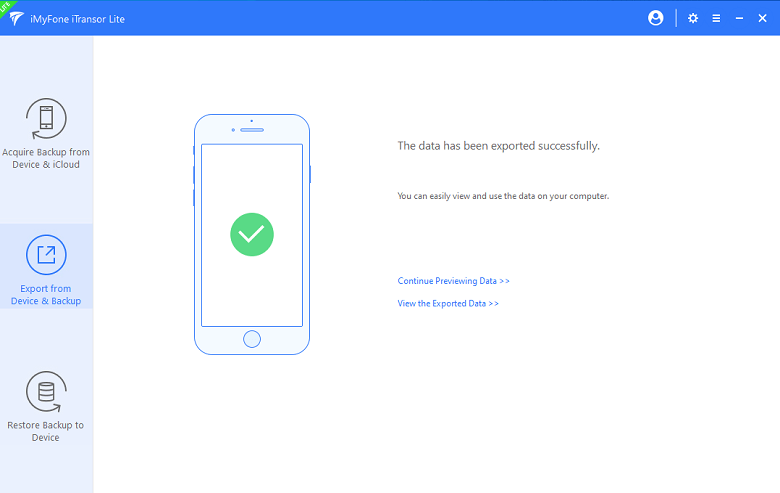 Conclusion
Facebook Messenger does not provide any features to export messages, and taking screenshots of the whole conversation will not be an efficient solution. So, when you export Facebook messenger chat with the solutions we were discussing, things get extremely convenient and efficient for you. Make sure you choose the solution that brings the easiest experience for you.