Question
iTunes is asking me for a password when I want to restore a backup, but I haven't set a password before, what should I do?
Apple has added an iTunes feature a long time ago which allows users to encrypt their backups. Although the idea is great, some users are being asked to enter a password when they didn't set iPhone backup password. The problem it brings is that you aren't able to restore your backup if you don't know the password associated with it, but here we'll show you how to fix this.
Fix 1: Try All Possible Passwords for iTunes
There aren't any limitations to the number of password attempts you can try when unlocking an iPhone backup, so take the time to try every combination you can think of. Some examples are included below:
Your Apple account's password;
Your iPhone screen lock passcode;
Your iTunes Store pasword;
Your previous iTunes backup passwords;
The default password 0000;
PC account password;
Common personal passwords;
Email or other account passwords;
Generic passwords such as "password", "1234", or your name.
Try different variations of these examples and hopefully you'll find out what the password has been set as. It's more than likely that you've unknowingly set a password and didn't think about it, so this could do the trick. 
Fix 2: Use iTunes on Another Computer
If trying different passwords still cannot help, you should try to use iTunes on a different computer. Doing this will require some extra time (given that your device will be wiped, and the backup will be restored), but it's worth a try.
Connect your iPhone to a computer you haven't used iTunes on before and open iTunes.
Sync your iPhone and when given the option, choose to restore your iPhone. You should take a backup beforehand.
Once it is restored, you'll be shown the iOS "Set Up" screen and you can choose the backup.

Still wondering what password is iTunes asking for to restore backup? If so, move on to the next section and find out how an alternative iMyFone D-Port Pro can help you out.
Fix 3: Alternative Way to Back up Your iPhone without iTunes
Using an iTunes alternative like iMyFone D-Port Pro is ideal for several reasons. Not only do you get more control over your backups and restoring those backups, but also D-Port Pro includes a lot of additional useful features including:
Main Features about D-Port Pro
Back up only your text messages, WeChat, or WhatsApp data.
Selectively restore data from an iCloud, iTunes, or iMyFone backup file.
Extract data from backup without restoring it.
Export data directly from your iOS device.
Interested in finding out more? We'll be walking you through some of the different uses that iMyFone D-Port Pro has below.
Fully Back up Your Device
Using this method will allow you to take a backup of all your iPhone's data.
Click "Back Up & Export from Device" on the sidebar and connect your iDevice.
Select "Make a Full Backup" and quickly read the information shown.

Click "Back Up" and after a few minutes, your device will be fully backed up.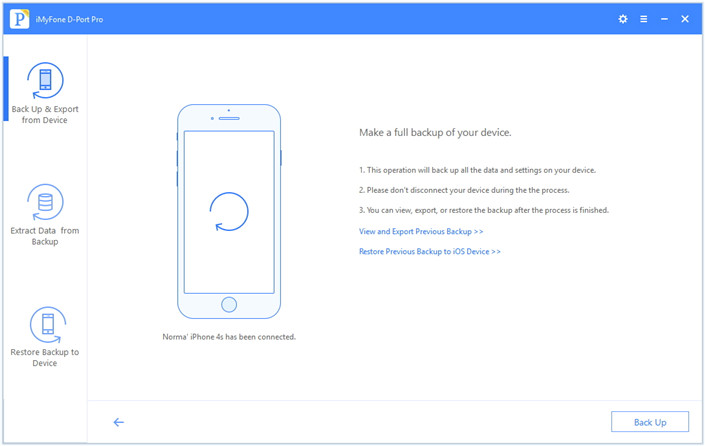 Only Back up Important Data (Messages/WeChat/WhatsApp)
With these steps, you're able to back up only SMS texts, WeChat, or WhatsApp messages.
From the sidebar click "Back Up & Export from Device" then connect your iDevice.
Choose either "Back Up Messages", "Back Up WeChat", or "Back Up WhatsApp".

Click the "Back Up" button and within minutes, the selected data will be backed up.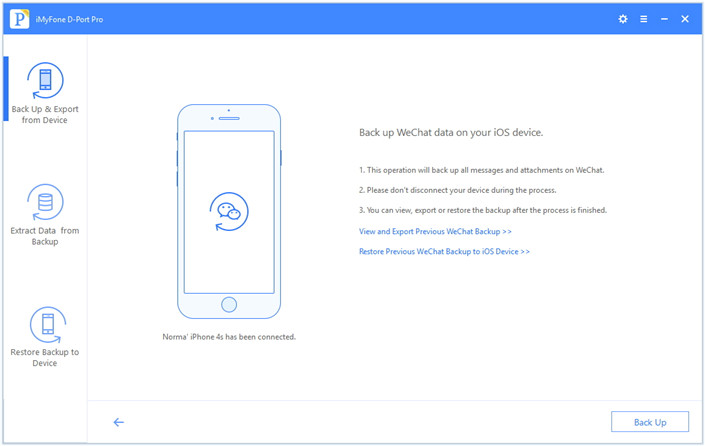 Restore Full Backup to Your Device
If you want to restore a backup that you previously took, using these steps allows you to do so.
Connect your iDevice using a lightning cable and click on "Restore Backup to Device".
Choose a backup from the list and click "Next".

Lastly, click "Restore Full Backup" followed by "Next", and then follow the on-screen instruction to complete this restore process.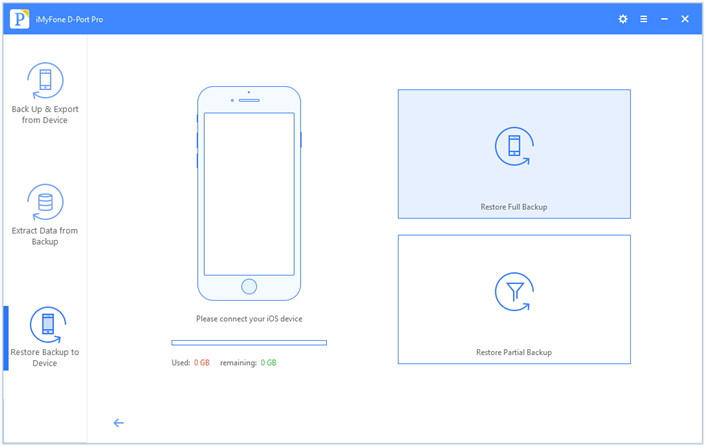 Only Restore Important Data from Backup
Rather than restoring an entire backup, the following steps give you the chance to only restore your important data.
Use a lightning cable to connect your iDevice and choose "Restore Backup to Device".
Select a backup from the list shown, press "Next", and click "Restore Partial Backup".

Choose the data types that you want to have restored and press "Next". Once the scan is complete, tick all of the data to have restored and click on "Restore".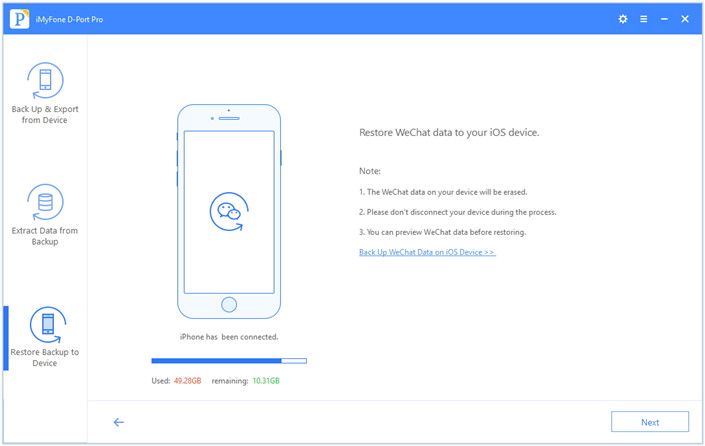 Fix 4: Find iTunes Backup Unlocker in Google
If you aren't interested in using an iTunes alternative, then you can head to Google to try and fix iPhone backup password never set. However, this is a time-consuming process and it can be hard to find a backup unlock tool that is truly effective - for this reason, it's better that you use one of the solutions that we detailed above.
To Conclude
Throughout this article, we have covered a few different fixes for when iPhone backup password never set, and our suggestion is to choose the fix that is suitable for you. If you have an alternative backup stored elsewhere, fantastic! But, if iTunes has been a hassle to use, perhaps use iMyFone D-Port Pro as the alternative instead.