Switching from your old iPhone to a newer model is always exciting because there will be a lot of new features. However, simultaneously, you need to transfer all your older files and data to the new device. Knowing how to transfer Calendar from iPhone to iPhone is important because otherwise, you may lose all your old calendars. So, we will help you with the best 3 methods to transfer your calendars.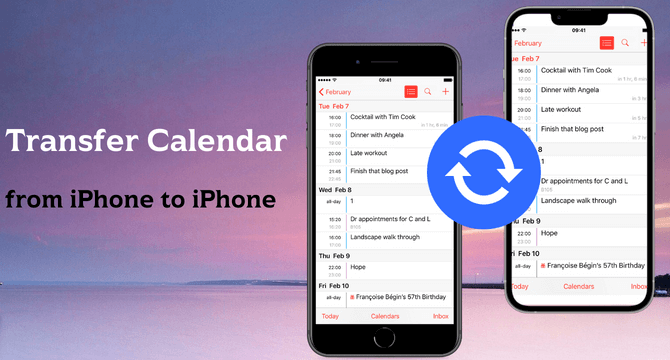 Part 1. How to Transfer Calendar from iPhone to iPhone/iPad with iCloud
With iCloud, it becomes easy to transfer your data across different devices. Everything happens on the cloud, so you do not need additional computers or wires to connect your devices. However, iCloud only provides a limited 5GB of storage for free, and after that, you have to purchase more storage.
If you are new to iCloud, you will most likely have more than enough space to create a backup for your Calendar. Otherwise, purchasing additional storage is the only option to proceed with this method. Below are the steps that you need to follow.
Go to Settings on your old iPhone and enable iCloud on that device.

Now your iPhone will create an iCloud backup of everything you have.
Turn on your new iPhone model and set it up normally. There will be a restore screen during the setup process. You need to select the Restore from iCloud Backup option and log in to the same iCloud account as your previous device.

Now continue with the setup process and activate your new iPhone.
After this process, all your calendar data will be available on your new iPhone.
Part 2. How to Transfer Calendar from Old iPhone to New iPhone/iPad with iTunes
Your next choice is to use iTunes, and installing iTunes on your PC is necessary. Going with the latest version will be better. iTunes is an amazing tool that you can use for managing files of your iPhone on your PC.
It works on Windows PC and Mac and lets you easily deal with the data backup and restore process. Using iTunes to transfer your calendars is a pretty simple process, and the only prerequisites here include having a PC with iTunes and data cables to connect your new and old iPhone with the PC. Here is our step-by-step guide on how to transfer your calendars:
Launch iTunes on your PC and connect your old iPhone to it using a data cable. Upon connection, you can create a backup of your iPhone, including everything you want.

Now begin with your new iPhone and go through the process until you get the Restore screen. You must go for the iTunes option and connect your new iPhone with your PC.
Select the backup that you created and restore it on your new iPhone. Within a few minutes, you will get your calendars and all the other important things included in the backup.
Part 3. How to Sync Calendar from Old iPhone to New iPhone via Gmail
If you do not have a PC to use the iTunes method and do not want to buy additional iCloud storage, then you can try using Gmail. It is also an effective method, and it will be efficient for some users considering it is wireless and can help share data across new and old iPhones for free. While the steps here are easy, you must be careful through the setup process for the best results.
Below are the steps you need to follow to sync your Calendar from your old iPhone to the new one.
Open Settings on your old iPhone and go to Calendar > Add Account > Google option.

There you will need to enter your Gmail account or add one if you haven't already.
In that account, you will find several options. Turn on the Calendar option.

Now open Settings on your new iPhone and repeat the above 3 steps. After you turn on the calendar option for the same Gmail account, your Calendar will sync.
With these steps, you will get calendars on both your devices. The best part is that you can easily use this method on a device you currently use without needing to erase it.
Bonus: Transfer Calendar from iPhone to iPhone with iOS Backup Tool
Another way you can try is using iTransor from iMyFone. It is an iOS data backup and restores tool that can help you with how to transfer Calendar to a new iPhone without iCloud. It helps you transfer all your calendars and brings many other features, including transferring contacts, SMS, WhatsApp, and more than 18 types of other data.
iTransor is compatible with the latest iPhone 13 series and works with every iPhone model running on iOS 15 and above.
Conclusion
Now that you have read all the different methods to transfer the Calendar selecting the most effective way in your case will be easier. Whichever method you choose, it is necessary to follow all the steps correctly to transfer Calendar from old iPhone to new iPhone.