Employee time tracking apps are used to measure employees' overall active time at work, time spent on specific tasks and projects, time off and time off. For example, it can generate real-time reports showing when your employees are active or idle when logging in and out of computers, and more. The system can be integrated with other software such as project management, accounting applications, etc. Read on to learn how to choose the best employee time tracking system.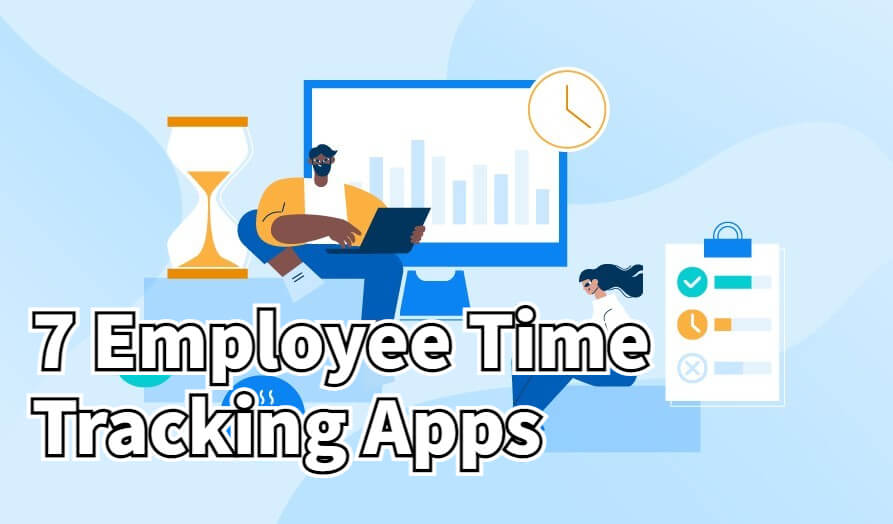 Part 1: How to Choose the Time Tracking Apps?
Here are the most important factors you need to consider before making your choice:
Factor 1

Functional Requirements
---
You need to define the scope of your future time tracking software, including employee activity and status (eg, working time, overtime, vacation time tracking, real-time monitoring, reporting, and more. You get some functionality through integrations with other software like accounting, payroll, and project management solutions.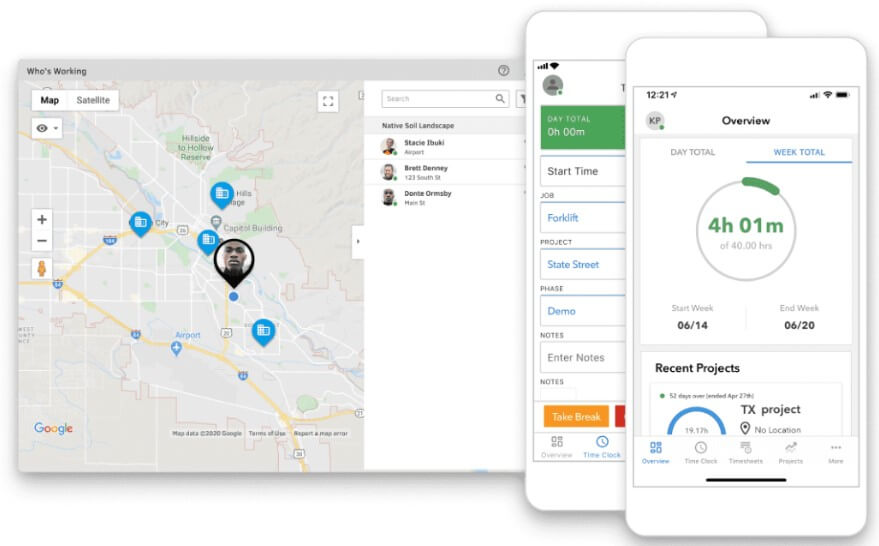 Factor 2

Implementation Plan
---
It is important to identify where employee tracking tools are located and the data they use. There are three deployment options: cloud, on-premises and hybrid. Today, many businesses prefer cloud solutions because they provide better availability and free employees from all installation, maintenance, and upgrade work.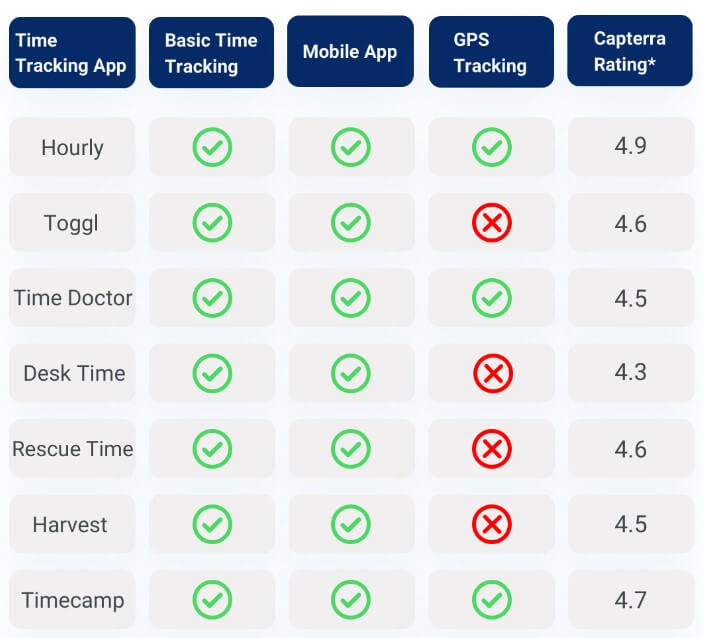 Factor 3

Cost
---
The cost of your time tracking software depends on the number of employees (users), integration with other software, custom features designed to meet specific HR needs, and more. Also, make sure you're not overlooking any hidden costs, such as testing, support, and maintenance. Also, you should consider the benefits that a time tracking solution will bring, such as time saved by the HR team and reduction in human error.
Part 2: Best 7 Apps of Employee Time Tracking
We've done the research for you and collected the best time tracking apps in one place, so you can choose the one that's right for you - whether you're a freelancer, a small business owner, or running a large company.
This ultimate guide to time tracking apps has it all - a time tracker with the most basic features, plus highly advanced software. Make sure you'll find the productivity tracking software that best suits your needs. Let's start!
1

Clockify
---
If you're part of a team and want to track how much time you and they spend on projects, Clockify is a work time tracking software that helps you do that well with features like timers and default projects. Clockify provides visually pleasing reports for you to review to measure which projects are taking up the majority of your team's time, giving way to being able to better manage you and your team's work.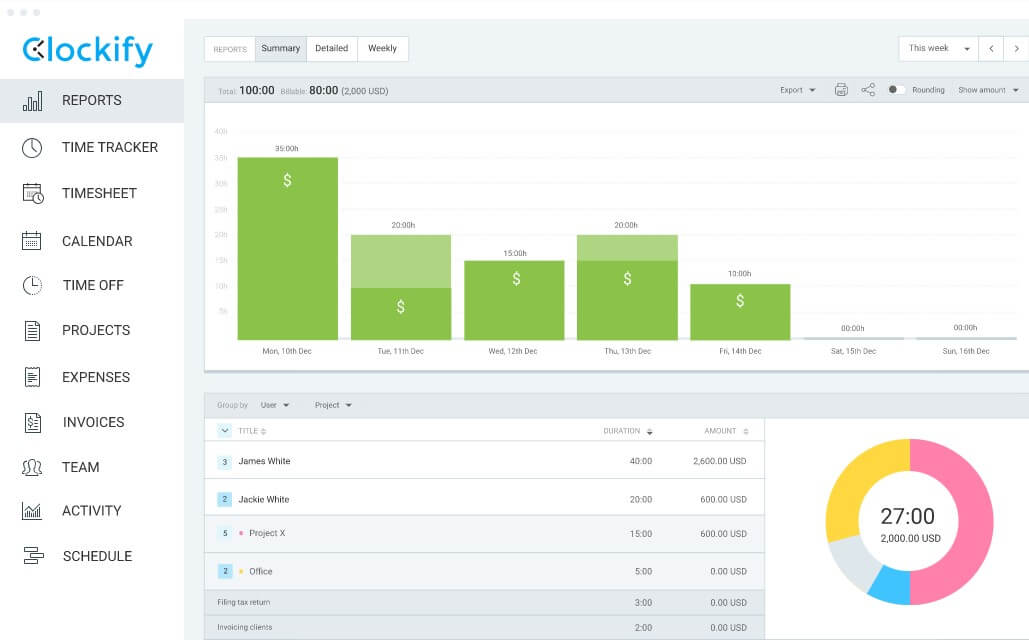 In terms of feel and use, Clockify has many integrations, and no matter what supported device or browser you decide to use it on, it has a simple, sleek and intuitive interface. This is especially true for a user-friendly, easy-to-navigate web app that can be accessed from anywhere to see the progress of you and your current team.
| | Basic | Standard | Pro | Enterprise |
| --- | --- | --- | --- | --- |
| Clockify | $4.99/Per Month | $6.99/Per Month | $9.99/Per Month | $14.99/Per Month |
Pros
Simple and intuitive interface.
Free tier comes with web, desktop and mobile time tracking apps; supports unlimited users and projects.
Built-in invoicing tool to bill customers.
Cons
Invoice and labor costs are compared to budget for additional fees.
Limited report customizability; you cannot create and add new fields.
Mobile app glitches; software sometimes lags.
GPS tracking is available for an additional fee.
2

My Hours
---
My Hours is one of the best free time tracking software for freelancers and employers. The software includes freelancer-friendly features such as the ability to set and adjust billable rates, a dashboard that displays total and billable hours, costs, and customizable reports. You can also add comments to clarify differences with team members. Email-enabled reports and invoicing options make customer communication seamless.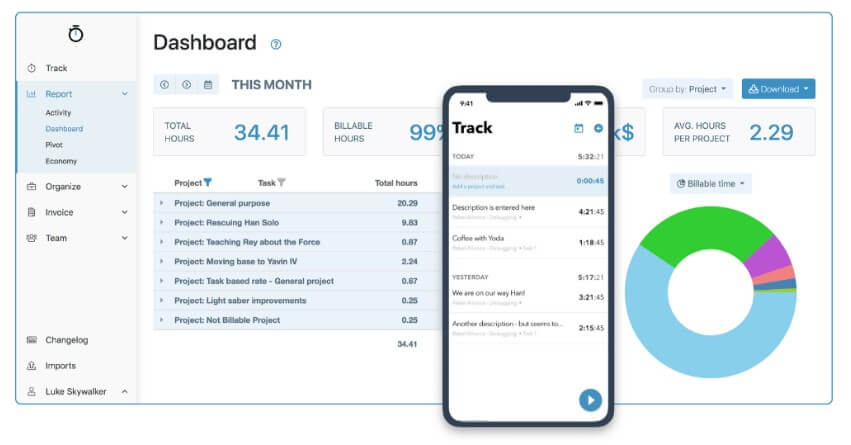 | | Free | Pro |
| --- | --- | --- |
| My Hours | Limited Factor | $6/Per Month |
Pros
Tasks and projects are color-coded.
Reminder to start time tracking timer.
Work with Apple Watch.
Cons
No Windows or Mac version.
Without any additional productivity tracker.
All you need is a simple time tracker and basic report sending functionality.
3

Timecamp
---
Timecamp is a cloud-based time tracking solution that makes it easy to track work time manually via a timer and automatically via a desktop application. The app enables project managers to collaborate, track billable hours, and monitor project status. Plus, it's an employee productivity monitoring software where you can see if your employees are as productive as you need them to be during the work day.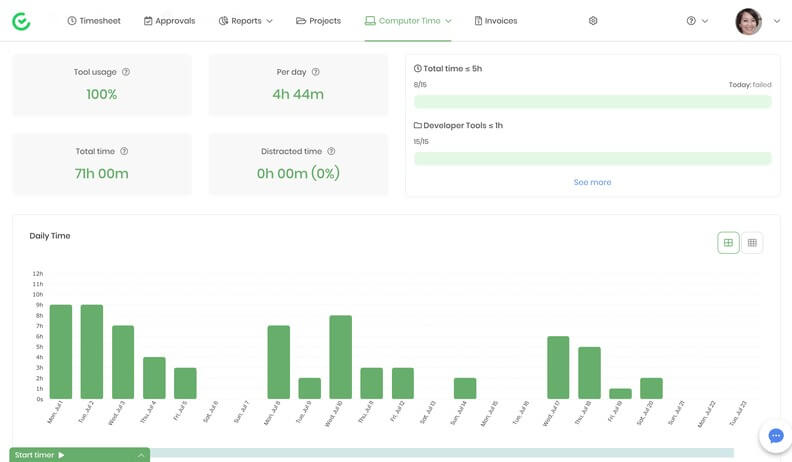 What makes Timecamp stand out from other time tracking apps is their various integrations with other apps. This way, you can easily sync and import your created tasks and tickets into Timecamp and start tracking time right away.
| | Basic | Pro |
| --- | --- | --- |
| Timecamp | $5.25/Per Month | $6.99/Per Month |
Pros
Get your daily productivity analysis.
Create and store invoices for customers.
Receive notifications when customers view invoices.
Attendance Tracker.
Cons
There are some bugs in the app for mobile devices.
Data loss may result.
4

Harvest
---
Harvest is a virtual time tracking tool that provides accurate records along with valuable business insights. The program tracks individual and team hours worked, costs and expenses, and project progress. Harvest's time-tracking tools complement its forecasting software that assigns team members to tasks and projects.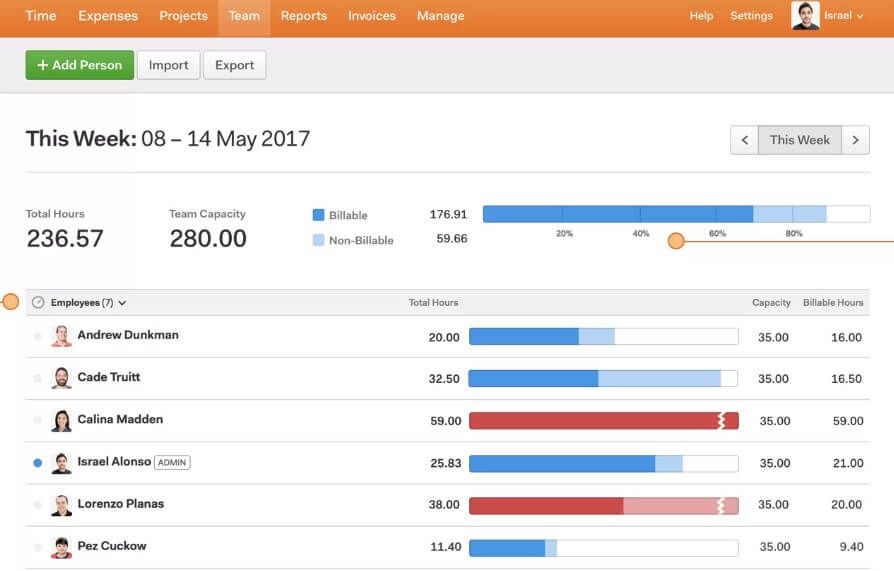 Harvest's core mission is to allocate employee time wisely and ensure that remote workers aren't overworked. This mission helps optimize productivity and improve employee morale.
| | Solo | Team | Pro |
| --- | --- | --- | --- |
| Harvest | $12/Per Month | $12/Per Month | $10.08/Per Month |
Pros
Automatically create invoices and receive payments from customers.
Send automated reminders to customers about invoices to be paid.
Add comments and notes to your team's tasks.
Cons
It's hard to expand and get into the details of the project.
The built-in feature set is very limited.
5

Time Doctor
---
Time Doctor is a hybrid of time tracking, employee monitoring and project management. This is a powerful employee monitoring tool as it can give you very detailed information about your employees. The Time Doctor time tracking system records the web pages and applications used by each employee. It also allows managers to take screenshots of their desktops to see what their employees are doing at the exact moment and minimize opportunities for laziness.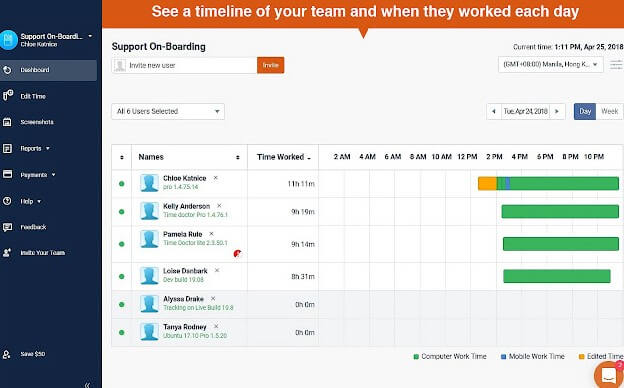 | | Basic | Team(Over10 Person) |
| --- | --- | --- |
| Time Doctor | $9.99/Per Month | Extra Discount |
Pros
Create payroll and pay employees through the software.
Automatically take screenshots.
Chat monitoring.
Cons
It's not the best time tracking app in terms of design and ease of use.
It's hard to understand where to find a feature.
6

Hubstaff
---
Hubstaff, like Time Doctor, offers similar time tracking features, employee monitoring, and project management features. The main difference, however, is that Hubstaff lets you track time and employees on the go. It's a time-tracking app for Windows, Mac, and Linux, as well as mobile devices, so you can keep tracking your employees even when they're on the road or out of the office.
Hubstaff can also track location using a GPS tracker. GPS tracking is most commonly used in companies where employees travel frequently, namely sales and delivery personnel. With a productivity tracker on the move, managers can see where their employees are at that exact moment, how much time they spend on the road and how much time they spend on the job site.
| | Solo | Basic | Standrad | Pro |
| --- | --- | --- | --- | --- |
| Hubstaff | Free | $7/Per Month | $10/Per Month | $20/Per Month |
Pros
Employee GPS tracking.
Automatically take screenshots.
Create payroll and pay employees through the software.
Cons
Custom, atypical data entry is not possible.
Unable to complete more advanced reporting structures.
7

RescueTime
---
RescueTime is a time tracking app that not only tracks the time you spend on certain URLs, programs and apps, but also shows how productive you are throughout the day. RescueTime automatically calculates your productivity based on pre-grouped categories and built-in productivity scores. At the same time, if you do not agree with RescueTime's classification of URLs, programs, and applications, you can manually customize the categories according to your specific needs.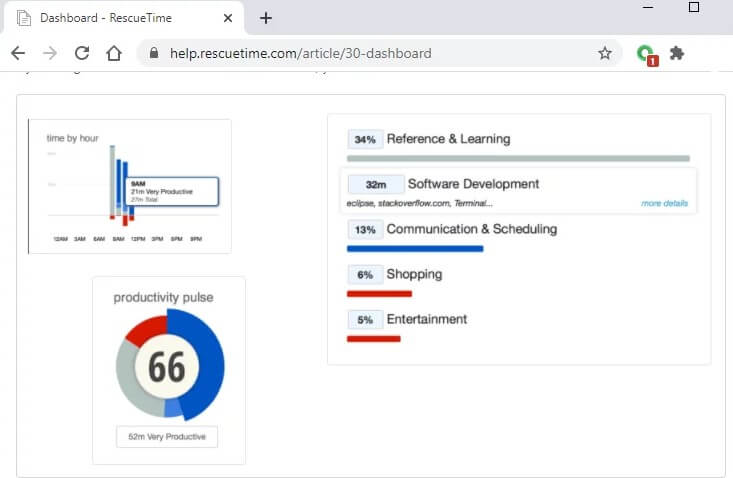 Plus, with RescueTime, you can set task goals and track your work.
| | Basic | Montly | Yearly |
| --- | --- | --- | --- |
| RescueTime | Free | $9/Per Month | $6/Per Month |
Pros
Set daily task goals.
Receive daily productivity and efficiency analysis.
Block access to distracting web pages.
Weekly email digest.
Cons
If you don't define all your applications as efficient or disruptive, the productivity tracker data becomes incorrect.
[Bonus Tips] How to Stop Being Tracked?
---
In fact, it is not uncommon for employees to be monitored by the company. With the popularity of the Internet and the advancement of the software industry, more and more companies have begun to develop monitoring software with more comprehensive functions.
But no matter how the technology develops, it is inseparable from the fundamental technical support. In today's market, the most common monitoring methods are through employee work behavior monitoring and monitoring through GPS positioning technology. Next, I will share with you how to cleverly avoid these two kinds of surveillance to protect your privacy.
Tips 1

Stop Being Tracked by Time Tracking Apps
---
Automating Mouse Movement
One of the most common ways employees can cheat time tracking software is by automating their mouse movement. This can be done by using a variety of different tools, including AutoHotkey and Macro Recorder.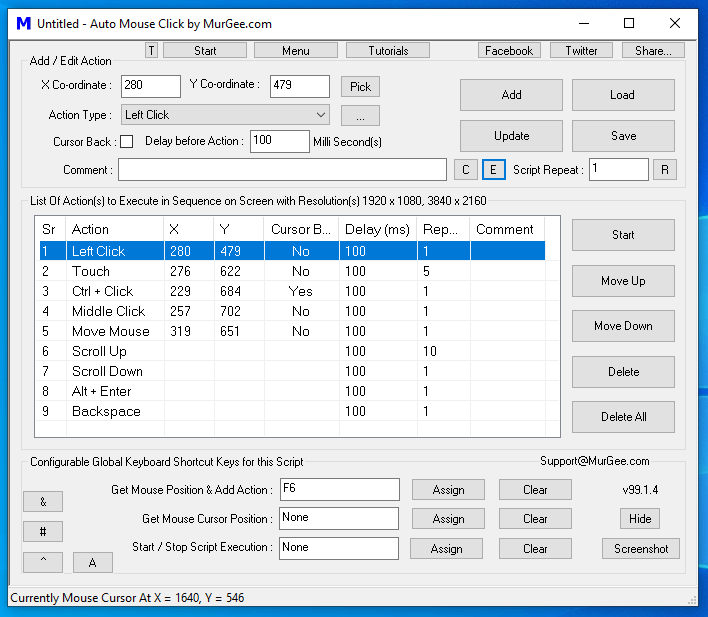 When employees automate their mouse movement, it makes it appear as though they are working even when they are not. This can be used to inflate employee productivity levels, and it can also be used to make it appear as though employees are working more hours than they actually are.
Prevention
Businesses should look for time tracking software that includes activity monitoring. This will allow businesses to see what employees are actually doing on their computers, and it will make it easier to identify when someone is cheating the system.
Tips 2

Stop Being Tracked by GPS Tracking Apps
---
For those location tracking software or functions based on GPS positioning technology, I have also found an anti-tracking software-iMyFone AnyTo for you. It can help you fake your real location from the perspective of deceiving location. It is very easy to operate and easy to use.
Some main features of iMyFone AnyTo are listed below:
It enables you to change GPS location to anywhere instantly.
You can simulate GPS movement with a customized route.
It helps to work with location-based apps such as WhatsApp, Find My Friends, etc.
You can search for a specific coordinate as your destination.
You to adjust the speed freely to make the movement more real.
Widely compatible with most iOS and Android devices.
A video & step-by-step guide on how to change your location for iOS & Android devices.
Step 1: To start using this location spoofer, just go to the official website of iMyFone AnyTo. Download the package from there, then install it.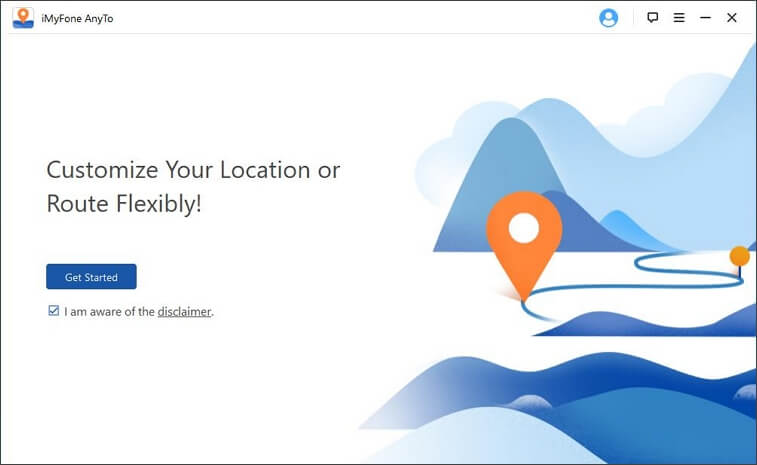 Step 2: Connect your device to the PC.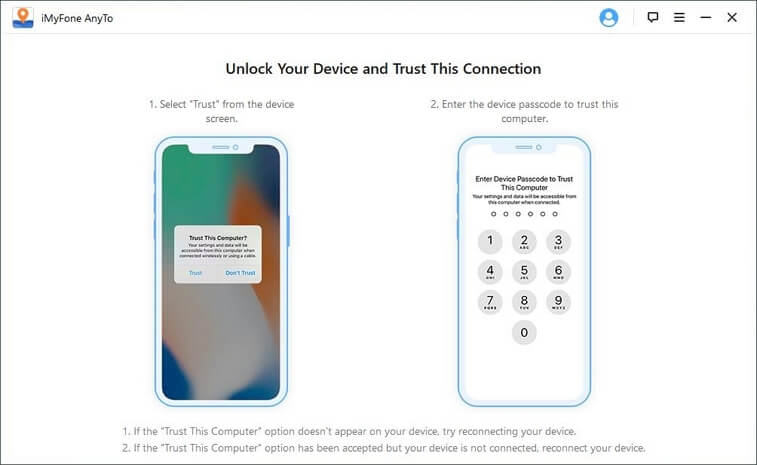 Step 3: Select Teleport Mode from the top right corner of the screen. Select the location, and enter the location you want to change location to fake.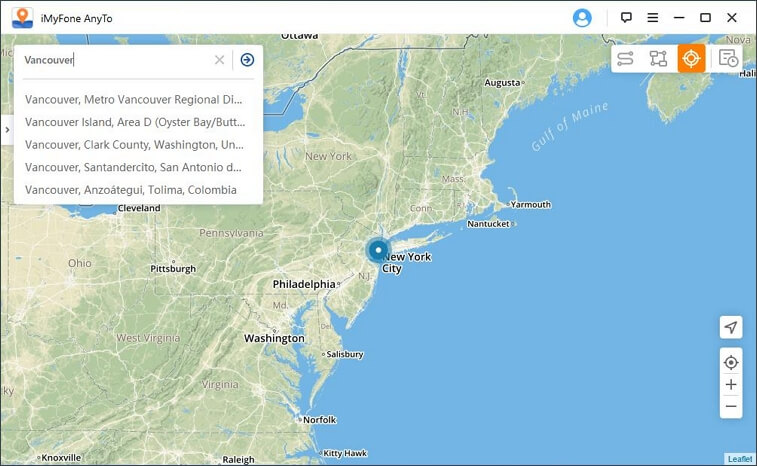 Step 4: After selecting the fake location, just click the Move button. All apps on your device that need to be located will now switch entirely to your fake location.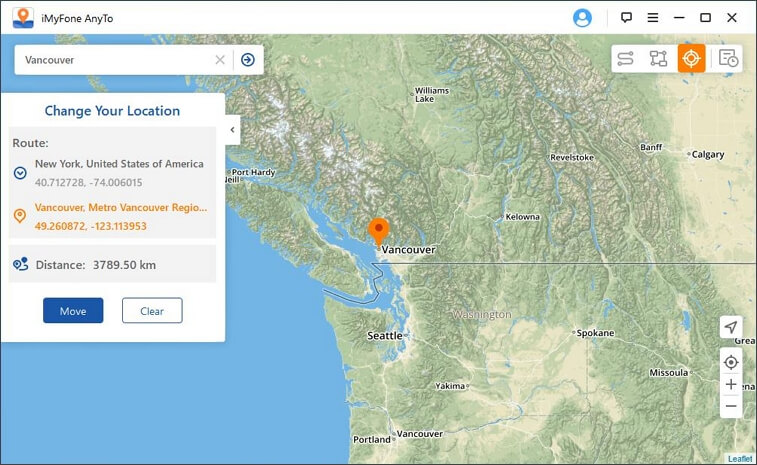 With this app, all you have to do is sitting in comfort as your avatar does the walking for you. Brave all sorts of climates and terrains all from the comfort of your home.
Conclusion
Freelancers and hourly workers have always needed a reliable way to track and share billable hours. The rise of remote work requires simple and functional employee time tracking app . Time tracking tools enable virtual managers and leaders to measure individual and team performance. This useful data enables leaders to quickly identify the most time-consuming operations and more effectively plan or improve future systems.
But if you are a company employee, you must not want your privacy to be exposed. It is more practical to spoof GPS location than to spoof time tracking. It is recommended that you download iMyFone AnyTo and give it a try!