Uber drivers across the world have been making use of Uber fake gps applications on smartphones as a way to get quicker ride requests and make more money. Such GPS spoofing has been used on Uber, other ridesharing platforms like Lyft, and even on Uber's food delivery service – UberEats.
Rideshare businesses like Uber are highly successful, so you would expect drivers would be making a lot of money – this is not always the case. As Uber drivers can choose their working hours, there can be vast differences in the money made. This varies by country as well, with the average salary for Uber drivers in England set at £16,846 – 23% below the national average wage.
Part 1: Why Do Uber Drivers Use Fake GPS?

These huge variations in earnings mean that drivers often have to use GPS spoofing on Uber– hiding their true location using fake GPS apps, including the Lockito app, in order to get ride requests sooner and maximise their earnings.
Using GPS spoofing apps on Uber means that drivers can make a fake route to make riders pay higher prices for their trips by increasing the distance of each journey, which means Uber drivers can make more money from each trip.
Drivers also use these GPS spoofing apps to fake locations so that they can say they are one place, while actually somewhere else. This tricks the ride-sharing platform into thinking the car is somewhere it is not.
The best place to use this is during airport pickups. For example, the first person in the airport queue is the first person to get a ride request on Uber. If you turn on your fake GPS app while using Uber, and say you are already at the airport, your position in the queue will go up. Drivers can do this long before they arrive at the airport, so that when they do, they will get work right away.
This is good news for drivers, bad news for customers. In 2018, Uber announced technologies to combat fraud – including GPS spoofing – on the platform.
Part 2: How to Change Location on Uber for iPhone?

The great thing about using these fake GPS apps for Uber, is that they can be used for anything, from anywhere, using just your mobile phone. It really is so simple to get set up, and it works on any iPhone versions, including the iOS 14.
The best Uber GPS spoofing app for iPhone is 100% iMyFone AnyTo. This app has the best rating of any GPS spoofing app on the App Store, and has been approved by many websites providing tech support, including TechRadar and Macworld.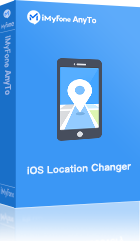 1,000,000+ Downloads
Here's some of its key features:
You can change your location on your iPhone or iPad when you want to share some cool locations on social media platforms with your friends.
Use GPS spoofing to fake your location on a map to avoid being tracked.
Use geo-specific features or services on location-based apps.
Create routes on the map to move along, which works perfectly for use alongside Uber.
iMyFone AnyTo allows you to change your GPS location to anywhere in the world instantly. It is hassle free and efficient, for any use you may need.
"So, how do I get set up with this magical app?!?!", I hear you ask. Look no further.
In a few simple steps, you can be using iMyFone AnyTo to fake your location.
Step 1: Install iMyFone AnyTo on your computer/Mac and click get started.
Step 2: Connect your device with the USB cable, and unlock your device. Make sure to give the app permission to run on your phone.
The app will then load, and you can see your current location.
Step 3: Click Teleport Mode in the top right-hand corner of the map (3rd icon across) on iMyFone AnyTo. You can now select your fake destination on the map. You can also type in an address or coordinates to locate a destination.
Step 4: After picking your fake location, click "Move" on the sidebar. Your location will then change to this location instantly.
No waiting around. the GPS location on your iPhone changed synchronously. As well as this, all location-based applications such as Uber on your phone will be changed to this location. Easy peasy!
Part 3: How to Change Location on Uber for Android?
Android users can benefit from the same use of GPS spoofing as those using the iPhone, through different applications. Both of these apps can be found on the Google Play Store. Here are details on how to use two of these apps.
Method 1: Use Hola Fake GPS to Fake Location on Uber
This application is created by Hola, who also created the Hola VPN which is often used for streaming content from other countries. Hola Fake GPS makes it easy for users to change their location directly from their Android smartphone or tablet. The steps for using this app are simple.
First, make sure your Android Location Settings are set to 'GPS only' or 'device only', ensure that high accuracy location positioning is disabled so the app will run well.
Next, select the requested position on the map or use the search bar to look up a specific address.
Finally, click the 'Play' button and hey presto, your location has been changed!
A weakness that has been noted by users of Hola Fake GPS is that some users have had difficulties in resetting their real GPS after using this app.
Method 2: Use Fake GPS GO Location Spoofer Free to Fake GPS Location on Uber
This app is easy and simple to both use and set up. It provides the user with two options to search for GPS locations. Through the names of places, and also with GPS coordinates. This app exists in both a free version and paid version, each with different features. The paid version of Fake GPS GO, for instance, allows users to access more route options and import from GPX. So, how do you get going with this app?
Firstly, like the Hola app, you need to make sure your Android Location Settings are set to 'GPS only' or 'device only' for smooth running of the app.
Next, choose your fake GPS location and press 'play'.
Finally, the app will insert the fake GPS location into your Android phone.
A limitation of the Fake GPS GO Location Spoofer Free app is that it does not give you a large variety of routes to use.
It may be worthwhile investing in the paid version of the app if this is something you see yourself using often to set up routes for Uber.
Part 4: What Potential Risks Might Uber Drivers Encounter?
1. Customers are not getting the speedy service they signed up for. Uber often gives short waiting times to customers when they book a ride. So, a customer may book an Uber ride that has a 5 minute waiting time, but the Uber may not show up until 30 minutes later due to the driver using a fake GPS app to say they are already at the airport when they are not.
2. Drivers can miss out on ride requests. As the popularity of such Uber GPS spoofing grows, so too does the chance for drivers to miss out on bookings. You could be sitting at an airport waiting an hour for a ride request to come through, while someone using a fake GPS app gets the booking before you do.
3. Drivers can have their accounts deactivated for using GPS spoofing apps. If Uber catches drivers using such fake GPS apps, they can deactivate your account. Make sure to use extreme caution to keep your account safe when using these apps.
---
Conclusion:
Although there are risks involved, using fake GPS apps and GPS spoofing may be able to help you make more money than you currently are as an Uber driver. There are many apps on the market that allow you to use a fake location and continue what has been shown to work with apps such as Lockito.
The iMyFone AnyTo app is highly recommended, both for its range of high-quality features and easy use, but also due to raving reviews from tech experts. If you want to use such a GPS spoofing app to increase the speed of your Uber ride requests, iMyFone AnyTo is your best bet.