Can I send a fake location on WhatsApp?
Well, the answer is "Yes". You can of course send your fake location on WhatsApp. There are many ways that will help you to mask your location and pretend that you are in a fake location. And this is what this article focuses on. We will help you share some tips on how to send fake location on WhatsApp in iPhone and Android phones. Apart from this, you will learn how to send fake live locations on WhatsApp. So, without any further ado, let us begin and explore the ways.
Part 1: How to Send Fake Location & Live Location on WhatsApp for iPhone

1.1 How to Send Fake Location on WhatsApp Using iMyFone AnyTo

iMyFone AnyTo is the best location changer tool available for iPhone with the help of which you can change your GPS location to anywhere instantly. This works well with location-based games and social media platforms like WhatsApp, Facebook, etc. And it is compatible with the latest iOS 14 version. Besides, when AR games is your preference and you just don't feel like walking, tools like iMyFone AnyTo is what comes to the rescue.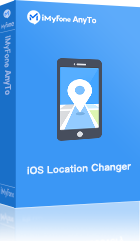 1,000,000+ Downloads
Features of iMyFone AnyTo
You are enabled to plan the route in which you want to travel when you set your location.
You can customize your route and set the speed. You can simulate and show whether you are walking, cycling or driving.
To pause for a moment and continue your journey in the same route is easy. This will make the movement seem natural.
Moreover, you can set precise location by giving the exact coordinates like latitudinal and longitudinal values. This is very useful for location based games like Pokemon Go, etc.
It also allows you to save the history of locations that you have been to.
How to send fake location on WhatsApp using iMyFone AnyTo
Step 1: Launch iMyFone AnyTo
Start iMyFone AnyTo on your computer/Mac and click on "Get Started".
Connect your iOS device with the computer/Mac, unlock your phone, click "Trust" to establish connection with the computer/Mac.
Once connected, your location is displayed on the Map.
Step 2: Pick a Destination
Select the "Teleport Mode" by clicking on the 3rd icon available on the upper right corner of the screen. Enter the destination that you want to be shown in the text area available on the upper left corner and click on the arrow.
Step 3: Change GPS Location Instantly
The destination entered will be shown on the pop-up which shows your location details like name, coordinates and distance. Once you are sure about the destination displayed, click "Move".
Your location will immediately change to the new location given by you.
Step 4: Send Location on WhatsApp
Now, that you've changed the location through the aforementioned tool, any of the app in your device will show the teleported location. You just need to use the WhatsApp location service and send the location you've chosen to your friends. Here is how.
Open WhatsApp and choose the contact you want to share your location with. In the chat window, tap on "Plus" sign available on the bottom. Tap "Location".
Tap on "Send Your Current Location" and the fake location on WhatsApp will be sent to the friend.
1.2 How to send fake live location on WhatsApp using iMyFone AnyTo

Apart from teleporting, you can also set multiple locations on the route and simulate your movements to the people with the help of iMyFone AnyTo. This can be done by using the "Multi-spot Mode". All in all, using this, you can easily send fake live location on WhatsApp to make seem everything real. Let us know how.
Step 1: Choose Multi-spot Mode
Launch iMyFone AnyTo and select the 2nd icon at the upper right corner to enter the "Multi-spot Mode".
Step 2: Select Multi-spots
Select the different spots by entering the address or by giving the GPS coordinates. You can set the round trips and speed by dragging the speed bar available on the right side pane. Once the values are given, click "Move" to start your journey.
iMyFone AnyTo will show that simulation of your movement based on the speed that you have given. Once the simulation is done, a popup will be displayed as "Completed".
Part 2: How to Fake Location on WhatsApp for Android Device

When you are an Andorid user and faking location on WhatsApp is your concern, you can take help of Mock Locations app. This spoofing app is easily available in Play Store. You have to enable the developer option to use this app. For this, you simply need to go to the "About Phone" section in your "Settings". Scroll for build number option and tap it 7 times. Now, let us see how we can use this app:
Step 1: Go to Play store and get the app installed.
Step 2: After successful installation, go to "Developer Options, search "Select mock location app".
Step 3: In the drop down select the application that you have downloaded earlier.
Step 4: Open the App, long press on the location that you want until a tick mark appears on the right hand side.
Step 5: Tap on the "green tick" to set the location.
Step 6: Ensure to tap on the "Pause button" for the location to be active.
Step 7: Now send your current location using WhatsApp.
Part 3: Why People Want to Share Fake Location on WhatsApp

No matter what, faking location on WhatsApp has its own reasons. Let us know why people would want to send fake live location on WhatsApp.
To surprise: Assume that it's your friend's birthday and you're just lying to him/her that you're not here and won't be able to join him/her. Upon asking by him, you share your fake location on WhatsApp. And all of a sudden, when he/she gets convinced about your location, appear in front of your friend. How surprising it would be for the birthday fellow.
Prank: Pulling a prank is always fun. And by faking live location on WhatsApp, you can easily do that. Moreover, spoofing is a great way to show off one of your jealous friends.
Playing Games: You would also want to spoof your location when you try to win the location-based games like Pokemon Go.
Best for Introverts: Okay! So you're an introvert and don't want to socialize. When your friends make a plan and you can't say them no, just 'spoof it off'. You can show them the fake location and tell them you're not here thereby avoid the party and spend time alone.