The Best iAnyGo Alternative to Spoof/Fake GPS Location
Category: Change Location
4 mins read
The trend of people using a GPS spoofer to change their original location is on the rise. Of all the available tools, Tenorshare iAnyGo is a competent software that many users rely on to fake their location effortlessly.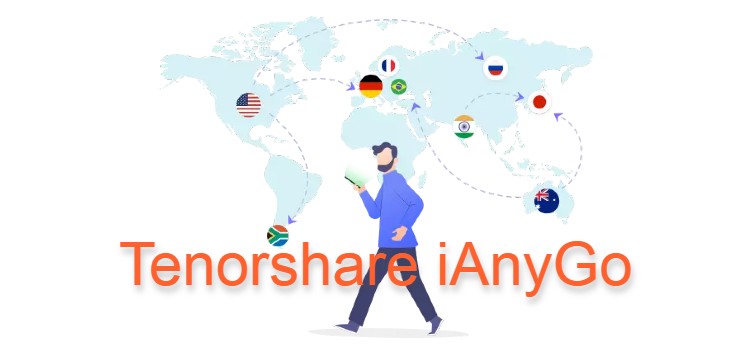 But it is not the ideal solution for you in terms of cost, ease of use, and efficiency. Given this, we are here with a perfect iAnyGo Alternative that anyone can use regardless of their skill levels. Let's cut to the chase.
Part 1. iAnyGo Reviews
Here is a detailed review of Tenorshare iAnyGo including its highlighted features and how-to guide.
1

What is iAnyGo GPS Location Spoofer

Developed by Tenorshare, iAnyGo is a location spoofing software that you can use to change your iOS location to anywhere in the world. It works on both Mac and Windows and offers a quite straightforward procedure to fake your location.

The best thing is you don't have to jailbreak your iOS device to change the location. Additionally, this tool also allows users to stimulate GPS movement with a customized route.
2

Reviews of iAnyGo

iAnyGo has received both positive and negative feedback from users. While most customers seem satisfied with its features and efficiency, many complain of high price and unexpected crash while spoofing. Similarly, users complain of its slow speed particularly on low-end PCs.

Because of this, we will talk you through a perfect iAnyGo alternative in the next section.

The Features of iAnyGo
You can change where the iPhone shows you are located using GPS, wherever you are. With just one click, users can go to any place in the world. And this new place will be visible on all of your device's apps and services.
Users can make it look like Spot is moving in one spot. Basically, they can think about the beginning and end of a trip, which are two different places. This feature can help video games that depend on where you are.
People who are using iAnyGo can go to many different places. Here, people can pretend they are taking a trip between two places, and stop a few times to plan out a detailed route for tricking their location information.
iAnyGo has many useful features. You can zoom in and out on the map, save places, see past data, and change how fast you move. You can choose how fast you want to go on the map by moving the speed bar. You can select a speed between 1 meter per second and 3. 6 kilometers per hour.
iAnyGo is also one of the few location spoofing programs on Windows and Mac. Effectively, it supports 32-bit and 64-bit versions of Windows 10, Windows 8.1, Windows 8, Windows 7, Windows Vista, and Windows XP. It supports macOS 10.11 or later for Mac users.
Part 2. The Best iAnyGo Alternative to Spoof Location
When it comes to the best and most comprehensive tool that you can use in place of iAnyGo to spoof iOS location, then iMyFone AnyTo is your best bet. Aside from offering all the features of iAnyGo, this powerful location changer is ease-to-use, blazing-fast, and works perfectly on low-end PCs as well.
The below comparison table will further clear out the scenario.
| Tool/ Features | Ease of Use | Efficiency | Compatibility | User Ratings | Support |
| --- | --- | --- | --- | --- | --- |
| iAnyGo | Difficult for beginners | Often crashes and slows down your PC | Support limited location-based games | 3.9/5 | Supports only iOS devices |
| AnyTo | Very easy for all users | Works on all PCs & mobile devices seamlessly | Supports all location-based games or Apps | 4.8/5 | Supports both iOS and Android devices |
| Cydia | Difficult for beginners | Works on all PCs seamlessly | Support limited location-based games | 3.7/5 | Supports both iOS devices |
| 3uTools | Easy | Works on all PCs seamlessly | Support limited location-based Apps | 4.2/5 | Supports both iOS and Android devices |
1

iMyFone AnyTo GPS Location Changer

AnyTo has been the ranked GPS location spoofer from quite some time now. It comes loaded with advanced algorithms that empower users to changer the GPS location of their devices within seconds – all that without jailbreaking their phones.

One of the main benefits of AnyTo is its modern interface so that even an 80-year granny won't face any technical issue while installing and using it. On top of that, it is compatible with all location-based popular games, apps, and dating services, making it a go-to choice for people who doesn't want someone detecting their activities.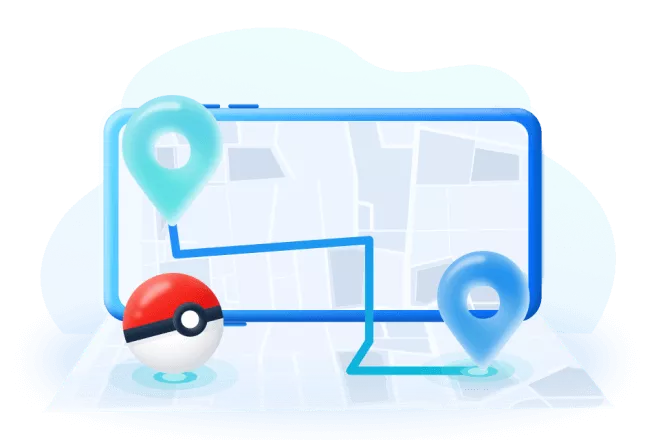 Key Features:
spoof your location to any area to take advantage of things like local information for social and dating apps (Tinder, Snapchat), social games (Pokemon Go) and other programs. The steps are below.
Step 1: Connect iPhone to the PC/Mac
Launch iMyFone AnyTo on your Windows PC/Mac (you can click the Try It Free button above to download it free). Click the Get Start button.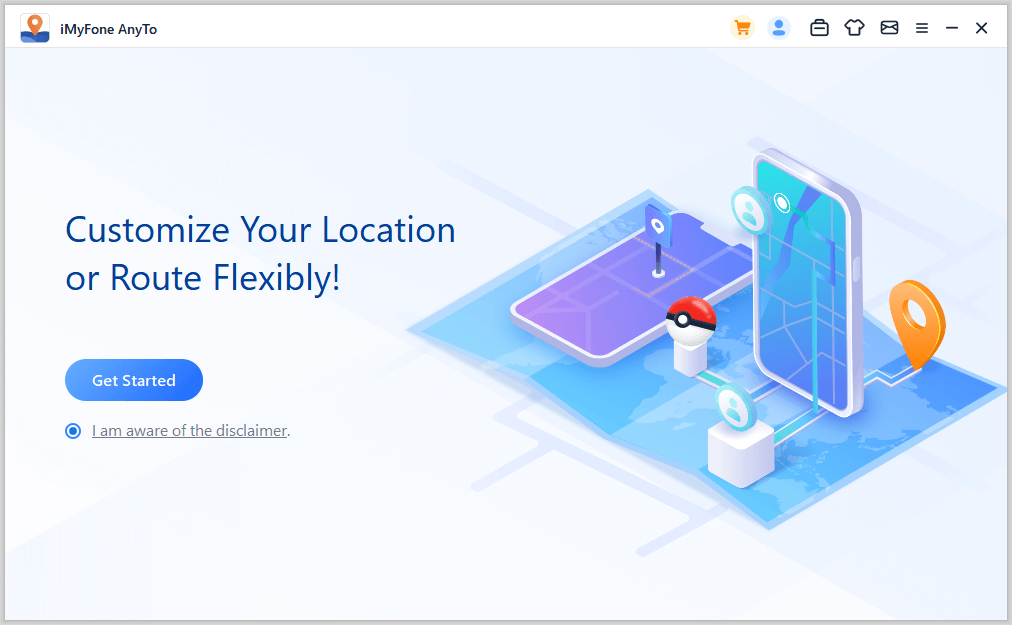 Step 2: Select Teleport Mode
Choose the third icon on the upper-right corner - Teleport Mode. Then you can input an address or zoom and drag the map to choose a fake location.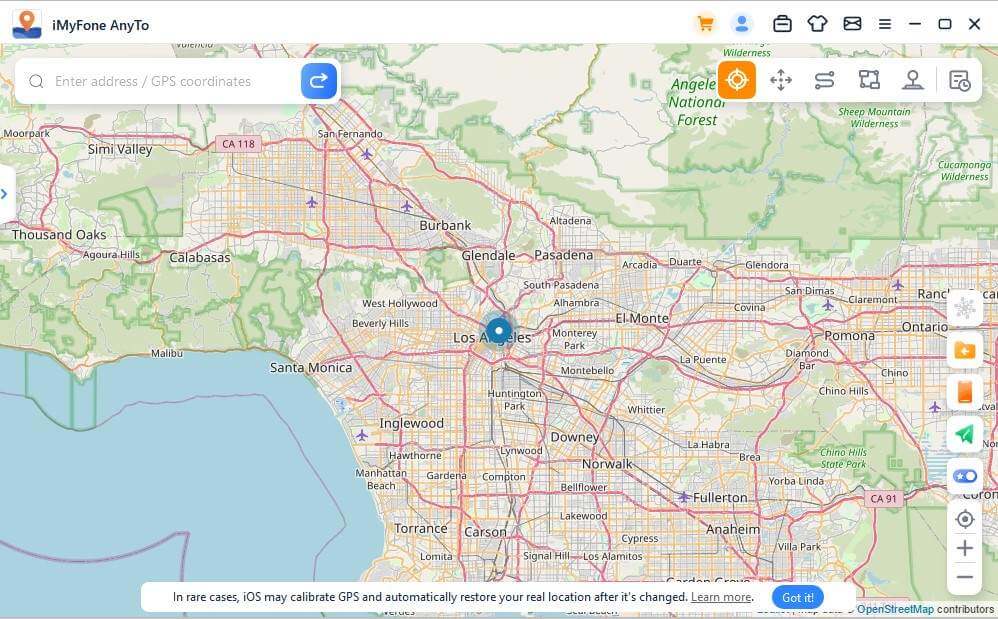 Step 3: Location Changed on Map
Now just click the Move button to change your location on the map to this new location!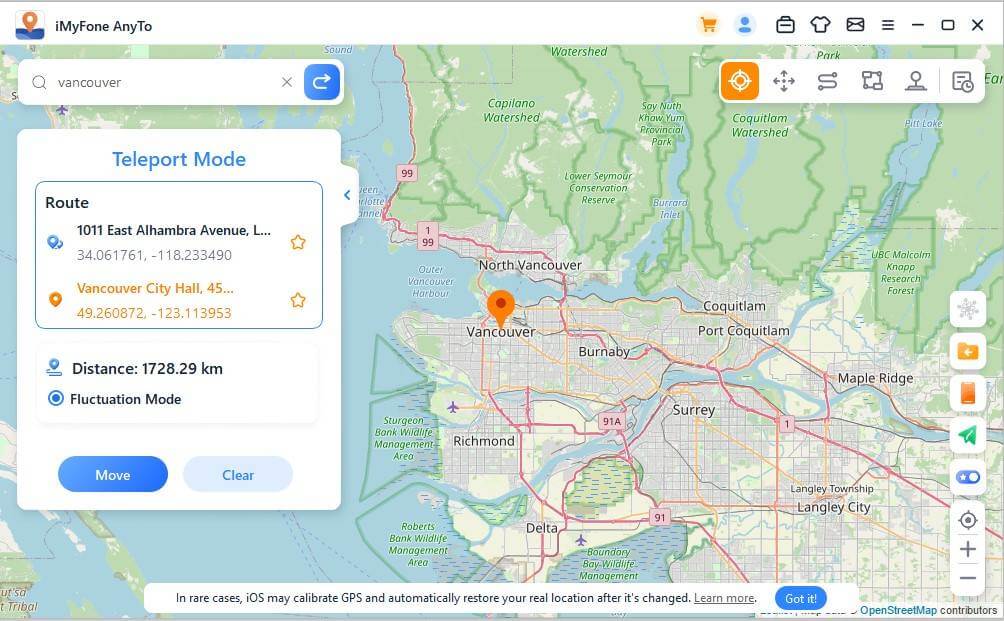 Watch Video about iMyFone AnyTo
All the location-based games and apps on your phone will also show this new location.
Pros
One of the biggest benefits is having one-click access to different GPS locations.
It maintains privacy while all apps continue to function flawlessly.
Cons
2

Cydia Relocate Reborn

Relocate Reborn is the next tool in our iPhone location spoofer app list. It allows you to drag and pin a destination on the map to spoof your location and thus is easy to use. It works well with location-based applications which require you to move around.

You can save your favorite location in the Favorites manager. However, this location spoofer app requires you to jailbreak your iPhone which is not only complicated but risky.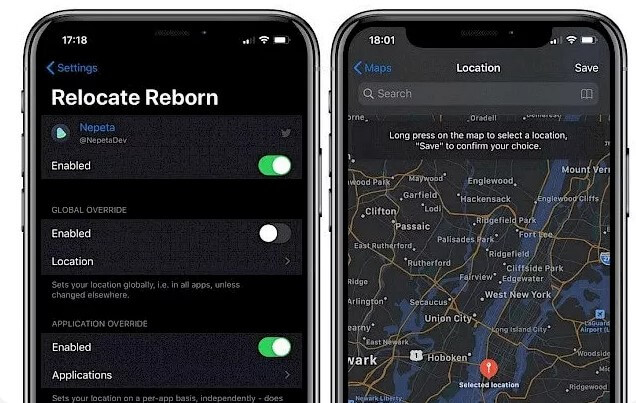 Pros
Allows you to select the applications to use your location.
Allows to disable GPS and save the battery.
Cons
Relocate Reborn is not safe to use.
It's complicated to use especially for the new users.
Not compatible with Android devices.
3

3uTools

Another location faker available for iPhone we have is 3uTools, which is efficient. This tool allows you to spoof to any of your desired locations on your iPhone or any other iOS device.

So, you can access any of the geo-restricted content on your iPhone anywhere. 3uTools has an interactive interface that allows the users to spoof location with ease.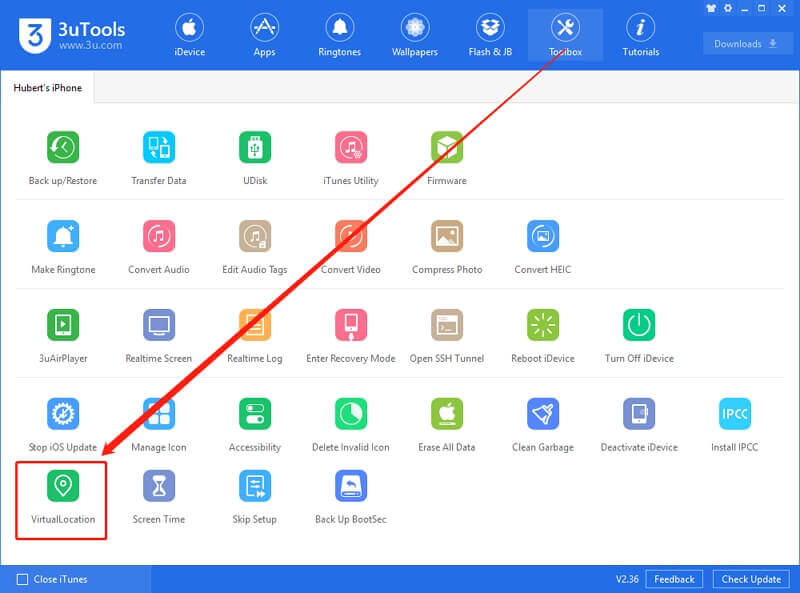 Pros
Doesn't require jailbreaking your iPhone.
Has a user-friendly interface.
Cons
Doesn't support Android devices.
Unable to simulate GPS movement and doesn't have a joystick.
Not compatible with Android devices.
Part 3. Common Questions about Best iAnyGo Alternative
We have gathered and answered some common queries of users pertaining to iAnyGo alternative.
1

Do you have to pay for iMyFone AnyTo?

Yes, you have to but the premium version of AnyTo to access its features. The good news is that it offers a free trial to allow users assess its efficiency. Once you're convinced, buy any of its 3 subscription packages available here.
2

Can I trust iMyFone AnyTo?

Having millions of users worldwide, AnyTo is arguably the most trusted location spoofer available to the users. None of its customer has ever complained of any malware, virus, or any glitch that may cause harm to their computers.
3

Can I catch Pokemon Without walking?

The answer is yes. You can catch pokemon without moving an inch using a third-party location spoofer like iMyFone AnyTo. Just install this program on your computer, connect your smartphone to it, and teleport your GPS location to anywhere in the world where you want to catch Pokemon.
4

Is iMyFone AnyTo safe for Pokemon Go?

Yes, AnyTo is the safest and most efficient program to catch Pokemon from anywhere in the world you like. Be sure that you download this software from the official iMyFone website.
Conclusion
To sum up, this article shows Tenorshare iAnyGo is a handy tool to change the GPS location on your iOS device but it comes with several downsides. Based on user reviews and our research, iMyFone AnyTo is the best iAnyGo alternative in 2023.
Aside from sleek and easy to use interface, AnyTo offers a one-click procedure to spoof your GPS location to any corner in the world. With the stellar features it offers at such a user-friendly price, it is your ideal companion to fake GPS location on any iOS device.
For any queries regarding this tool, feel free to contact us.