With the development of the Internet and mobile phones, many applications work based on GPS positioning. AR games like the very popular Pokemon Go, Ingress Prime, etc. are all inseparable from GPS. But sometimes some people don't really want to go out or do real sports. So, how can you simulate GPS movement while lying on the sofa at home, so as to create a realistic anthropomorphic movement illusion? In addition, I believe you must also be very interested in how to fake a location. Well, in this article, I will answer them all for you. let's start!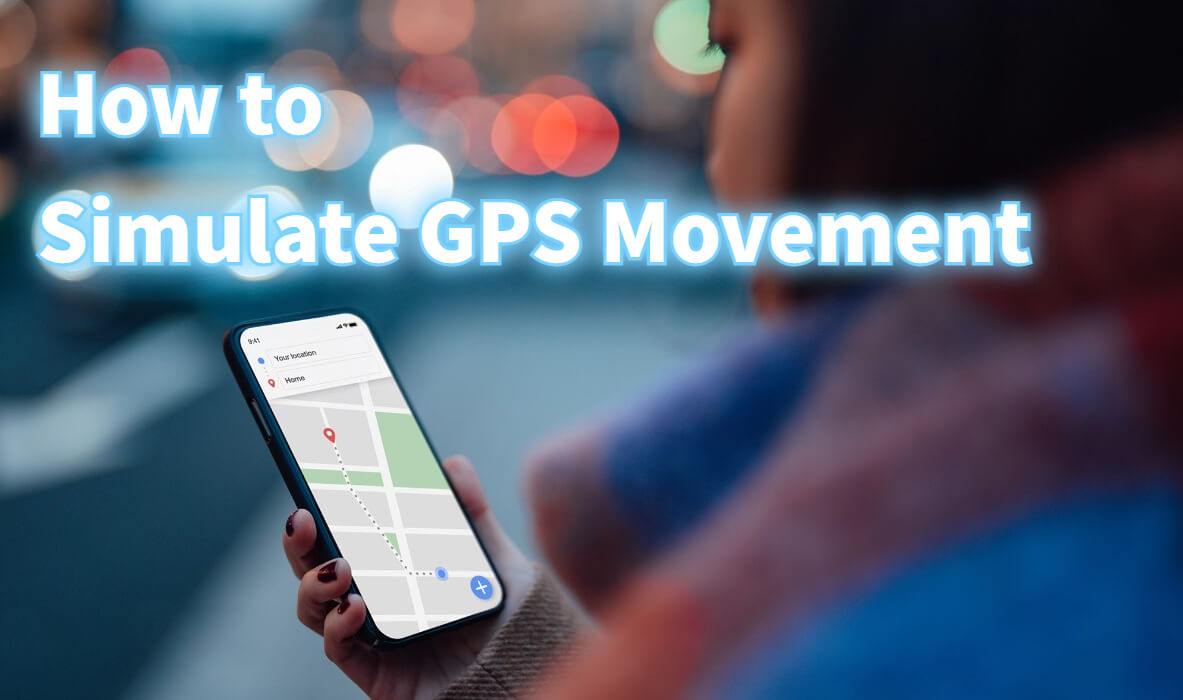 Part 1: How to Simulate GPS Movement Android?
---
If you want to know how to simulate GPS movement on Android, then I believe the following will be very useful to you. There are many effective and easy ways to fake your GPS movements. You can fake your GPS coordinates simply by downloading the app to your android phone, which is very reliable compared to iOS devices.
1. Use Mock Locations to Simulate GPS Movement Android
You can easily change/fake your location using the Mock Location app available in the Google Play Store, an Android emulator that simulates GPS movements. The basic functionality of the app is free, but certain features are paid, such as the ability to save old routes, GPS motion simulation, hide GPS simulation activity from other apps on the phone, and the ability to disable ads.
However, when you simulate your location on your phone, the GPS coordinates of all apps running on your phone, such as Snapchat, Google Maps, and other apps that access your location, change. If you want to hide the app's functionality from other apps, you'll need to choose the full version of the Mock Locations app to enjoy the rest of the paid features.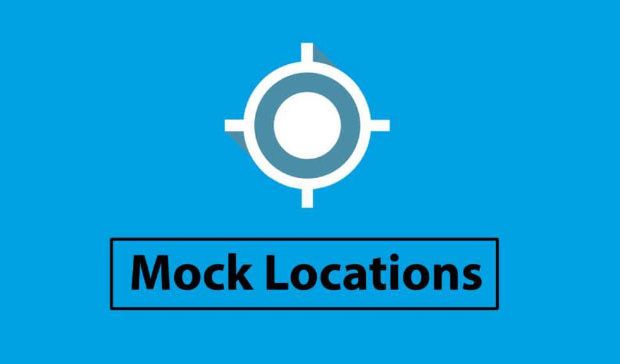 Functionality aside, the user interface for Mock Locations is pretty basic and can get the job done with just a few clicks. Here's how to change GPS coordinates using the Android app.
Download the Mock Location app on your Android phone, launch it and always give it location access. To enable the app's functionality, you need to enable developer options from your phone's settings.
How to enable developer options?
First, open the Settings, select About Phone, open Software info, and look for the build number.
Tap 7 times on the build number to enable developer options on your phone.
After clicking on the build number, you will see a toast message that says "You are now a developer".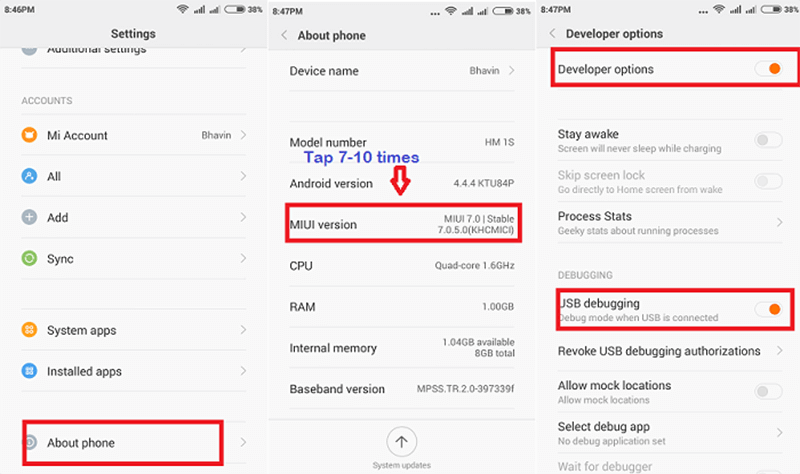 Once you enable developer options on your phone, you can still simulate your location or quickly simulate mobile GPS in one step. Go to developer options and select Simulate app to change your GPS location. Finally, go to the Simulate Location app and select a location to simulate GPS movement.
---
2. Use Fake GPS Joystick & Routes Go to Simulate GPS Movement Android
Compared with the complexity of the first method, this method is much simpler. This is another android emulator to easily simulate gps motion on your smartphone. However, Fake GPS Joystick & Routes Go is a paid app on Google Playstore.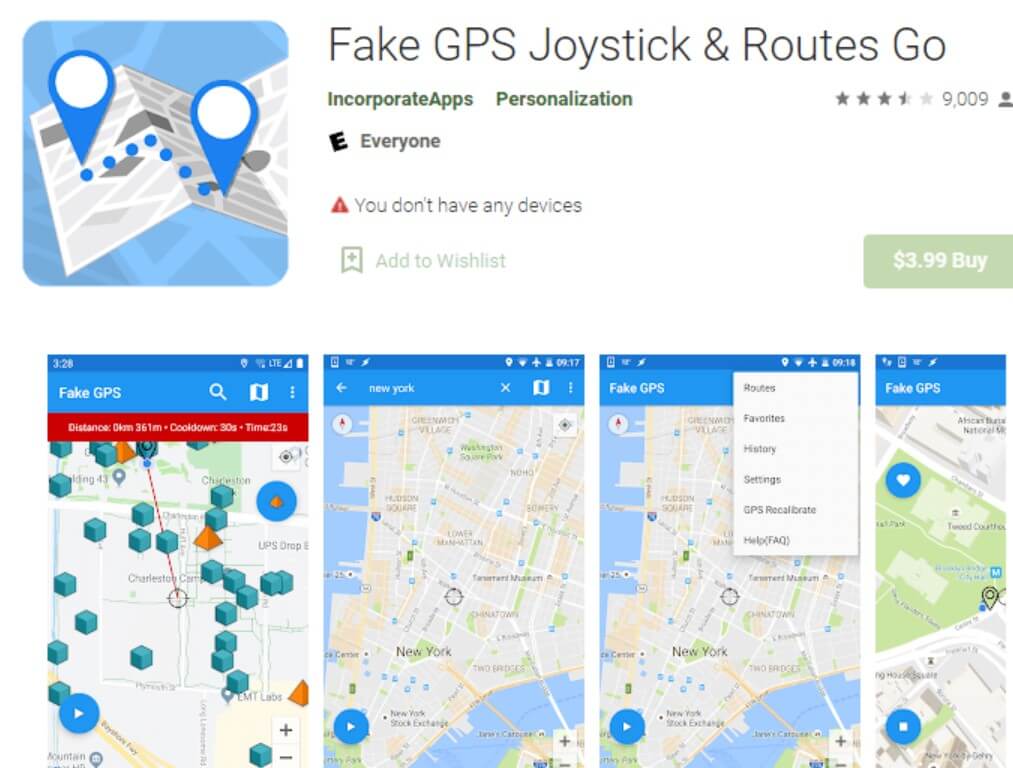 "Fake GPS Joystick & Routes Go" allows you to simulate your location easily and supports android version 6.0, for previous android versions you need to root your phone to enable the functionality of this app - this is because previous android version 6.0 does not include fast Simulates the functionality of mobile gps.
But through our real simulation use, the operation of "Fake GPS Joystick & Routes Go" is still a bit complicated. You can find answers to technical questions about the app by checking the FAQ section of the app on the Google Playstore.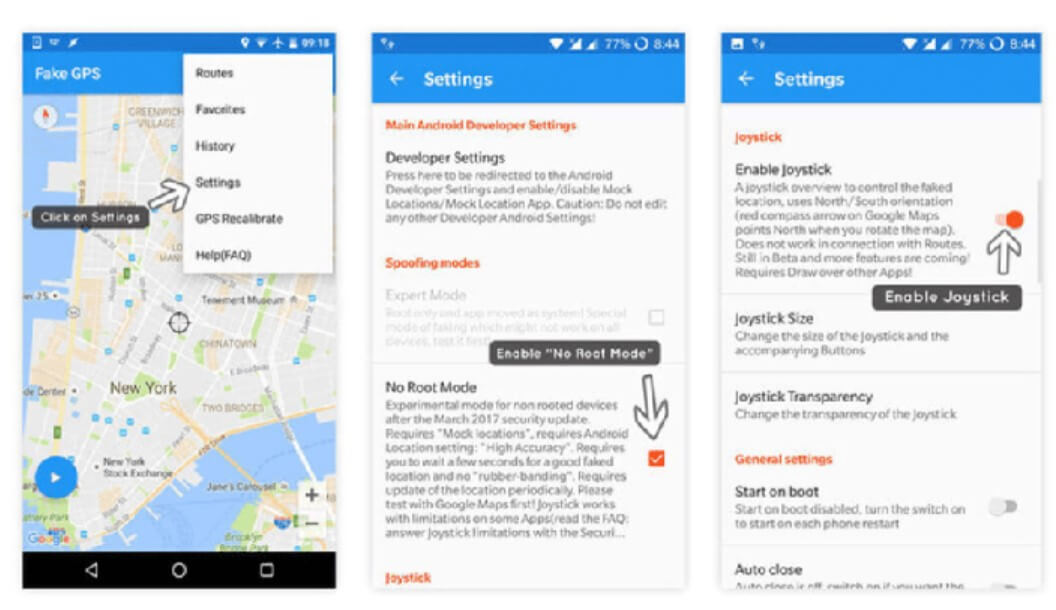 If you want to know how to simulate GPS movement on Android, then I believe the following will be very useful to you. There are many effective and easy ways to fake your GPS movements. You can fake your GPS coordinates simply by downloading the app to your android phone, which is very reliable compared to iOS devices. The above tutorial on simulating GPS movement for Android devices hopes to help you.
Part 2: How to Simulate GPS Movement iOS?
---
So is there any way to solve the problem of simulating GPS movement in two minutes? The answer is yes. Through our trial and research on a large number of products, we found three applications that perfectly solve this problem. I will share with you below!
1. iMyFone AnyTo (iOS & Android Compatible)
iMyFone AnyTo location-changing software offers customers a range of subscription plans to unlock extra features like history and unlimited two-point modes & multi-point modes.
Before the Start
Enter the iMyFone AnyTo official website.
Select the system that suits you, and then click Free Download.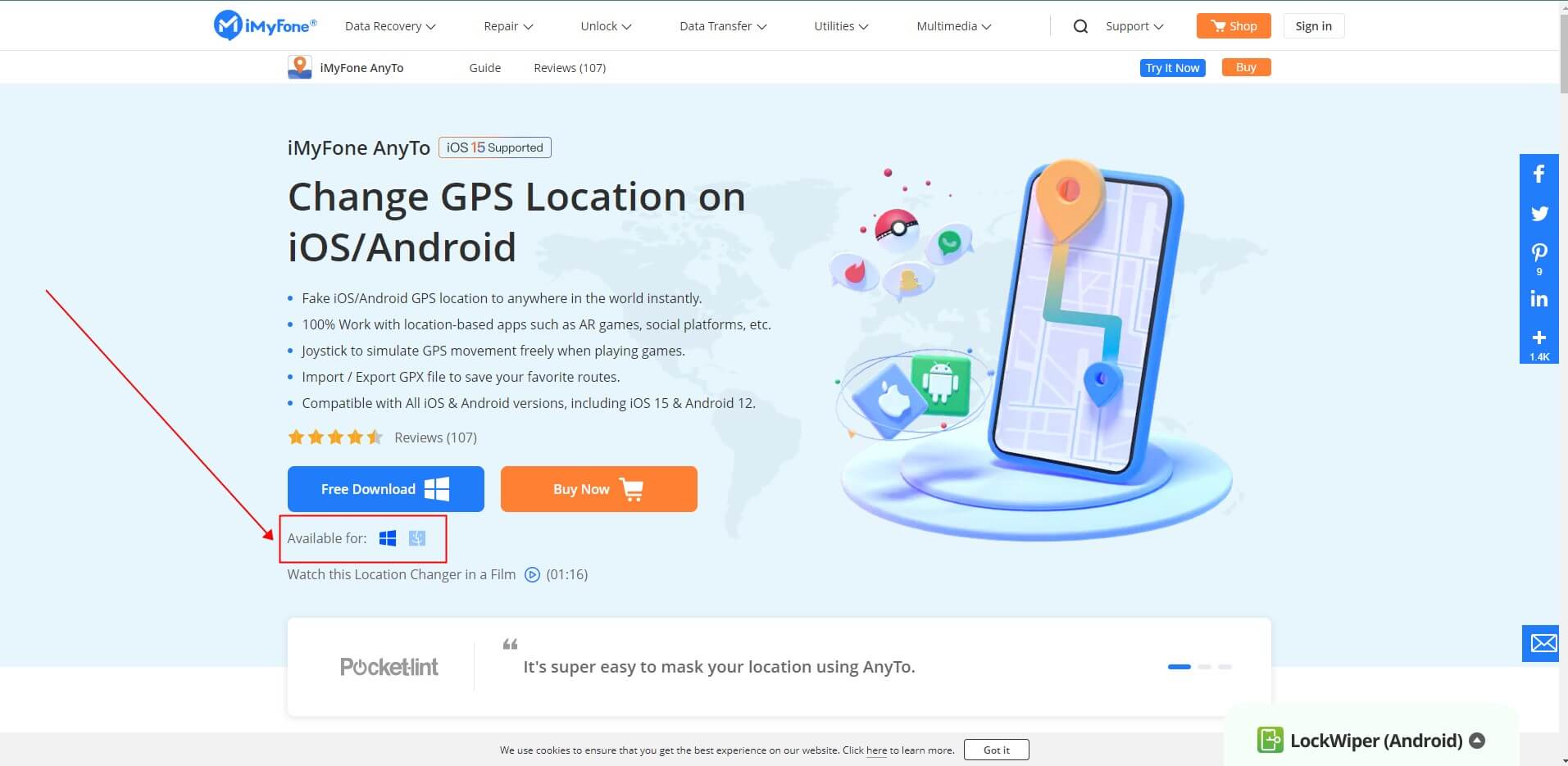 Depending on your operating system, you can choose:
1

To get started, download and install the location changer on your computer. Launch it and click "Get Started" on the main page.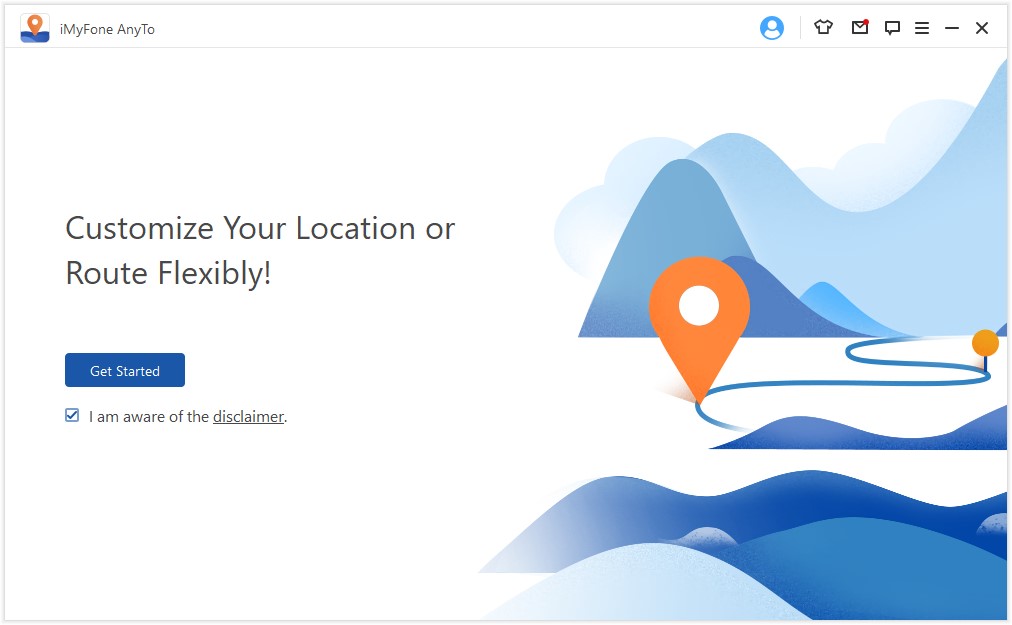 2

Then connect your iOS or Android device to the computer via USB cable. Once the device is recognized, the map will start to load. Your can find your location on the map once it loads successfully. Now you are ready to use the features of iMyFone AnyTo.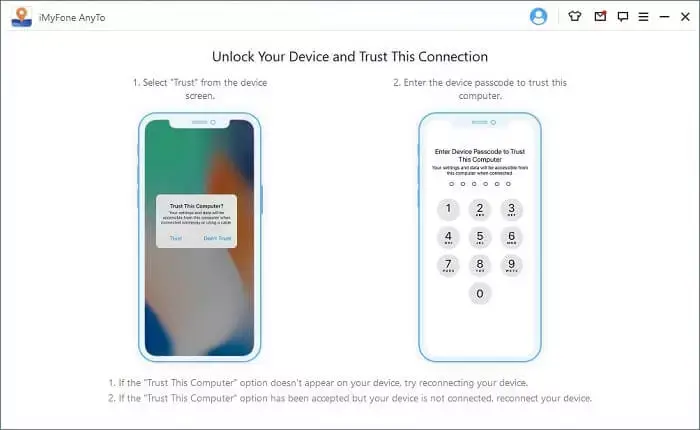 3

Change GPS Location with Different Mode
Two-spot Mode
Select Two-spot Mode (the 1st icon) at the top-right corner to customize your route.
Pick a point on the map as your destination or input the address in the search box. The names and coordinates of both your location and destination will be displayed.
Now, you can set up the number of times to move between both locations and use the speed bar to customize speed.
When all is set, click Move to start navigation. You will see the changes in distance and time shown. When the movement is done, a prompt showing Completed pops up.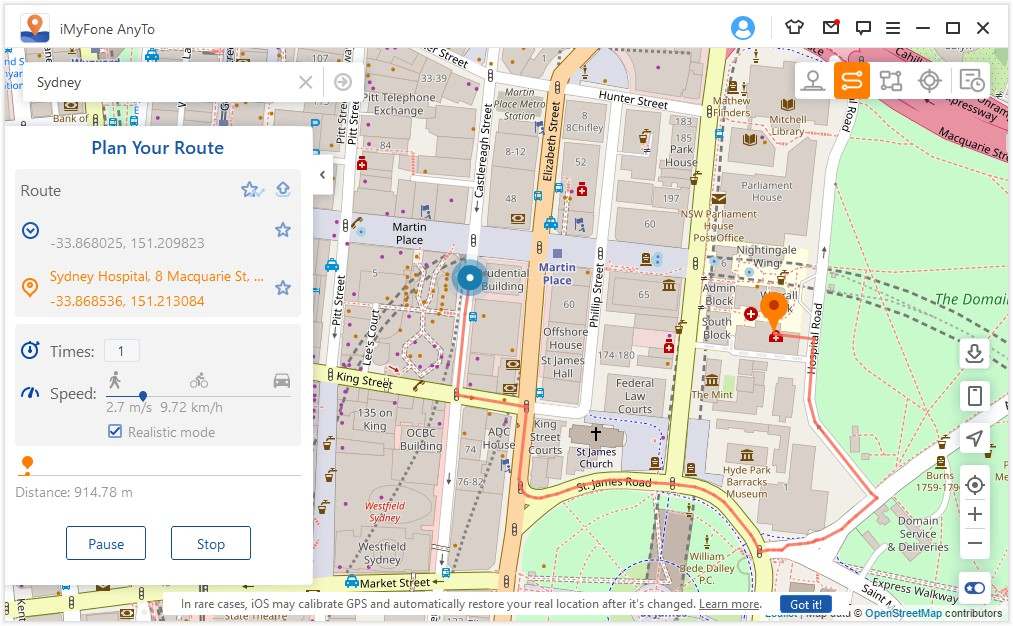 Click Here to Learn More Mode Steps!
[Show] Multi-spot Mode
Select Muti-Spot Mode (the 2nd icon) at the top-right corner to plan your route with multiple spots.
Carefully select the points you want to pass on the map or enter each spot's address/GPS coordinates.
Then enter your desired number of round trips and set the speed on the speed bar.
Click Move to begin the journey. iMyFone AnyTo will stimulate movement at the set speed.
[Show] Joystick Mode
Select Joystick Mode at the upper right corner (the 1st one). One click to Move automatically.
Set 360-degree directions. Move forward or reverse by clicking the direction button.
Change the directions in real-time marching. Or you can use keys W, A,S, D, or keys Up, Down, Left, Right to control GPS spot movement.
[Show] Teleport Mode
Select Teleport Mode (the 3rd icon) on the top-right corner.
Using your mouse, you can zoom in and out of the map to select your desired destination. Alternatively, you can enter the address or GPS coordinates directly.
After selecting your destination, a sidebar containing all its details like name, address, coordinates, etc., pops up.
Click Move and your location will be set to that location immediately. All location-based apps on your mobile device will also be switched to Vancouver.
---
2. WooTechy iMoveGo
WooTechy iMoveGo is also a good option if you want to spoof location on your iPhone, or even show off your route between two destinations. With this feature, you can not only create a fake position on iOS, but also simulate movement between two and more points.
1

Download and install iMoveGo onto your PC.
2

Plug your phone into your computer and launch iMoveGo.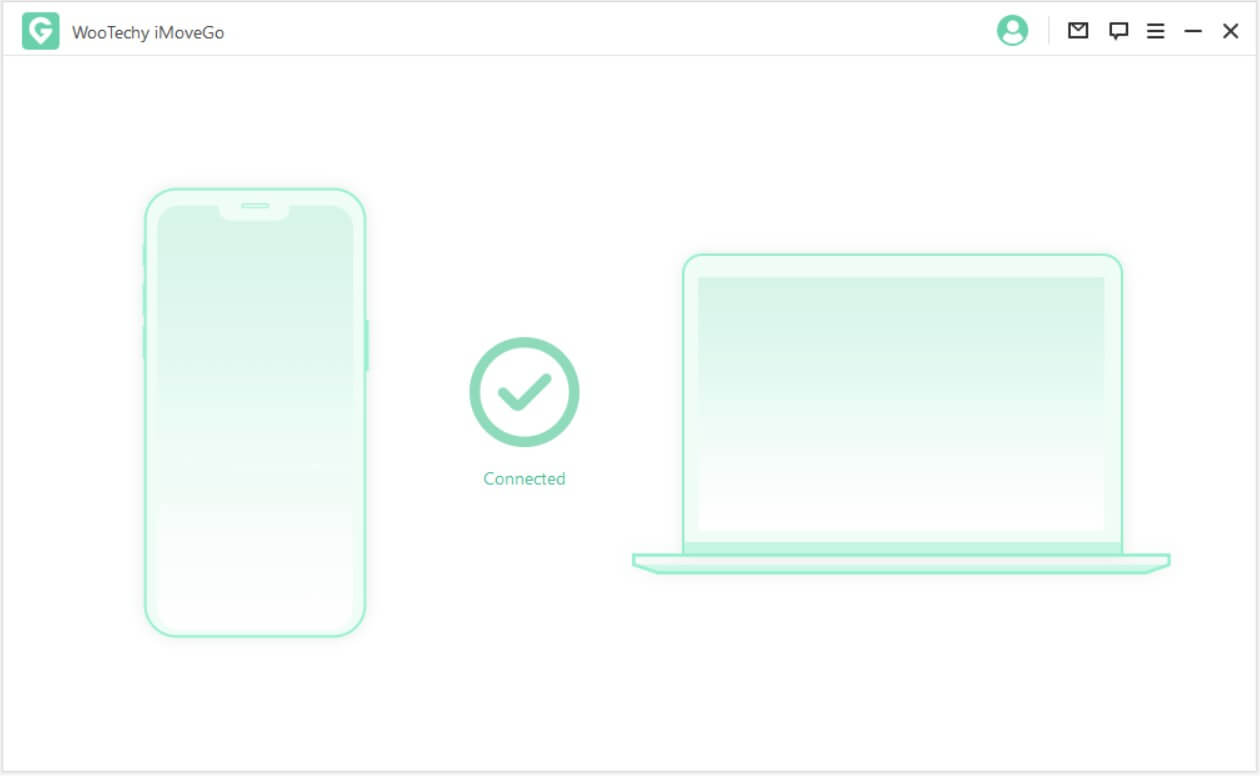 3

Enter any address or GPS coordinates you desire.
4

Choose the mode of speed you want to use to walk, like cycling speed. Create a route by selecting Two-Spot Mode or Multi-Spot Mode. Click Move.
5

You can either plan a route for your GPS location on the map with varying speed and repeat trips, or use the Joystick Mode to move manually in real-time.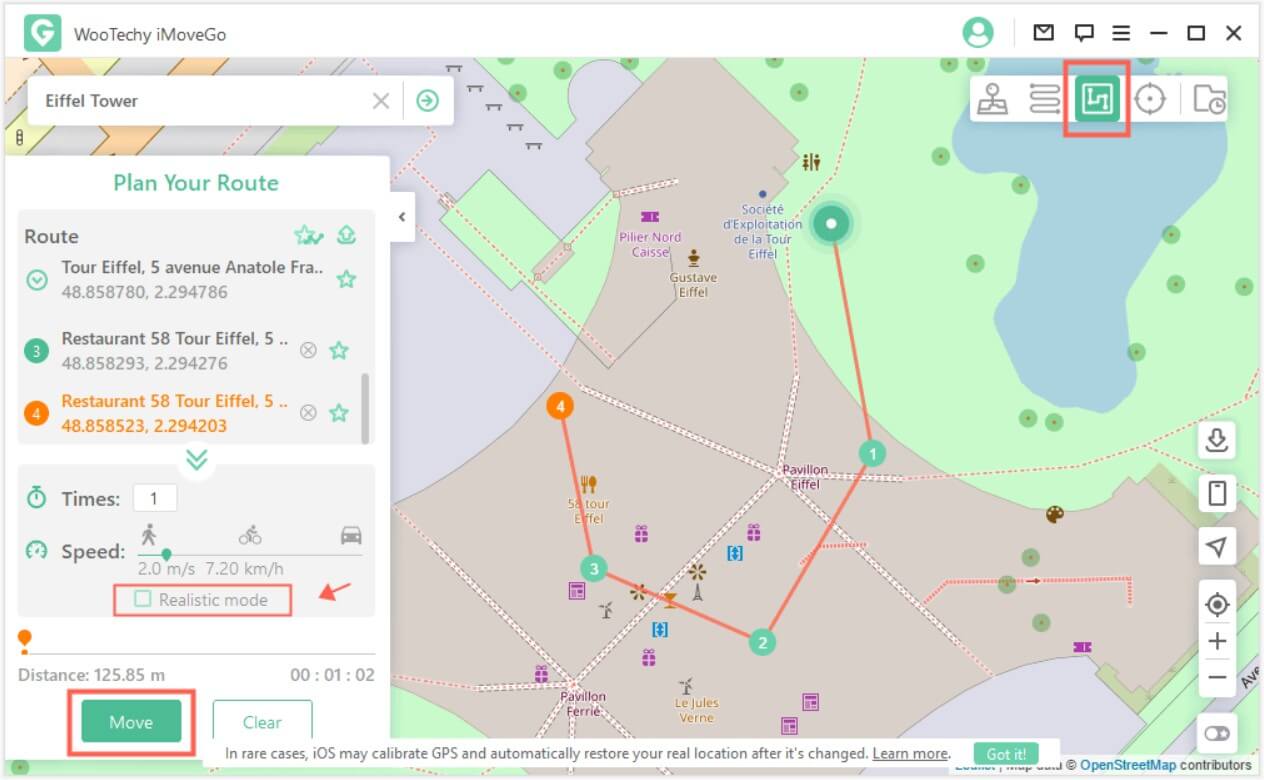 6

The GPS spoofing on the iPhone and simulation of movement will begin now. You can track the movement, and the position will be seen moving with the previously chosen speed.
---
3. UltFone iOS Location Changer (iOS Only)
For iOS devices - iPhone and iPad, there aren't many ways to quickly simulate mobile gps. However, you can easily fake your location on iPhone and iPad using computer-based software. UltFone iOS Location Changer supports almost all iOS running devices, including iPad. Additionally, it enables your phone to automatically change its GPS location and move on a route of your choice.
1

Your iOS device should be connected to computer and switched to the Single-Spot Movement section on the main interface. Tick the disclaimer followed by a click on Enter to continue.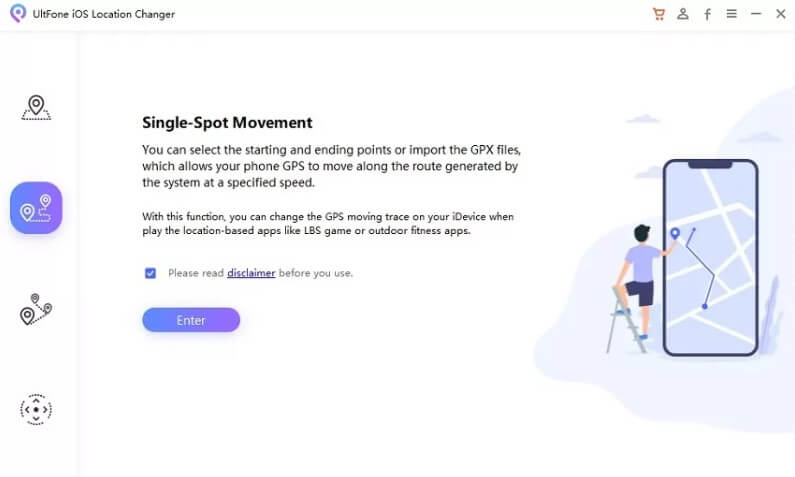 2

The start point represents your real location.
3

Tap on the map to choose a destination location. You can also enter the destination address in the search bar to position the location.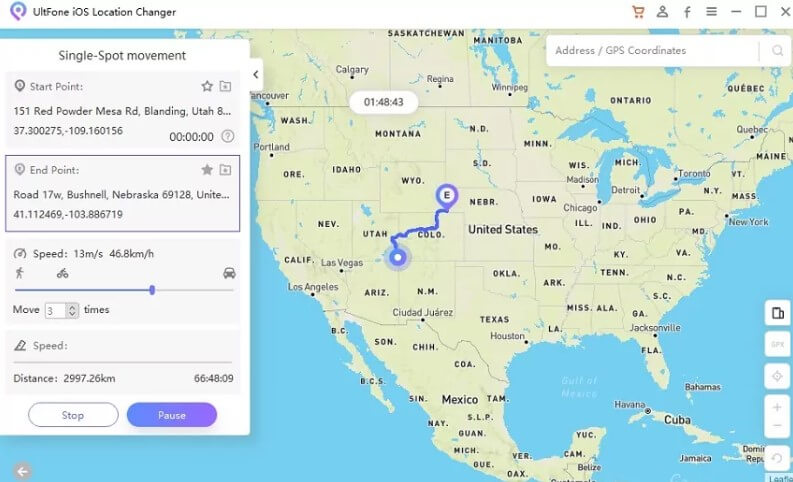 4

Confirmed the start address and target address, you can drag the speed bar to adjust the moving speed. you can simulate walking, cycling or driving speed. Also, you can set up the number of move times.
5

After all is done, just click Start to Move to start moving along the two points with the custom speed.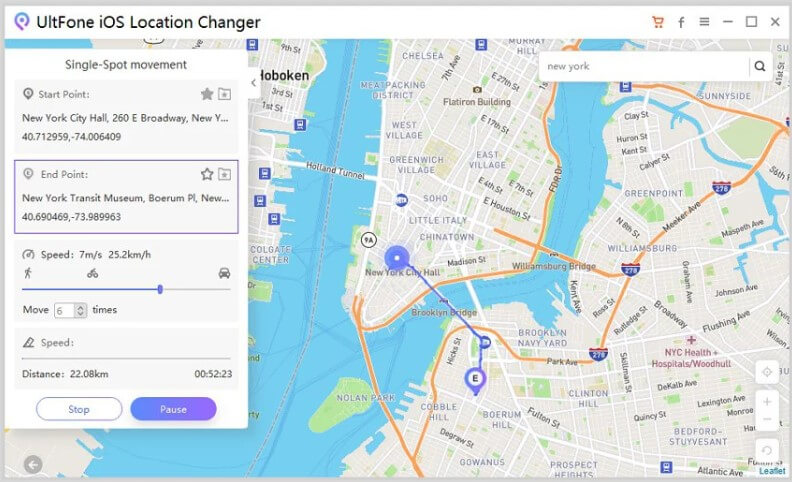 Conclusion
The world of technology is getting smaller, which has raised concerns about privacy, and keeping our own privacy safe will be a challenge for all of us. At the same time, the reasonable use of good technical applications can not only solve this problem for us, but also bring great convenience to AR game lovers. I believe you already have the answer in your heart through this article, spoofing your location or gps motion simulation will be the ultimate solution. iMyFone AnyTo Location Changer can be your simple, safe and legal choice!