NTFS is basically the NT file system that was designed for Windows NT 3.1. It is designed to work as the OS's default file system, and most external drives are configured to NTFS. However, this is a proprietary file system that Apple hasn't licensed; it's not possible for Mac to read, write, or edit the NTFS. So, if you are working with an NTFS file and wondering, "can Mac read NTFS external hard drive?" it's not possible.
The right approach is to opt for a third-party NTFS driver to ensure the files are workable. So, with this article, we are sharing some drivers you can try out!
Part 1. What is NTFS for Mac?
NTFS is one of the most essential and primary file systems developed by Microsoft. It will not work with Mac devices. You can't use this system on Mac.
If you want to transfer files from NTFS drive to Mac, it is possible to run into a situation where NTFS volumes and files cannot be accessed. So you must install a third-party driver to access and edit the files. Now we will show 5 Best NTFS Software for Mac to help you access NTFS system on MAC.
Part 2. 5 Best NTFS Software for Mac
There are various yet best NTFS reader for Mac, but it can be challenging to choose one from the hundreds of best NTFS app for Mac can be challenging. There are some paid options, and some allow the users to work with Mac for free, but it's not always the right option. For this reason, we are here to share some of the best NTFS program for Mac!
1. Hasleo NTFS for Mac
Hasloe NTFS is designed to add the icon to the upper taskbar of the Mac system, which means the users can easily mount, eject, or open the NTFS drive. In addition, it can automatically identify the NTFS partitions or drives that are connected to the Mac. The best thing about Hasleo NTFS is that you can set up the program to log in.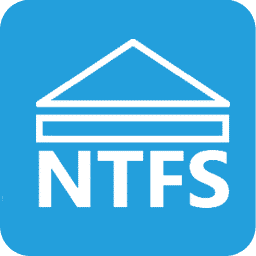 Features
Complete access to NTFS drives for reading, writing, deleting, and moving
Supports macOS 10.15.4
Supports USB drives, SSDs, hard drives, and external hard disk
Free
Pros
Easy to use
Available for free
Works with various external devices
Transparent and secure
Cons
Automatic loading of drives isn't available
2. Tuxera NTFS for Mac
This NTFS software is a paid option but comes with a 15-day free trial. It has been designed with the open-source NTFS-3G driver, which has become a default part of Linux distributions. It allows users to securely access files on NFTS drives, even when using Mac. In addition, it protects the file from corruption in case of abrupt disconnections and power failures. It's one of the best NTFS drivers for mac.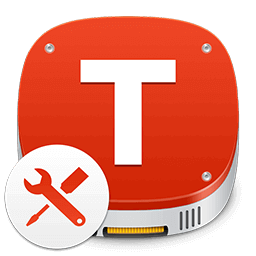 Features
Tuxera disk manager for easier formatting and maintenance of the hard drive
File protection systems
Default part of Linux
Pros
Allows you to write the NTFS files without formatting the HDD
File protection in case of disconnection and power failure
High-speed file transferring
Allows swapping of drives between Windows and Mac
Cons
It onlyworks with 64-bit processors
Challenging UI
3. iBoysoft NTFS for Mac
This is one of the best menu-bar utilities that can be downloaded and installed on Mac that runs 10.8 to 10.15 versions. It is designed to mount on the NTFS-based external disks automatically. In addition, it connects to the BOOTCAMP partition in the read/write mode automatically. Once mounted and connected, the users will be allowed to view, rename, edit, convert, and delete the files.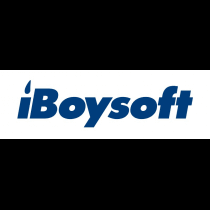 Features
Formats the NTFS drives
Repairs the NTFS drives
Automatic mounting of the drives
Works with external hard drives, including SSD and HSS, USB flash drives, and SD cards
Pros
Convenient and beginner-friendly installation
Cleaner and easy-to-navigate interface
Full access
Automated mounting
Cons
It cannot be used for BitLocker-encrypted drives
4. NTFS-3G
NTFS-3G is an open-source and cross-platform implementation of the NTFS file system and offers read and write support. It leveraged the FUSE file system interface, which makes it easier to run on various operating systems in unmodified form. The users can also create files of any size on the NTFS partitions. In addition, the files can be moved, renamed, modified, and deleted.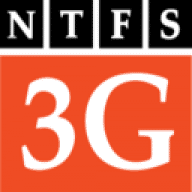 Features
Supports the creation of different file sizes
Transparent compression and system-level encryption
Modification of permissions and access control lists
Supports the ACL translation
Partial journaling
Pros
It can recover and repair the files
Top-notch encryption
Easy to operate
Suitable for unmodified systems
Cons
Slow performance on the embedded systems
5. Paragon NTFS for Mac
Paragon NTFS for Mac is a driver that bridges the gap between macOS and the NTFS file system in terms of the write issue. It makes it quick, simple, and easy to write, edit, transfer, copy, paste, and delete files on Macs using Microsoft NTFS storage formats.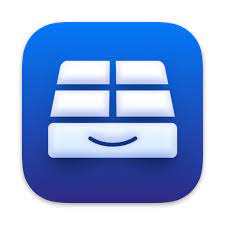 Features
Full read-write support for NTFS
Fast and secure data transferring
Permit management of all connected drives
Pros
Support highest write speed
10-day free trial.
Friendly user interface
Support Apple Silicone M1 Mac.
Cons
Pay for every update.
It cannot be used for BitLocker-encrypted drives
Comparison Table
| | Hasleo NTFS | Tuxera NTFS | iBoysoft NTFS | NTFS-3G | Paragon NTFS for Mac |
| --- | --- | --- | --- | --- | --- |
| Supported files | NTFS, exFAT, APFS, HFS+ | NTFS (all versions) | NTFS, exFAT, FAT32, FAT, APFS, HFS, HFS+, and HFSX | NTFS, HFS+, XFS, erofs, btrfs, F2Fs, and EXT4 | All Microsoft NTFS versions are supported |
| CPU | 1GHz | 4GHz | 2GHz | 1GHz | 1GHz |
| RAM | 512MB or more | 1024MB | At least 512MB | 800MB or higher | 1024MB or higher |
| Free or paid | Free | Paid with 15-day free trial | Paid | Paid | Paid with 10-day free trial |
| Automatic mounting | Yes | Yes | Yes | Yes | Yes |
Bonus Tip: How to Recover Data from NTFS Hard Drive on Mac
If you lost NTFS files, don't worry! iMyFone D-Back will help you recover data from NTFS hard drive on Mac. You can recover files that was disappearing, deleted, formatted accidentally. You can also recover files from FAT(FAT12,FAT16,FAT32)/exFAT/NTFS/NTFS5/ext2/ext3/HFS+/ReFS file system. Let's see how does this software work:
Step 1: Launch the D-Back for PC on your Mac, then select NTFS Drive.
Step 2: The software will scan your drive, you will wait for this process for a few minutes.
Step 3: After scanning, all your lost files will be on the inerface, you may preview and recover them.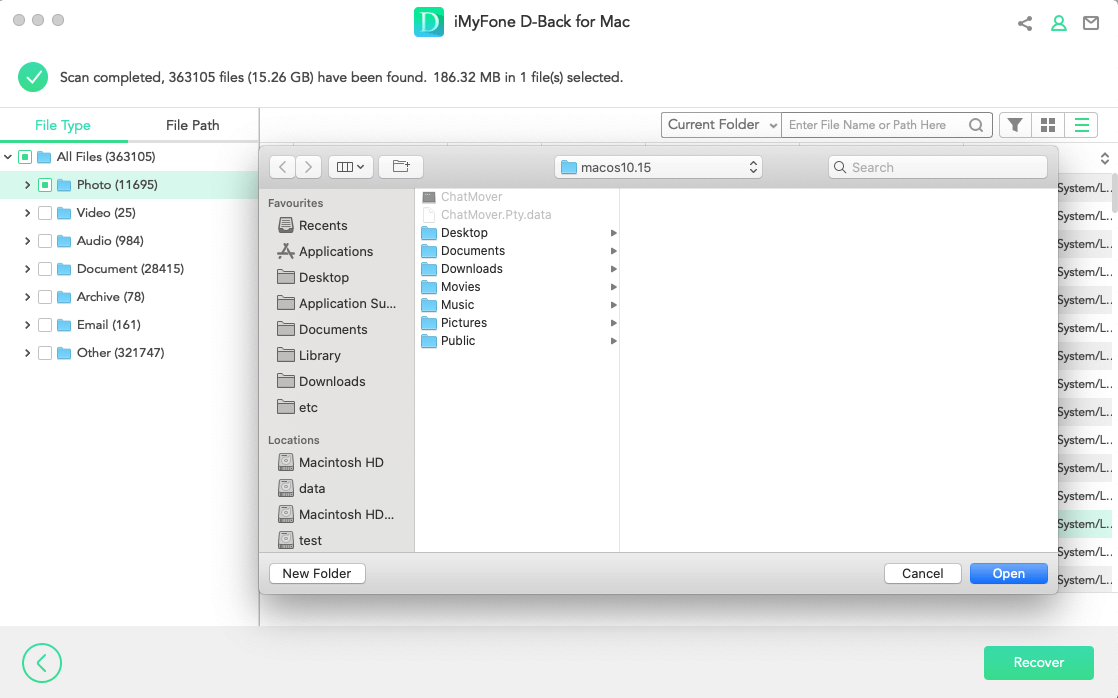 Part 4. FAQs
1. Are these NTFS drivers for Mac safe?
Yes, the NTFS is safe for Mac because they are designed with various security protocols. In addition, Apple has a Bootcamp feature, which means accessing and editing the NTFS files is secure.
2. Can I copy files from NTFS to Mac?
Yes, copying the files from NTFS to Mac is entirely possible, but you will need to use third-party software. In addition to copying the files, you will be able to modify the files, be it by editing, writing, or renaming.
3. Is it possible to format NTFS on a Mac?
Yes, you can format the NTFS on Mac but make sure the third-party NTFS software you choose can support the formatting feature. In addition to this, you must consider the supported external drives.
Conclusion
Using the NTFS for Mac can be challenging as it's not native to Windows. However, you can easily use the third-party NTFS software to access and open the files from third-party drives with NTFS configuration. We have mentioned the 5 most reliable software solutions. Moreover, if you need to recover files from NTFS hard drive, you can use iMyFone D-Back, download it and have a try!