We know that NTFS is a default file system for Windows. Hard drives and USB flash drives have an NTFS system for storing the data. However, it is a Windows feature and cannot be accessed with other operating systems like macOS and Linux. To access NTFS Mac, the user requires a third-party tool that can enable the user to mount an NTFS volume on Mac.
In this article, we will review iBoysoft NTFS for Mac, which is a tool to read and write NTFS on Mac. We will see its features, pros, cons, and almost everything. We will also discuss how you can use it for iBoysoft data recovery review on your Mac.
Let's start!
Part 1. iBoysoft NTFS for Mac Review
1.1. iBoysoft NTFS for Mac Review
iBoysoft NTFS Mac allows Mac users to access Windows NTFS drives on Mac. The user just needs to install the tool, and it works automatically. Whenever an NTFS drive is connected, the tool will automatically detect it and allow access to the user. Moreover, it enables the user to transfer files at a faster rate and also offers an NTFS format option.
Main Features about iBoysoft NTFS for Mac:
iBoysoft NTFS for Mac allows the user to read and write on NTFS drives easily.
It automatically mounts an external disk connected to Mac.
The user gets immediate access to read the NTFS files.
It is also available and ready for macOS 13 Beta and M1 Pro/Max.
It is a secure and fast NTFS solution for Mac users.
Cons
iBoysoft NTFS for Mac doesn't provide access to Bitlocker encrypted NTFS drives on Mac.
1.2. How to Use iBoysoft NTFS for Mac
iBoysoft NTFS Mac is not complex at all. It doesn't have an interface like other tools. The only thing that the user needs to do is to install the tool. It runs in the background and automatically grants the user access to NTFS drives connected to Mac. Let us see how we can install and use iBoysoft NTFS for Mac.
Step 1.Go to the iBoysoft NTFS for the Mac website and download the 7-day free trial. Open the .dmg file to install it. Restart your Mac to finish the installation process.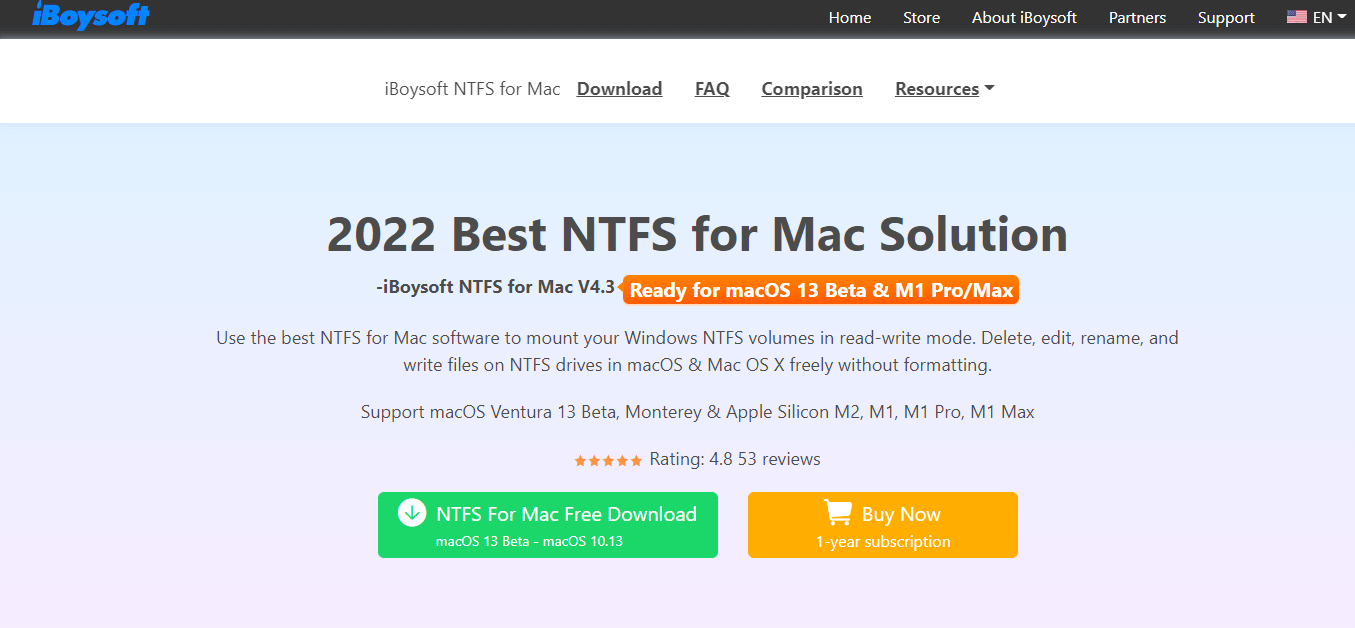 Step 2.The user does not need to perform anything. Just simply connect an NTFS drive to your Mac, and all the NTFS will be accessible and unlocked.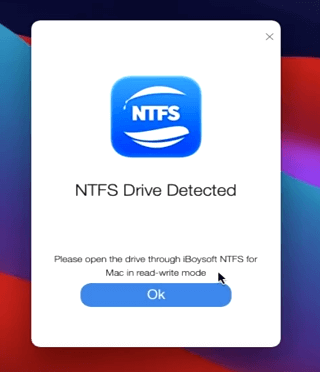 Step 3.The user can now read and write on the NTFS drive, rename the file, and delete any file if required. It also allows the user to partition an NTFS Mac and even erase it with Windows NTFS format.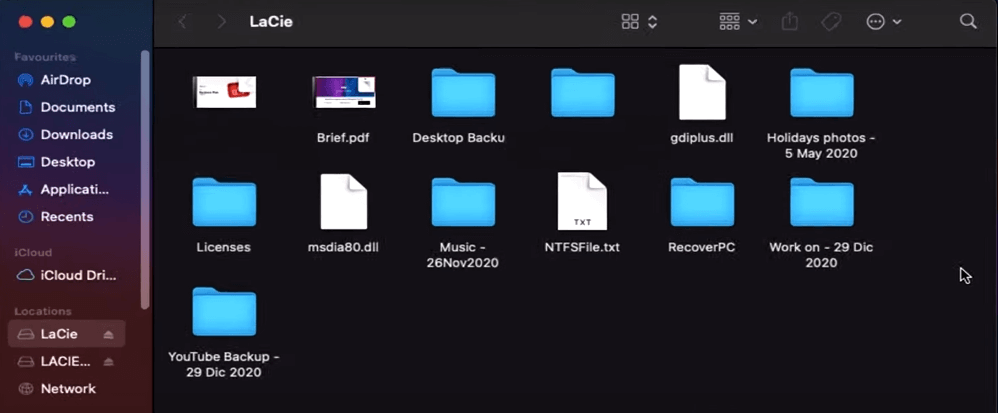 1.3. Is iBoysoft NTFS for Mac Safe?
Yes. iBoysoft NTFS for Mac is a completely safe and reliable tool to use. It is not a new tool and has gone through different tests for malware and malicious content. It is free from all harmful effects.
iBoysoft NTFS for Mac has plenty of users that have rated this app 5/5 because it is an effective tool that works effortlessly and is secure.
Part 2. iBoysoft NTFS for Mac Activation Key/Serial Code
It is possible to get your hands on iBoysoft NTFS for Mac activation key or serial code, but it is unethical to do so. Moreover, it is not advised that the user goes for a cracked version of iBoysoft NTFS for Mac as it can bring many problems.
It is certain that a cracked version of a tool brings malware and may cause ads and damaged files on Mac. Moreover, the keygen and free activation code break the copyright protection law, and the user could get into trouble for this. However, the user can freely enjoy the 7-day free trial of iBoysoft NTFS for Mac and later buy it legally as it is not an expensive tool.
Bonus Tip: How to Recover NTFS File from Mac
Are you nervous because you lost NTFS files? iMyFone D-Back will help you recover your NTFS files on Mac. You can recover files that was disappearing, deleted, formatted accidentally. You can also recover files from FAT/exFAT/NTFS/NTFS5/ext2/ext3/HFS+/ReFS file system. Here's how this software works:
Step 1. Launch the D-Back for PC on your Mac, then select NTFS Drive.
Step 2. The software will scan your drive, you will wait for this process for a few minutes.
Step 3. After scanning, all your lost files will be on the inerface, you may preview and recover them.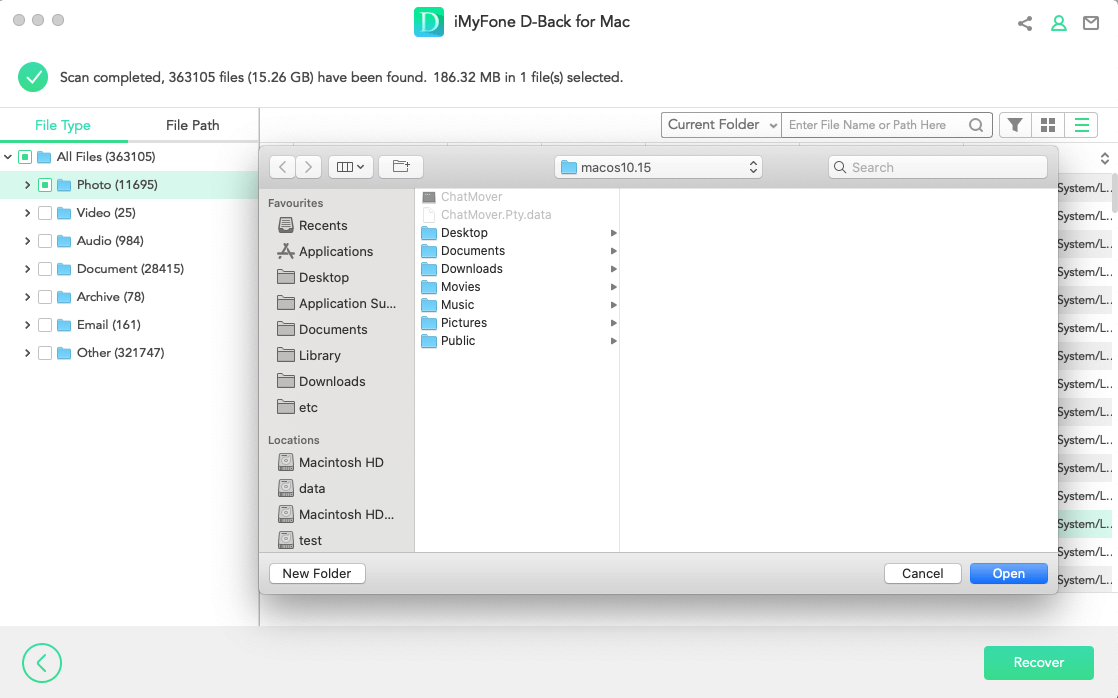 Conclusion
iBoysoft NTFS Mac allows Mac users to access Windows NTFS drives on macOS. But iBoysoft NTFS for Mac only allows quick reading and writing on NTFS drives. It is a safe and fast tool that the user can make any changes to the drive as Windows in macOS. iBoysoft NTFS for Mac works in the background, and there is no work for the user to perform on this tool.