"Current Pending Sector Count" is a warning that occurs in Windows and can be a complex issue to solve if you do not follow the correct steps. Don't worry though, this article will show you exactly how to fix "Current Pending Sector Count" if you come across it and recover lost data if necessary.

What You Should Know About "Current Pending Sector Count"
"Current Pending Sector Count" (which we will refer to as CPSC) is a warning that informs you of a drive failure. It is a critical S.M.A.R.T parameter that counts the number of unstable sectors of a hard drive that have not been resolved, reallocated, or remapped. You can usually check the CPSC of your hard drive and you should see a value (such as 2) that shows sectors which have not been allocated elsewhere yet. These sectors are damaged or corrupt so they cannot be utilised by your hard drive. As this number gets larger, so do the chances of this hard drive will fail.
If the data once stored in one sector becomes unreadable and cannot be used because that sector of the hard drive cannot be read or written over, then you might risk losing your important data if you do not act quickly. Therefore, you should stop using the hard drive as soon as you notice this warning and follow the stages outlined in this article to resolve the error.
How To Fix "Current Pending Sector Count"
Solution 1: Run Chkdsk
The chkdsk command can be entered into command prompt, along with the location of the damaged hard drive. This command will first identify any segments of the drive that are corrupt or damaged. It will then aim to resolve the damage so that your hard drive can be used normally. To run this command:
Step 1: Open Command Prompt as administrator by searching for it in Windows.
Step 2: Enter the following command in the black and white dialogue box that appears:
chkdsk /r /f c: (replace the c in this command with the letter of your hard drive).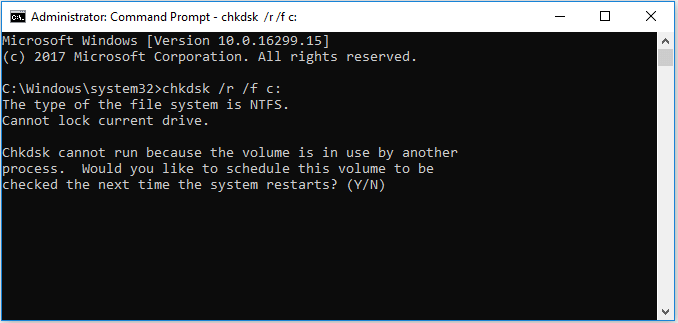 Step 3: Once the command has been executed, reboot your PC, and see if you still receive the CPSC warning.
Solution 2: RMA
If you have only recently purchased your PC or the individual hard drive/SSD, then it is likely to be under warranty. If this is the case, then contact the manufacturer and inform them of this issue. They should approve the Return Merchandise Authorisation and either replace the hard drive in the machine or give you a new one if you purchased it separately.
However, before you do this, please make sure you create a backup of your information.
Solution 3: Replace the Hard Drive
If the hard drive showing the error is an internal hard drive and your computer is out of warranty, then you can either have the hard drive replaced by a professional or replace it yourself if you are confident that you can do so. You will need to create a backup of your data. If you cannot do this directly, then use AnyRecover as shown in the next section.
Recover Data From Failing Hard Drive With AnyRecover
When the hard drive is actually failing or even worse, has failed, then the most important thing is to save the data stored in it. This is not an easy task but here a professional tool can help you – iMyFone AnyRecover. It is a program that recovers data from almost any situation with a very high success rate.
Powerful function - Recovers data from a full range of device in various situations.
Fast scanning speed – Equipped with unique algorithms, AnyRecover scans at a very fast rate.
File preview – You can preview files before recovering them.
Data security – None of your current files will be overwritten.
File support – Over 1000 file types are supported so you will be able to recover any file you wish to.
Easy Operations- Gets back all lost data with just three simple steps.
To recover data from failing hard drive with iMyFone AnyRecover, download and install it first:
Step 1.

Select a Location

Launch this program and select the hard drive where problem arises. Click "Start".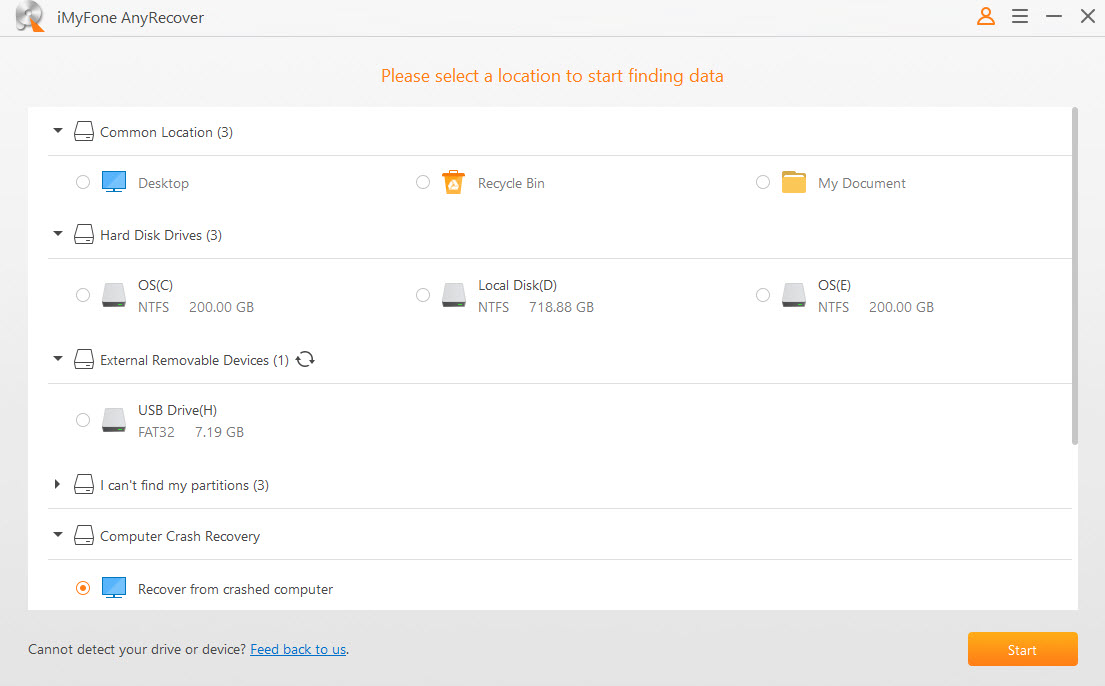 Step 2.

Scan the Hard Drive

AnyRecover will perform an all-round and deep scan. You can also pause and resume the scanning process anytime you want.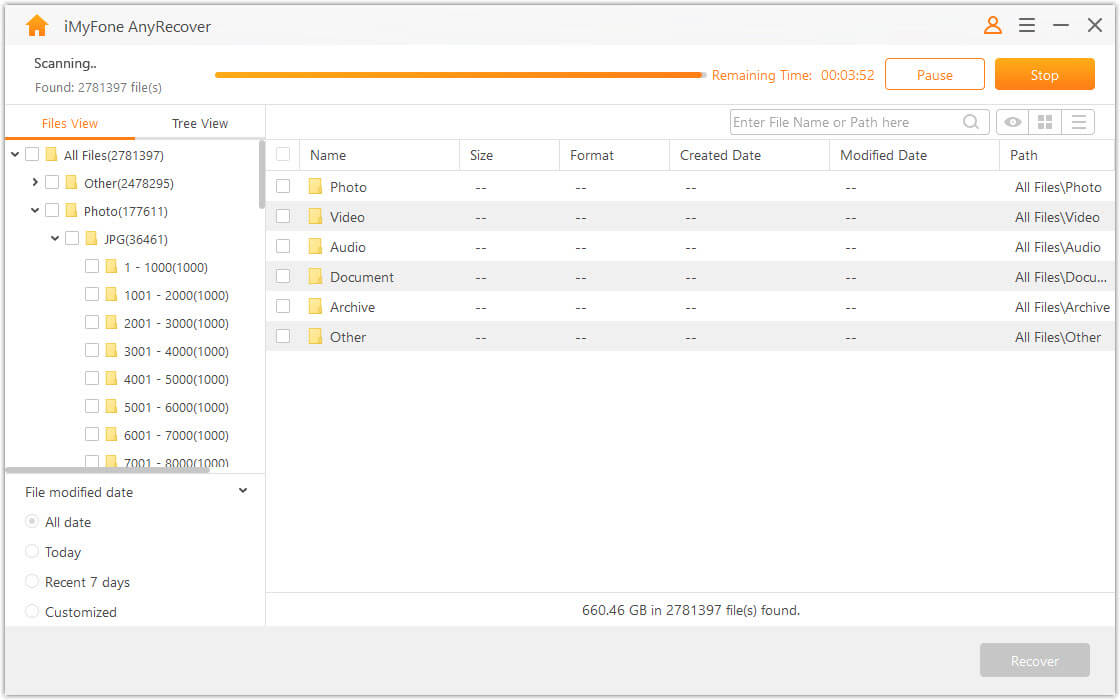 Step 3.

Preview and Recover

You can preview the files scanned and then select what you want to get back. Click "Recover"to complete the process.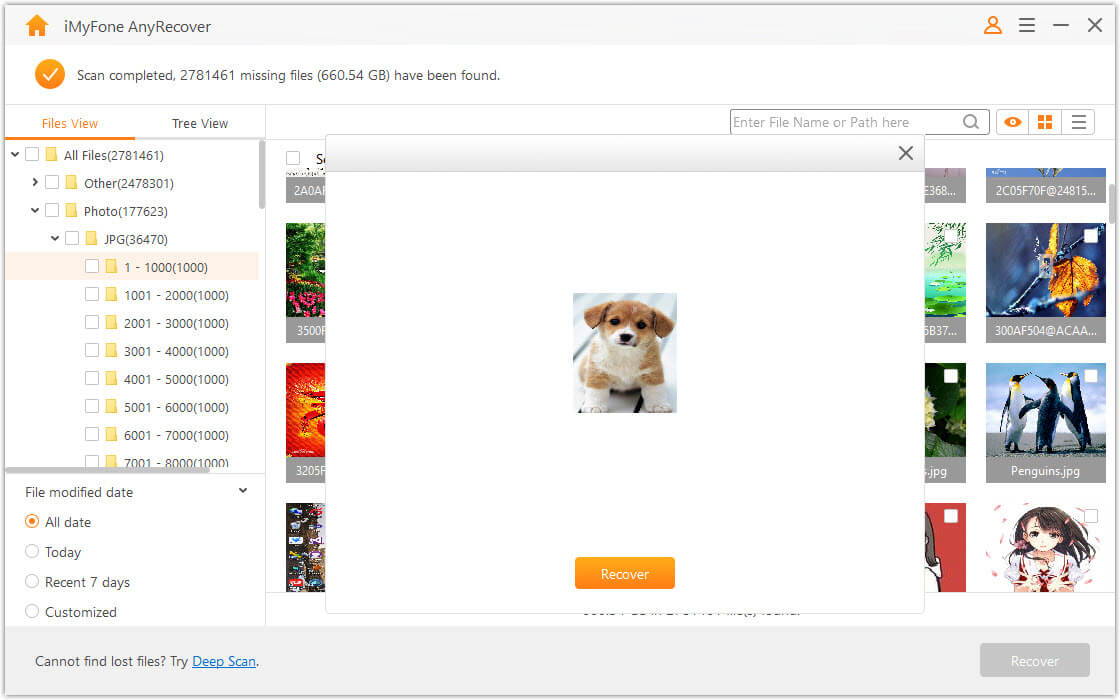 Tips
AnyRecover provides free trial for every user to freely scan, preview and recover 3 files. What's more, we have special sales for hot products of iMyFone. Go and have a try now!
Conclusion
This guide has shown the methods of how you can cope with the "Current Pending Sector Count" warning and recover data from your failing hard drive to avoid data loss. iMyFone AnyRecover provides an all-in-one solution to a wide variety of data loss issues and you can always turn to it for help. If you have more other methods regarding "Current Pending Sector Count" or any more questions about AnyRecover, please feel free to leave a comment below.