Fujifilm, an excellent photography brand, has a unique camera that captures real moments with iconic color slide film. It can capture shots underwater with 35 filming points and shoots.
However, it happens pretty often that sometimes the data is lost from your SD card all of a sudden or due to some malfunction that creates a hassle in your life. So don't worry. We have multiple tools and techniques that can help with Fujifilm SD card recovery in a brief time. This article has listed down myriads, techniques, and ways to recover your Fujifilm SD card memory.
Part 1. Best Photo Recovery Software for Fujifilm SD Card
For Fujifilm SD card recovery, iMyFone D-Back Hard Drive Recovery Expert is just by your side to solve your issue. This recovery software is trendy nowadays for restoring your lost data without stress or hard work. It is authentic software so you can trust it without worrying about any issues.
Some remarkable features of the iMyFone D-Back Hard Drive Recovery Expert:
It profoundly scans all your data so that none of your files is missed. So stop being tense, and leave all the worries to iMyFone D-Back Hard Drive Recovery Expert.
It is built with the help of an excellent and efficient algorithm, so it scans your data at lightning speed, and if you wish to stop the scan, you can have all the control.
This software is provided with a filter option that can help you locate the specific file that you are precisely looking for based on its type and date. This will save you a lot of your time.
Before restoring any of your data, the iMyFone D-Back Hard Drive Recovery Expert will ask you to preview the files like videos, images, or any sort of life. Once you confirm it, then only you should proceed.
Now we shall discuss some simple steps to recover Fujifilm SD card recovery using iMyFone D-Back Hard Drive Recovery Expert:
Step 1: Firstly, you need to download, install the tool and select the location.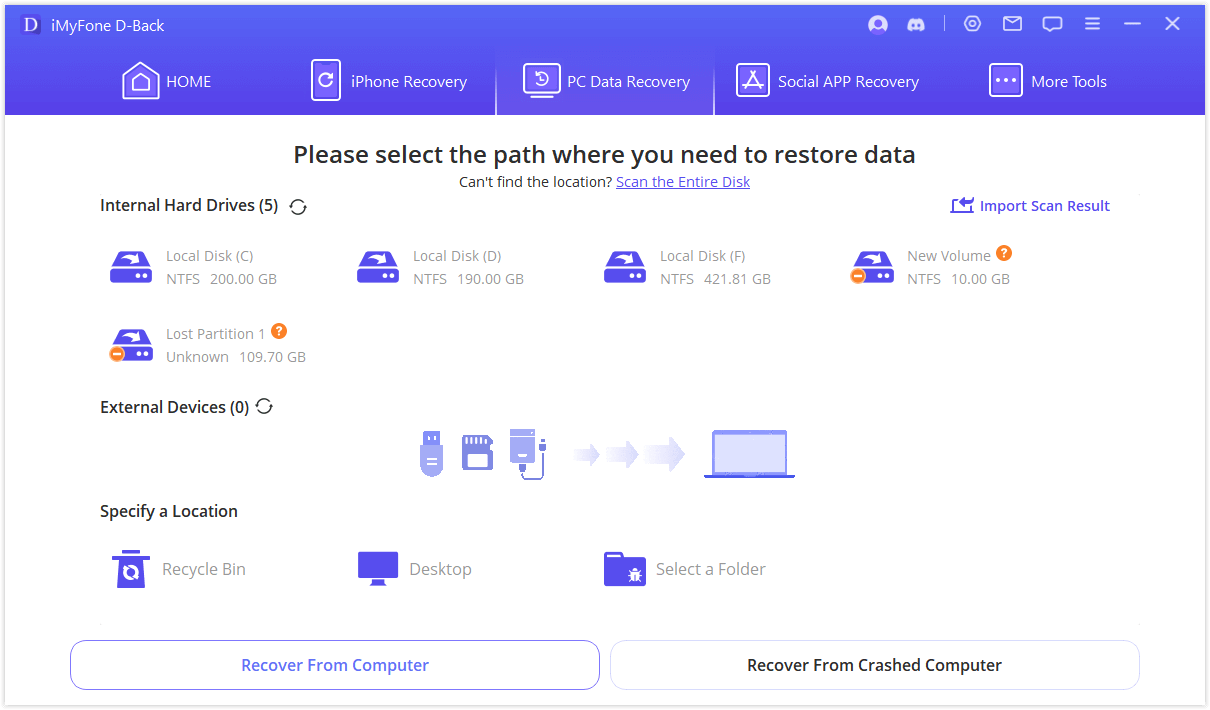 Step 2: Once you select the location, the software will scan your device thoroughly.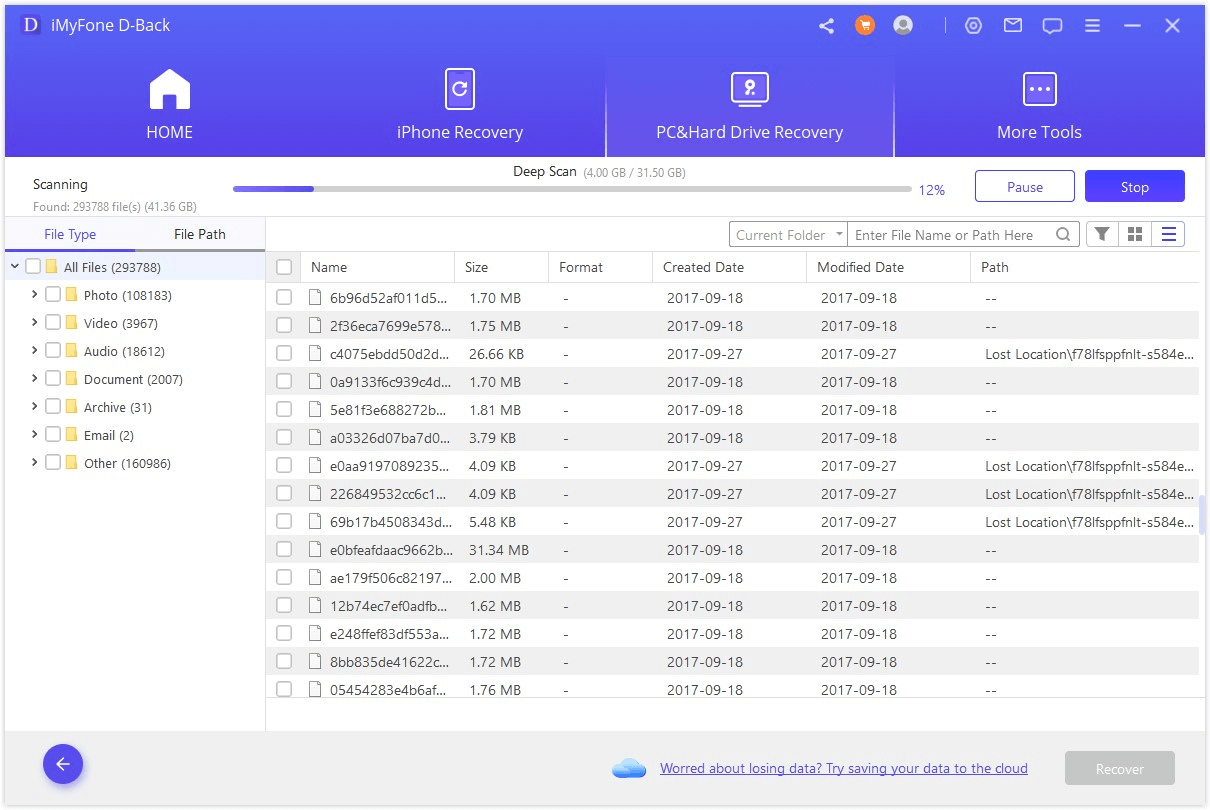 Step 3: Once the scanning is completed, all the files will appear on the screen. If you wish to see any file, double-click on it and recover it to the specified location.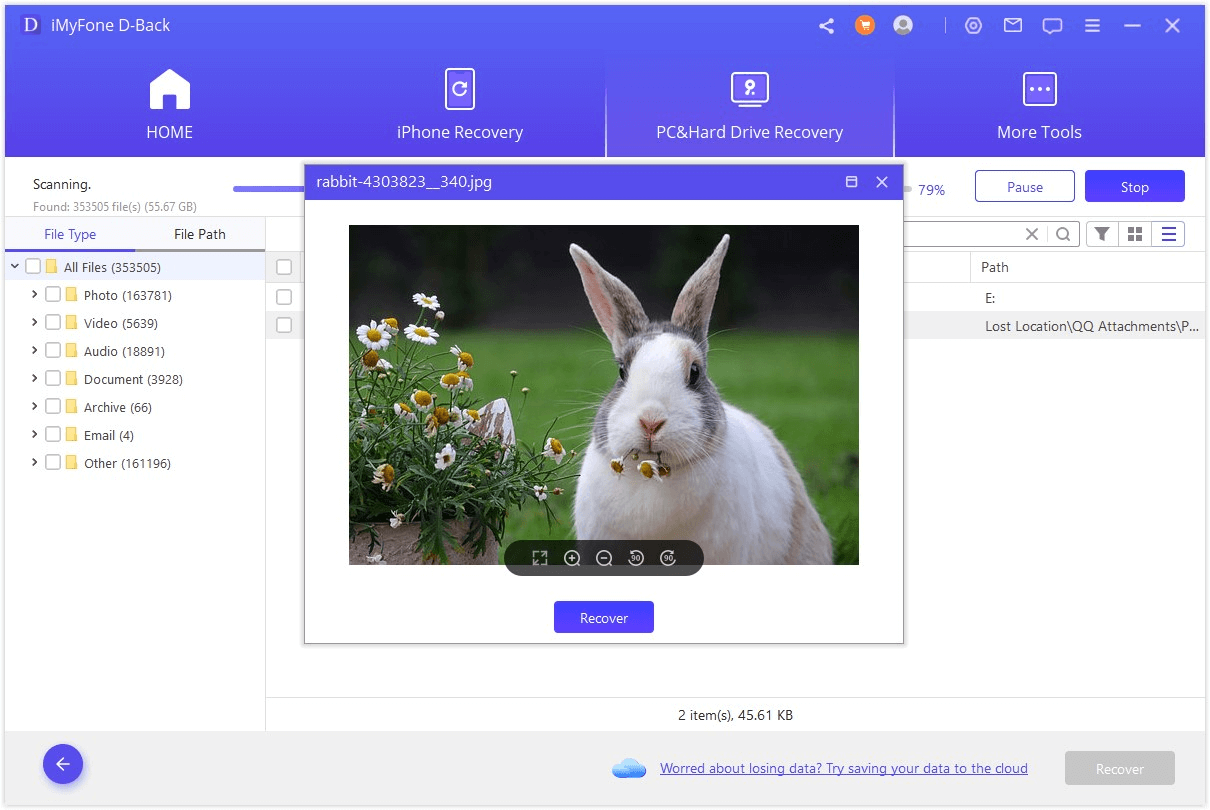 Bonus Tip: How to Fix SD Card Not Reading on Fujifilm Camera
Sometimes there your Fujifilm SD card is not reading, which makes it very hectic and may result in the loss of your precious data, to avoid such problems, you need to take some precautionary measures, let's have a look at some essential tips that you need to know:
Check the memory card. You may insert it in the opposite direction or in an inclined way. As a result, the camera doesn't recognize the card and doesn't work correctly. You need to insert carefully until, and unless you don't hear a click sound, it means something is off. So Push the card so that the device recognizes your card and starts reading it.
Similarly, sometimes a memory card is inserted incorrectly but not cleaned, so you need to clean the card with a dry cloth. If the problem continues, avoid using that card and replace it with a new one.
Look for the lock tab of the memory card, so what you need to do is just take the memory card out and move the lock tab back to the lock position and then move it back to the unlock position and then try to insert the memory card again so it will work for sure.
Part 3. FAQs
1

How To Format SD Card In Fujifilm Camera?
If you are having some problem formatting the SD card in the camera, don't worry. There are some simple steps to guide how to format SD card in Fujifilm camera:
The very first thing you need to do is push the Q on the camera to open the menu button
Once you have opened the menu options, click on setting right on the top.
Under the setting option, you will find the format options. Click on it.
Once you have navigated to the format option, press the menu/ok button to format your SD card.
2

How To Recover Photos From Formatted Fujifilm SD Card?
To recover images from Fujifilm there are tons of methods. Let's consider one of the methods to restore your images:
First of all, connect your camera to the system.
Now find the backup folder, select that folder, copy and paste it into the camera SD card, and press ok, the process is completed, and you can disconnect the camera from the pc.
3

Will Data Lose From SD Card If A Fujifilm Camera Is Suddenly Closed?
No, data will not be lost from the SD whenever your camera shuts down suddenly. You must have noticed with broadcasts like ASTC, cable shows, and others, it sometimes stops, but you don't need to start from scratch. Just reboot the system. Your data is backed up.
As far as the camera is concerned, don't worry wherever your camera battery dies, the recording does not stop. Your file is stored in SD card. You just need to restart again from where you have left off. In the worst condition, you may require some professional software like iMyFone D-Back Hard Drive Recovery Expert to retrieve lost videos and other data.
Conclusion
Fujifilm is a unique camera that captures beautiful moments, but sometimes you lose data and precious shots, which creates a hassle for you. So don't worry. The iMyFone D-Back Hard Drive Recovery Expert is here to help you. Just download the software, follow the three simple steps for Fujifilm SD card recovery, and ensure you preview the file before recovering the data.