iCare Data Recovery Review: Free Download & Licence Code [2023]
Category: PC Data Recovery
4 mins read
iCare Data Recovery is known for its performance for recovering your data. However, does it do its job like how it was promoted? Check out this article for more iCare data recovery review!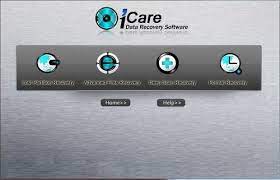 Part 1. iCare Data Recovery Review
iCare Data Recovery is a great software that helps you in lots of ways as long as you know how to use it. But can a software perform better than iCare, or can it defeat other software and reign as the king of data recovery? Let's see the full review of iCare Data Recovery.
1

What Does iCare Data Recovery Do?

iCare Data Recovery, as its name implies, is a software utilized for the purpose of getting the data lost from devices. It has three editions: Freeware, Pro, and Pro Technician. All the versions has feature to regain common files such as videos, documents, photos, and other files that are mostly used by users. But the free version has limited number of features.If you want to use more functions, you'd better use iCare Data RecoveryPro.

iCare Data Recovery is compatible with many devices and can be used for Windows XP to Windows 11. But it isn't compatible with Mac.

Here are some of the features:
Support more than 800 file types for data recovery.
Allow different kinds of recovery, from deep scan to partition recovery.
Can be used for commercial use.
Unlimited data recovery under certain conditions.
Tech support for some users.
If you require technician support, you should upgrade to the Pro Technician edition, which includes additional technician support in addition to all the features of the Pro edition.
2

How to Download iCare Data Recovery 4.53 for Free?

You may directly go to the icare official website to download. Or, you may click this link to download.
3

How does iCare Data Recovery Work?

Here is how to use iCare Data Recovery:

Step 1. Install iCare from icarefree.exe. Make sure you don't install it on the drive of your lost data. Once the software is installed, launch the software.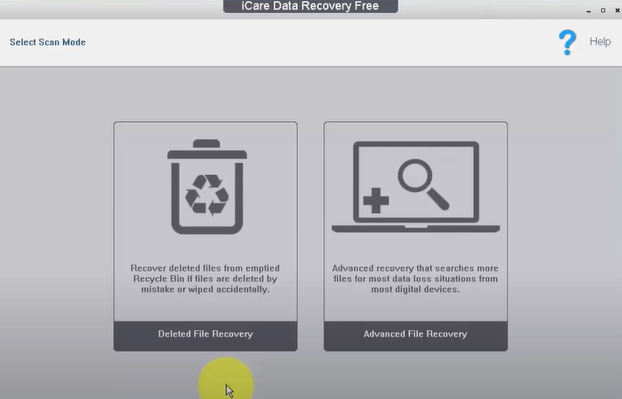 Step 2. Pick the recovery mode that suits your needs. Choose the drive where you lost your data and click Next.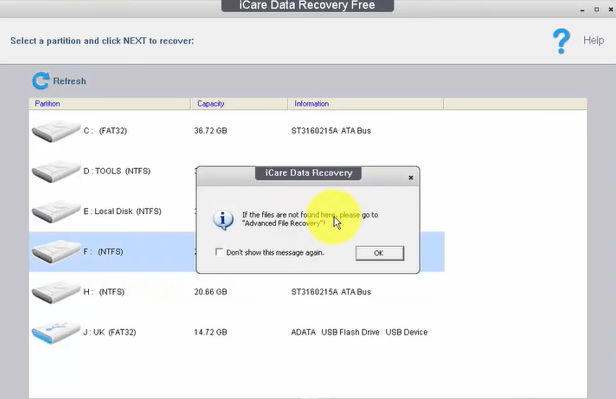 Step 3. The software will scan the drive. Once the scan is done, the software will list all the missing files.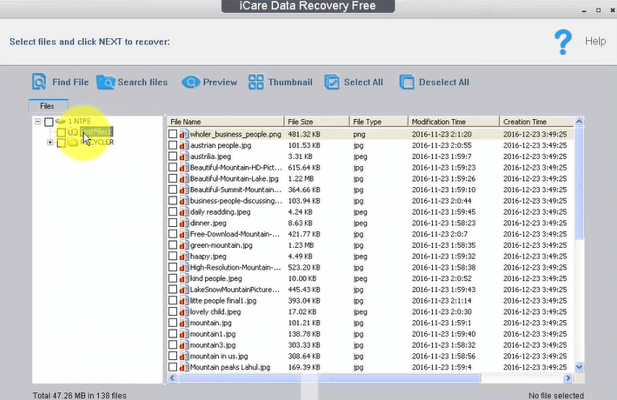 Step 4. Checkmark the files you want to recover. After you've marked the files you want, save them to a new drive.
4

How Can I Get iCare Data Recovery Pro 8 Licence Code?

Here are some iCare Data Recovery Pro 8 Licence Codes, you may try them:
KLVRE-UBTG3-GDIYC-PJ7CE-2NUYK-24VUS-33JPF-ECU3S
HGCKASECG3EXKSUIKXCE2NUCKN4FQQB3KXEWKTCU
II3XE-XUZG2-6FUVU-UJ3CE-2NUXJ-TPE8S-T3ITF-EEPCX
GBIXUPU2G26WCT3ZGPCE2NUNMBFDEQB3KI2VCPJX
Part 2. Better Alternative to Recover Data from Computer with iMyFone D-Back
If you're not satisfied with the iCare Data Recovery review and the steps on how to use iCare Data Recovery, there is another alternative you can try. The alternative is no other than iMyFone D-Back.
1

D-Back for PC Review

Similar to iCare Data Recovery, iMyFone D-Back is another data recovery software that can help you get your deleted files.

iMyFone D-Back is well-known for its variety, both in format and device. The software supports all kinds of devices, be it phones, computers, SSD cards, cameras, and many more. The software also supports more than 1000 file types, so you don't need to worry about your files not being able to be recovered by iMyFone D-Back.
Other Features of iMyFone D-Back for PC: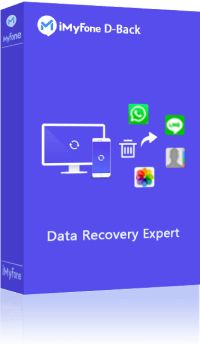 1,000,000+ Downloads
Key Features:
Support all kinds of data loss scenarios such as system crash, formatted data, etc.
Feature preview so users can check the files before they are recovered.
Able to repair broken videos.
Allow recovery of multiple files from multiple devices.
Advanced search filter that allow users to search specific files.
2

How to Use iMyFone D-Back

Using iMyFone D-Back is pretty easy thanks to its simple interface. Here's how to recover data using iMyFone D-Back:

Step 1. Open the software and choose the drive you want to recover the files from.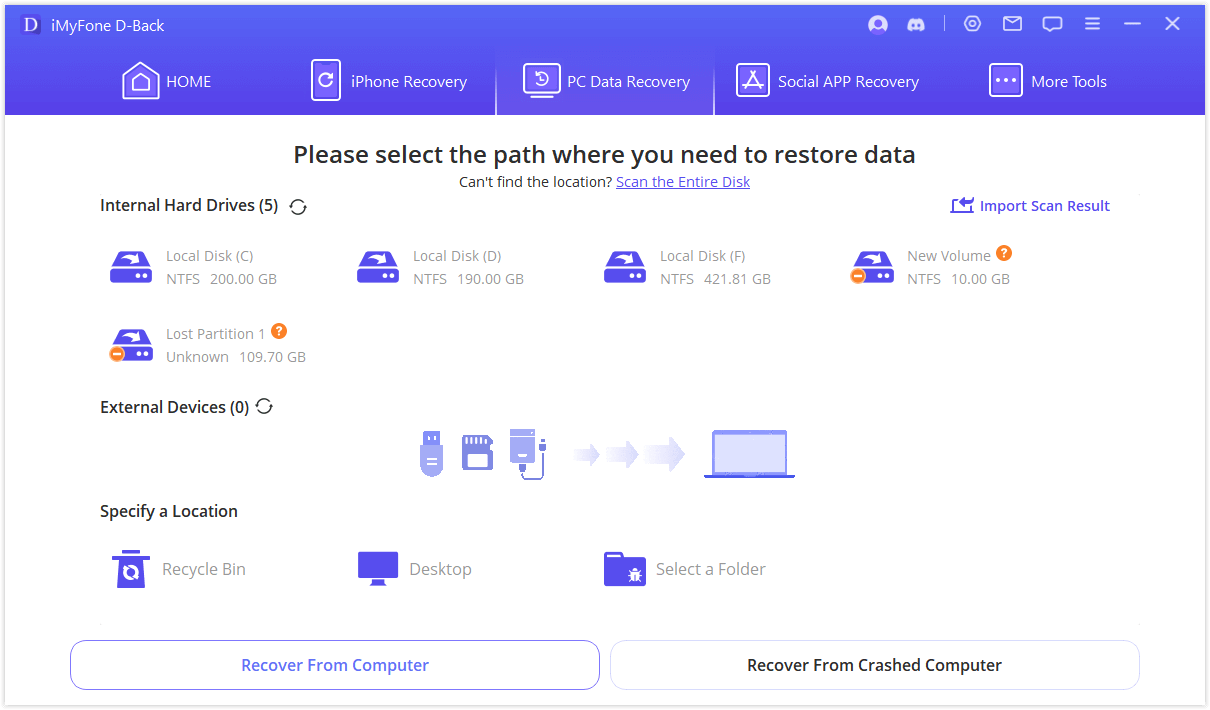 Step 2. Click on the said drive and the software will scan the missing files.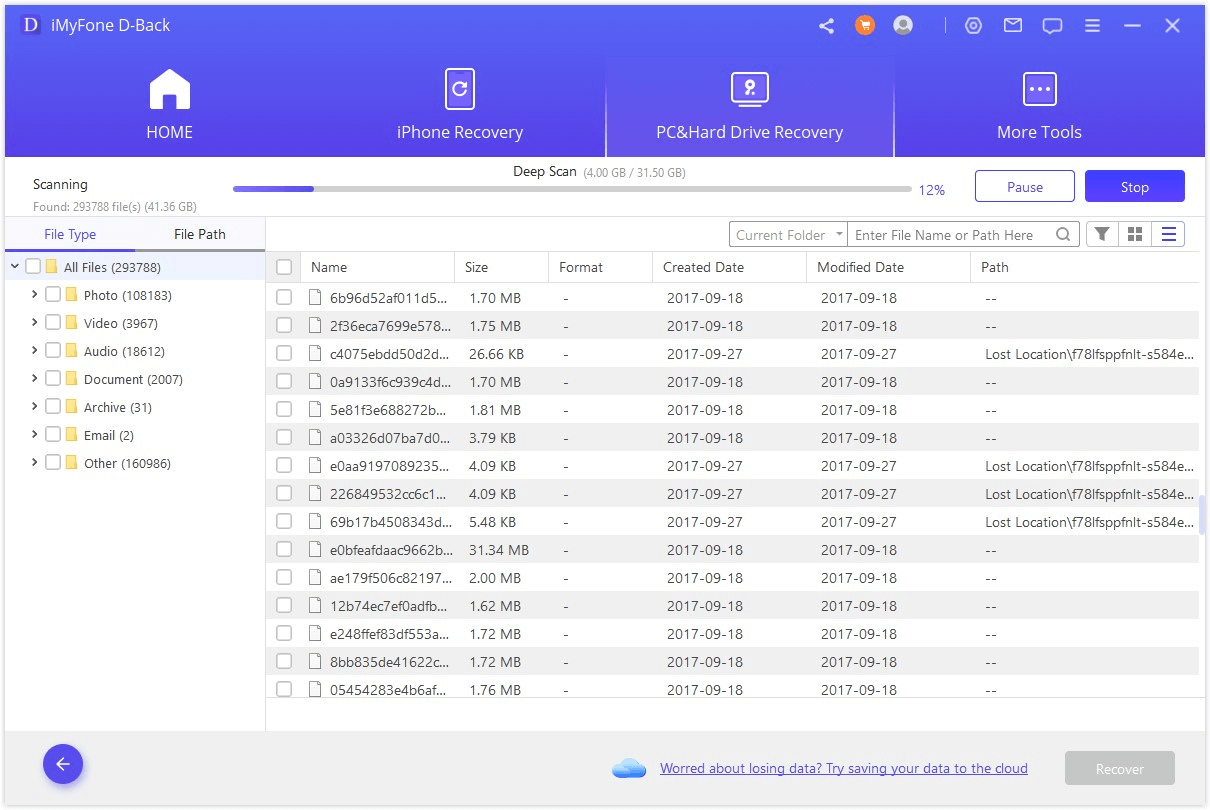 Step 3. iMyFone D-Back will list the missing files. Checkmark the ones you want to recover. To preview the file, double-click the item.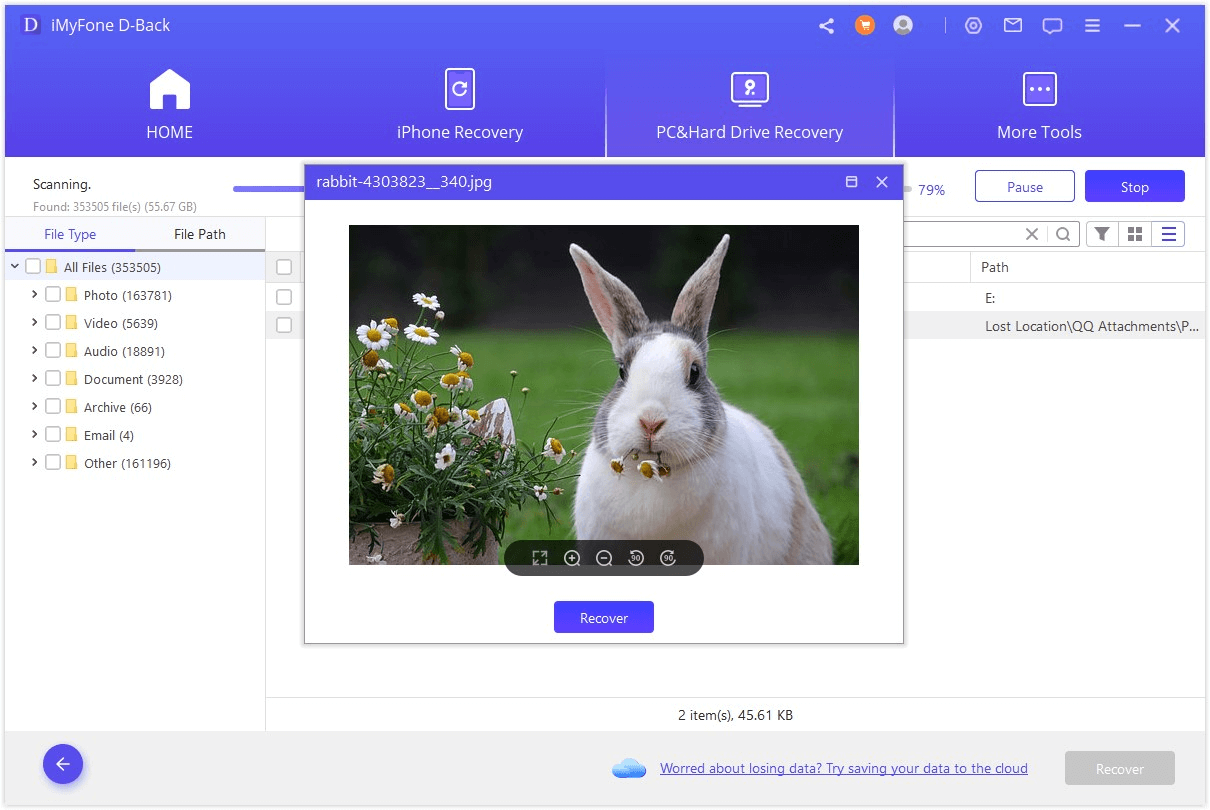 Step 4. Click Recover to start the recovery process. Make sure the save file location is not on the drive where you lost your files.
3

Prices and Purchase Plan

iMyFone D-Back has a variety of plans you can choose for customization. Do you want to use it for Android? You can purchase the software for $29.95. If it's for iOS, you can purchase it for $49.95.

Besides Android and iOS, there are other plans you can use for WhatsApp, Line, Mac, Windows, and many more. The variety allows you to get the ones you actually need at a cheaper price.
Part 3. iCare Data Recovery vs. iMyFone D-Back
Both iCare Data Recovery and iMyFone D-Back are splendid data recovery software that has their own pros and cons. iCare Data Recovery covers the basics of data recovery, and users can extract missing files easily using iCare. And it doesn't have Mac version.
iMyFone D-Back supports more file types and devices. It is compatible with Windows and Mac. Moreover, their plans are more varied and personal. Thus, the iMyFone is more suitable for those who want a better variety for the data recovery process.
Conclusion
Overall, users can choose iCare and iMyFone since both of them do the job well. Everything depends on what you need. If you need simple data recovery software, iCare is the answer. But if you want more variety, customization, and personalization at a cheaper rate, then the iMyFone D-Back is the one for you.