[2023 solved]How to Recover Data from Xbox 360 Hard Drive
Category: PC Data Recovery
6 mins read
Unlike any other hard drive, Xbox 360 hard drive also comes with the risk of specific threats that lead to losing your gaming data. If xbox 360 hard drive error appeared, you must be wondering how to recover data from Xbox 360 hard drive?
If you were doing so, you're at the right place. In this article, we will discuss the best methods for recovering deleted files on hard drive for an Xbox 360. Without further ado, let's take a look at them.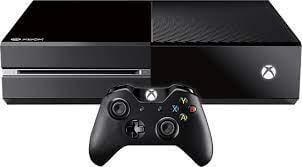 Part 1. How to Recover Data from Hard Drive for the Xbox 360 with The Best Efficient Method
The Threat of losing data is something that always makes everyone stressed out. But when it comes to losing your gaming data, that's a huge bummer. If you are stuck in a situation where you can't understand how to recover deleted files on Xbox 360 hard drive. In that case, the only solution to your problem is hidden behind using any third-party software like D-Back Hard Drive Recovery Expert.
Software such as iMyFone can assist you in retrieving your Xbox 360 hard drive data in a matter of minutes. You may have a smooth recovery using iMyFone D-back Hard Drive Recovery Expert, which was explicitly created to satisfy users' needs and make their experience of Xbox recovery effective.
With the easy-to-use interface, you can restore your data from Xbox 360 hard drive without putting extra effort.
Before recovering, you can freely scan your data while previewing it to determine what data can be recovered.
It is available for Windows as well as Mac.
The iMyFone D-back data hard drive doesn't only work with Xbox 360 hard drive, but it can also help you to recover data from SD cards, hard drives, cameras, etc.
Now that you know what this software is capable of, we can finally answer the most frequently asked question: how to recover Xbox one games on unpartitioned hard drives?
Step 1

Installation of D-back for windows

To restore deleted files on Xbox 360 hard drive, you need to download the iMyfone D-Back software for your windows. Once you've chosen the Install button, the installation process begins.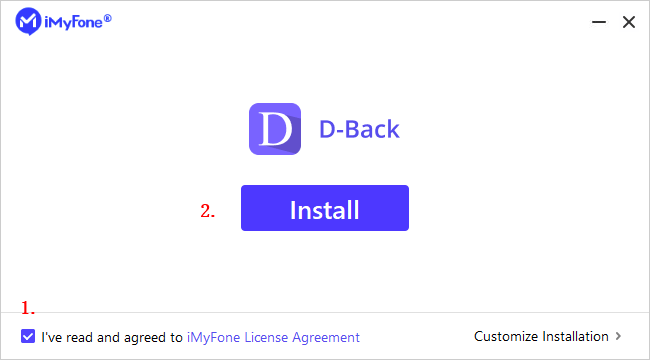 The software is compatible with any type of Windows or Mac so that you can install your desired version anytime on any device.
Step 2

Location scanning

Once you've installed the software, open it and select the location of Xbox 360 hard drive . Now, click on the scan option to start the scanning process.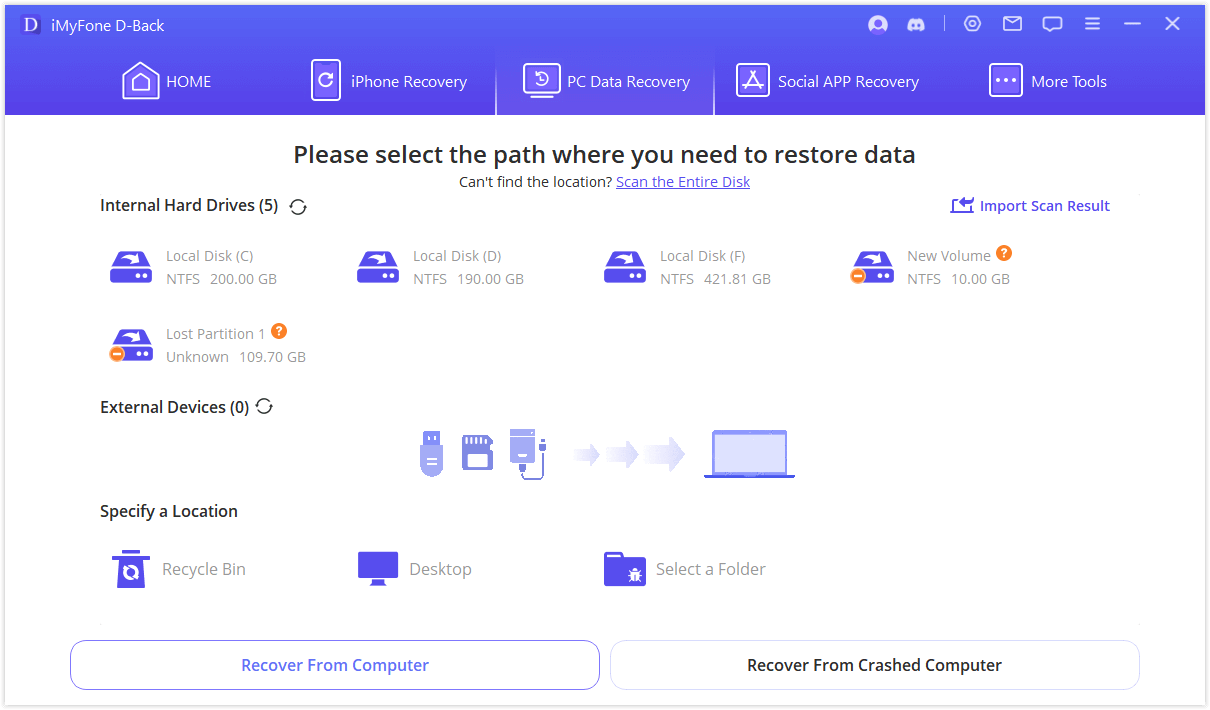 Step 3

Preview the files

As the scanning process is completed, you can preview all the files and recover them. Just click on the files and click on the recover button.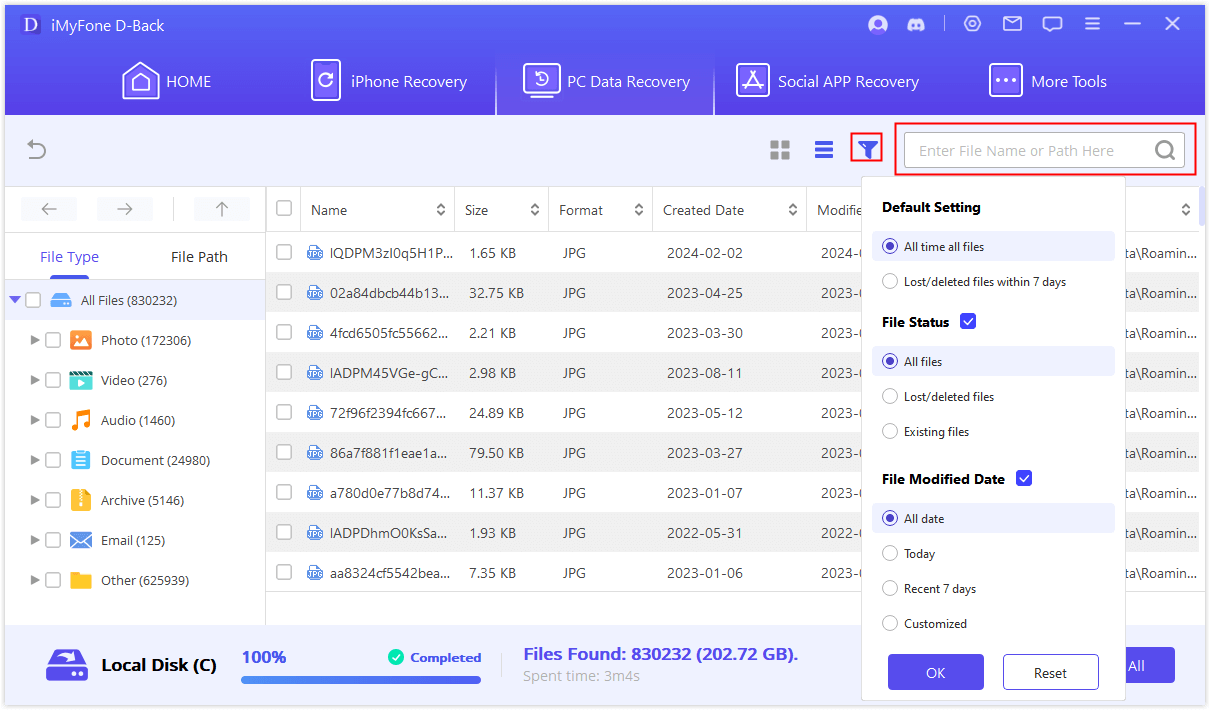 Step 4

Recover the file and Save it

Simply go to the file from Xbox 360 hard drive and click on the recover button. Save it in your desired location.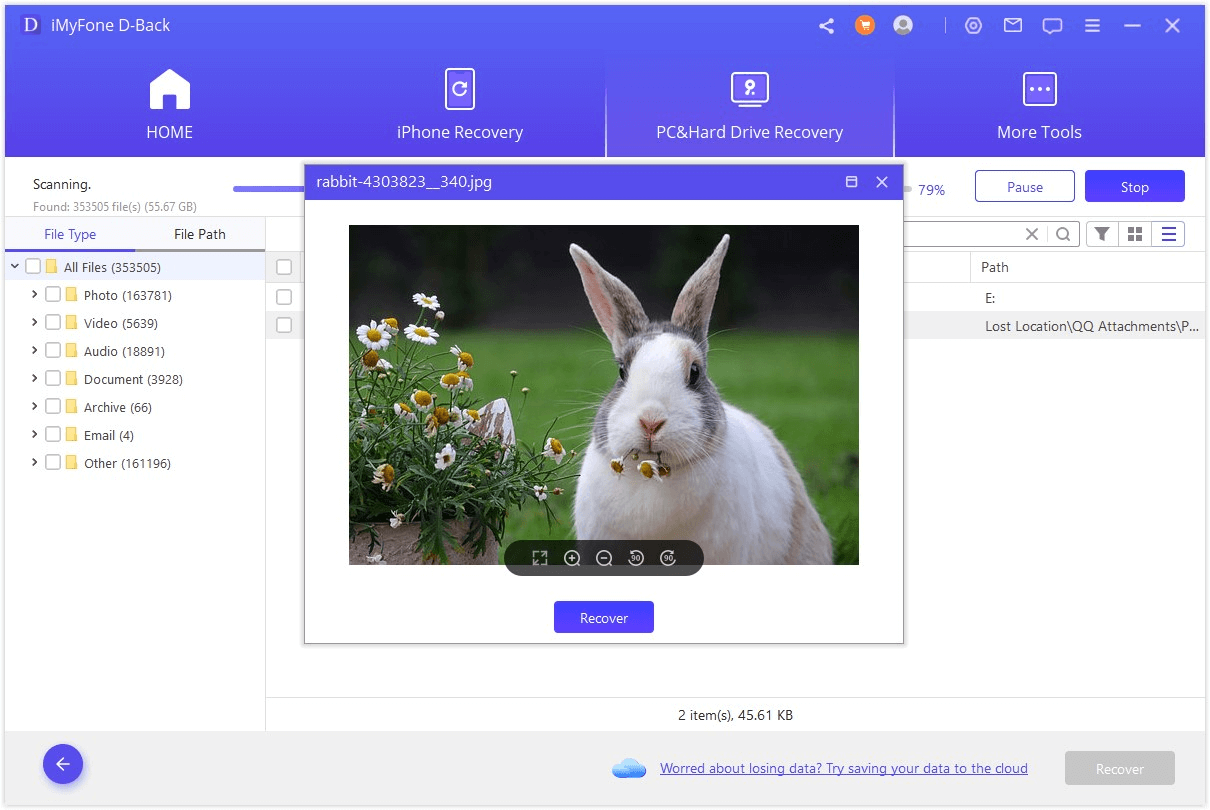 Part 2. How to Recover Saved Games from Hard Drive for the Xbox 360 with Cloud
If you're still having trouble figuring out how to recover saved games from Xbox 360 with hard drive, don't panic; To make things easier for you, we've compiled a list of simple ways to do it using the cloud drive. Let's take a look at them!
1

Set Up Cloud storage to Save Your Gaming Data

If you want to avoid future threats, setting up cloud storage would be the best option to save your gaming data. The cloud-based storage is the new feature introduced in the new Xbox 360 dashboard update. The feature helps you keep your gaming data in the cloud storage; your saves can always be there for you no matter which Xbox you are using.

So, when or wherever you need to access your gaming data, you'll have your games saved on your Xbox Live account. To set it up, you should know specific steps to make it easier to store your data in the cloud.

To do so, log in to your Xbox account and go to the dashboard.
Step 1: When you're ready, go ahead and right-click on the System option.
Step 2: Then scroll down and select the option for storage.
Step 3: The cloud-saved games will appear as the storage devices are examined; select them.
Step 4: At last, enable or disable the cloud storage for Saved games.

Now that you've enabled the cloud storage option, you'll have peace of mind knowing that your data may be restored from the cloud, whether you're at your friend's house or elsewhere.

2

Move A Saved Game to The Cloud

Once you've selected the cloud-saved games as a storage device for all your new games, now, every time you sign in to your Xbox account and play the game, your game will save into the cloud.

But if you have the existing saved games and want to move them to store in the cloud storage device, then here's how you can do this.

Step 1: Log in to your Xbox profile. Go to the dashboard and click settings.
Step 2: Now, select system and go to the storage option. Then Select the storage device that contains your saved games.
Step 3: Click the game's option; you'll see the select game; click it.
Step 4: Now select move and select the cloud saved games to save your game.

Copying your data to the cloud storage is similar to copying, deleting, or moving files on your hard drive.

3

Play Your Saved Games with Another Console

If your xbox 360 with hard drive is dead, you can continue to play your saved games on another console. That's how you can do that.

Step 1: Sign in to your Xbox account. Enable the cloud saved games.
Step 2: When you need to play the games, start it with cloud storage. Select Cloud Saved Games as your storage device when prompted.

It's that simple; now, you can play your game on any other console, right where you left off. Your saved games are stored in the cloud when you're done playing.

Part 3. FAQs About How To Recover Data From Hard Drive for the Xbox 360

1

Is An External Hard Drive Compatible with The Xbox 360?

Yes, any type of hard drive is compatible with the Xbox 360. It is a high-performance gaming console with extra benefits like compatibility with other devices, portability, and simple configuration.

You can add extra storage to your Xbox 360 hard drive by using one of your best external hard drives, Xbox. To do this, You would need to plug your hard drive into any of the USB ports given in your Xbox 360. And select the new device as your storage device, and you're good to go.

2

How Do I Recover Data from An External Hard Drive on Xbox 360?

Recovering data from an external hard drive is relatively easier than we think. You just have to follow the steps given below:

Simply log into your profile and plug your external hard drive into the console's USB connection.
Copy your game data to your external hard disc now.
Once you've saved your data to an external hard drive, you can quickly restore it on your Xbox 360 by attaching the hard drive to the console's USB port.
When you're finished, you'll be able to access all of your gaming data.

Check out all the methods given above to know the profound answer to your question: how to transfer data from Xbox 360 hard drive.

3

Can I Recover Data from A Broken Xbox 360 Hard Drive?

Yes, you can recover data from broken or dead Xbox 360 devices once you've selected cloud storage as your storage device in your Xbox one profile. Therefore, whether your console is broken or destroyed, you can get access to all your favorite games.

If you've transferred your data to any other external drive, you can directly access your gaming data. But if you're still confused, you can read the methods mentioned above on how to recover data from Xbox 360 hard drive.

4

How to Transfer Data from one Xbox 360 Hard Drive to Another?

You don't need to follow any hard and fast rule to transfer your data to any other Xbox 360 hard drive. Once your data is saved into the cloud storage, it will be easier to access it. To do so, you'll need to navigate your Xbox One account. Once you've logged in to your account, you can enjoy all your games from where you've left off.

Conclusion

It's frightening for gamers to realize that all of their gaming data has been erased or is no longer accessible. But don't worry; you can recover your data from your hard drive in various ways.

First and foremost, if you want your data recovered, using any third-party software such as D-Back Hard Drive Recovery Expert can be a piece of cake as it's capable of recovering your data in a matter of minutes.

Using this one-of-a-kind software, you can simply retrieve your data. Aside from that, we've already mentioned the simplest methods to recover your data from an Xbox 360 hard drive quickly and effectively. You can follow any one of those methods that work for you.