Sometimes you might just get the message "This iPhone is disabled" or at other times it might say that you should try again in between 1 minute to 5 minutes. Whatever the message you receive, the cause is the same. Your Apple devices are disabled when you or someone has entered an incorrect access code too many times.
As for the issue of Apple devices being locked, it will very likely be unlocked by default to use any SIM card if you purchased a new generational set of Apple devices (in the last few years). Once the sum is paid, you should be able to get your network provider to unlock your iPhone by itself; this can be for free or paid, depending on the policy. There are many ways to know how to unlock iPhone 4 without iTunes or computer.
How to Unlock iPhone 4 without iTunes via 3rd-Party Tool
Many issues can arise with your iPhone 4. Sometimes you might just get a pop up on your device that says "This iPhone is disabled". At other times, the message might ask you to try again in one to five minutes. Whatever the pop-up message reads, the cause of the problem remains the same. It means your iPhone 4 is disabled when you or someone else has entered a wrong access code many times. But do not panic, you can easily unlock your iPhone 4 if you forgot your passcode and you can't connect it to iTunes or a computer. You can achieve this using the iMyFone LockWiper software.
LockWiper Unlock iPhone 4 without iTunes
Unlock with Few Clicks: Only few clicks is needed to unlock your iPhone 4 instantly. No need for any passcode.
Cross-compatibility: iMyFone LockWiper can be conveniently installed and operated on the newest iPhone models, including iPhone, iPad and iOS 14.
Support Multi-Unlocking Options: Bypass your 4-digit, 6-digit passcode, Touch ID and Face ID security of your iPhone 4 with ease.
Support Locked, Disabled, Broken iPhone: iMyFone LockWiper works perfectly on locked, disabled or broken iPhone.
Remove Apple ID: Bypass Apple ID on your activated iDevices without password and enables you to sign in a new one.
Use iMyFone LockWiper to Unlock your iPhone 4 without iTunes:
Step 1: Open iMyFone LockWiper and click "Start". Then connect your iOS device with a USB cable.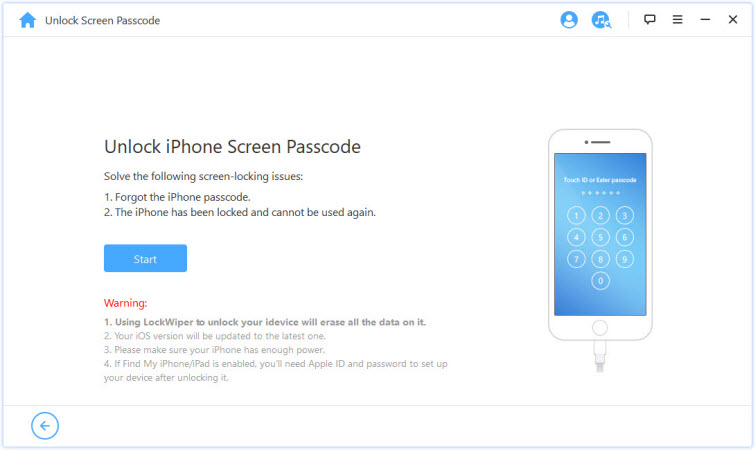 Step 2: Put your iPhone/iPad into DFU mode. If you can't get into DFU Mode, just switch to get your iPhone 4 into Recovery Mode.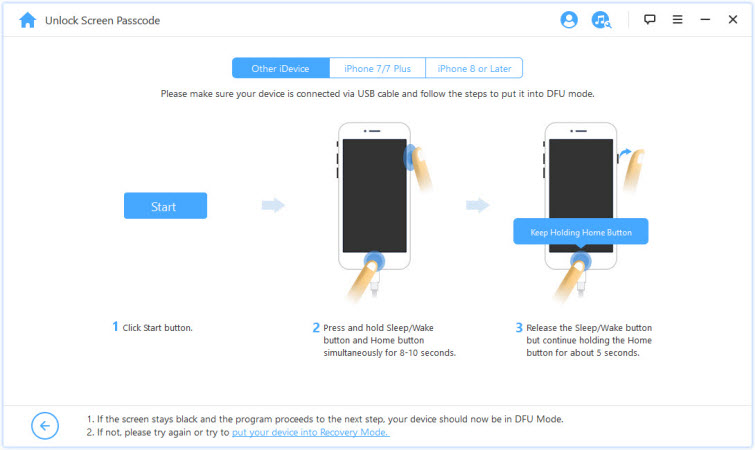 Step 3: Once your device is in DFU mode, it will show the device information. You just need to click "Download" to download the firmware.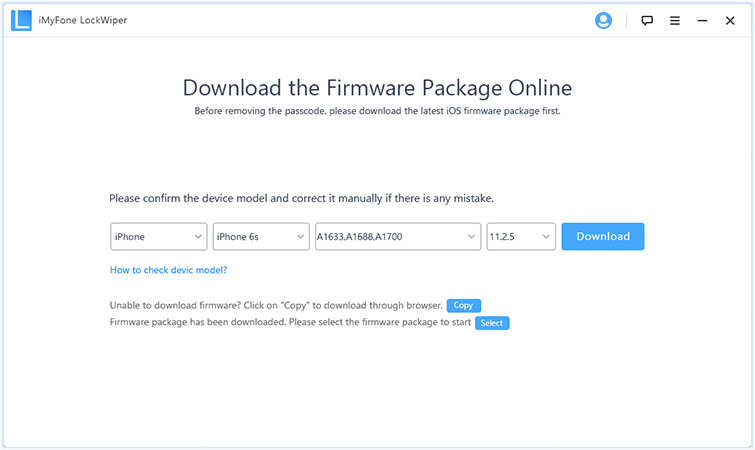 Step 4: After a few minutes, you can verify the firmware you download by clicking "Start to Verify".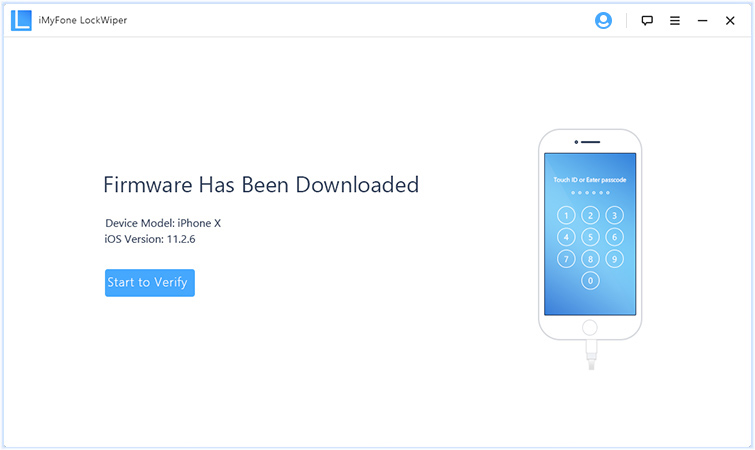 Step 5: When it finish, just click "Start Unlock" to begin the unlocking process.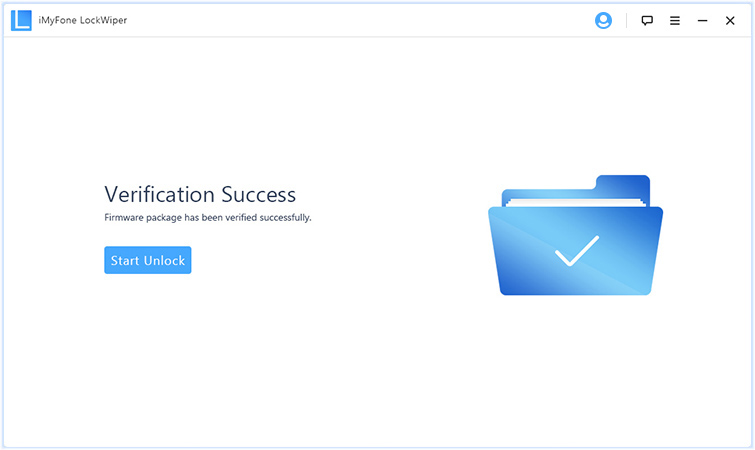 Step 6: You need to double confirm by input "000000" to continue.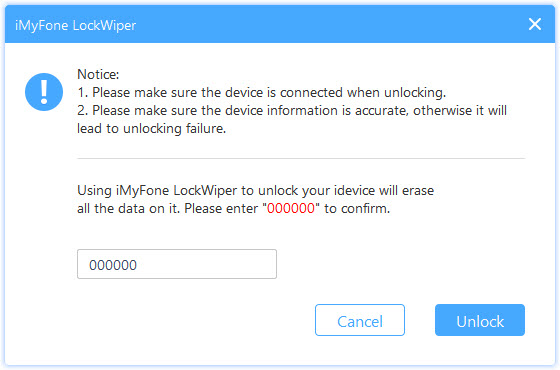 Step 7: The unlock process will take you a few minutes, please wait in patience. Please note that the unlocking process will also wipe all your iPhone/iPad data.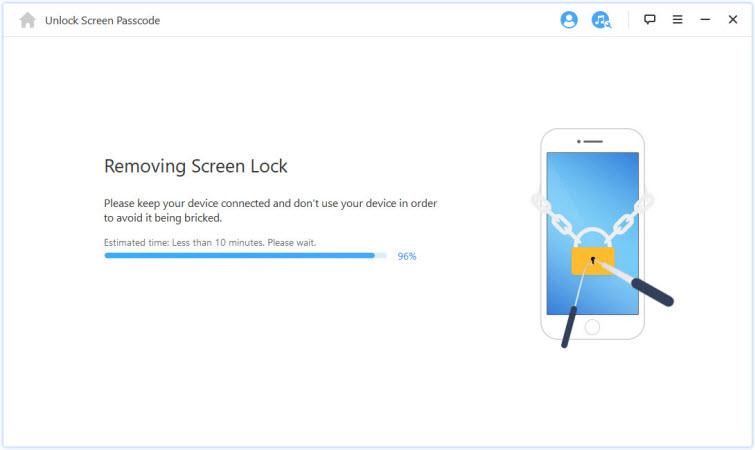 There you are, you have unlock your iPhone 4 without iTunes successfully.
How to Unlock a Disabled iPhone 4 without iTunes via iCloud
When your iPhone is disabled or locked, as a result of a forgotten access code or if the screen is broken, you would need to connect your iPhone or any iDevice to a computer then go through iTunes to unlock your device. However, this will erase your all data from your phone/device. This can be a problem if you haven't backed-up via iCloud. However, steps below will tell you how to unlock a disabled iPhone without iTunes.
Step 1: From another device, go to iCloud.com or the Find My iPhone application.
Step 2: If required, just sign in with your Apple ID.
Step 3: Click "All Devices" right at the top of the browser window. Then select the device you desire to delete.
Step 4: Click on the "Delete [device]". After you have deleted the device, then click on the "Delete Account" button. That's it, your device is unlocked.
Step 5: At this point, you can restore from your backup.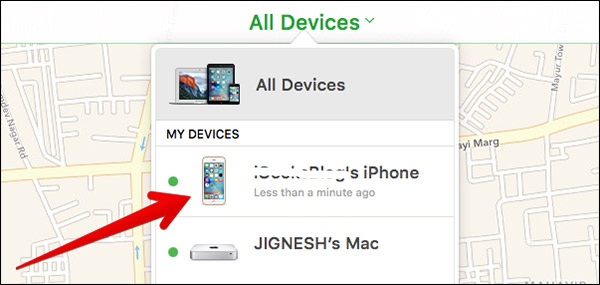 How to Unlock a Disabled iPhone without iTunes via Siri
You may not know that you can also use Siri to solve the issue of the disabled iPhone screen, which was originally speculated to be a bug in iOS that can only be used for devices running iOS 8.0 to iOS 11. To perform an iPhone or iPad disable hotfix without iTunes, follow the steps below to proceed.
Hold the Home button to activate Siri and ask for the present time, or anything else that would display the clock.
Visit the World Clock and click to add another clock, and then type anything on the "Select all" option.
Then you will see various options like cut, copy, define, etc. Tap on the "Share" option.
Another window will be open, tap on the message icon to continue.

Type something in the "To" field and tap the return button on your keyboard.
This will highlight the text in green color. Select it and click the plus icon.
Another window will be open, tap on the "Create new Contact" button.
On this screen, choose to add a photo and tap on the "Add Photo" option.
This will open the Photo Library. Now, you can visit any album.

Instead of selecting a picture, just exit by pressing the Home button. Then you can back to the home screen.
How to Unlock iPhone 4 without a Computer
If you're in need of how to unlock iPhone 4 passcode without iTunes and computer, then this might help. It is the Unlock hardware option.
This trick/method can unlock the iPhone, however, it is extremely very dangerous. To unlock your iPhone from the hardware option, you must find a local phone workshop. You must know that this will make you lose the warranty on your iPhone. And also the technicians have to open the iPhone to do the job. If anything goes wrong, your iPhone becomes useless.
However, I do not advise anyone to go through this method for any reason.