The new social media platform TikTok has taken the world by storm. With so many of us being stuck indoors from the pandemic, the short-form videos and original content has been welcome from all over the world.
However, some people may have privacy concerns or need to end the late-night scrolling preventing your sleep. If you have finally decided to delete your TikTok account, explore the methods in this post now!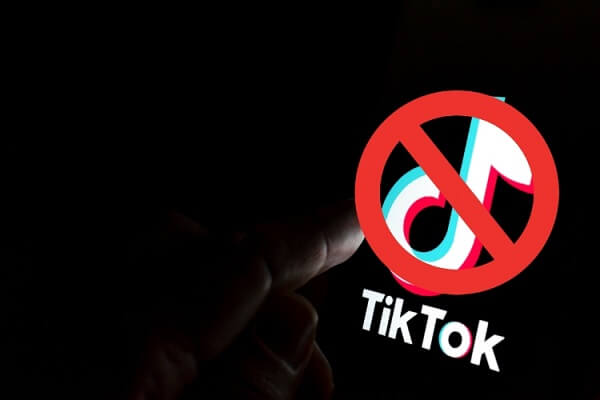 How to Delete an Account
TikTok is more than a trend for younger people online. It is a worldwide phenomenon that allows quick and easy-to-digest video sharing for fans who want to sing, dance, or laugh along.
When you delete a TikTok account, all user data will erase, and you will no longer be able to operate under that username or account tag. Before deleting, make sure you do not want to suspend your account temporarily. Otherwise, read on.
Step 1 - Open and log in to your account on TikTok. Tap on the "Three-dot icon" and select "Privacy and Settings".

Step 2 - Tap on "Manage My Account". Scroll down to the bottom of that menu, and you can see the "Delete Account" option, tap on it.

Step 3 - Enter the mobile number you used to set up your account. TikTok will send you a confirmation code when you select "Send Code". Enter the code into the space provided and click on "Continue".

Step 4 - There will have a summary informing you that you will no longer have access to your data once you delete your TikTok account. If you are ready, go ahead and tap on the "Delete Account" button.

Step 5 - Then you reach the final confirmation screen. Tap on the "Delete" button and you can log off.
It takes about 30 days for your account delete permanently. Your info will hold in a "Deactivated" status for those 30 days.
Alternatives to Deleting TikTok Account
If you are still on the fence about permanently deleting your TikTok account, you can try some alternative solutions that protect your privacy information.
01

Set Privacy Settings to Private
Whenever someone decides to join TikTok, their account is set to public by default. That means anyone can search for them by username or account tag. If you are tired of being found and want to look around the social media platform without being contacted, you can set your privacy settings to private.
Step 1 - Navigate to the "Settings" and click "Privacy and Safety feature".
Step 2 - Locate and toggle the "Private Account" option.
This operation will not only allow your followers to see what content you post on TikTok. It's a great way to get all the enjoyable entertainment without the constant distractions. Now, when someone wants to see your videos, they have to submit a friend request first.
---
02

Prevent Other Users from Finding You
Online anonymity is an essential requirement many users need to feel safe and comfortable. Being on TikTok doesn't mean that the world should suddenly get a front seat to your innermost thoughts or daily activities.
If you want to remain more private on TikTok, simply:
Step 1 - Head over to the "Setting" and tap on the "Privacy and Safety" feature.
Step 2 - Toggle the Allow others to find me option.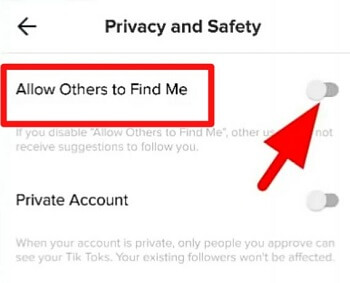 You will not only appear to your followers. Other people will not be able to find you on TikTok. It is a great option that changes in the future.
---
03

Control Who Can Send You Messages and Post Comments on Your Videos
Not all TikTok users are friendly people. There are plenty of trolls who are more than happy to ruin your day with a disgusting comment. Limiting this option is a great way to improve your experience on the platform.
Step 1 - Head over to the "Settings" menu.
Step 2 - Choose the "Privacy and Safety" feature.
Step 3 - Adjust your Who can send me a message and Who can send me comments options to "Just Friends".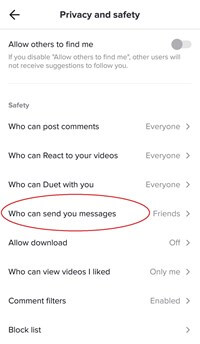 Now only your friends will be able to leave any comment or message about your videos.
Clear Your Tiktok Data
If you want to ensure all of the leftover data is removed from your mobile device permanently after the account is deleted. You should check out the powerful file cleaning tool - iMyFone Umate Pro. It is a quick and easy application to maintain the stability and performance of your phone.
With this software, you can:
Erase private data by first previewing the information you want to erase selectively.

Clean up valuable mobile space on your device with a 1-Click option that instantly deletes hidden junk files, trash, caches, temp files, and other temporary space hogs.

Remove 3rd parties app information like WhatsApp, LINE, Kik, or TikTok messages you never want to see again.
It is just that easy. You can learn more about this powerful software by visiting this website. You can use most features with a free plan with additional pricing for complete access to all the utilities.
FAQs Related to Delete Tiktok Account
1

How long does it take TikTok to delete an account?
When you go through our steps to deleting your TikTok account, your profile is considered "deactivated" for 30 days. After that time, TikTok will permanently delete your account.
---
2

Why did TikTok delete my account in 2022?
Like most social media platforms, TikTok is susceptible to many lawsuits and legal violations. Sometimes the platform needs to remove accounts that it thinks contributed to those violations. Another reason is if you violet TikTok's terms of service. This could be for posting copyrighted content, spam, hate speech, or pornographic videos. If you didn't do those things, reach out to their customer service.
---
3

Should I delete my TikTok account?
There are some privacy concerns with using a Chinese-owned social media platform. At the end of the day, if you feel your privacy may be insecure or if you don't want to use the app anymore, you should delete your account.
Conclusion
You can eliminate all your data from showing up on the social media platform again with only a few steps. You can also protect your privacy by changing your account settings to remain anonymous while you scroll videos.
If you would like to learn more about helpful tech solutions or check out how the powerful iMyFone Umate Pro can free up space and increase your phone's speed, be sure to check out this website.