The built-in Apple mail app is one of the core apps for iOS users. With the introduction of iOS 15/14/13/12 version, many iPhone users have noticed some glitches and bugs in the application. Like many other applications, the Mail App has its ups and down. Recently, iPhone mail app crashes is a common problem. Here we have some of the common reasons why mail app crashes and how you can fix the issue.
Part 1. Mail app crashing when composing a new email
The newest iOS version came with many interesting features and the biggest attraction of this operating system was the introduction of new emojis. However, within a few days, most of the customers complained that Mail app crashes when they try to compose a new mail. It has caused some serious issues are people think that there is a bug in the system. Here are some common steps that will help you to fix this issue.
Force shut the mail application and restart your iPhone.
Within the mail, you have to disable and enable your mail account. You can go to visit Settings > iCloud > disable and enable Mail.
You can reinstall the iOS 15/14/13/12 on your iPhone. It is the last resort and should fix all the iPhone problems.
Part 2. Mail notifications Broken in iOS 15/14/13/12
There are chances that notification of the mail application is not working. It means that you will never know that you have received a new mail. When you will open your mail application you will notice that there are several unread mails. Here is how you can fix this issue.
You have to go to Setting > Mail > tap on mail account that has unread mails.
Now you have to turn Mail off and then keep your iPhone off for 30 seconds.
Switch your iPhone on once again. Now you should go to Settings > Mail> turn your mail on once again.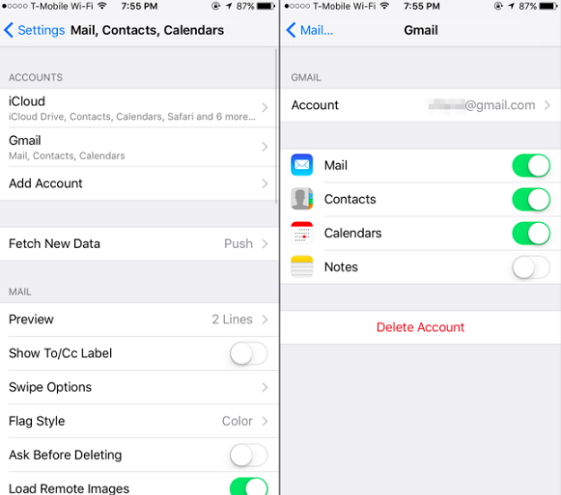 In this way, all the issues related to unread mails will be resolved. It will help you deal with iOS glitches as well.
Part 3. Mail randomly crashes when it is being used
One of the most common issues that iPhone users are suffering from is the mail app randomly crashes when they are using it. it might happen when you have opened the app or while you were reading a mail. It is annoying and you might not be able to manage your work. Here are a few steps to resolve this issue.
Use the desktop mail to access your email account. You can use the web or 3rd part interface.
Now delete all the messages that have a size more than 6 MB as well as remove all the messages with sending or delivery failure.
In the end, delete the email account from the iPhone device and re-enter it after few seconds.
Part 4. Professional way to stop Mail from crashin
As a professional and highly recommended system recovery and data recovery tool for iPhone, iPad and iPod touch, iMyFone D-Back iPhone System recovery supplies 4 recovery modes with an utmost probability, one of which is Fix iOS System. Apart from system recovery, it also allows to recover deleted data, like Kik, WeChat, WhatsApp, photos, contacts, notes, messages and more.
Key Features:
Fix different kind of ios system bugs, like iPhone apps keeps crashing, iPhone stuck on white Apple or the device keeps restarting, etc.
3 recovery modes are available to fix the bugs for users: Standard Mode, Exit Recovery Mode and Advanced Mode.
Recover more than 20 types of data from iPhone or from iTunes/iCloud backup without affecting the other data.
It is fully compatible with the newly released iPhone 12.
Here is how you can fix this bug with iMyFone D-Back iOS system recovery.
Step 1. Make sure that iMyFone D-Back is installed on your PA or Mac. Open it up and click " Fix Ios System" option, from which you can select the fixed mode. Generally, we suggest users choose " Standard Mode" at first.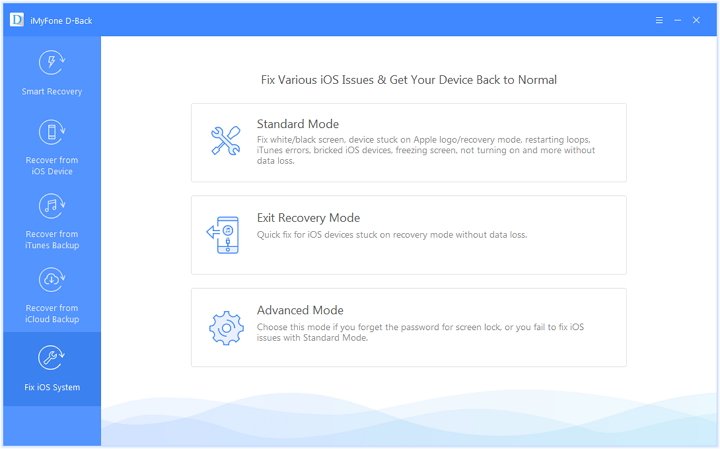 Step 2: Connect your device to computer and you will be prompted to put your device to recovery or DFU mode. Click on start and program will start the countdown. Press and hold the home button and sleep/wake button together for 8 to 10 seconds. In order to continue home button for extra 5 seconds. Once the device is in DFU mode you can put it to recovery mode to fix the issue.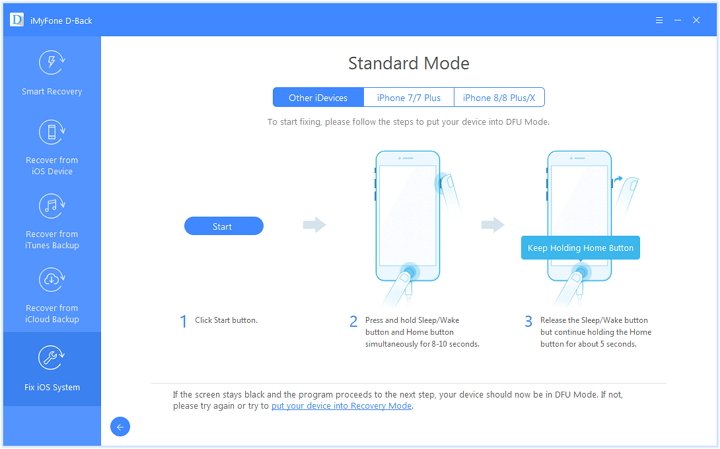 Fails to put in DFU mode? Press and hold the home button and sleep/wake button simultaneously and wait until the screen shows connect to iTunes.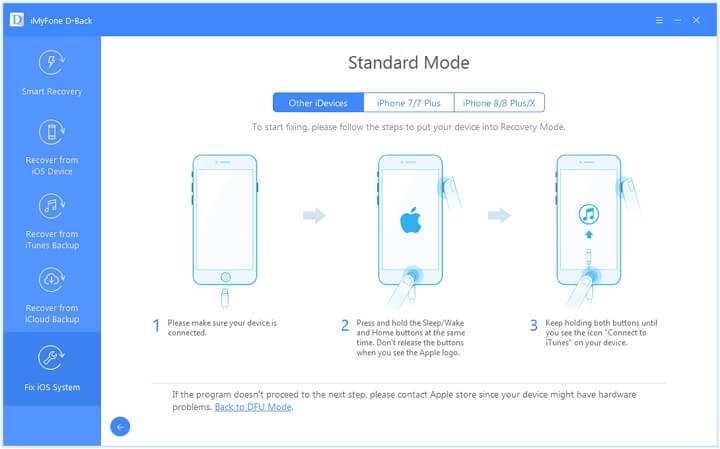 Step 2:  After entering recovery mode you have to download the new firmware in your device. D-Back will detect your device and allow you to download the latest iOS firmware that suits your device. Click on download and proceed to next step.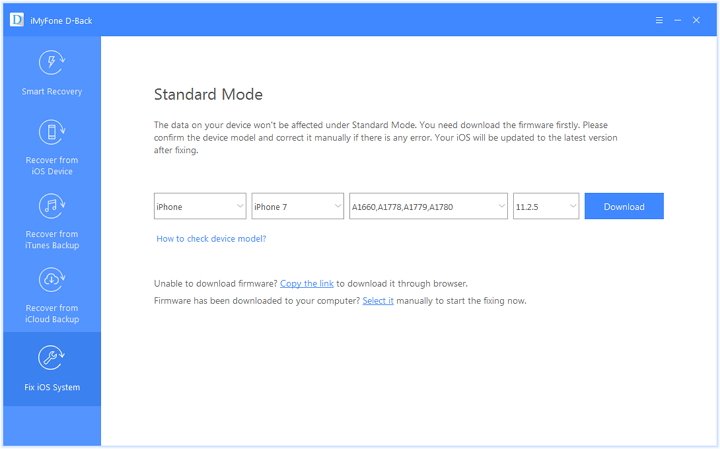 Step 3: Click start to fix once the firmware is downloaded. The program will verify the firmware and start fixing your system. Once the process is done you have to start your device to check if it is working or retry.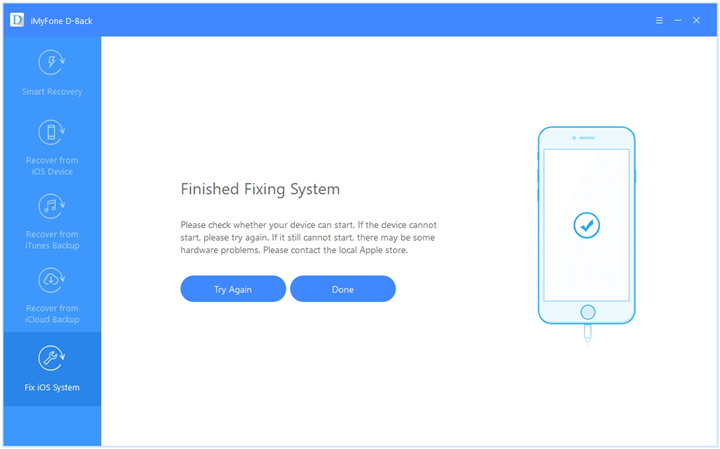 Do not worry if your iPhone mail app crashes. With the above-mentioned tips, you can surely repair your system. In case none of the tips work, iMyFone D-Back is always available at your service. It will help you to quickly fix the problem so you can proceed with your work.