Question
Help! I'm an iPhone user and having a hard time in sending picture messages to my friends. I tried many times but my iPhone won't send pictures via iMessage and MMS. Each time it says, "Not Delivered" and the picture message stuck in the middle. Is there anyone who could take me out of this bizarre situation and explain me why can't I send pictures on my iPhone? Thanks! BTW I use iOS 14 on my iPhone X.
This particular query has become common as many iPhone users have found that their iPhone won't send pictures. That's why we are troubleshooting this problem by offering some useful solutions to iPhone not sending pictures issue.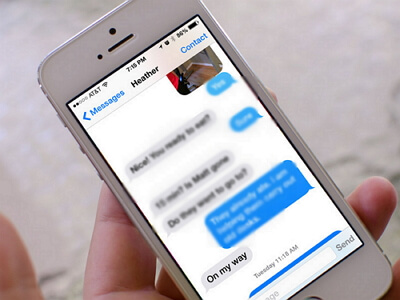 1

Figure Out the Problem Is on Your End Or Others'
Perhaps the problem is not at your end, so first of all figure this thing out that the pictures you're sending are not able to go to only a particular person or everybody. For this, do send picture message to 4-5 friends as a test. If you find your iPhone won't send pictures in text to everyone, then the problem is with your iPhone. And if, iPhone won't send pictures to just 1 friend, there's a possibility that the problem lies at your friend's end. If you are not able to send the picture to all the friends, please read on.
---
2

Check Apple System Status
Another thing to figure out why can't you send pictures on iPhone is confirming the Apple system server status. Sometimes the outages created by going down of Apple servers also make the users face the moment when iPhone won't send pictures in text messages. Consequently, the users have to wait when server goes down and occasionally check the system status to get rid of the problem.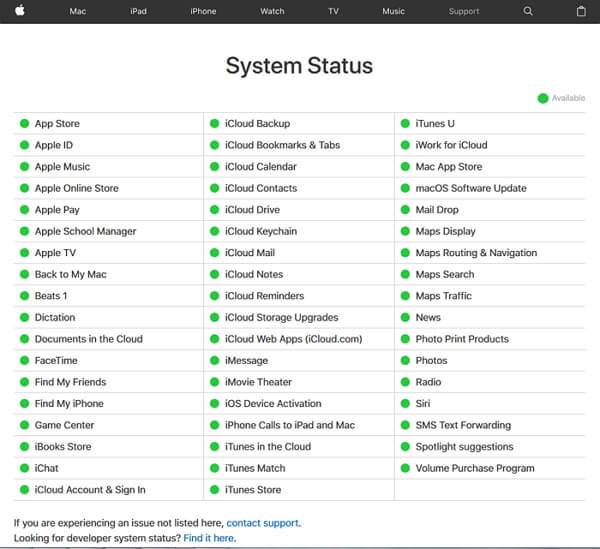 ---
3

Make Sure iMessage and MMS Are Enabled
If the above things didn't do any help and iPhone won't send pictures still, it's time to double-check that iMessage and MMS are turned on. This is because, they both are necessary for sending and receiving picture messages.
To verify that MMS Messaging has been enabled, follow these steps:
Tap on "Settings" and go to "Messages".
Check the toggle button next to "MMS Messaging" is on.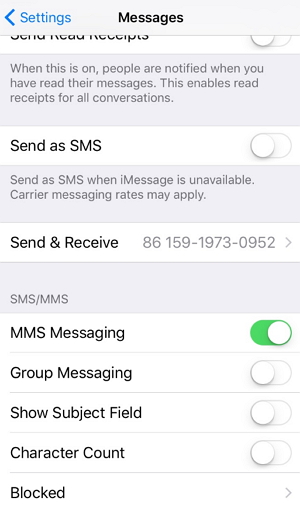 To verify that iMessage is enabled, try these steps:
Again tap on "Settings" and then "Messages".
Take a look at the toggle switch of iMessage and make sure it is on.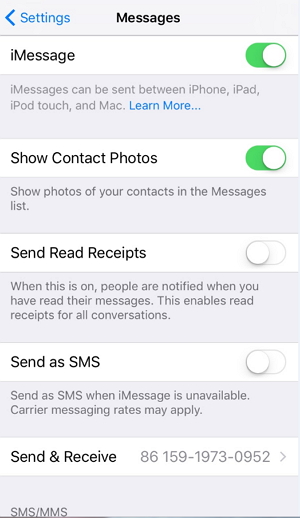 Generally, the issue can be resolved by merely switching on and off the toggle button of iMessage option.
---
4

Make Sure Cellular Data Is On or Wi-Fi Is Connected
Cellular data and Wi-Fi connection is a necessity while sending pictures through iMessage and have to be enabled. Thus, confirm if they are turned on or not.
Check Cellular data:
To confirm, head to "Settings" and then tap "Cellular" option.
Notice the toggle switch against "Cellular Data". Tap on it to slide it in order to enable.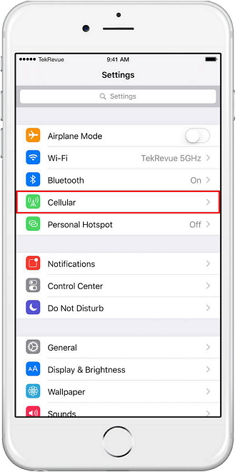 You can use your iPhone to watch videos or search online when Cellular data is off to Check Wi-Fi connection. If there is no problem with the Cellular data and Wi-Fi connection, don't give up, just keep reading.
---
5

Reset Network Settings
Resetting network settings can work too for iPhone not sending pictures in messages. iMessages or MMS needs internet connection so any unintended change in the network settings can trigger the problem. Before proceeding to the steps, make sure to copy all the network informations, i.e. passwords or VPN network information. To reset them, tap on "Settings"> "General"> "Reset"> "Reset Network Settings". Confirm the action by entering the passcode and tap "Reset Network Settings" again.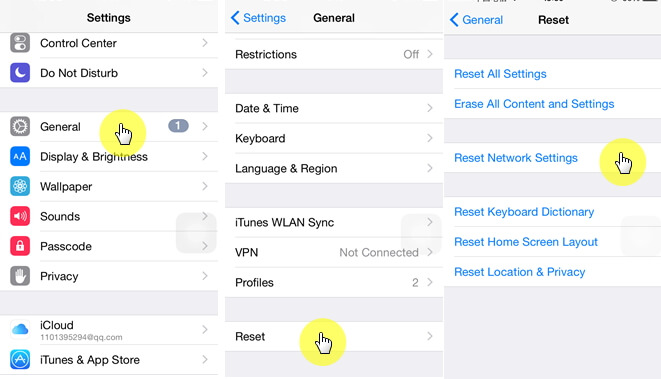 ---
6

Use a Third-party Tool to Fix iPhone Not Sending Pictures
If still the iPhone won't send picture messages, this fix can surely be beneficial and helpful for the users. iMyFone D-Back is a software that is valuable, user-friendly and comes with easy interface. It can assist users in repairing iOS problems with its best feature of "Fix iOS System". The software has got many more features.
Key Features:
The software's "Fix iOS System" feature can deal with numerous iOS problems, such as black screen, white screen, iPhone stuck in recovery mode, restart loops and so on. It can fix the problems with no loss of data.
The software holds expertise in recovering lost data under various lost data scenarios, like accidental deletion, or data disappearing suddently.
iMyFone D-Back is compatible with almost all iOS devices including iPhone 12, and supports to recover 22 types of data including notes, photos,contacts,WhatsApp messages, Kik messages, WeChat messages and so on.
It can find the deleted data fast with its four recovery modes.
---
7

Restore iPhone to Factory Settings
If the problem that iPhone won't send picture messages is still there, then restore iPhone to factory settings.
Open iTunes and connect the iPhone with your computer via digital cable.
A pop-up will appear saying 'Trust This Computer', click "Trust".
Select iPhone appearing on iTunes on the PC screen.
Go to "Restore iPhone" in summary panel.
Again click on "Restore" to verify.
Now the device will restart.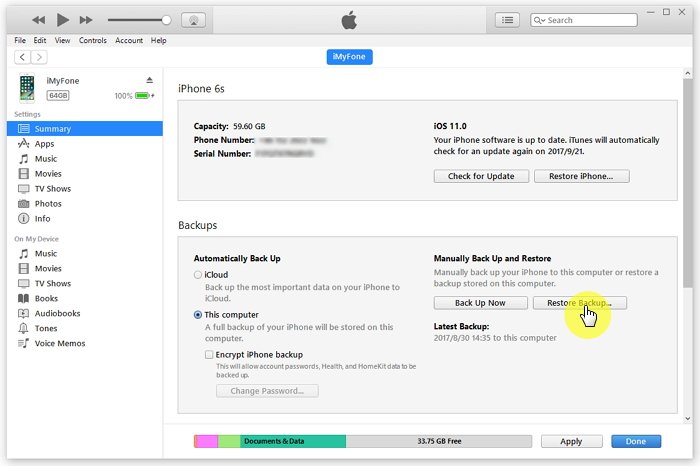 ---
Conclusion
We agree that when iPhone won't send picture messages, then there comes a lot of perplexity and disappointment and of course many questions. To wrap up everything, we've given all the seven possible solutions to fix the picture messages problem, even iOS 14 is running on your iPhone. You can now try them if you are asking "why won't my iPhone send pictures" and check if the problem is fixed. Hope you end up fixing the issue with a smile.