iMyFone Fixppo
A quick fix for YouTube Music crashing after update problem.
You open the YouTube Music and try to relax yourself on the way home, only to find that the app is crashing out of the blue or can't function properly even with your downloaded files. Your mood is totally ruined.
Therefore, why your YouTube Music keeps crashing after update? What cause it to happen? And more importantly, how can you fix this problem? Stick to this article, I'm sure you can ultimately solve these mysteries.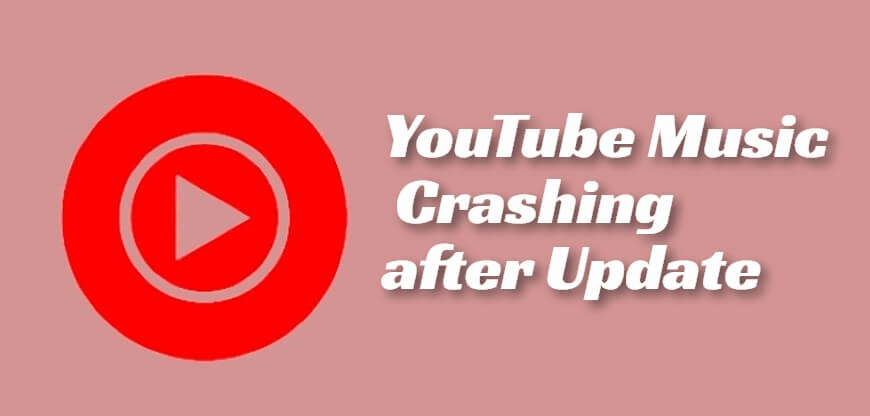 Part 1: Common Problems with YouTube Music Crashing
Users can't get access to it as normal for the random crashes.

Users can't download any songs as usual.

Users can't listen to downloaded songs.

Offline playback can't function properly.

The app requires constant login and input.

Error message of 'Playback paused because this account is being used in another location' appears occasionally.
Part 2: Why YouTube Music Crashing after Update?
1. Your network connection is unreliable. If your Internet connection is unstable or you're in a place with weak signal, then it's unlikely for you to play songs in the YouTube Music as normal.
2. There are bugs with the app itself. The application itself should always be the center of the problem. And you can check it out with solutions mentioned below.
3. iOS glitches are causing you the trouble. It's also necessary for you to have a quick look at the iOS system, which is often the culprit of many iPhone-related issues.
Part 3: 10 Fixes for YouTube Music Keeps Crashing
1

Refresh Your Network Connection
The first thing you need to make sure is that you're under a strong data or Wi-Fi connection. If the app can be opened while loading no songs or the play button of the music you want to listen to keeps spinning, then you should switch to a more reliable network, close the app and turn it on again to see if the YouTube Music still keeps crashing or not.
---
2

Force Close the App
Since force closing the problematic app then restarting it is enough for users to remove potential software bugs, you can try this method. By doing so, you're able to regain access to the app and restart all the suddenly paused activities.
Go to the Home Screen, swipe up from the bottom of the screen to open the running apps menu, find the YouTube Music app then swipe up to clear it. Once it is removed from the background, turn it on again and try using it to see how is its situation.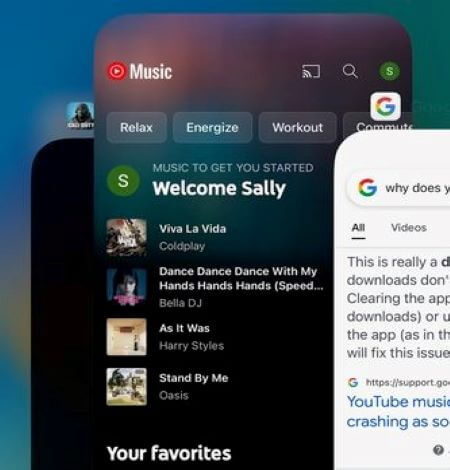 ---
3

Update the App
If your YouTube Music app keeps stopping, you should go check if there is new version to be updated. This can happen when you haven't make a regular update of the app for a long time while the outdated version can't keep up with your iPhone system, thus causing you unable to use it.
Please go to the App Store and check for the latest update, if there is one available, make it before turning on the app again.
---
4

Repair iOS System with Fixppo
Once you try the above 3 methods but the YouTube Music keeps crashing problem still exists, consider troubleshooting and repairing your iOS system with a professional helper - iMyFone Fixppo. If there are bugs with your system, then common solutions might not be able to resolve the problem smoothly but seeking help from a third-party tool should work.
Within 4 simple steps, this annoying problem won't boggle your mind anymore and iOS-related glitches that cause you the trouble will be removed instantly.
Step 1: Download and install Fixppo to your computer, then choose Standard Mode.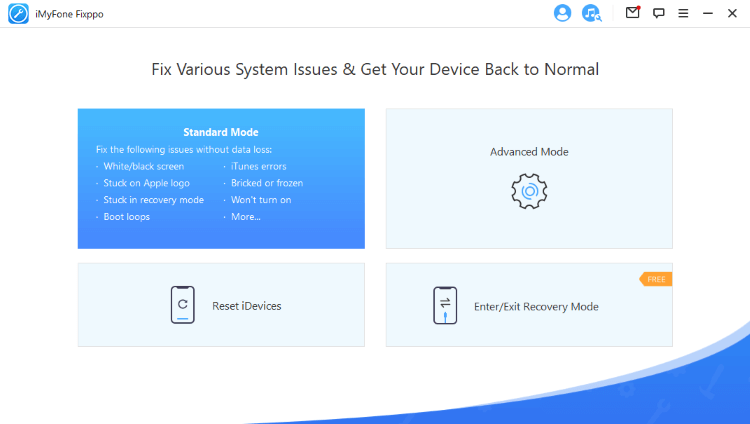 Step 2: Connect your device to computer. You're able to head to the next step once your device gets detected. If not, please put your iPhone into Recovery Mode first.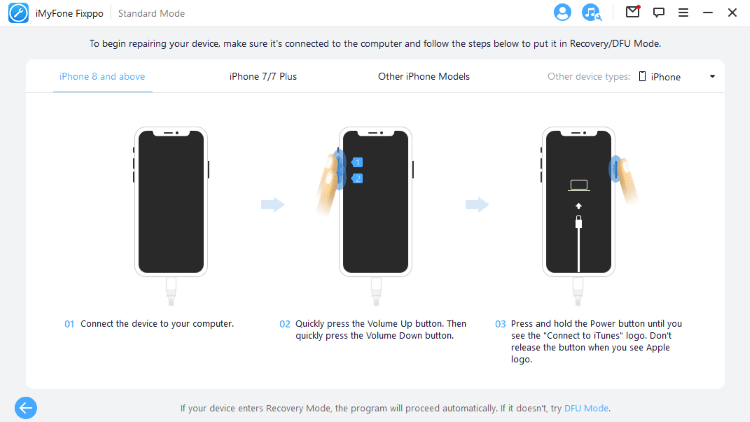 Step 3: Now, your device information will show up on the screen, click on Download to download the firmware package.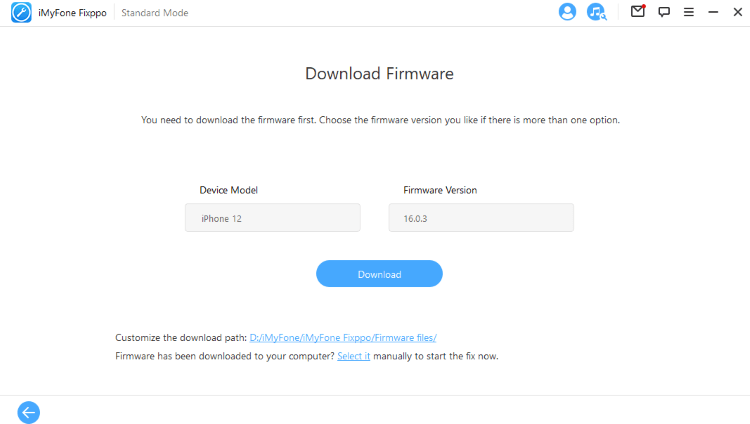 Step 4: When the firmware is downloaded, click Start to begin the fixing process, please wait patiently. After that, your iPhone will be restarted successfully. You may now go to see if problems of your YouTube Music are fixed smoothly.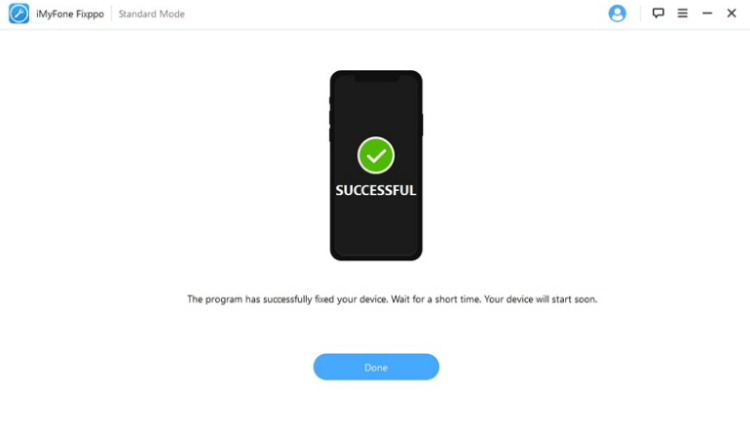 ---
5

Free Up iPhone Storage
If you prefer to download songs in high quality and there are already many downloaded one, please make sure that your iPhone has enough storage space for that. Also, you can delete other no longer use apps or data that stored on your iPhone to make room for the loved songs. Both ways can free up iPhone storage since running on low storage is always the neglected cause of your YouTube Music keeps crashing.
Go to Settings, tap General, tap iPhone Storage.
You can either enable the button to offload unused apps or remove the one you don't want manually.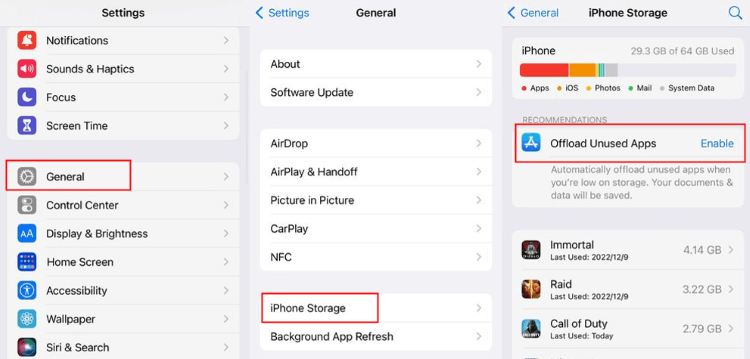 ---
6

Force Reboot iPhone
If you've run into other iPhone issues such as iPhone stuck in guided access, iPhone keeps turning on and off, you should know how powerful it is to force reboot your iPhone. Force restarting any device can fix many tricky problems that you can't image.
It's not complicated at all since all you have to do is to press certain buttons. Then your iPhone will close all running programs, clear the cache and refresh the system. In case you've not perform this solution before, please check the following steps to fix YouTube Music crashing problem.
Press the Volume Up button then release it.
Press the Volume Down button then release it.
Long press the Side button and release it when you see the Apple logo on the screen.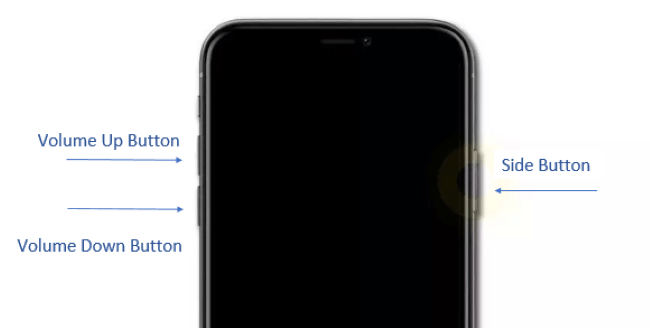 ---
7

Check for iOS System Upgrade
If you've tried the third solution to update the YouTube Music without getting a satisfying result, go check for the latest iOS system, which provides bug fixes while ensuring you the improved overall experience. It's not enough if you just update the application while the system of your iPhone staying put, which means an outdated iOS system can't run updated YouTube Music app.
Go to Settings, tap General, check for the latest iOS version under Software Update. If there is one, click on Download and Install.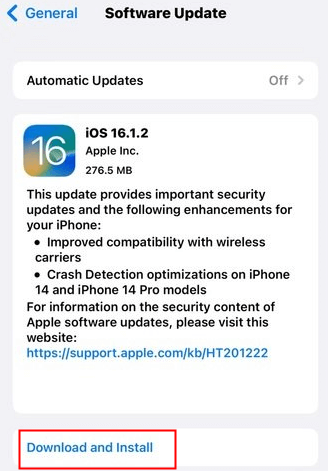 ---
8

Clear the Download/History
If you've subscribed to the premium, then you should be able to download any songs you like and play them offline. However, if your YouTube Music keeps crashing for a long period, you should clear the memory not only from other apps but the YouTube Music. Check steps below to clear both download and history.
Open the app and tap on the account with pictures on it, then turn on Settings.
Click Downloads & storage, hit Clear downloads and choose Okay to finish the process.
How to clear downloaded files?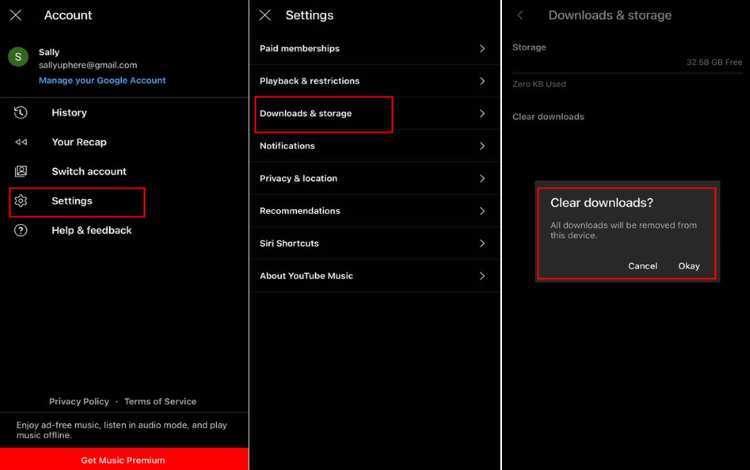 How to clear watch and search history of YouTube Music?
#Way 1 (Manually delete the history):
Tap on your account, head to History, tap the three dots and tap Remove from history at the bottom.
#Way 2 (Pause the app from saving the history):
Tap on your account, head to Settings, find Privacy & location, tap Manage account privacy, then click Manage all activity under History and privacy.
Choose the Saving your YouTube history option and click Turn off button.
Then confirm to Pause when the notification pops up, and that's it.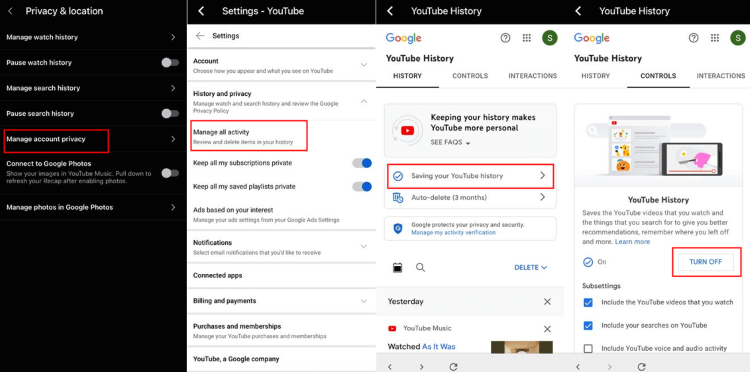 #Way 3 (Choose to auto-delete the history):
Likewise, tap on your account, go to Settings, click on Privacy & location, tap Manage account privacy, then click Manage all activity under History and privacy.
Choose the Auto-delete option, enter it and opt to auto-delete activity older than the time you like. Move to Next and click Confirm to finish.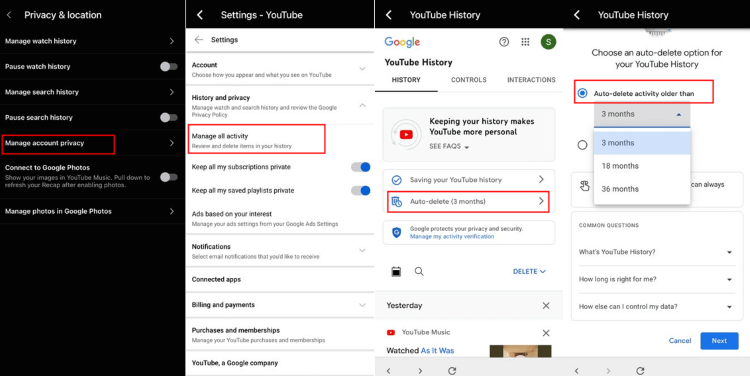 ---
9

Delete & Reinstall YouTube Music
If your YouTube Music app keeps crashing, delete it then reinstall can also serve to be one solution. This is quite simple without losing data since all your files are related to your Google account and you can still log in with the same account by tapping directly from the interface the moment you download it back and launch it.
Directly go to the Home Screen, press the icon then choose Remove App.
Then choose Delete App and tap to Delete.
After that, download and install it from the App Store, log in and see if your YouTube Music app crashing issue is solved.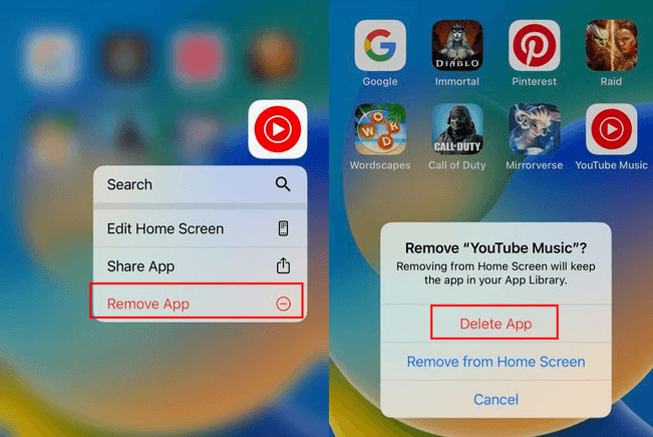 ---
10

Reset All Settings
The last solution for you here is to reset all settings of your iPhone. If the YouTube Music keeps crashing and no other methods help, this fix works as well. All data will be kept while your preference settings will be erased to default.
Go to Settings, then General, scroll down to find Transfer or Reset iPhone, tap Reset, finally click on Reset All Settings to begin the process.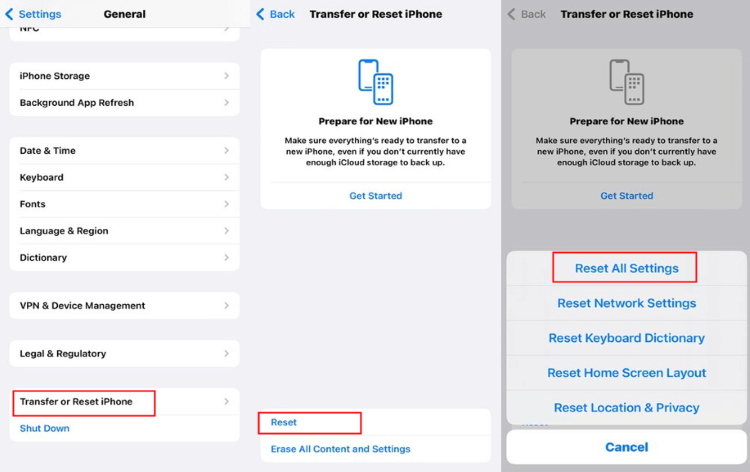 Conclusion
That's all about 10 solutions to YouTube Music crashing after update, hope your problem can be fixed and enjoy yourself as soon as possible. If unluckily, the iOS system is the one that causes you the trouble, don't hesitate to ask iMyFone Fixppo for help, you will be amazed at its professionalism in fixing iOS problems.