For iPhone users who are a little busy and unavailable to answer phones at certain situations, setting up a voicemail is a great idea.
With voicemail configured on your device, you'll never miss those crucial calls ever again. This feature is quite useful especially for a number you don't have.
Situations You May Need Forward Voicemail on iPhone
Today, there are lots of reasons why people would forward voicemail on their iPhone. The iPhone users may want to save someone's last words, share a voicemail with a friend or someone else, or even keep records for business purposes.
How to Forward a Voicemail to Email
Forwarding voicemail to your email on your iPhone is a straightforward task you can achieve within a couple of minutes. For those who haven't done this before but want to give it a try, the following steps will prove worthwhile.
Step 1: Start by opening your phone app; the app is usually located at the bottom of the screen when your phone is unlocked.
Step 2: Navigate to voicemail.
Step 3: Select the voicemail you'll like to send.
Step 4: Select email and type in the recipient's email.
Step 5: Send when the email is ready. Make sure you have a stable internet connection before you hit the send button.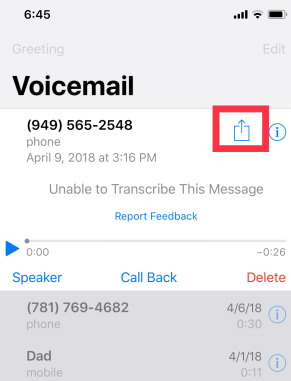 How to Automatically Forward iPhone Voicemail to Email
Don't have time to do this manually? Well, we are glad to let you know that you can automatically set up your voicemail to forward to email.
Although it is a little complicated, there are lots of apps out there that can get this task done with a few taps. While some of the apps offer users free services with paid options, others require users to pay before they can enjoy their services.
For iPhone users, who want to forward all voicemail received, you'll need to go beyond using the basic voicemail services offered by Apple. To this end, you may want to consider apps like Google voice, YouMail or Hullomail.
These apps provide users with lots of exciting services besides just forwarding your voicemail to the app or email. These apps can transcribe voicemail, send SMS, reply voicemail and do lots of incredible stuff. All the apps we have mentioned have their unique features, so all you need to do is to decide which one may work for you.
Recover Lost iPhone Data in Your Daily Life 
Losing your iPhone data can be such a hard nut to crack, and you wouldn't like that would you? There are now lots of amazing software out there that allow users to recover lost data with just a few clicks. So, depending on what works for you, you'll definitely find a software that can help you.
For iPhone users who do not mind losing data but simply want to restore the iPhone to work normally again after noticing a glitch, you can choose to restore your iPhone using iTunes and iCloud backups fully. This process is super effective and will fully restore your phone in minutes, but you will end up losing your phone data. So you should have this in mind before making any decision regarding using the restore method.  

For iPhone users who want to recover their iPhone data without restoring backups, we have found an amazing software that allows you to make it with simple steps. With this method, you can be able to recover more than 18 data types of your lost data.
Uniquely designed to help iPhone users recover lost data, the all amazing iMyFone D-Back software has proven to work impeccably when it comes to data recovery. It already has been trusted by many users and professional websites.

Here, check out the steps you need to follow:
Step 1.Start by connecting your iPhone to your computer after launching the recovery software. As soon as the program successfully detects your device, proceed by clicking Next.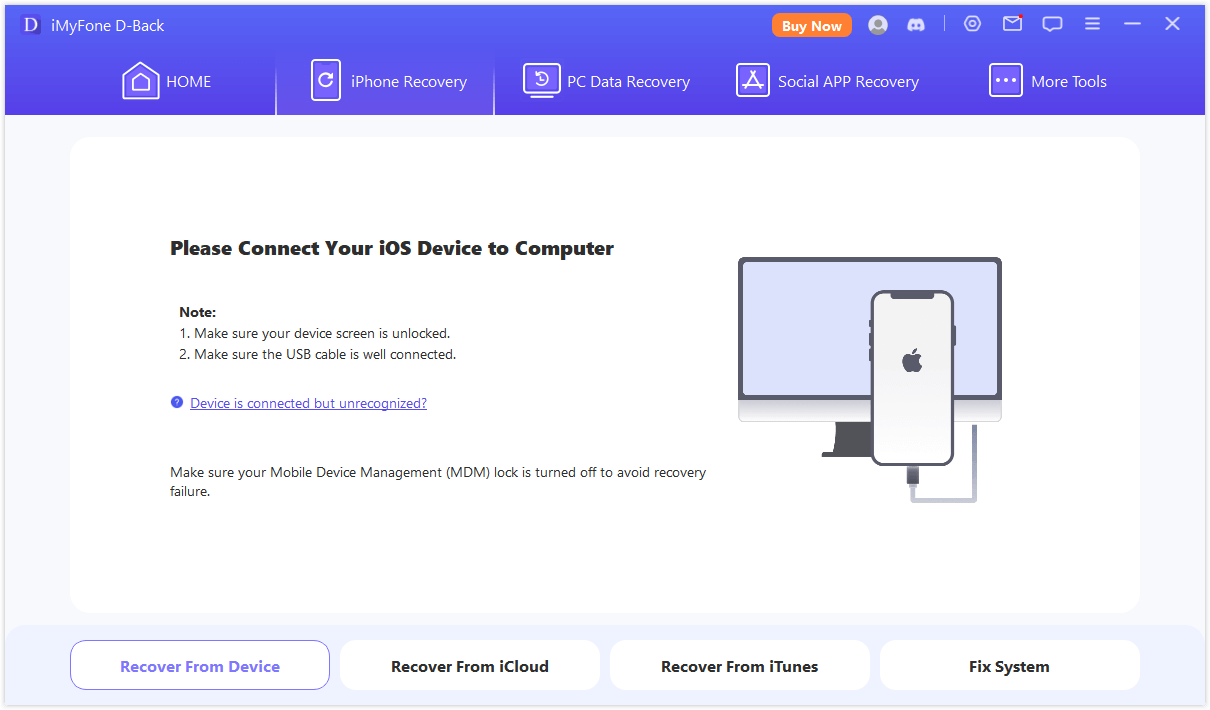 Step 2.Now, select the types of files you'll like to recover, if you would like to recover everything, simply select all. Click scan and allow the program to search for deleted data on your device.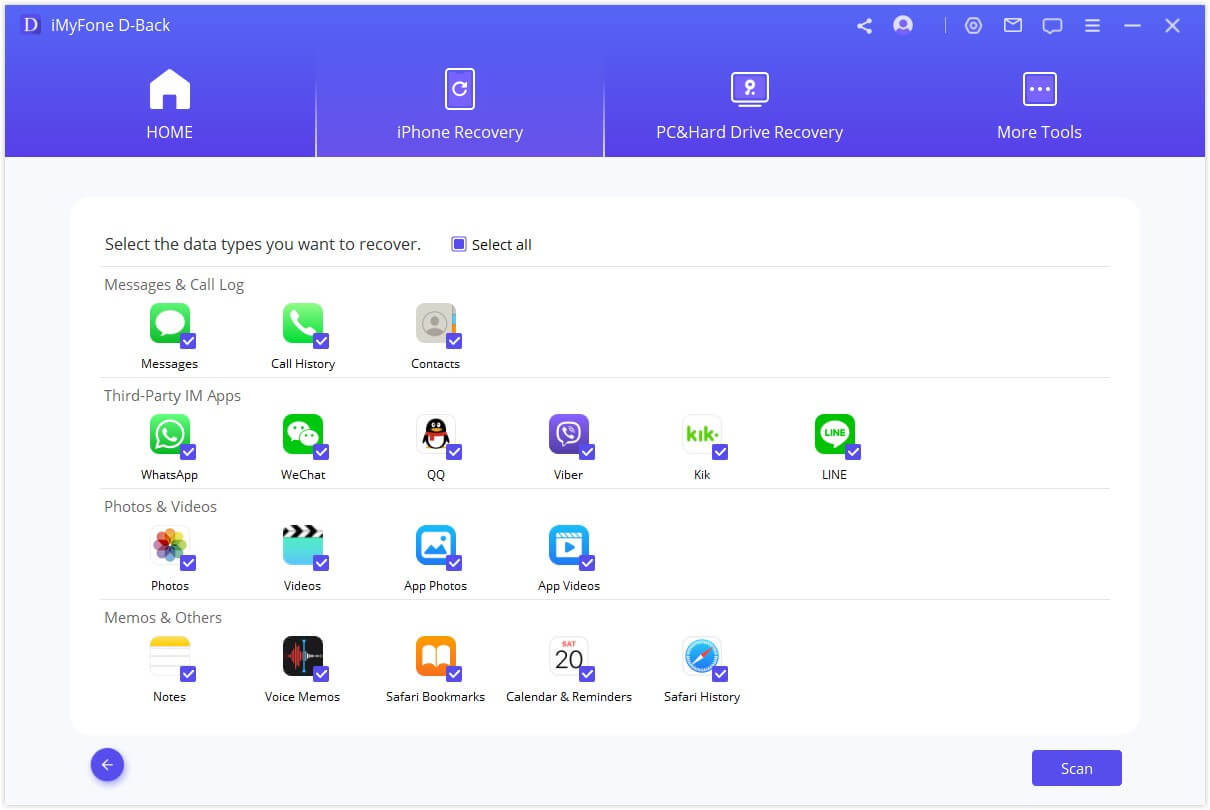 Step 3.After the scan is completed, all recoverable data will be organized. All you have to do is to preview them. Now, select the files you need and click "Recover" at the bottom right corner.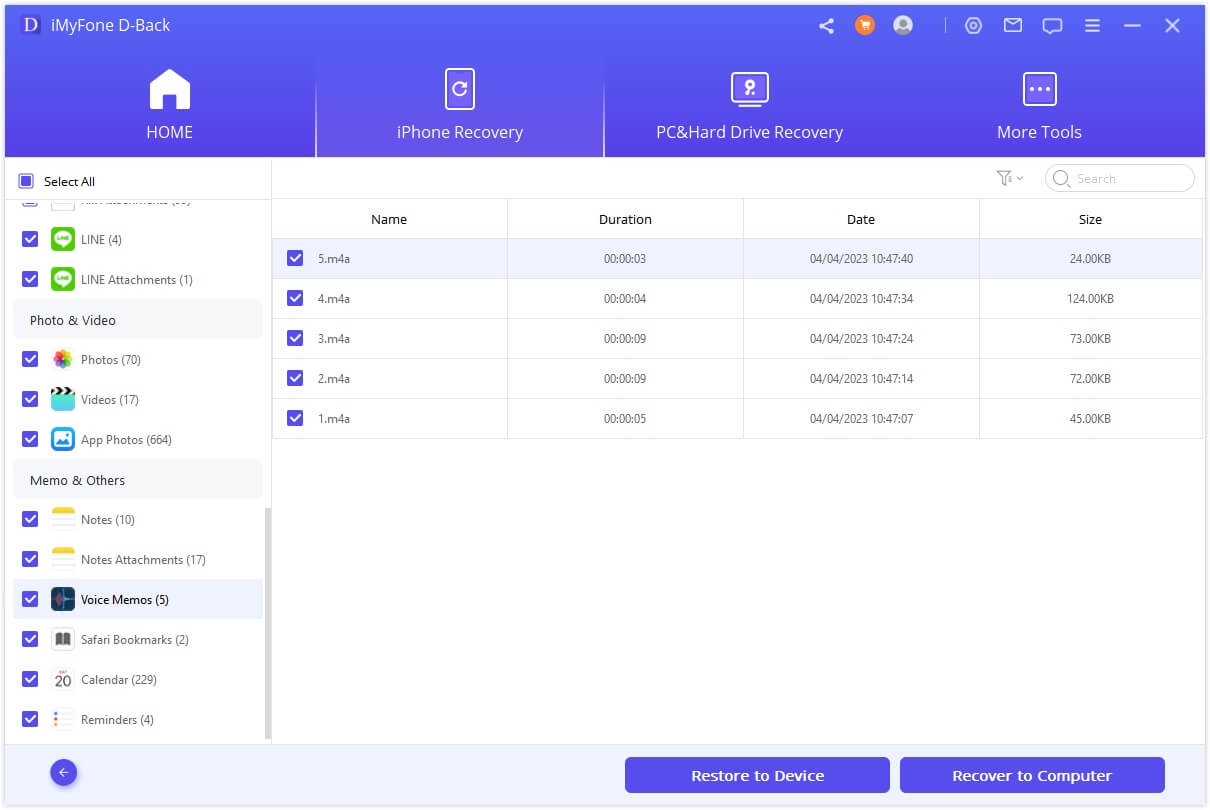 Note: D-Back now does not support voicemail recovery. But this feature will be included in future updates, so just be patient to wait.
Conclusion
Regardless of your reasons why you want to forward iPhone voicemail, be rest assured that the methods listed in this post will provide all the information you need to accomplish this task all by yourself. Notwithstanding, you can follow the one which is best for your situation.