Graphics Interchange Format (GIF) images are animated images that have long been used online to indicate and convey emotion. They are particularly useful on social media with most platforms like Twitter and Facebook supporting GIFs. WhatsApp has already joined the bandwagon of social media apps that let users use GIFs on iPhone.
In this article, we take a look at how to create and send GIFs in WhatsApp on iPhone.
1. How to Send Existing GIFs in WhatsApp on iPhone
With the latest version of WhatsApp installed on your iPhone, follow these simple steps to search for and send an existing GIF.
Open WhatsApp on your iPhone and then open the conversation you want to include a GIF on.
Tap on the "+" icon and then select "Photo & Video Library" from the menu that appears.
Tap on "GIF" at the bottom of the screen and you will see a number of GIFs on the screen. Find the one you want and then tap on the send icon to make it.
2. How to Send Live Photos as GIF in WhatsApp on iPhone
Those with the iPhone 6 or later can also send their Live Photos as GIFs. You need to first of all convert the Live Photo to GIF before sending it. Follow these simple steps to do it:
Open WhatsApp and then open a conversation. Tap on the "+" icon and select "Photo & Video Library".
Locate the Live Photo you need to send and then press on it. When it pops out, slide upwards and then tap "Select as GIF".
Now simply tap on the send icon to send the message.
3. How to Send Short Videso as GIF in WhatsApp on iPhone
Short videos can also be easily shared via WhatsApp as GIFs. Follow these simple steps to send a short video clip as GIF.
Launch WhatsApp and open the conversation. Click on the "+" icon and then select "Photo & Video Library" to select the video. Tap on the video.
This will bring you to the editing screen. In the top-right you should see a switch that can be used to convert the video to GIF. Click on GIF and you'll be able to send the video as a GIF.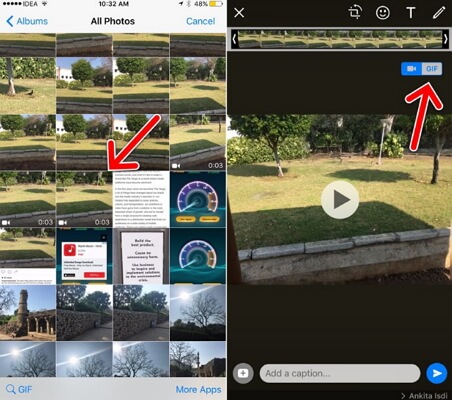 4. How to Add Favorite GIF into Star in WhatsApp on iPhone
If you have GIFs that you'd like to send again and again, you can add them to your Favorites in WhatsApp so they are easier to be found. Here's how you can do that:
Open any conversation in WhatsApp.
Tap and hold on any GIF and then tap on the star icon. For iPhone 6s or later, pick the GIF and swipe up to reveal the menu. Tap on "Star" to add it to favorites.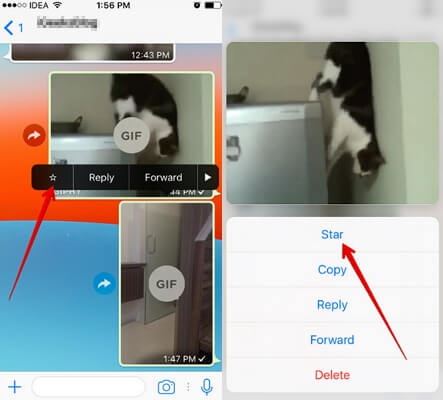 5. How to Make Your Own Animated GIFs on Your iPhone
If you don't want to use the same GIFs for every message, you can make your own on the iPhone. Follow the following simple steps:
To create animated GIFs you need third-party apps. One of the best is GIPHY CAM. Install it on the iPhone and then launch it.
To upload the photos you want to use, tap on the Camera Roll icon. You can also record a small video to use.
Tap on the white arrow icon.
You can add and edit any filters and then tap "Next".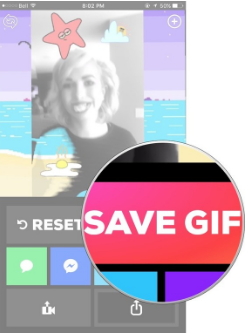 Save the GIF and you can now use the above ways to send it to your friends via WhatsApp.
Tip: What if Want to Manage WhatsApp Data from iPhone?
Managing the data on your WhatsApp account is very important particularly when it comes to keeping your data safe. There are lots of ways you can keep from losing the data on your WhatsApp account. One of them is to back up, so you can export or back up the data to your computer.
One of the great tools that can finish it is iMyFone ChatsBack. This restore tool comes with a lot of features that will make it easy for you to manage the data on your WhatsApp account. These features include the following:
It can recover lost/deleted WhatsApp messages and attachments directly from iOS/Android device, Google Drive backup or iTunes backup.
Preview recoverable WhatsApp data before performing the final recovery.
Get deleted WhatsApp & WhatsApp Business data to iPhone/Android device.
Recover WhatsApp data to PC as HTML/PDF/Excel/CSV files.
To use the program, install it on your computer and follow these simple steps according to what you want to do.
The above tutorial should help you take full advantage of GIFs in your WhatsApp messages. ChatsBack provides a simple way you can manage all WhatsApp data including the GIFs. Do not hesitate to try these useful methods. Feel free to leave comments below if you have other great ideas.