You are here because you want to know about different ways for backing up WhatsApp chats to mac. This comprehensive guide explains the best 4 ways to backup WhatsApp chats to mac. If you have any data backup issue, you will be capable to resolve your issue after reading this article!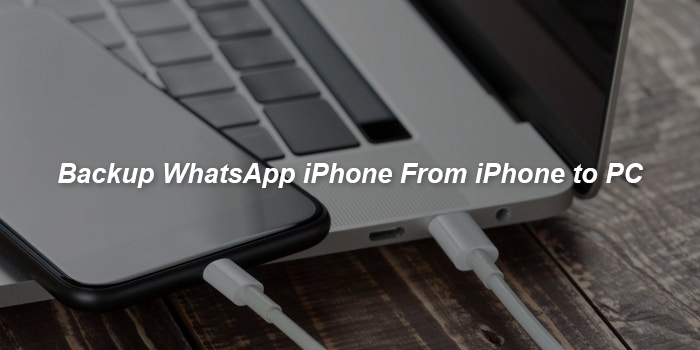 Let's cut a long story short and discuss why it's important to backup WhatsApp chats to mac from iPhone.
WhatsApp is the most prominent tool for communication. It has almost 1.5 billion users worldwide. There are several reasons behind its popularity. People use it to share different files and all types of media. Moreover, it is a great way of communication.
Different organizations even use it for their professional purposes. They share the most important files even with confidential data. So what if you delete any important file mistakenly? To make sure the safety of your WhatsApp data, you need to perform WhatsApp backup regularly.
Different ways to Backup WhatsApp Chats to mac from iPhone
There are a lot of methods to backup WhatsApp. However, this article covers the 4 most efficient methods to perform WhatsApp backup. Let's discuss them all one by one:
Method 1. Backup WhatsApp from iPhone to mac via iMyTrans
Before we move ahead, it is important to know that iTransor Lite and iMyTrans are two separate apps. If you want simple functionalities, iTransor Lite is the finest option. However, if you want a more robust tool for backup WhatsApp from iPhone to mac, iMyTrans is for you!
iMyTrans is a WhatsApp data manager. It not only provides WhatsApp backup service, but alsooffers direct restore function for users to restore the iPhone backup back to the iPhone or other iOS/Android device later.
Before we dive into the exclusive functionalities of iMyFone iMyTrans, Let's understand its working flow. Follow the below steps to backup WhatsApp:
Step 1

Run iMyTrans on your mac. Connect your iPhone to your computer. Allow data transferring permission. After connecting the iOS device successfully, press the Back-Up button. It will initiate a data backup process. For iPhone users, you no need to perform any further operation.

Step 2

The app will perform the rest of the thing for you automatically. All you need to do is WAIT! The backup process will take a while. The backup time depends on the data size.

Step 3

After a few moments, you will see "WhatsApp Backup Successfully".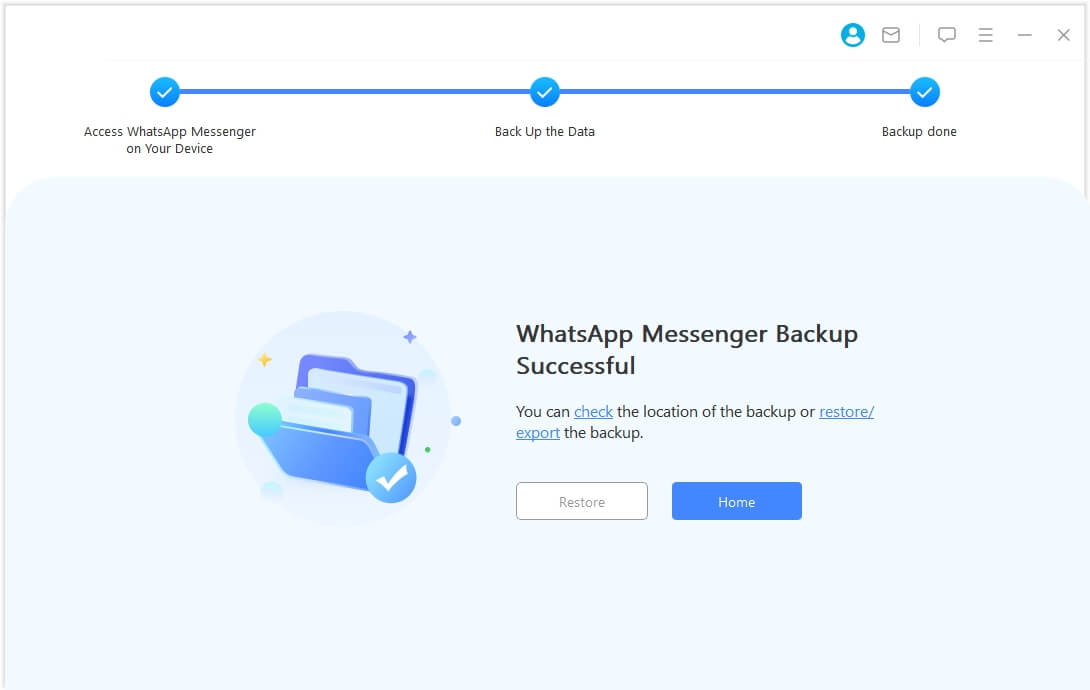 iMyTrans is the most powerful app to maintain your all WhatsApp backup. Here are a few distinctive benefits in the current article's perspective:
You can backup all types of data in a few clicks such as media, files, and conversations.
Unlike official solutions, iMyTrans will not overwrite the previous backup, but keep them seperately on your computer.
You can later restore the iPhone WhatsApp backup to another iPhone or even an Android device.
This app is available for Android 2.0 to 12, iOS 9.0 and later.
You can transfer WhatsApp between Android and iPhone. No matter you are transferring from iPhone to Android, Android to iPhone, Android to Android or iPhone to iPhone.
Method 2. Email your WhatsApp Chats for Backup
It is the simplest method to create backup WhatsApp iPhone to mac. So this method allows you to back a certain amount of data. It is a native feature of WhatsApp. So WhatsApp offers you to email your individual chat or group conversations.
Furthermore, it is a free solution. However, there is a complexion using this method. It is because email allows you to attach limited media files. So if you have a less amount of data, it can be a fair WhatsApp backup solution. So if your data is less than the email-restricted size, follow the steps below:
Step 1

Open WhatsApp messenger on your iPhone. Navigate and select a conversation that you want to save. Tap on the contact name on the top of the screen.

Step 2

Select the "More" option and tap on "Email Chat". An appeared-pane will ask you to attach media files or not for backup. Choose the desired option.

Step 3

Now specify your email address, and send the email. You will receive your data as a backup in the text file.

Step 4

Login into your email account and send your WhatsApp backup.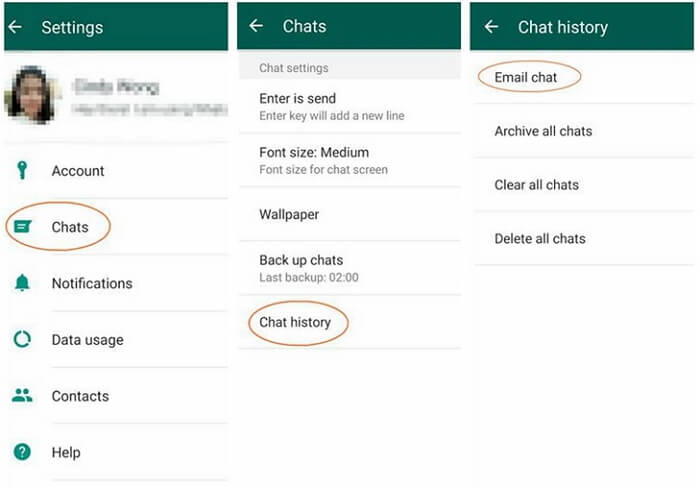 Method 3. Backup WhatsApp from iPhone to Computer via iTunes
If you are an iPhone user, you most probably will be familiar with iTunes. It is a handy tool to backup iPhone data. iTunes is a free tool developed by Apple. You can use this tool to backup WhatsApp from iPhone to your mac. Although it is a bit complex to use, yet people find it useful because it is free!
Moreover, this tool doesn't contain a specific feature to backup WhatsApp. It is a generic application developed to create backup iPhone devices. However, you can still use it to back WhatsApp iPhone to mac.
There are two ways to backup WhatsApp via iTunes. Let's discuss both one by one:
2.1 Backup WhatsApp from iPhone to mac via iTunes Using A Cable
This is the fast and easy way to backup your WhatsApp data via iTunes. All you need is to connect your iPhone with mac via USB/ lightning cable. Follow the steps below:
Step 1

Run an updated version of iTunes on your mac. Connect your iPhone to your mac. Wait for a while so let the iTunes detect your phone. Go to the Devices tab and pick the iPhone you have recently connected for backup.

Step 2

In the left panel, click on the Summary tab. You will find two options to place your backup data. These options include iCloud and this computer. Furthermore, you will find an option to manually backup your data.

Step 3

Select the "This computer" option and press the "Backup now" button. This will initiate a process for Backup WhatsApp iPhone to mac.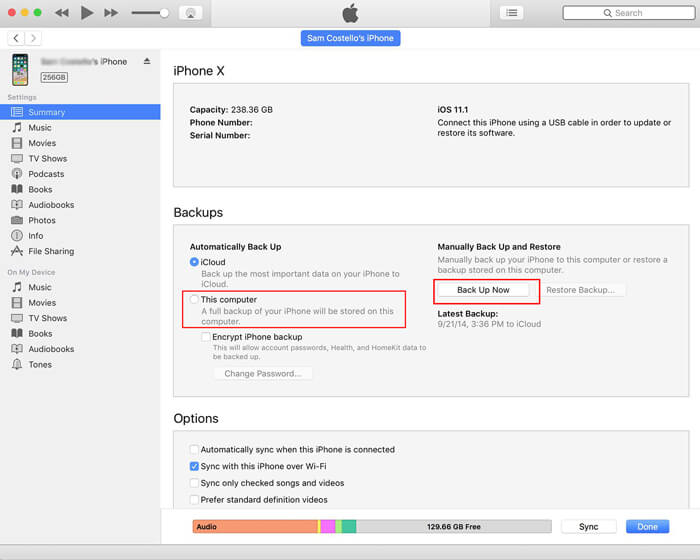 2.2 Backup WhatsApp from iPhone to mac via iTunes Wirelessly
It is another way to backup your WhatsApp via iTunes. In this way, you only need a data cable once to connect your iPhone with mac. Afterward, if you don't have a data cable to connect iPhone with mac, you can use this method. However, it needs you to install the latest version of iTunes. Follow these steps to initiate a backup process:
Step 1

Run the updated version of iTunes on your mac. Connect your iPhone to your mac and go to the Summary tab. You will find an option named "Sync with this iPhone over Wi-Fi". Save recent changes.




Step 2

You can disconnect your cellphone. Now you can sync your iPhone with iTunes without any data cable. Go to the Settings option. Select General. Click on the iTunes Wi-Fi Syncoption. Press Sync Now. This will start the WhatsApp backup process.






Method 4. Backup WhatsApp from iPhone to mac via iTransor Lite
It is the most effective way to backup WhatsApp. This is a multifunctional app that exports iOS data effectively. The iTransor app is capable to backup data from iPhone to mac. Moreover, it is very useful to transfer iTunes and iCloud backup onto your mac.
iMyFone iTransor Lite app facilitates you to backup WhatsApp manually. You can select exactly what you need for back-ups like contacts, conversations, and other WhatsApp data. For backup your data, follow the step below:
Step 1

First and foremost, you need to download the iMyFone iTransor Lite app. This application is available at an affordable price. However, this app offers some of its functionalities free of cost.

Step 2

Install this app on your mac and launch it. Connect your iPhone to the computer for creating a backup. You will find Acquire Backup from Device & iCloud option in the left panel. Click on that option and chose the Backup Device option. This application will automatically detect an iPhone device. You will see two options: Make a full Backup and Select One or More Data Types. Select the option according to your needs.

Step 3

Click the Back Up button to initiate the backup process. During backing up, don't disconnect your cellphone.




Step 4

When you select the full backup option, the process will take a while to complete. It depends on your data size. After selecting one or more data types, the app asks you to select specific path for backup.