The combination of emails and iPhone has made communication exceptionally simple, convenient and fast. In fact, as of today, most of the professional and business-related conversations take place through emails. With that said, what will happen if you are not receiving emails on iPhone?
If you are not getting emails on iPhone like it used to be, you can consider this article as a source of remedies to overcome it.
Part 1: Common Ways to Fix iPhone Not Receiving Emails
If you are not receiving emails in iPhone, there are some common ways for you to consider. Before we move into professional solutions, let's see if you can fix this issue using these basic methods.
Option 1: Restart iPhone
If the above option didn't work for you, just perform a restart on your iPhone.
Step 1. Press the Side Button with any of the volume buttons and hold them to see the slider. 
Step 2. Swipe the slider and turn the device off.
Step 3. Press the Side Button and hold it to see the Apple logo.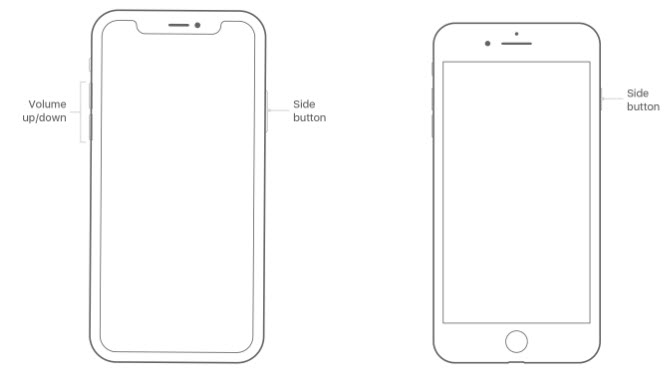 Option 2: Remove and Add Email Account Again
Try removing the faulty email account and add it again to see if you receive emails once again.
Step 1. Go to "Settings" app and select "Passwords & Accounts".
Step 2. Under "Accounts" tap on the troublesome email account.
Step 3. Select the option "Delete Account". 
Step 4. Tap on "Delete from My iPhone" and confirm it.
Step 5. Go to Settings, Passwords & Accounts. Select on "Add Account". 
Step 6. Select your account type (Gmail, iCloud, Yahoo etc). Add you email ID and tap on "Save".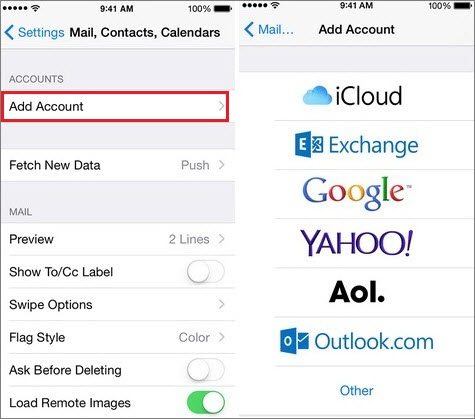 Option 3: Check WiFi Connection
If none of the above options doesn't work for you, it is better to check your Wi-Fi connection.
To do this, you can simply open a web browser on the same device and visit a web page. If you can visit the URL, the connection is fine. If it does not work, you need change to another one.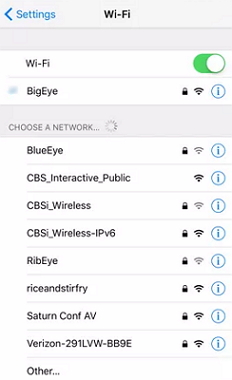 Option 4: Update iOS Version to the Latest
If you have an older iOS version, that may affect the smooth operation of your iPhone.
Step 1. Connect the device into a power socket and make sure that it is connected to Wi-Fi.
Step 2. Go to Settings app and select General.
Step 3. Select Software Update. 
Step 4. Tap on Download and Install. Make sure that your device is connected to Wi-Fi until the process is completed.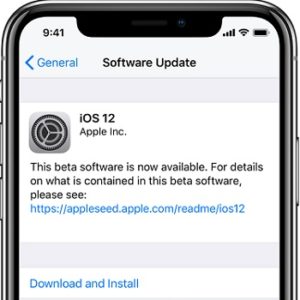 Option 5: Reset Network Settings
You may be not receiving messages if there is something wrong with your network settings. To overcome it, you can reset the network settings.
Step 1. Go to "Settings" and select "General".
Step 2. Select "Reset".
Step 3. Select the option "Reset Network Settings". 
Step 4. Tap on "Reset Network Settings" to confirm it.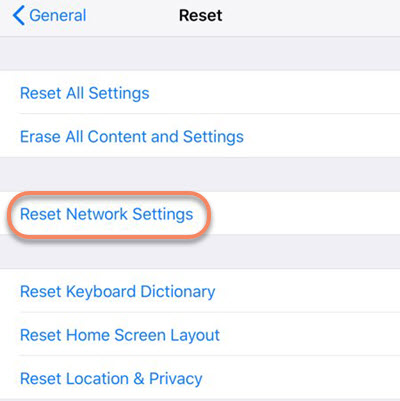 Option 6: Turn on Cellular Data
You can switch on cellular data on your iPhone and see if you can receive emails.
Step 1. Go to "Settings".
Step 2. Select "Cellular" option. 
Step 3. Tap on the related switch and turn it on.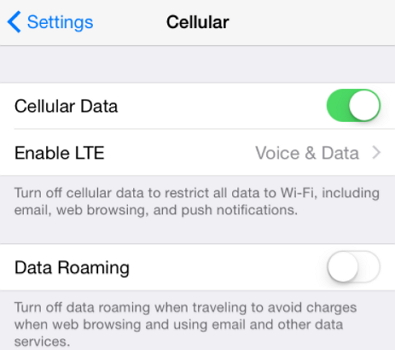 If the problem is a minor one, the above methods might solve it. Otherwise, you will have to try an advanced, professional way to address this issue.
Part 2: Advanced Way to Fix Not Receiving Emails on iPhone
In this part of the article, we explain an advanced method to resolve the issues related to your email. In this case, we will be using a specialized tool called iMyFone D-Back.
iMyFone D-Back is a sophisticated software tool that comes with a range of options. This advanced tool can help you resolve variety of iOS-related issues and let you use your iPhone smoothly without leaving any frustration for you. It lets you use different modes to fix issues of iOS devices. In addition, it is trusted by many professional websites.

Step 1.Connect the device to a computer on which you have installed D-Back. Select Standard Mode which will not affect your device data.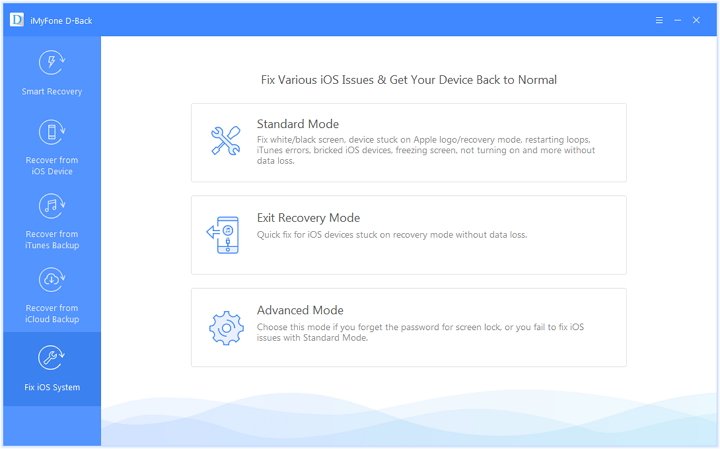 Step 2.Enter DFU/Recovery Mode. When the device is in DFU/Recovery mode, D-Back can recognize the device. In this case, you will be able to download the appropriate firmware on the device. All you have to do is to press the button "Download".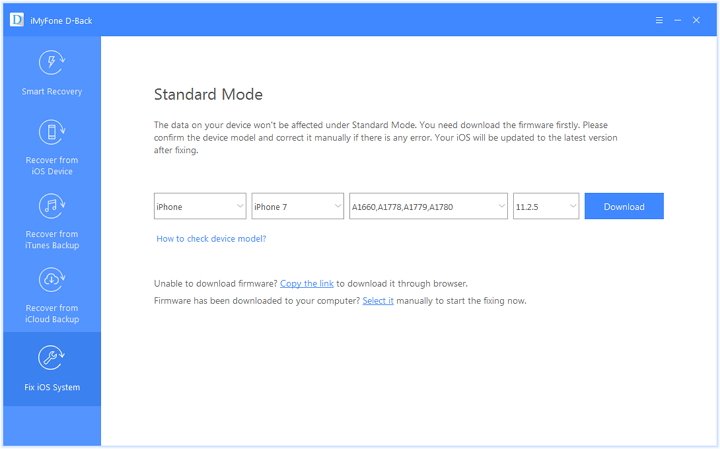 Step 3.At the completion of the downloading of firmware, you can click on "Start to Fix" option.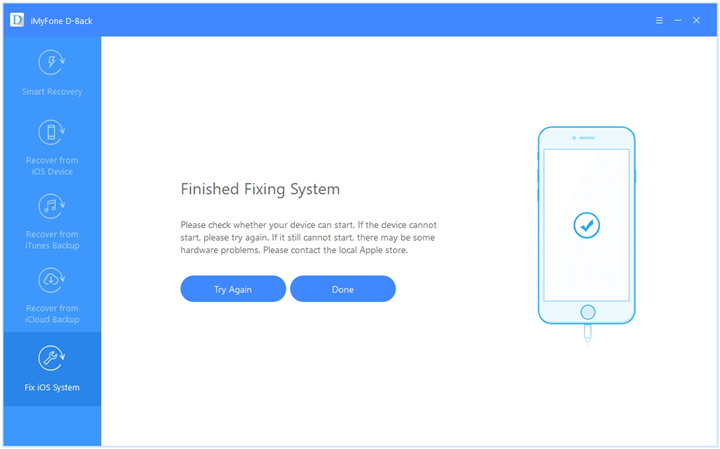 Tips on iPhone Recovery after Fixing Not Receiving Emails
Suppose that you have fix the email-related issue, here are some tips you should consider.
Make sure you create backups of all the important emails. 
Keep your device updated with the latest iOS.
Always use a trusted network to browse emails.
If you use a data recovery software, be sure to use a reliable and professional one. 
If you lose important file stored in your iPhone after the fixing, you can use iMyFone D-Back to have a try with the free trial version.
Step 1.Launch iMyFone D-Back and click on "Start" menu under "Recover from iOS Device". Connect the device to the same computer and click on "Next".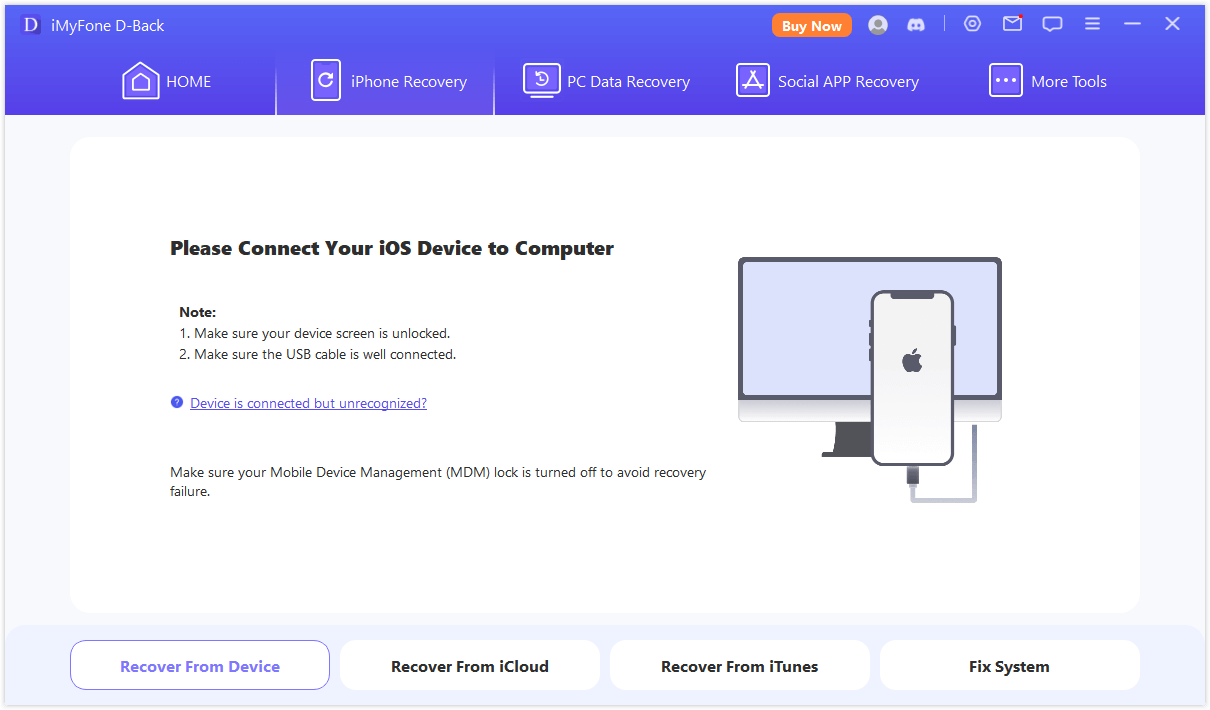 Step 2.Define the file type you need to recover and click on "Scan".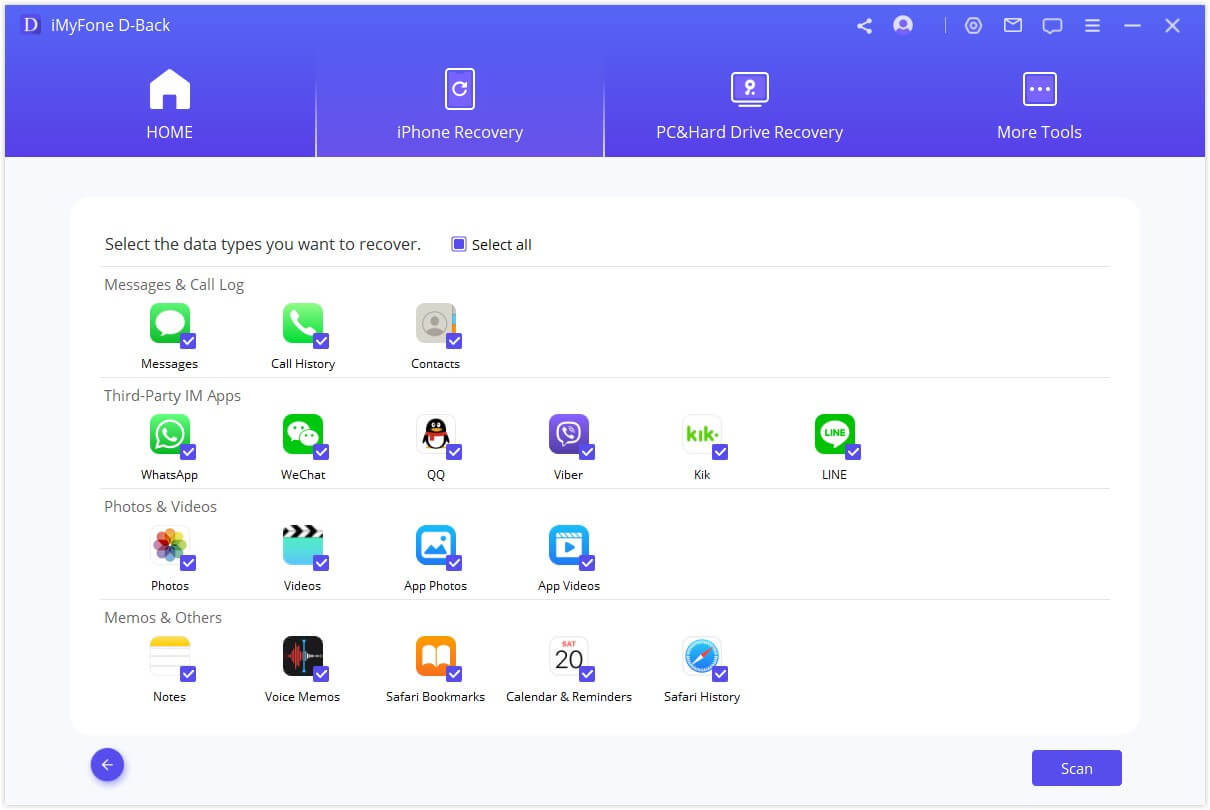 Step 3.When the scanning is completed, you can click on each tab or click on "Show only the deleted files" depending on your requirement. Select the file you need to recover and then click on "Recover" option. Specify on which folder you will save the recovered files and wait.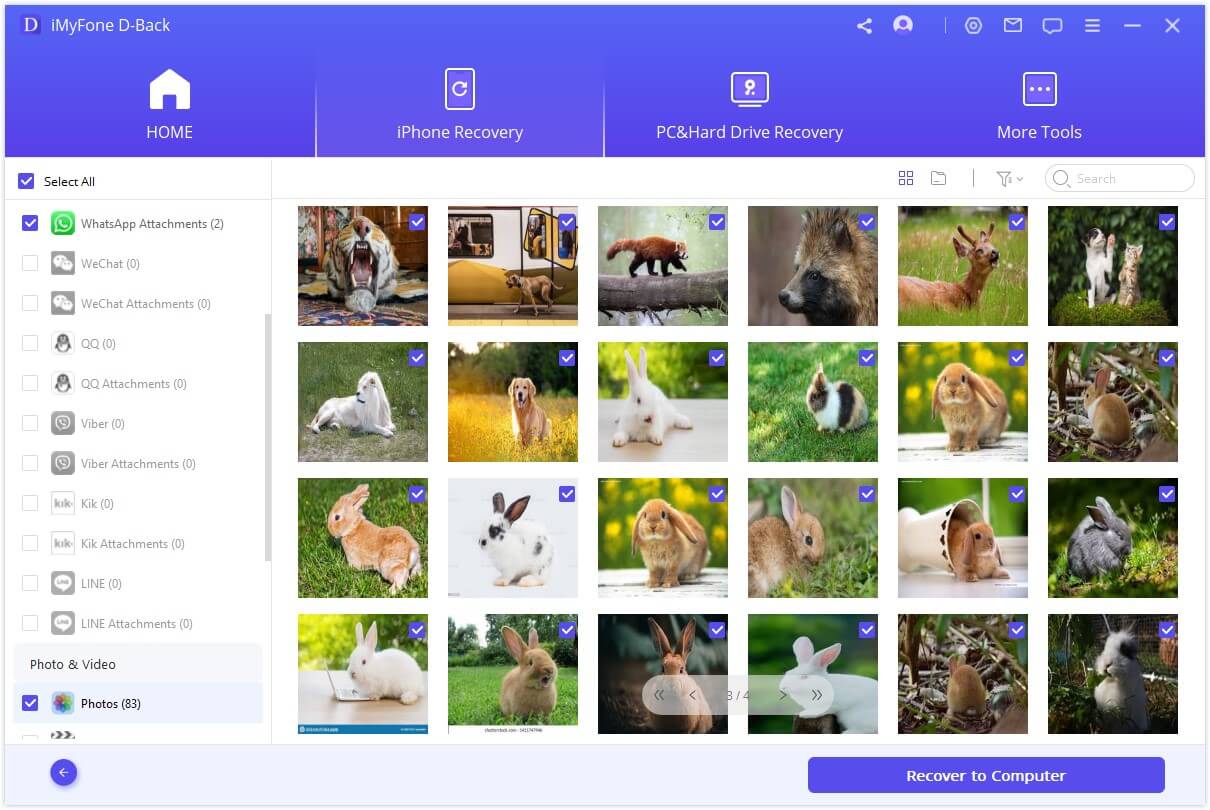 Many users have sent their feedback to us and here is one of them: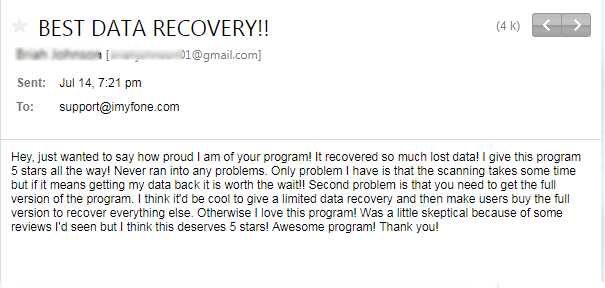 Conclusion
You can go through the methods mentioned in this article and decide which one addresses your situation perfectly. Although all the methods we have mentioned are effective, the advanced method (using iMyFone D-Back) shows exceptional success in resolving variety of iOS issues. But, again, it is up to you to decide which method would work for you. Please leave us a feedback about what you have experienced with the methods mentioned in this article.