Are you an avid iTunes user? Do you love its features and functionality that makes keeping files, photos, videos, and apps easy and convenient? If you don't know it yet, iTunes also has a backup feature that enables you to make a copy of your files for emergency purposes. However, to access or recover the backup storage of your files, you will need to enter the password you initially set on it.
For any reason you couldn't remember your iTunes password, this article aims to introduce the function of Daossoft iTunes Password Rescuer and provide an excellent alternative.
Introduction to Daossoft iTunes Password Rescuer
The Daossoft iTunes Password Rescuer is a program designed to unlock your iPhone, iPad, or iPod backup in case you couldn't access it or you forgot your password. It enables you to easily restore your device's data, including contacts, notes, calendars, photos, videos, audio files, and apps from your computer to you iOS device.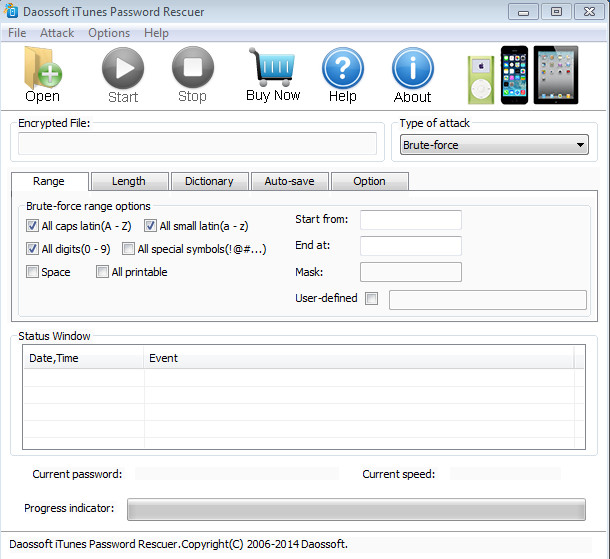 Some of the key features of this program include:
Recover backup password for iPhone 7, 7 plus, 6, 6 plus, 5s, 5c, 5, 4s, and 4.
Support backup password for iPad 4, 3, 2, Mini, Air1, Air2, Retina, as well as the iPod touch.
Compatible with any version of iTunes backup.
Recovering all types of files stored in the backup - no data loss!
High-speed recovery - support multi-core CPU and GPU.
Four powerful attack types: Brute-Force Attack, Brute-force with Mask Attack, Dictionary Attack and Smart Attack.
How to Use Daossoft iTunes Password Rescuer to Recover iTunes Backup Password
To use the Daossoft Password Rescuer to restore the iTunes backup in your iOS device, follow the steps below:
Step 1. Download, install, and open the iTunes Password Rescuer on your computer.
Step 2. Click "Open" on the upper left side of the screen. This will list the backup files on your computer.
Step 3. Select the iTunes backup file you want to recover and click "OK".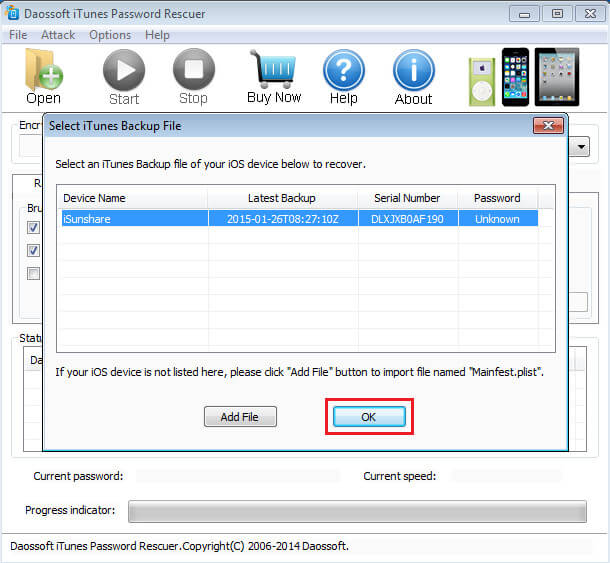 Step 4. On the Range tab, choose the options that apply to password recovery. If you remember some of the characters, use Mask recovery mode.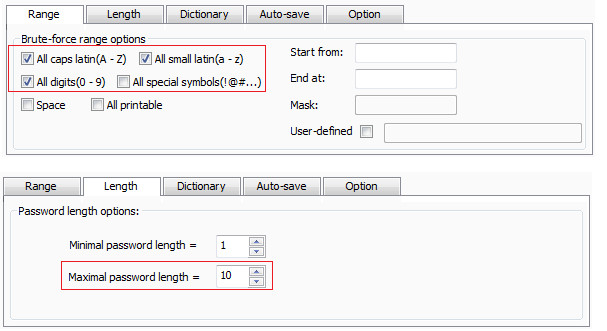 Step 5. Click "Start" so the program will start recovering your password. Wait until your iTunes password gets recovered.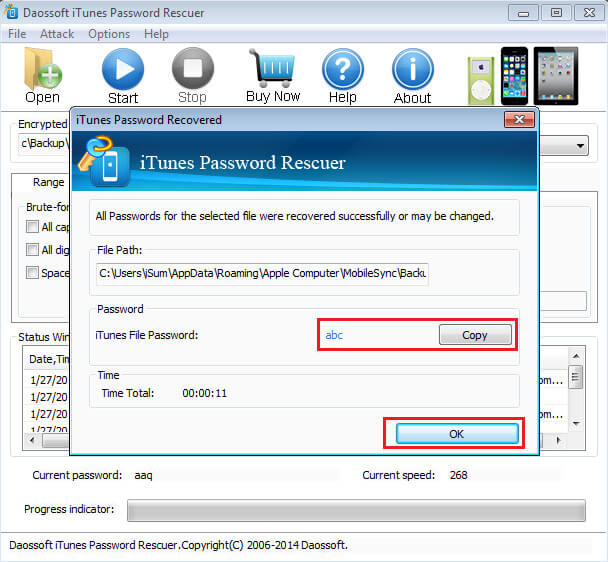 To know more details on recovering iTunes backup password with Daossoft iTunes Password Rescuer software, you can also view a video demonstration released by Daossoft on YouTube.
Daossoft iTunes Password Rescuer is a complex routine and understandably difficult for average person to follow, which might confuse novice users who only want to find back the iTunes backup password. For these people, a piece of easy and effective iTunes backup password recovery software will help them a lot.
Excellent Alternative to Daossoft iTunes Password Rescuer
One great alternative to the iTunes Password Rescuer program discussed above is the iMyFone KeyGenius. It's a powerful tool that decodes and recovers iTunes backup password in different scenarios - whether you have forgotten your password, inputted incorrect one, are being asked of a password that was never set, or others. Designed by iMyFone, the KeyGenius program aims to decrypt your iTunes backup password with advanced algorithms and high-success rate.
Key Features of iMyFone KeyGenius
Easy and convenient to use. Recover your iTunes backup password in less than 10 minutes!
Compatible to all versions of iTunes and iOS devices, including iPhones, iPads, and iPod touch.
Ensure that all your files are protected and you will get zero damage to backup data.
Flexible and enables you to pause and save the progress and recover at any time.
High-success decryption rate, makingit a better alternative to Daossoft iTunes Password Rescuer.
How to Recover iTunes Backup Password with iMyFone KeyGenius
Step 1. Download and install the iMyFone KeyGenius program on your computer. On the home screen, choose "Unlock iTunes Backup".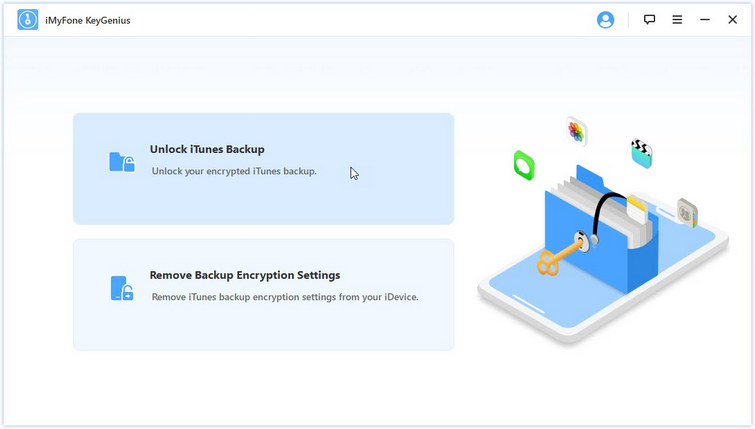 Step 2. All your iOS backup files at iTunes will be listed. Choose the file you want to recover the password to, then click "Next". If a backup file is not shown in the list, click "Select" and manually choose the backup file or folder from your computer.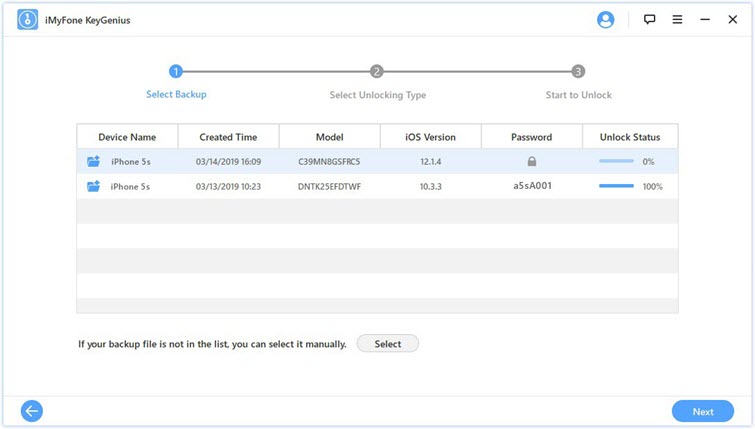 Step 3. From 3 powerful attack methods, choose our preferred unlocking method - Dictionary Attack, Brute Force with Mask Attack, or Brute Force Attack.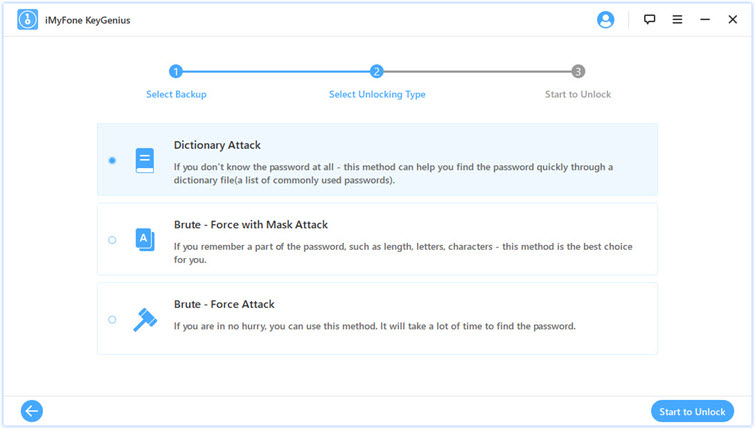 As soon as you have chosen, click "Start to Unlock" to begin the unlocking process. Wait until you password is recovered. Copy and paste it to a text file so you can save for future use.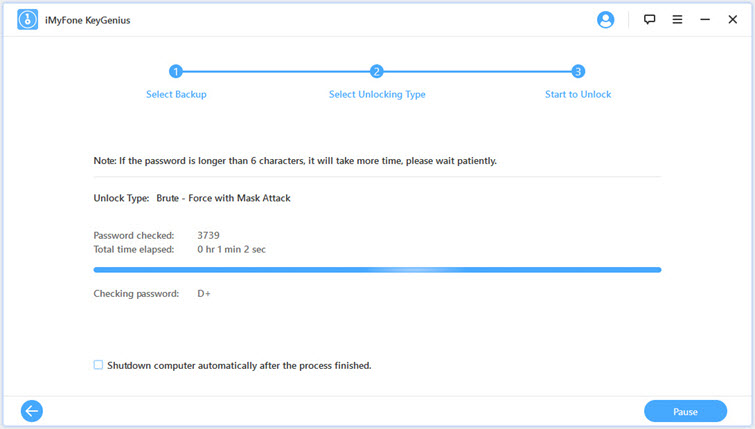 Conclusion
There are several ways to recover and restore your lost and forgotten iTunes backup password. Tools like Daossoft iTunes Password Rescuer can be a good tool to use, but it has limitations and technical requirements. For a better and more convenient alternative, the iMyFone KeyGenius offers features and functionality that even non-technical users can take advantage of. If you are seeking for solutions to decrypt iTunes backup, do not hesitate to free download the free trial of iMyFone KeyGenius and give it a try!