iTunes backup encryption is a useful feature that allows you to protect your backups from unauthorized access. It is easy as all you need to do is check the 'Encrypt iPhone Backup' box. But sometimes this option is greyed out and prevents you from enabling/disabling the feature. Don't worry, read on to find how to fix "Encrypt iPhone backup" greyed out.
Why "Encrypt iPhone backup" Greyed out?
The problem can occur if you have a profile set up on your iPhone that has custom restrictions. Custom restrictions can sometimes conflict with the backup encryption feature, preventing you from enabling/disabling encryption because the option to check/uncheck the Encrypt box is greyed out.
Sometimes the option to encrypt backup is enabled but you still cannot encrypt because of this issue. Profiles with custom restrictions are usually set up for school or corporate devices. Furthermore, the problem can also occur if Microsoft Exchange account is set up on the iDevice.
Ho to Fix "Encrypt iPhone backup greyed out" Issue?
Fix "Encrypt iPhone backup greyed out" with iMyFone KeyGenius
If you want to keep the profiles in your iPhone, then you will need to use a professional iTunes backup encryption removal tool to solve this issue.
iMyFone KeyGenius is a recommended choice in this regard. This software can help you remove iTunes backup encryption and solve 'Encrypt iPhone backup greyed out' issue with just one click. Furthermore, KeyGenius is also safe to use as it does not erase the backups when removing encryption settings.
Key Features:
One click to solve "Encrypt iPhone backup greyed out" issue without any password.
iMyFone KeyGenius uses advanced algorithms to ensure 100% decryption rate.
Recover forgotten iTunes backup password in a quick and efficient manner.
Offer more flexibility due to its 3 different methods to unlock iTunes backup.
Steps to Fix "Encrypt iPhone backup is greyed out"
Step 1. Download, install, and launch KeyGenius on your computer. And connect your iPhone to your computer.
Step 2. From the main interface of the software, click on "Remove Backup Encryption Settings".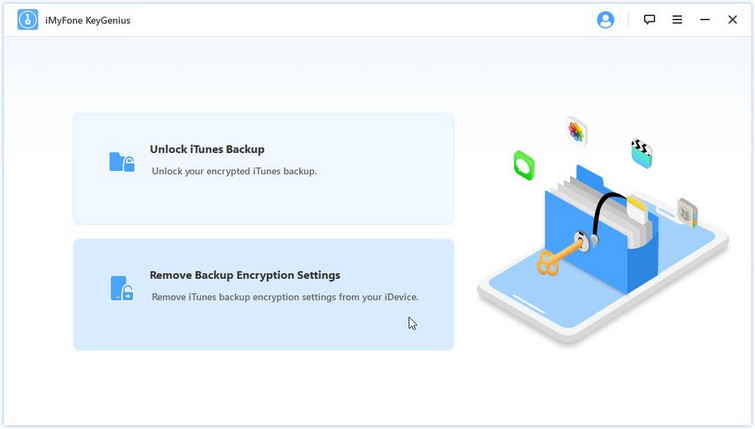 Step 3. Make sure the device is detected by the software. Next, click on the Remove without Password option.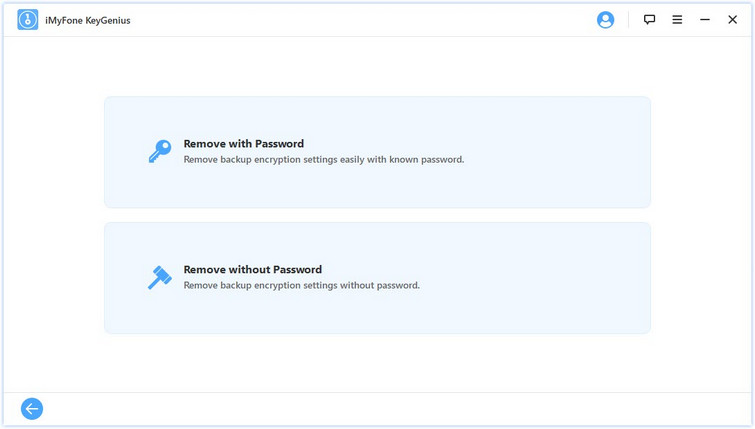 iMyFone KeyGenius will start the backup encryption settings removal process. Wait for the process to complete. You will see the notification on the software interface once the process is completed. Then the issue "Encrypt iPhone backup is greyed out" will be solved.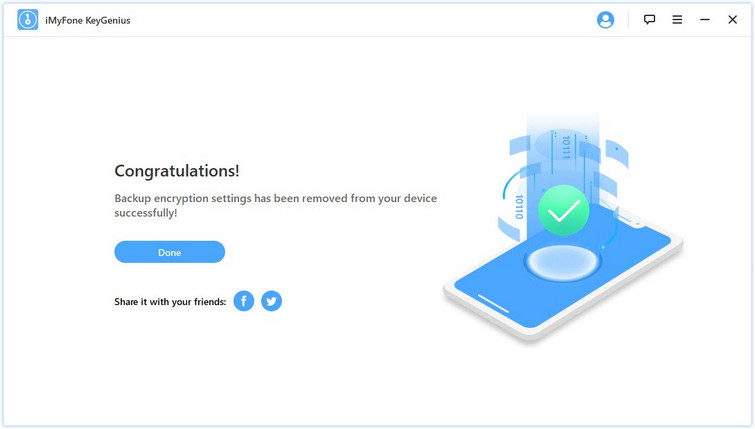 Delete the Profiles
Since the problem occurs due to installed profiles, you can also delete the profiles with custom restrictions to fix the issue. Here are the instructions:
Launch Settings app on your iPhone.
Navigate to General > Profile.
Now find and tap on the Delete Profile option.
After this step, you should be able to check/uncheck Encrypt iPhone Backup option in iTunes.
Bonus: Something about Encrypted Backup You Should Know 
Difference Between Encrypted and Unencrypted iTunes Backup
The key difference between encrypted and unencrypted iTunes backup is that encrypted backups lock and encode your information. What's more, encrypted backup includes some info that unencrypted backup don't:
Your saved passwords
Website and browsing history
Wi-Fi settings
Health data
How to Encrypt iTunes Backup?
The steps to encrypt iTunes backup is straightforward:
Connect your iPhone to your computer via compatible USB cable. Then launch iTunes and select your iPhone in iTunes from the upper-left corner of the interface.
Next, navigate to Summary > Backups section and then find and click on "Encrypt [device] backup" option.
Now you will need to set a password for encryption/decryption. Follow the on-screen instructions to set the password. Once you have confirmed your password, iTunes will start the backup process.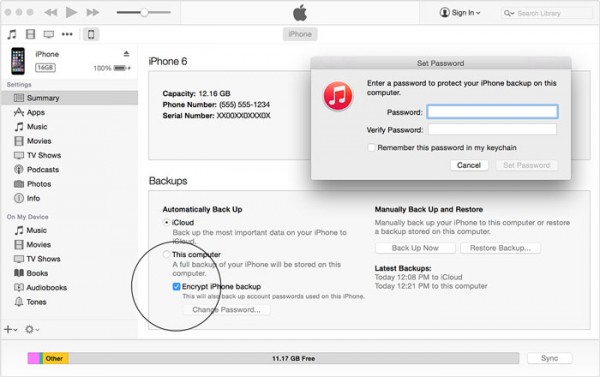 How to Check If Encryption Backup Process is Completed?
It is recommended that you make sure that the encryption backup process is completed successfully. Follow these instructions:
On your Windows PC, navigate to Edit > Preferences in iTunes.
Then click on the Devices tab. There, you should see a lock icon next to your device's name, as well as time and date that the backup was created by iTunes. It is an indication that the backup is encrypted.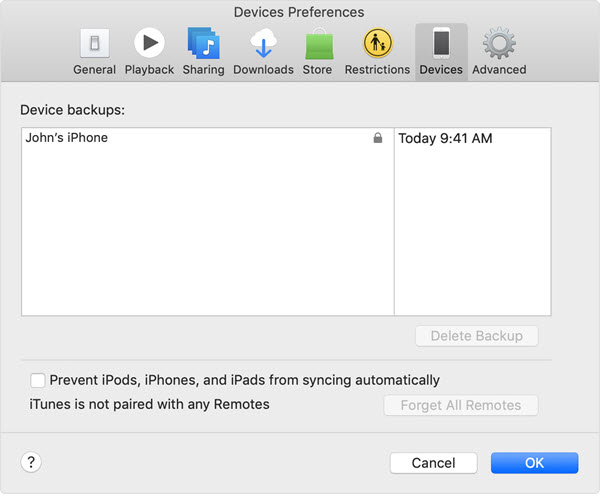 Conclusion
iTunes backup encryption is a highly useful feature that allows you to protect your iPhone backups from unauthorized access. If you are encountering "Encrypt iPhone backup greyed out" issue, then it is recommended that you use iMyFone KeyGenius for this purpose. This tool allows you to disable iTunes backup encryption with just one click.