iTunes backup encryption is a useful feature if you want to keep them protected. For encryption, you have to set a backup password which is required when you want to restore the encrypted backup. If you forget the iTunes backup password, then you will need to use certain methods to erase it.
What to Do if I Forgot iTunes Backup Password?
Try the following solutions for "forgot iTunes encrypted backup password":
1

Unlock the Encrypted iTunes Backup
Forgetting the password of your iTunes backup can be a very huge problem, and even if you switch from one computer to another, you will still be asked for the password. This is where iMyFone KeyGenius comes in. Very powerful and effective recovery software, KeyGenius will help you recover your forgotten password without tampering with your backed-up files or damaging them. Very easy-to-use, it comes with great features which will help you recover your password in very easy steps.
Key Features:
100% tested and trusted tool for decrypting iTunes backup password.
Easy-to-use, and reliable tool that rescues you from every frustrating backup password situations.
Makes use of 3 attack methods that help you to unlock iTunes backup encryption effectively.
Very flexible usage - you can pause to save and then recover whenever you choose.
It is 100% secure so no fears of damage or loss of data in the process.
Disables backup encryption settings easily, whether you know the password or not, you can get rid of an old password while creating new backups.
Steps to Unlock Encrypted iTunes Backup
Step 1: Download and Launch KeyGenius on your computer, then choose the Unlock iTunes Backup function.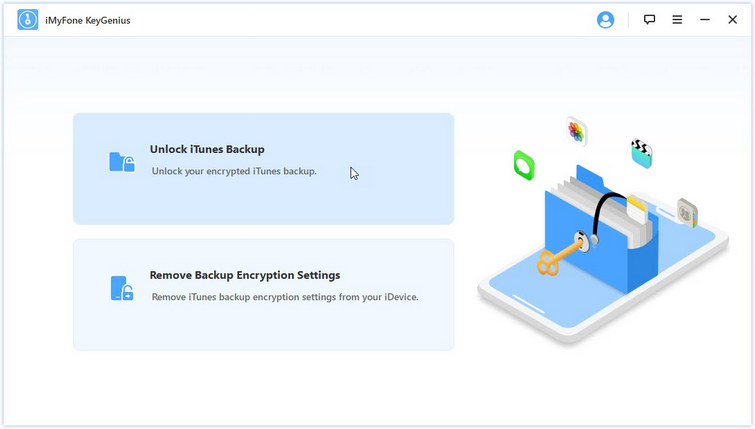 Step 2: All your backup will be listed in the next interface, choose the backup you want to unlock then click on Next button.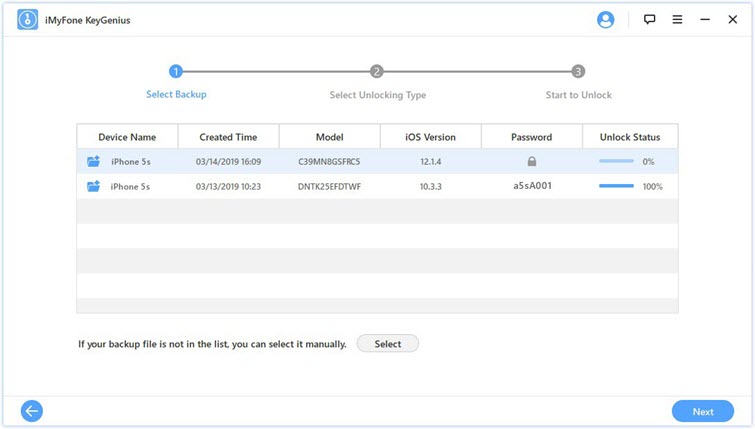 Step 3: Select the attack type you would like to use and click on Start to Unlock. That is all!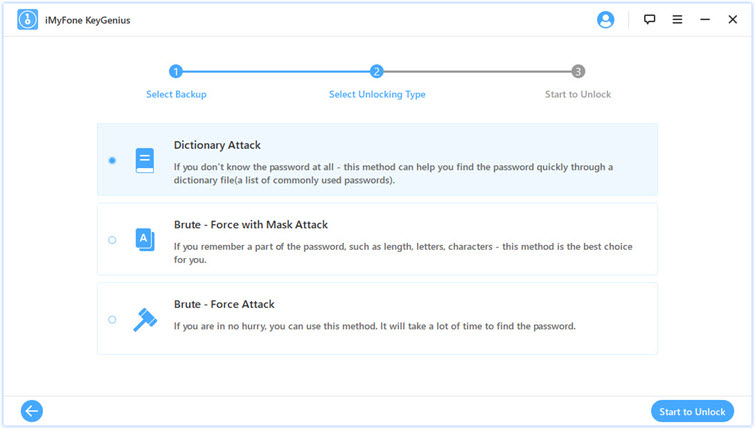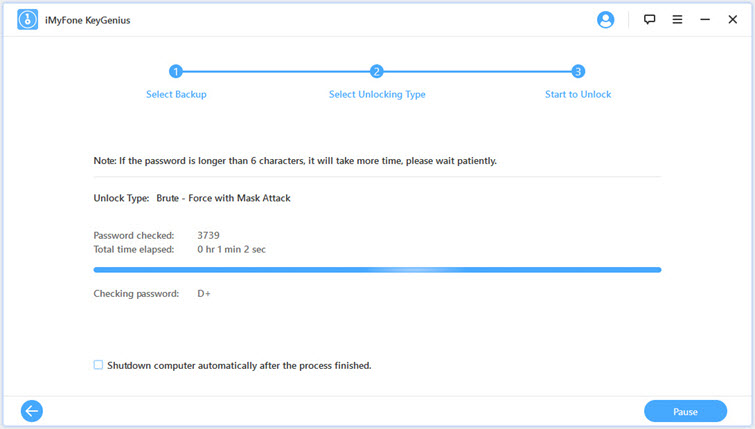 2

Erase the Password by Resetting All Settings
As mentioned above, you cannot restore your encrypted backup if you don't have the password. The easiest solution to this is to reset the password and then make a new encrypted backup of your device. This method works on iOS 11 or later:
Open Settings app on your iOS device.
Navigate to General > Reset and then tap Reset All Settings option. You will need to input your iOS passcode to proceed.
After inputting your iOS passcode, follow the on-screen instructions to start the reset process.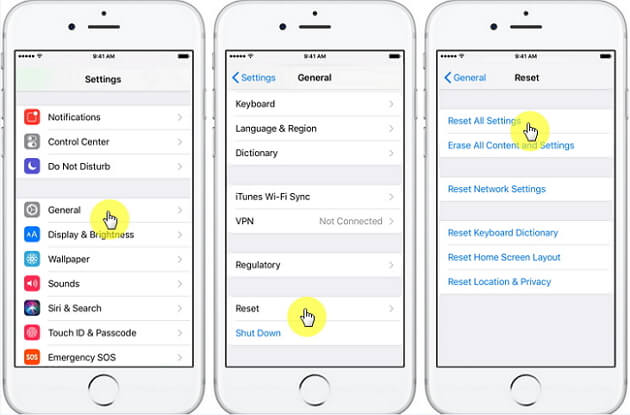 Note: This reset method will not erase your data or passwords. It will only reset various device settings such as display brightness, wallpaper, Home screen layout, etc. It will also erase your encrypted backup password. After reset, connect your iDevice to iTunes and create a new encrypted backup.
Cons
This method only erases the backup password. You still cannot use the previous encrypted backup.
The method only works on iOS 11 and later. It doesn't work on iOS 10 or earlier. For those devices, you must use iCloud backup or use an older iTunes backup when you forgot the iTunes encrypted backup password.
3

Forgot iTunes Backup Password? Use iCloud Backup as Alternative
There is an alternative when you forgot iTunes encrypted backup password. For this method to work, you must have an iCloud backup available. iCloud backup allows you to restore your device to a previous version of the backup quite easily.
Step 1. Update iOS
First, it is recommended that you update your iOS software. To do this, open Settings app on your iDevice and navigate to General > Software Update.
Next, download and install the update by following the on-screen instructions.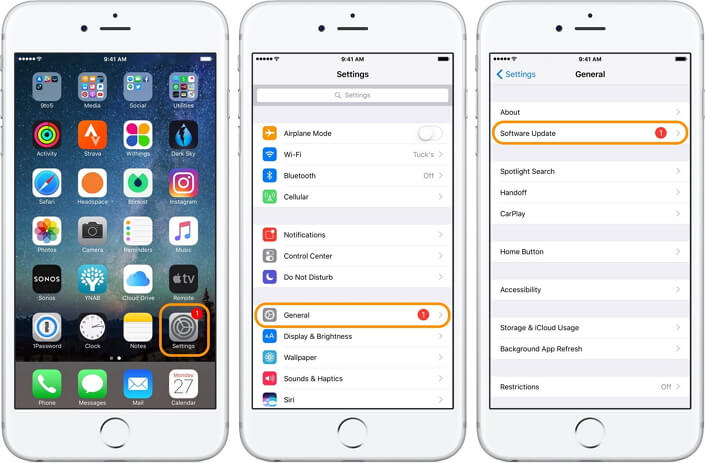 Step 2. Check If an iCloud Backup Is Available
After that, in the Settings app, navigate to [your name] > iCloud and then select the Backups option under the Manage Storage section.
Now tap a device listed under the Backups section and check the size and date of its latest backup.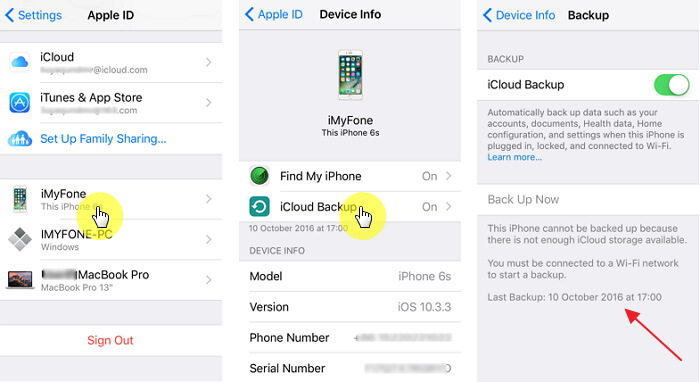 Step 3. Restore from Backup
You will need to navigate to the Reset section after the above step. To do this, open the Settings app and navigate to General > Reset. After that, tap on the 'Erase All Content and Settings' option.
Next, navigate to Apps & Data section of the Settings app and then tap Restore from iCloud Backup option. You will need to sign in to iCloud.
Tap on 'Choose backup' option and then select the latest backup in iCloud. The restoring process will begin.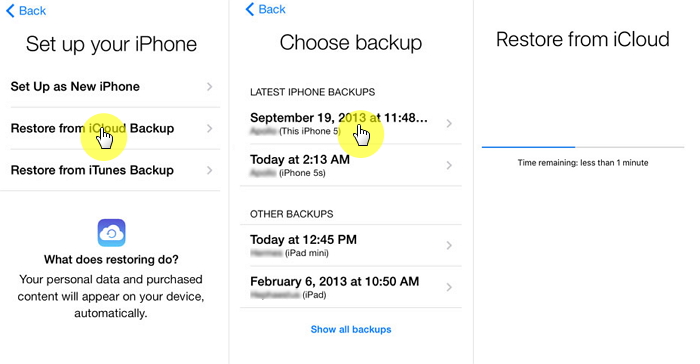 4

Use Keychain on Mac When You Forgot iTunes Backup Encryption Password
If you are a Mac user, then you will be glad to know that there is a method you can use to recover your iTunes backup password. You will need to use Keychain Access for this purpose. It is a built-in utility on Mac so you won't have to download and install any third-party software during this method. Follow these instructions:
Step 1. Open Keychain Access on your Mac. To find Keychain Access, you will need to navigate to the Utilities section.
Step 2. Once Keychain Access is opened, click on All Items and then type "iPhone Backup" in the search field shown on the upper right corner. Then find the keychain item called iPhone Backup.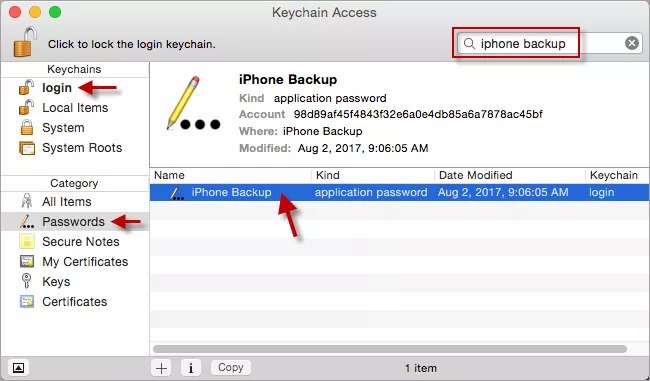 Step 3. Once you find it, double-click on it and then mark the Show password checkbox.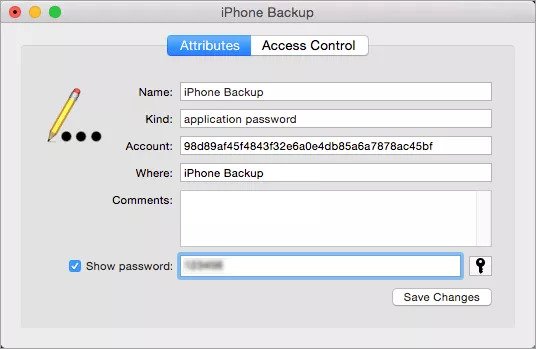 Step 4. Next, input the keychain password and then click Allow.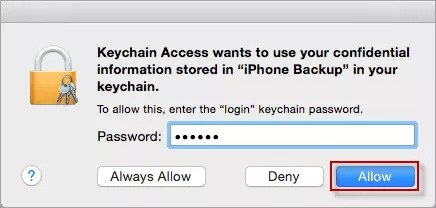 After the above step, you will see your iTunes backup encryption password.
5

Lastly, Try Any Possible Password
Although this option is somewhat less effective than other solutions, it is worth a try. This is one of the most common methods many users first use when they forgot iTunes backup password. Simply try all the possible password you think are correct until you find the right one.
Bonus: Turn Off iTunes Backup Encryption Once You Get the Password
Once you have recovered the password, turning off iTunes backup encryption is a straightforward process. Follow these instructions:
Launch iTunes on your computer. Connect your iDevice to your computer. Make sure to avoid 'Automatic synchronization' upon connecting the device.
Now click on the Summary tab of iTunes and then find and unmark the "Encrypt iPhone backup" option.
After the above step, you will need to input the encryption password. Enter the password and then click "OK". iTunes will now create a new backup of your iDevice. The newly created backup will not be encrypted.