"I have backed up some important files and kept it encrypted previously. Now want to restore it to my iPhone. But whenever I am trying to do so, a dialogue box is opening up and asking for a password which I have totally forgotten. What should I do? How should I remove Encryption from iPhone backup?"
Does it seem similar to your situation? Have you also forgotten your iPhone backup password? If you forgot the password, it becomes nothing but a hurdle to restore your saved data. But no more. Keep your worries aside since we are here to help you with our advanced guide on how to remove Encryption from iPhone backup. Scroll through to know more.
Part 1: Remove Encryption from iPhone Backup if You Know Password
The backup Encryption on iTunes adds an extra cushion of security to the data saved through the backup files. But it is troublesome since you need to enter the correct password every time you want to access it. If you still remember the password of your iTunes backup, it is absolutely easy to remove encryption from your backup.
Step 1: Firstly, connect your iPhone to your computer using the lightning cable.
Step 2: Then, start the iTunes program on your PC.
Step 3: After that, select the device from the list and hover back Summary tab.
Step 4: Now, uncheck the box beside the Encrypt iPhone Backup button under Backups section.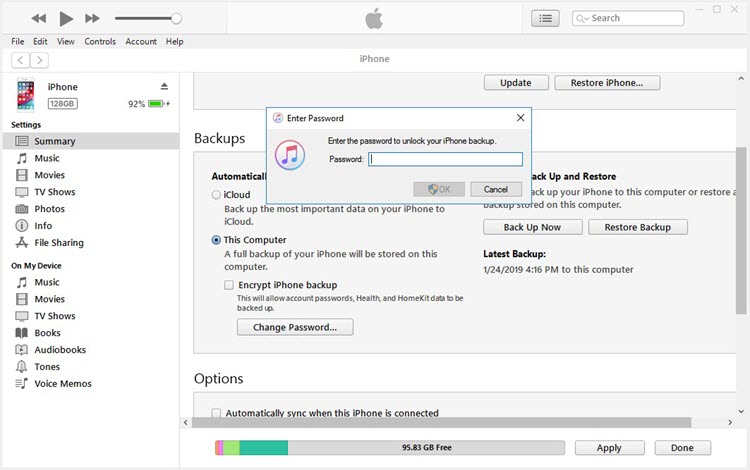 Step 5: Finally, put the password of the backup file to remove the Encryption of your iTunes backup.
Now for the iPhone users who have completely forgotten the password, try the below troubleshooting steps to get rid of the issue.
Part 2: How to Remove Encryption from iPhone Backup without Password
If you have misplaced the password and trying to remove the Encryption from iPhone backup, then we have two different options for you. Scroll through and learn how to remove Encryption from iPhone backup.
Option 1. By Finding iPhone Backup Password
When you forgot your iTunes backup password, what you concern most may be the data loss. If you do not want to lose any data on your backup file, the best way is to find back your password. iMyFone KeyGenius is such a tool that pays much attention to users' concern. By using iMyFone KeyGenius, you can unlock your iPhone backup without data loss.
If you still confused about whether to use the program or not have a look at the key features of iMyFone KeyGenius.
Key features:
It is an advanced tool which offers 3 powerful attack methods to decode iTunes backup password.
The decoding process is easy and simple involving only three steps.
Based on the state-to-the-art algorithms, the success rate is about 100%.
The best thing about this tool is that it protects your data from damage or data loss.
A safe and reliable program designed by iMyFone team.
How to Find iTunes Backup Password Using iMyFone KeyGenius?
We have shared all the required steps following which you can easily use KeyGenius to get back the access of your iTunes backup data.
Step 1: Select 'Unlock iTunes Backup' from the home interface.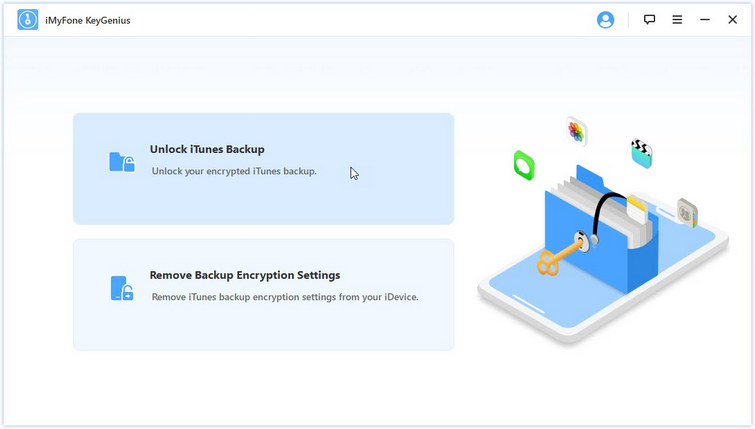 Step 2: As the new window opens, you can find all the backup files of your iOS devices at the default iTunes' locations listed there. Locate the file you want to access. Then click on the Next button.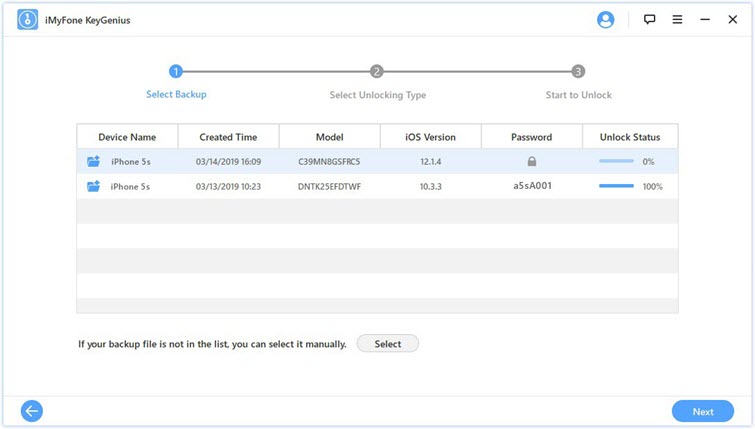 If you can't find the backup files listed there click on the Select button beside the 'If your backup file is not in the list, you can select it manually command.
Step 3: iMyFone KeyGenius offers three powerful methods to access your backup file: Dictionary Attack, Brute-Force with Mask Attack, Brute-Force Attack. You can choose one according to your situation.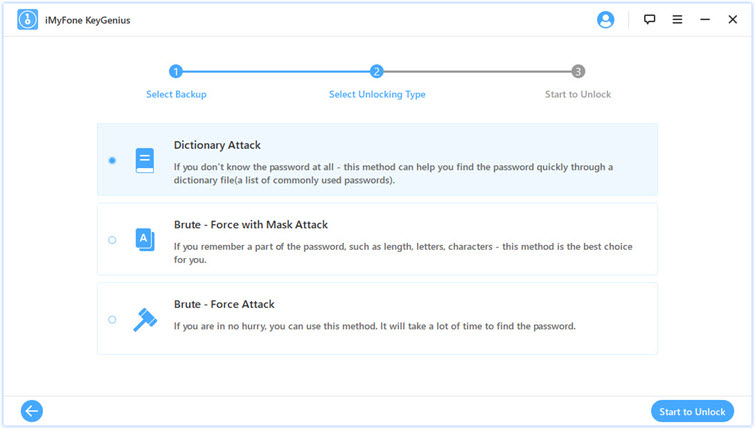 Click on the Start to Unlock button after you have chosen the attack mode. After a short while, the correct password will be displayed on the screen. Now, you can use the password to remove encryption from your iPhone backup.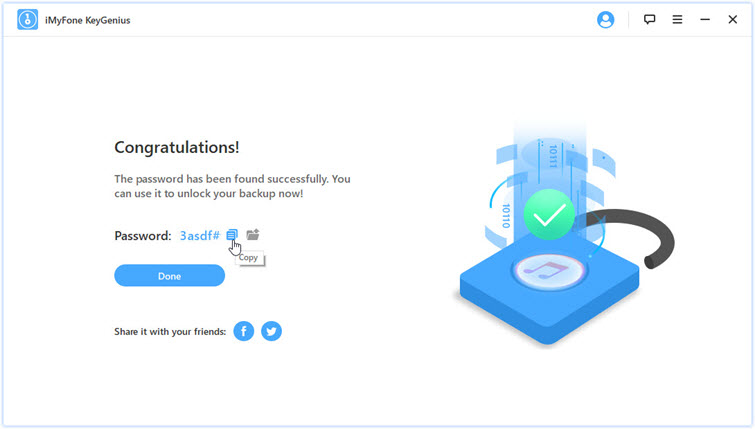 Option 2. By Resetting Your iOS Devices
Here is another option to remove your backup encryption- just reset your device. While doing this, your backup content will be erased off. Therefore, please think twice before you choose this option. Follow the below-mentioned steps to reset your iPhone.
Step 1: First, unlock your iPhone and go to Settings.
Step 2: Next click on the General option followed by Reset.
Step 3: Then you have to tap on "Reset All Settings" option and enter the passcode of your device.
Step 4: To confirm whether it worked or not, tap on "Reset All Settings" again.
Step 5: Finally, connect your device with your PC to launch iTunes and create a new backup.
Note: While doing the last step, make sure you haven't checked the box before "Encrypt iPhone Backup" to avoid the old password.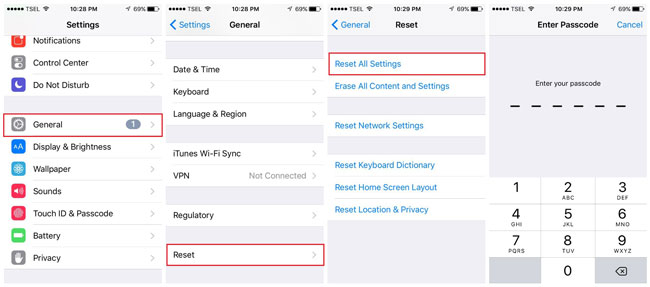 Final Thoughts
Forgetting the iTunes backup password is quite a common incident. That's why we have provided this guide to help you out. Now, you got the clear overview for both of the situations, when you remember the password and when you forgot the password. It's time to apply these methods to get over the issue. If you face any issue while performing the above-mentioned steps, drop a comment in the below box. We will be right there with an appropriate answer.