If you're trying to retrieve lost files from encrypted iTunes backup, you'll need the password to access to it. However, if you forgot the password, it may be difficult to retrieve files. In this article, we'll review how iSunshare iTunes Password Genius could help and some other working methods of iTunes password recovery.
iSunshare iTunes Password Genius Review
What is iTunes Password Genius?
iSunshare iTunes password Genius is a powerful tool specially designed to recover iTunes passwords to unlock iOS device backup quickly including iPhone, iPad,and iPod touch.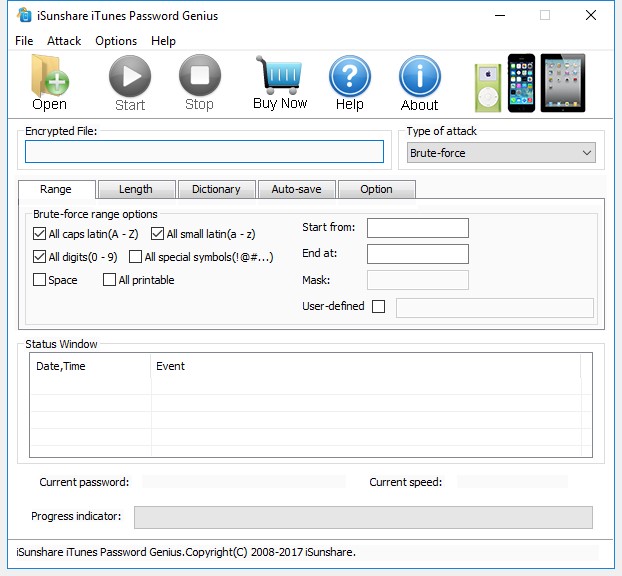 iSunshare works best in cases where users have forgotten their passwords to unlock the encrypted backup. With this tool, you can easily unlock most encrypted backup effortlessly, and then you can get back your contacts, notes, calendars, videos, apps, photos and settings with iTunes backup.
Features of iSunshare iTunes Password Genius
iSunshare supports most versions of iTunes backup including iTunes 11 and 12.
Support all of iOS 11/10/9/8.1/8/7 encrypted backup for iPhone, iPad, iPod Touch.
Recover Password Quickly: iSunshare can recover passwords in just a few minutes of following the recovery steps
Easy to use, only three steps to get back the password of your encrypted backup.
iSunshare takes much time to unlock backup files if the password is lengthy or contains special characters, numbers ,and letters. However, if the password is an easy guess, the recovery process will be much faster.
Cons
Too complicated for beginners
Cannot remove backup encryption settings from iPhone
The software uses the old decryption technology; the latest version of it was released two years ago, it's hard to ensure 100% guarantee when recovering the password.
Best Alternative for iSunshare Password Genius
iMyFone KeyGenius is a fantastic software for unlocking encrypted iTunes backup. It is specially designed with the most powerful decryption technology to help you restore your backup without password. There are some great features of this software you need to know.
Use the Latest Decryption Technology: iMyFone KeyGenius uses the most recent and safest decryption technology to get back your iTunes backup password.
Ensure 100% Accurate to Get the Password: KeyGenius ensures that you restore your iTunes backup password with 100% guarantee. With its powerful algorithm, you can get your iTunes password accurately.
Remove Encryption Backup Settings: Even though iSunshare is a powerful password decryption tool, it cannot remove backup encryption settings. That is why KeyGenius works better than iSunshare.
Multiple Ways to Decrypt Backup: KeyGenius uses three attack modes for password recovery. Each method has unique attributes that you can choose to increase iTunes backup password recovery rate.
100% Safe: iMyFone KeyGenius makes it easy to decrypt iTunes backup without causing any damage to it.
No Technical Skills Required: Find your lost iTunes backup password without any technical skills required.
Let's Unlock Your Backup Now!
Before this, you need to ensure iMyFone KeyGenius is installed on your computer.
Step One - Launch the Software and Select a Backup
Launch iMyFone KeyGenius on your computer then select "Unlock iTunes Backup" option, on the next interface, choose the encrypted backup you want to unlock, then click on "Next" button.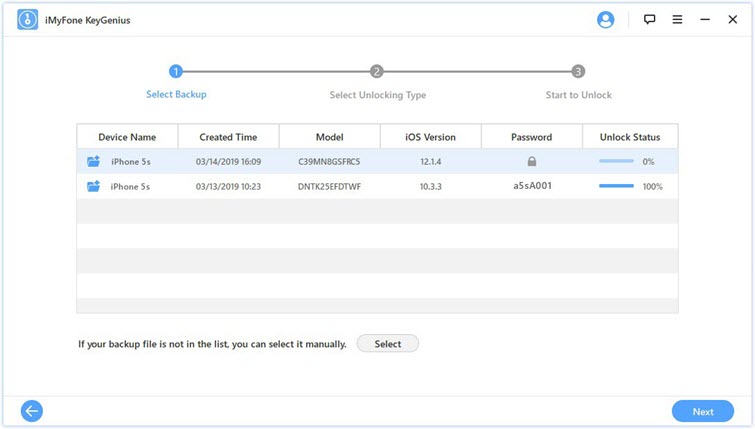 Step Two - Select Unlock Type
There are three unlock types: Dictionary Attack, Mask Attack, Force Attack. Choose the one you preferred, then click on Start Unlock.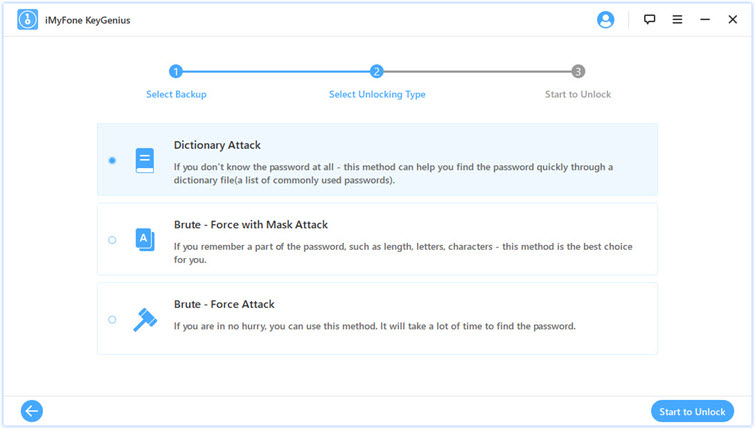 Step Three - Start Unlock
iMyFone KeyGenius will start unlocking your encrypted backup, it won't be too long to get your password.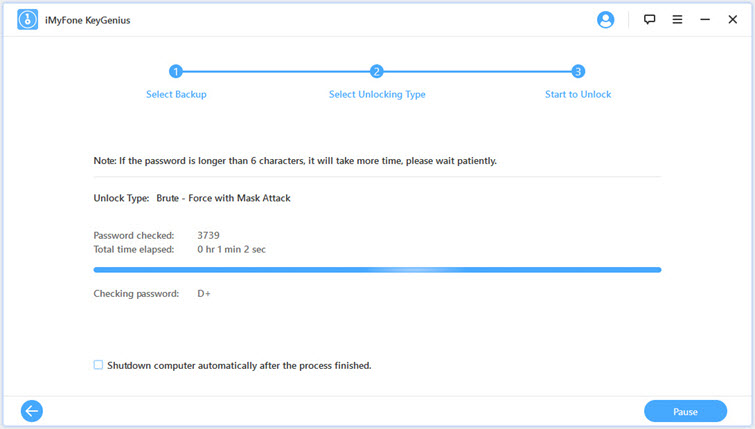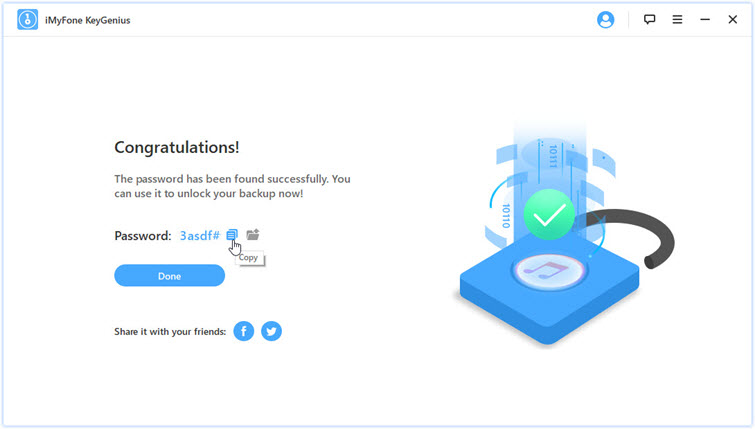 Conclusion
We've taken time to highlight the methods of removing iTunes backup password. However, there are some limitations on iSunshare iTunes Password Genius. So, if it's within your budget, why not quickly get KeyGenius to remove iTunes backup password now?